Few in Zimbabwe dared to anger 'Gucci Grace' as Grace Mugabe was called.
Robert Mugabe's wife was ruthless and terrifying, and her ambition clearly provoked the army's coup on Wednesday.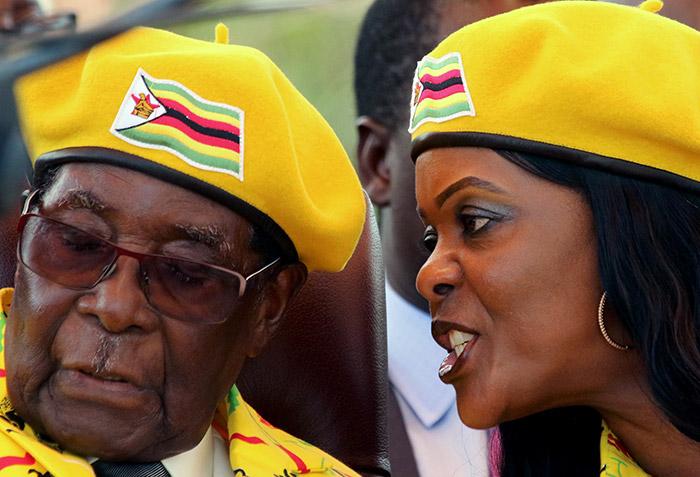 IMAGE: Robert Mugabe listens to his wife Grace at a ZANU-PF party rally in Harare, November 8, 2017, a week before the army removed Zimbabwe's president from office. Photograph: Philimon Bulawayo
That Robert Mugabe was deposed was no surprise to anyone who had been followed the increasingly bizarre despot's reign in Zimbabwe this past decade and more.
Harare watchers knew the event was just a matter of time, only who would muster the courage to evict the only leader Zimbabweans have known since independence.
Mugabe had ruthlessly removed political challengers to his authority, so it would have to be the generals.
And since the frail Mugabe at 93 was more or less a symbolic figure, the provocation for the tyrant's exit would have to be Grace Mugabe who has come to symbolise the regime's worst financial and political excesses.
In Fraser Grace's memorable play Breakfast With Mugabe (you can read an extract here: external link), the playwright set the action in October 2001 a few months before the 2002 presidential election. In the riveting drama, Robert was 77, Grace 36.
In remarkably prescient literature, Fraser Grace set out to expose the sinister route Mugabe would take to eliminate all opposition whether it was comrades in the Zimbabwe African National Union-Patriotic Front -- ZANU, the African nation's ruling party since independence in 1980 -- or from white settlers who he periodically cast as evil outsiders out to ruin his country.
In recent years, Grace -- who worked as a typist in the president's office when she first caught Mugabe's eye in the early 1990s -- had begun the process to succeed her husband.
She had been the real power in Harare for sometime -- manipulating her way in Zimbabwe politics, influencing her husband's decisions -- incurring the people's silent wrath by her reckless spending, and worse, her violent temper that just weeks ago was unleashed on a model who she thought was cavorting with her sons in a Johannesburg hotel room.
After getting rid of one rival -- vice-president Joice Mujuru -- Grace may have overplayed her hand when she took on Emmerson Mnangagwa, the other vice-president.
Mnangagwa once ran Zimbabwe's intelligence services and clearly knows where all the bodies -- literal or metaphorical -- are buried.
Grace and Mnangagwa's battle became public after she accused him of conspiring to overthrow her husband. Mnangagwa then fell seriously ill and charged Grace with trying to poison him.
Mnangagwa was recuperating in a South African hospital when Mugabe was removed from office by the army on Wednesday, November 15.
Clearly, the generals thought it was time they stepped in. Mugabe was too old and too erratic. Grace was too dangerous.
Some reports said she had been arrested, other said she was in Namibia when the army moved against her husband.
The army has promised not to stay on for more than necessary, but we have heard that line often enough from Islamabad to Buenos Aires.
Irrespective of whether Mujuru or Mnangagwa take office in the next election (if and when it is held), it is unlikely that Grace Mugabe will realise her cherished dream of running the country legitimately as president, and not as regent which she was till Wednesday morning.
A look at the woman described as Zimbabwe's Lady Macbeth through the years: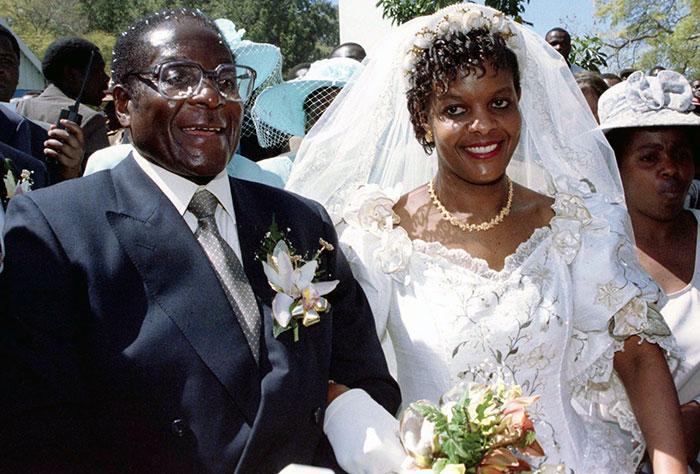 IMAGE: Robert Mugabe and his bride Grace leave the Kutama Catholic church August 17, 1996.
The couple married shortly after the death of Mugabe's first wife Sally.
6,000 guests, including Nelson Mandela, attended the ceremony. Photograph: Howard Burditt /Reuters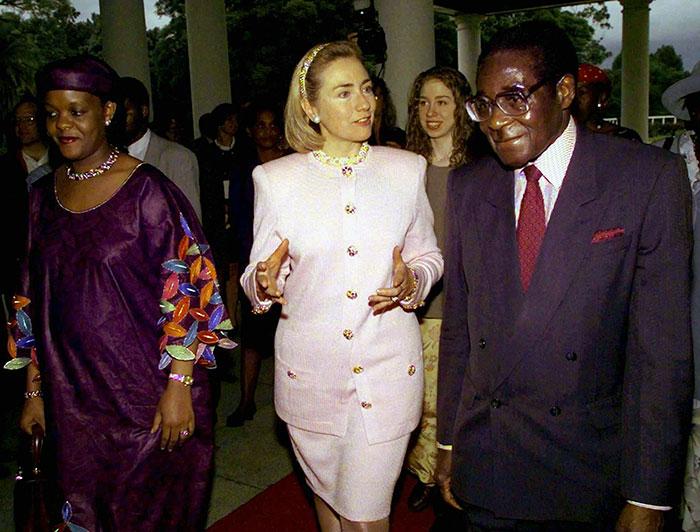 IMAGE: Then US First Lady Hillary Clinton and her daughter Chelsea are escorted by Robert and Grace Mugabe after they arrived at the presidential palace in Harare, March 21, 1997. Photograph: Win McNamee/Reuters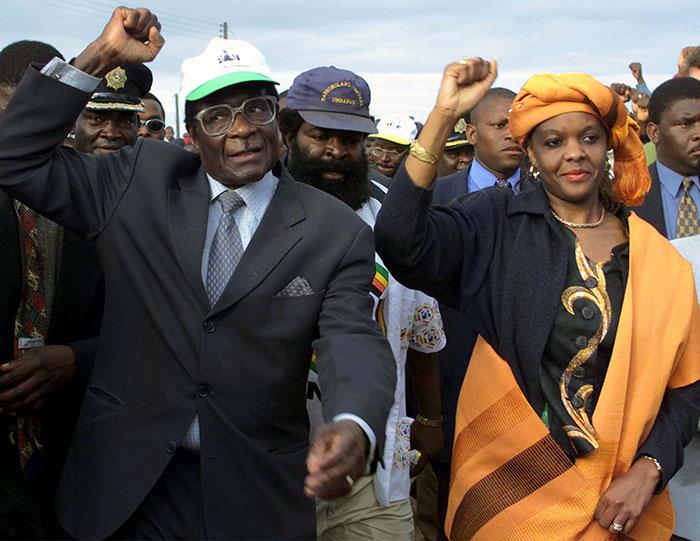 IMAGE: Robert and Grace Mugabe arrive at an election rally in Madziwa, a village north of Harare, June 21, 2000.
Mugabe was then quoted as saying Britain and the US were trying to discredit his government.
London and Washington, he said, had launched a campaign against his plan to seize 804 white-owned farms for redistribution to landless blacks. Photograph: Reuters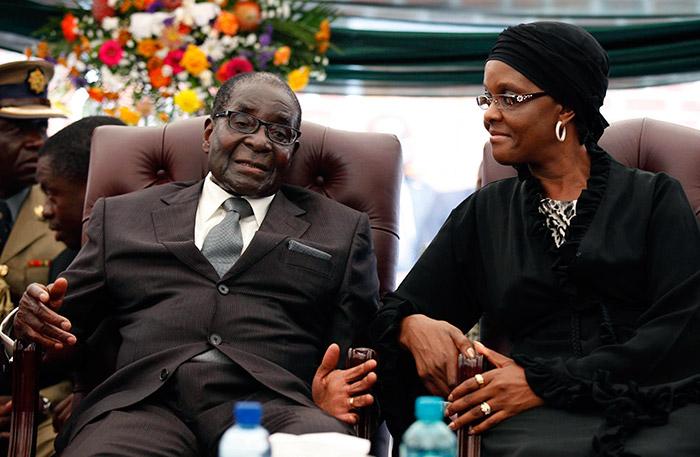 IMAGE: Robert Mugabe speaks to Grace at the funeral of his sister Bridget in the village of Zvimba, 90 km west of Harare, January 21 2014.
Mugabe attributed his long life to God's will. Photograph: Philimon Bulawayo/Reuters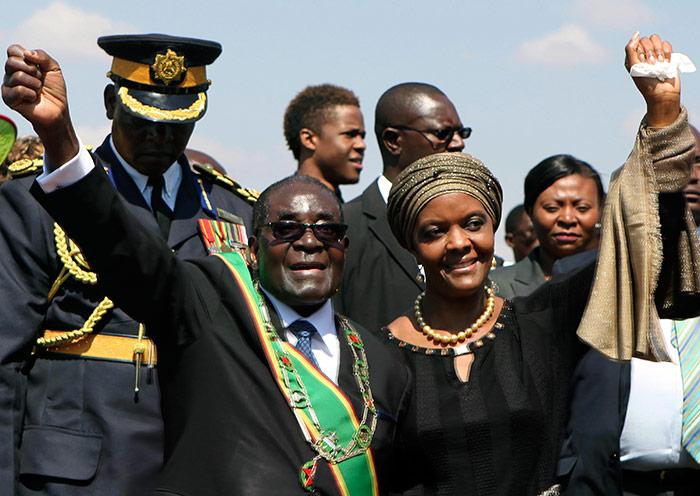 IMAGE: Robert and Grace Mugabe greet supporters at a national Heroes Day rally in Harare, August 11, 2014. Photograph: Philimon Bulawayo/Reuters