The startling story of how a bitter ex-girlfriend helped capture artefacts raider Subhash Kapoor.
Illustration: Dominic Xavier/Rediff.com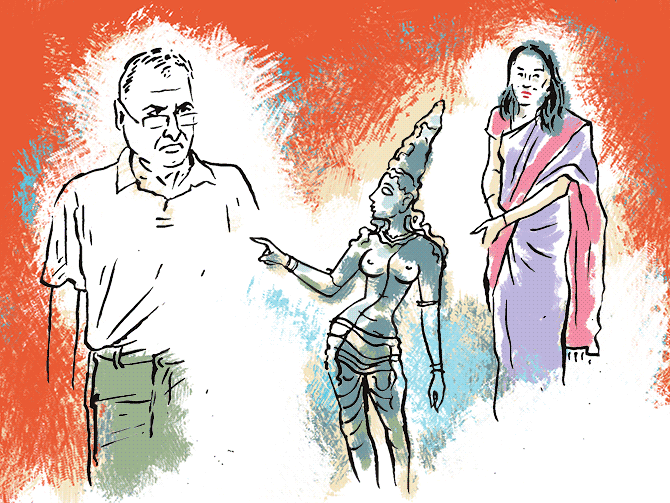 The arrest of idol thief Subhash Chandra Kapoor, then 62, on October 30, 2011, at Frankfurt international airport, after Interpol issued a red corner alert, revealed something shocking to the world.
It showed how a ring of fancily-turned out, high-flying antique dealers, like Kapoor, were stealing so many of India's historical treasures to send to art markets and museums in the West, while the guardians of these relics, be they temple caretakers or government officials, either turned a blind eye or secretly facilitated this illegal trade.
The smooth, urbane Kapoor, India born but an American citizen, ran Art of the Past, a posh, spendy gallery at 1242 Madison Avenue in Manhattan, and belonged to a family of Indian art dealers.
He was brought back to Chennai on July 14, 2012 to Puzhal Central Jail. Some years later he was transferred to the Trichy Central Prison in Tiruchirapalli, Tamil Nadu, as his trial proceeds. He faces trial eventually in the US too.
Kapoor was not the biggest of antiquity thieves. But his arrest was timely.
It brought global awareness.
Kapoor has till date been found allegedly responsible for the theft of 2,622 artefacts worth $107.6 million (approximately Rs 6,671 crore/Rs 66.71 billion), according to The New York Times.
A combination of factors led to Kapoor's lucky arrest.
Very few know that it was a bitter ex-girlfriend named Grace Paramaspry Punusamy who helped set the ball rolling.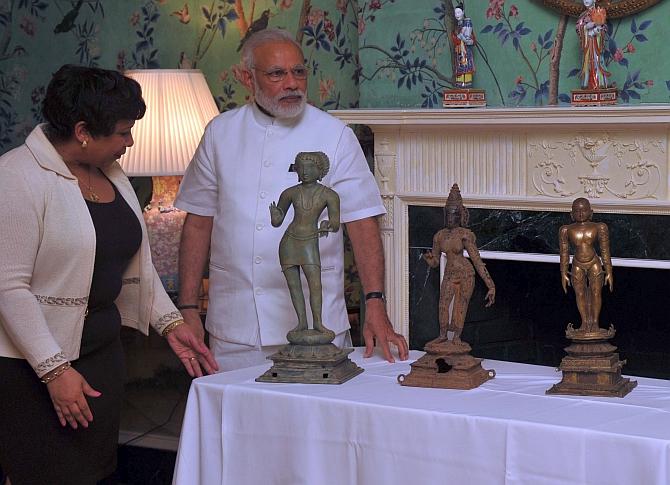 When the Brooklyn Museum in 2009 purchased a Chola-era Shiva and announced its arrival on its Web site, Punusamy, who knew way too much about Kapoor's pieces, writing under the handle Grace Paramaspry, started posting messages there, wondering about the piece's provenance (place of origin):
Punusamy: 'Does this Siva has (sic) any history of passing through Mr Subhash Kapoor in New York, any part of the provenance history from UK?'
Brooklyn Museum curator Joan Cummins, not providing details of the Shiva's provenance, sidestepped the question with this lame answer: 'We know the Shiva's history since the late 1960s, and in that time it was not in the UK, nor did it come through Subhash Kapoor'.
Punusamy's post caught the eye of an ICE (US Immigration and Customs Enforcement) officer named Brenton Easter and his team and they began their own course of action in building a case against Kapoor and his operation.
Meanwhile Punusamy began to aid the Indian authorities too in their efforts to track down Kapoor, apparently even providing photographs and information on his movements, so he could be nabbed at Flughafen Frankfurt am Main in 2012.
S Vijay Kumar's book The Idol Thief, profiles Grace Punusamy and explains her connection with Subhash Kapoor and how she helped bring about his arrest.
Singapore-based Kumar, who calls himself VJ and works in shipping, several years ago turned blogging into a special and very useful art, when he started keeping track, online, of idol thefts and the illicit artefacts trade.
From his office/home desk chair, thousands of miles away, after diligently, laboriously scanning the Internet and newspaper reports, VJ would regularly post exhaustive details of the Indian artefacts and murtis that had been burgled and then catalogue when they reappeared in museums and auctions in other parts of the world.
His efforts drew attention and eventually both American and Indian authorities reached out to VJ for his assistance in building a case against Kapoor.
An exclusive excerpt from S Vijay Kumar's The Idol Thief: The True Story Of The Looting Of India's Temples:
---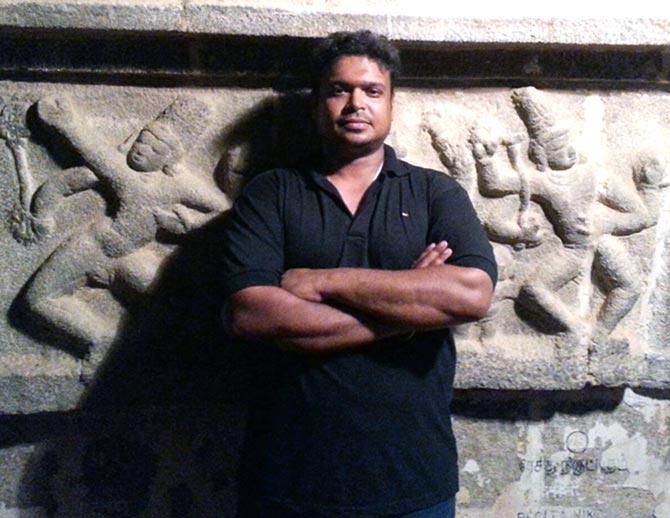 A rather rundown shopping mall by Singapore's high standards, the Tanglin Shopping Centre on Tanglin Road, just off the high-end Orchard Road, holds within it a sprinkling of 'art galleries' selling a myriad art pieces, from modern Buddha faces in eclectic colours to Khmer funeral reliquary.
They hardly seem to have any visitors except for the occasional 'foreign' tourist looking for a cheap memento. But art galleries the world over are similar -- they display a fraction of their actual stock, leaving the 'better' ones safe in their godowns for private viewings of their elite clients.
One such gallery at the Tanglin Shopping Mall was Jazmin Asian Arts, run by Grace Paramaspry Punusamy.
Punusamy, who'd grown up in the island city-State, was the daughter of a Tamil father and a Chinese mother. She sold Kapoor's artefacts on consignment basis, and they began dating soon after they met in 1997.
Kapoor had married Neeru in 1976 in India, shortly before the family emigrated to America. The couple had a daughter, Mamta Kapoor, but they had divorced in 1986 and had been living separately since then.
Very scant details are available about the Grace-Subhash relationship, but they seem to have been quite a pair, embarking on many 'business development' trips into South-East Asia and creating a network of dealers and suppliers.
In fact, Kapoor was so comfortable with Grace that he started using her as a cover for provenance paperwork which enabled him to create fake ownership records and helped to sell to prestigious museums -- paperwork actually signed by Grace for his artefacts.
But some time in 2008, after nearly a decade together, Kapoor ended their relationship. During this time Kapoor had started a relationship with another woman, Selina Mohamed, in America, but it is not known if this was the reason for the split.
What we do know is that Selina was also involved in Subhash's work.
However, the parting was not peaceful, to say the least. They went to court in 2010 in Singapore to settle their business dealings. Kapoor won the case, displaying his shrewd business acumen and his relationship with dealers.
This is what the Straits Times had to say in March 2010:
A Singaporean art dealer, who was in a relationship with an American art dealer, kept antiques worth hundreds of thousands of dollars after their affair soured two years ago. In an attempt to get these back, Mr Subhash Kapoor, 61, took her to the High Court and succeeded.
Delivering his verdict on Thursday, Judicial Commissioner Steven Chong said he agreed with Ms Paramaspry Punusamy's lawyer that the case should have never come to court as it really was about a break-up between two lovers.
The judge also noted that while both parties were unable to produce much in documentation to prove ownership of the 19 contested antiques, Mr Kapoor, 61, had called on three art traders from Bangkok to testify that they have sold some of the pieces to him.
Ms Paramaspry, 54, did not produce any witnesses during the three-day hearing heard last month. Ms Punusamy, the proprietor of Jazmin Asian Arts at Tanglin Shopping Centre, was also ordered to pay costs for the proceedings.
It is interesting to note a key finding by the judge that 'both parties were unable to produce much in documentation to prove ownership of the 19 contested antiques'.
Though this was not front-page news in conservative Singapore, the Asian Civilisations Museum, which had done business with Subhash Kapoor's Art of the Past, would have surely followed this case keenly.
Grace took the verdict badly.
She had lost her case, money, artefacts and had also been publicly shamed.
She was itching for retribution, hence her indiscreet and innuendo-laden comments on the Brooklyn Museum's Web site that had caught the attention of Indy (Easter) and his team.
Grace would in due course reach out to Indian law enforcement agencies to nail Subhash Kapoor and extract her sweet revenge.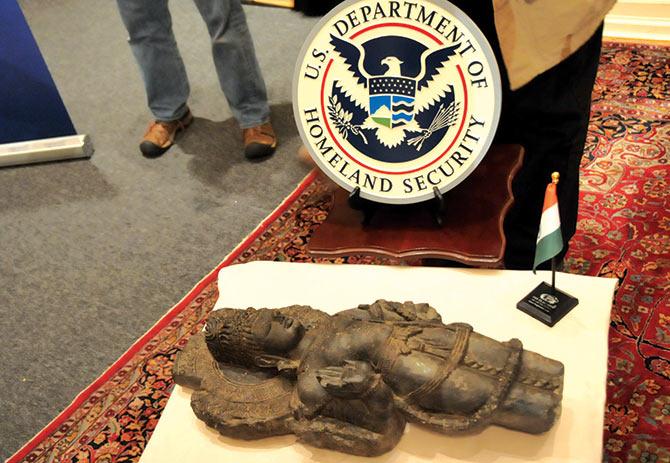 We turn again to an extract from the confession of Subhash Kapoor to piece together the story in his own words:
'My wife and I divorced in the year 1986-1987 in America and my wife is living separately now. My daughter Mamtha is presently 32 years old and she is living with her husband in New York... I could remember that the Chandrasekar bronze idol received from Sanjivi Ashokan was sold to (an) antique collector and now I believe it is in Brooklyn Museum...'
'I created false provenance documents for all these stolen idols received from Sanjivi Ashokan with the help of my long time girlfriend Selena Mohammed, my employee Aaron Friedman and Jennifer Moore...'
His confession also stated that he had been in a relationship with Selena for ten years and that 'she has the access for my office and residence'.
Excerpted from The Idol Thief: The True Story Of The Looting Of India's Temples by S Vijay Kumar, with the kind permission of the publishers, Juggernaut.