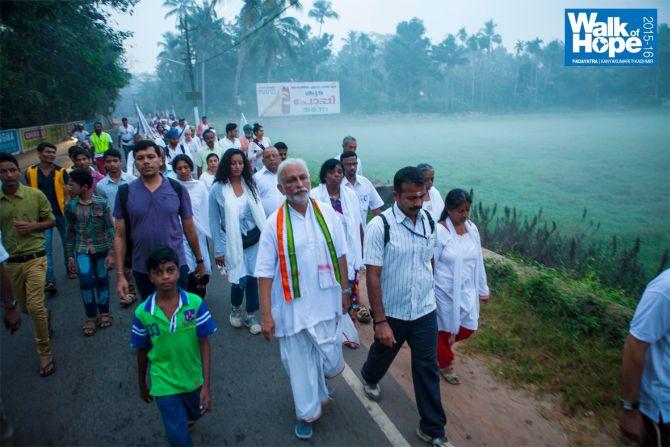 'Lives are lost and the social fabric is torn. The progress of the nation comes to a grinding halt.'
Spiritual guru Sri M is walking from Kanyakumari to Kashmir to spread the 'message of peace and harmony.' Rashme Sehgal reports for Rediff.com
Like Adi Shankaracharya before him, Sri M has decided to walk the length of the country from Kanyakumari to Kashmir in order to promote communal harmony.
While Adi Shankaracharya started on his padayatra at 16, Sri M is undertaking this daunting walkathon called Walk of Hope at the age of 66. The journey that will see him criss-crossing 11 states is expected to be completed in 500 days starting January 12, 2015.
Sri M admits that he has taken up a major challenge. "I'm 66. I have some bodily obstacles that I have to be careful about," he said in a phone-in from a village near Satara in Maharashtra.
He is, he says, undertaking this gruelling journey in order to spread the message of communal harmony.
"As a nation, I believe it is important to spread the message of peace and harmony -- a message that must celebrate the commonalities that exist between the multitude of faiths and cultures that can be found in our unique nation."
A trend he finds particularly disturbing is the regular outbreaks of communal violence that keep erupting in the country. "This is so painful. People are suffering for nothing. Lives are lost and the social fabric is torn. The progress of the nation comes to a grinding halt. By the time things return to normal, our nation has lost crucial opportunities in all areas of development," he says.
"We forget that all religious philosophy comes from the mystical experience of one person, one prophet, one book. When it becomes an established experience we often allow vested interests to develop. Three thousand years ago, the Rigveda said Ekam sat, viprah bahudaa vadanti (The truth is one, the wise call it by many names)."
"I felt it was time to go back to our roots and this walk is an attempt to do just that," he says.
A group of over 150 people are walking with him and he is confident they will reach Srinagar in April.
"We start walking at 5.30 am and continue doing so for the next six hours. We walk up to 11.30 am and then take a halt in a village or in someone's home," he says. "After a brief rest, we spend our time interacting with children, students and the local people giving them a message of hope, love, peace, harmony and oneness. We stay in the homes of people, and in the smaller towns, we will stay in schools and community halls with the hospitality being provided by the local people."
"We walk together, not as members of groups, faiths or parties, but as human beings," he adds.
"Together we hope to spread this message of oneness to over 10 million countrymen," he feels.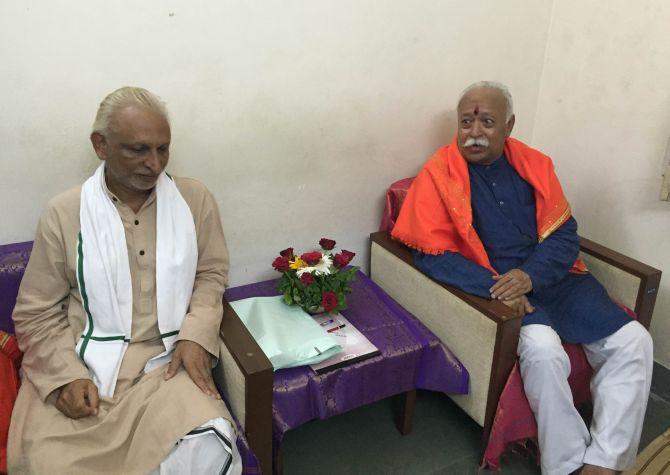 Sri M was born Mumtaz Ali Khan in a devout Muslim family in then Trivandrum. He recalls how as a young boy he had an urge to go to the Himalayas. At the age of nine, his guru Sri Maheshwarnath Babaji met him and many years later when he did go the Himalayas, he met him yet again and lived with him for the next three-and-a-half years during which period he was initiated into the Nath faith.
"When I was 22," Sri M confides, "Babaji, predicted that I would one day walk from Kanyakumari to Kashmir. But he said I would be walking in the company of a group of people. At that time I felt I could do so easily on my own, I did not like the idea of being accompanied by several people. But now I understand the situation in a different light."
The group of people walking with him include former bureaucrats, corporate executives, students and retired teachers. They are as enthusiastic as him to spread the message of hope to the people around they meet.
Shahnawaz, one of Sri M's disciples, pointed out that the group is expected to reach Pune by July 6 by which time they would have already walked 2,600 kilometres.
The enthusiasm this group is evoking can be seen from the fact that the chief ministers of Kerala and Karnataka trudged alongside when they passed through these two states.
Sri M has written about his life transforming experiences in his autobiography Apprenticed to a Himalayan Master -- a Yogi's Autobiography. At home with all religious teachings, Sri M keeps telling his devotees, "Go to the core; theories are of no use."
He has also set up the Satsang Foundation, a charitable concern devoted to promoting excellence in education.
Sri M admits to being overwhelmed by the response he has received from this walkathon. "In Malappuram, Kerala, we met an old Muslim lady who asked us why we were undertaking this arduous trek. When we told her it was for the cause of peace and harmony, she told us, 'There are no differences between human beings except between the male and female gender. We must learn to live together'."
They have been stopped en route by people from all walks of life who come forward to offer their humble contributions. "An autorickshaw driver handed me a hundred rupee note saying these had been his earnings so far in the day and he wanted to contribute this money for the cause. It's a very humbling experience and it serves to inspire us at every step."
The idea of The Walk of Hope is now growing into a movement as more and more people are wanting to join Sri M, demonstrating as he says, the relevance of the message.
"From Maharashtra, we will walk to Gujarat," he says. "People ask me about the heat, but my reply is we have been amazingly lucky. Wherever we have gone, the weather has been cloudy or it has rained. We have not had to face the heat. With nine more states to go, I have immense hope that we will be able to achieve our objectives."
"I remind those who walk with me that this is also an inner journey -- a transformative endeavour that must take us into the depths of our souls and unravel the human capacity for compassion."
Image: (Top) Sri M leads The Walk of Hope in February. (Below) With Rashtriya Swayamsevak Sangh chief Mohan Bhagwat in Alandi