Sarakkalvilai in Kanyakumari basks in the glory of its most famous son.
Rediff.com's A Ganesh Nadar reports.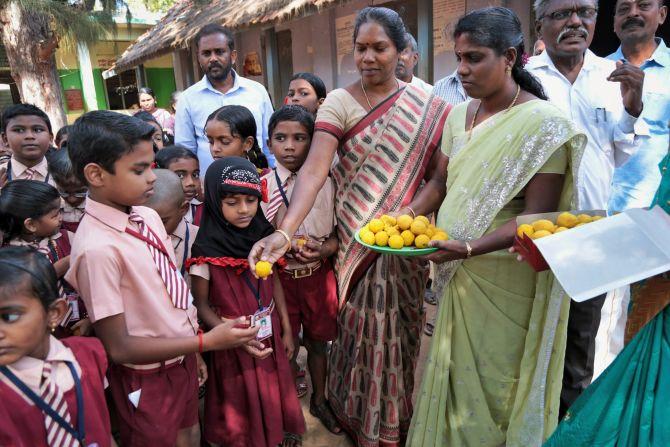 IMAGE: Sweets being distributed at the government-run elementary school in Sarakkalvilai village to celebrate alumnus Dr K Sivan's appointment as chairman of the Indian Space Research Organisation. Photograph: PTI Photo
A humble son of a farmer who studied in local government run schools, in Tamil medium, is the new head of India's premier space agency.
Dr K Sivan was born in Sarakkalvilai in Kanyakumari district in 1957. His father was a farmer, and Dr Sivan is the first graduate in the family.
By all accounts, his is an unusual story.
A young Sivan studied in government schools in his native village till the 5th standard, and completed his schooling in neighbouring Valankumaravilai, all in Tamil medium. Later, he graduated from the S T Hindu College in Nagercoil.
He then graduated from the Madras Institute of Technology in aeronautical engineering in 1980 and completed his master's in aerospace engineering from the Indian Institute of Science, Bangalore, in 1982.
That year he joined ISRO on its Polar Satellite Launch Vehicle project, towards which he contributed in mission planning, design, integration and analysis. He has held various responsibilities during his stint in ISRO, finally going on to head India's space agency.
At ISRO, he completed his PhD in aerospace engineering from IIT-Bombay, in 2006.
Dr Sivan, who takes over from Dr A S Kiran Kumar on Monday, January 15, for a three-year term, is only the second rocket scientist after G Madhavan Nair to head ISRO.

IMAGE: Dr Sivan's family home in Sarakkalvilai village. He comes here regularly to attend family functions and for the Bhadrakali Amman puja. Photograph: A Ganesh Nadar/Rediff.com
Sarakkalvilai falls on the outskirts of Nagercoil, which is the headquarters of Kanyakumari district, Tamil Nadu. All of a sudden this small village has become the centre of attraction for people near and far, thanks to its famous son.
"Take the next right and it is at the end of the road," says a villager, and as you reach the house you realise it is as unpretentious as the man who grew up there.
Dr Sivan's sister-in-law Saraswathi lives in the family house with her daughter. "My eldest daughter got married five months ago and Sivan had come for the function," she says, her eyes glowing with happiness.
Since the announcement about his appointment, people have been coming in droves to congratulate her, and her face beams with pride.
"I was married 30 years ago into this family and at that time he was already working for ISRO in Thiruvananthapuram. He used to live in a lodge then. He comes home for festivals and family functions," says Saraswathi.
The conversation is interrupted when former Tamil Nadu Congress president Kumari Ananthan lands up with a dozen supporters to congratulate her.
One of the men who comes along with Ananthan hands her a book with the message, "Please give it to him when he comes next." Another hands her a monthly magazine.

IMAGE: Dr Sivan's sister-in-law, Saraswathi, lives in the family house. Photograph: A Ganesh Nadar/Rediff.com
"He comes here every year for the Badrakali Amman puja which takes place in April-May," adds his sister-in-law.
"He comes with his family, offers prayers and leaves the same day. He always comes for all family functions. When he is with the family he is always smiling and joking. He never calls, but his wife calls regularly and keeps in touch with us," Sarawathi says.
"He was a class topper from school to college," says Dr Sivan's uncle who lives in the house opposite.
"He was a brilliant student and never went for tuitions or private classes. His father used to pluck mangoes and young Sivan used to go to the market to sell it. He was a helpful child," the uncle adds.
The school Dr Sivan studied at is also opposite the family house. The retired PT master there recalls him clearly. "He was five years my junior in school, I remember him as a very quiet boy."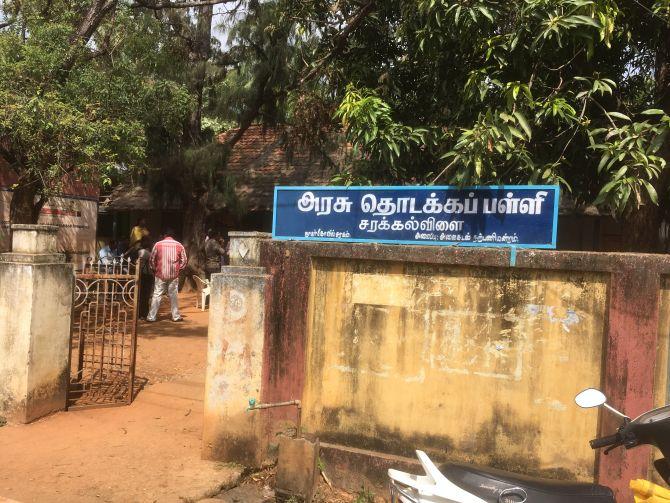 IMAGE: The elementary school at Sarakkalvilai village opposite Dr Sivan's family home. Photograph: A Ganesh Nadar/Rediff.com
"I too was five years his junior," another villager pipes in. "You know the final exams used to come during harvest time. His father used to be in the field while Sivan sat on the lower branch of a tree with his books, studying, keeping one eye on the harvest, and run if his father called. He was always studying."
"When Sivan and I were in school we had a very good headmaster," the villager adds. "That headmaster planted many trees in the school compound and made every class in charge of a few trees. In the morning, when we came to school, the first thing we did was to water the trees and only after that did we attend school."
"Kanyakumari is basically an agricultural district," an elderly villager points out. "Apart from coir, there was no industry here. We all survived on farming. It's rich fertile soil and there is plenty of water. Paddy, bananas, coconuts, mangoes, rubber is grown here."
"Sivan was exceptional," the elderly gent adds, "while he helped his father in the field he continued studying every free moment."
"As there was only a primary school here we went to nearby Valankumaravilai for our SSC (Class 10). Those days there was no 12th standard. As there was no bus facility we walked."
A colleague from ISRO, who retired a decade ago and did not want to be named for this feature, recalls, "He (Sivan) would go home only to sleep. He is extremely hard-working and totally focused on his work. He was not only the first graduate from his family, he was also the first graduate from his village."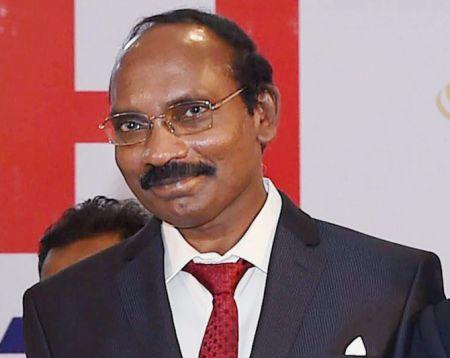 IMAGE: Dr K Sivan. Photograph: PTI Photo
"He is a disciplined taskmaster," says D Karthikesan, former director of the ISRO Propulsion Complex in Mahindragiri, Tamil Nadu.
"He likes to keep everything on schedule and works with a deadline," adds Karthikesan. "If he thinks there is a problem somewhere he will go and talk to the people actually working on the project, and never limit himself to seniors in the organisation."
"Though he is a hard taskmaster," the former ISRO scientist points out, "he is also extremely generous and always looks after the welfare of the people working under him. So people work hard for him."
"He is a bold decision-maker," says Karthikesan. "Where others may hesitate wondering if it would work or not, he will say it will work and will do it."
"Though he followed the schedule strictly," adds Karthikesan, "he also made sure that all parameters are met at every stage. Whether it is quality or safety, he made sure every parameter was up to the mark before proceeding, and yet kept a tight schedule."
Dr Sivan has two sons. The elder one has finished his BTech, the younger son is in college.
The school Dr Sivan studied in was built over 60 years ago. "We need to pull it down and build another," says a villager. A government-run school, the land was given free by Dr Sivan's uncle.
The village still does not have a bus service, a fact the villagers highlighted to Kumari Ananthan, the Congress politician. Nor does it have a middle, high or higher secondary school.
K Sivan's ascent bears an uncanny resemblance to another ISRO scientist who was born in a fishing village in Ramanathapuram, also in Tamil Nadu.
That scientist, of course, went on to become the most beloved President this Republic has had.