Those familiar with Hindi poetry are aware of Rahim's elevated status in the medieval history of literature -- he is one of the triumvirate of doha writers, the other two being Kabir and Tulsidas, says Uttaran Das Gupta.
Illustration: Dominic Xavier/Rediff.com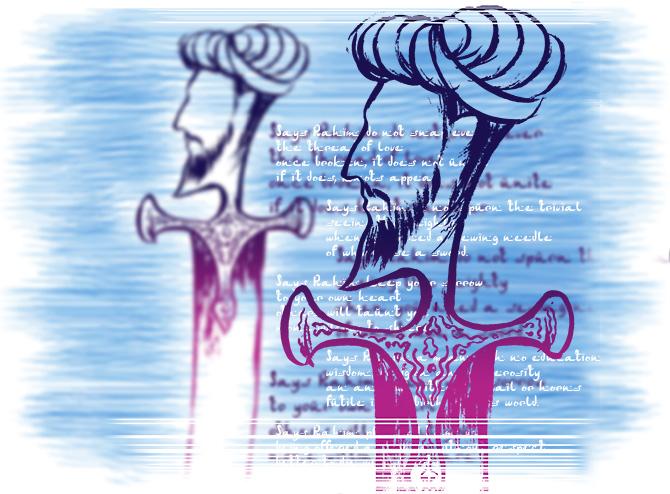 Some weeks ago, three ministers of the Rajasthan government proposed to rewrite the history of the battle of Haldighati to show Maharana Pratap as the winner of the critical conflict with Mughal emperor Akbar.
Historians have traditionally agreed that the battle was inconclusive, resulting in a sort of uneasy truce between Akbar's expansionist ambitions and the Mewari ruler's struggle to retain his independence.
In no way could this be recast as a religious war -- the Mughal army was led by Raja Man Singh of Amber and Rana Pratap's chief of artillery was Pashtun warrior Hakim Khan Suri.
Yet, attempts to do so are neither new nor novel.
In the early 20th century, Jaishankar Prasad, one of the pioneers of the Chhayavaad movement in Hindi poetry, wrote Maharana Ka Mahatv, in which Rana Pratap is, of course, the hero, fighting a nationalistic battle against the Muslim invader, Akbar.
The third important character in the poem is Abdur Rahim Khan-i-Khana, then one of the younger generals in the Mughal army.
In Jaishankar's poem, centred on the battle of Haldighati, Pratap and Rahim are adversaries who cannot help admire each other.
Those familiar with Hindi poetry are aware of Rahim's elevated status in the medieval history of literature -- he is one of the triumvirate of doha writers, the other two being Kabir and Tulsidas.
Now, there is a concerted effort by historians and organisations to renew public consciousness about Rahim's other contributions.
In mid-March, a festival, Celebrating Rahim, took place in New Delhi.
Former high commissioner to Singapore and Pakistan T C A Raghavan's biography of Rahim -- as well as his father Bairam Khan, Attendant Lords Bairam Khan And Abdur Rahim: Courtiers & Poets In Mughal India -- is part of the larger effort, but also unique in its historiographical ambitions.
The first chapter of the book is on Bairam Khan, who served for four years as Akbar's regent after the sudden death of his father Humayun (1556).
It begins with Bairam's assassination on January 31, 1561, at Patan.
The remaining five chapters are justifiably monopolised by his son who far outshone Bairam.
In the introduction, Raghavan, who has a PhD in history from the Jawaharlal Nehru University, writes, 'Between them, the father and son straddled some hundred years of Mughal history in India, living through the reigns of four emperors, and their spectacular and turbulent trajectories reflect both the grand designs and the destructive courtly intrigues of Mughal politics.'
In Raghavan's book, Rahim emerges on stage at the Mughal court, first as an accomplished young man -- poet and soldier, as would be have common for a noble -- and then gradually charts an illustrious career in politics and literature.
His rise is comparable to, but often more fabulous than, his contemporaries in Renaissance Europe -- Michelangelo, Machiavelli and others.
While we get a sweeping picture of his life and times, we are also treated to nuggets and anecdotes, such as how, encouraged by Akbar, Rahim started learning Portuguese.
Raghavan quotes a 1582 letter by Father Acquaviva, who led the first Jesuit mission to Akbar's court: 'Mirza Khan (Abdur Rahim)... at the suggestion of the King wishes to learn the Portuguese and Latin languages and has already made a start in them...'
What also emerges is a tableau of the vibrant courts of Akbar and Jehangir, moving away from more conservative and rigid aspect of Islam, turning liberal and Sufi.
Raghavan argues that the influence of Rahim's Mewati relatives as well as the Rajputs at court quite possibly influenced his choice of poetic forms and subjects.
One of his earlier works is Barvai Nayika Bhed, written in short couplets, exploring a range of emotions felt by women in love.
Considered a minor landmark, it is remarkable for a number of reasons: A Mughal nobleman writing a Hindi poem in a form popular in Sanskrit.
By the time Rahim's dohas were written, he was far gone into the kind of Sufism that post-truth rewriters of history will find beyond their imaginative faculties.
My only quarrel is with the title of this book.
It is taken from The Love Song of J Alfred Prufrock by T S Eliot:
No! I am not Prince Hamlet, nor was meant to be;
Am an attendant lord...
This, is turn, is a reference to William Shakespeare's Hamlet.
Though there is hardly any critical consensus on this, Eliot's 'attendant lord' in all probability refers to Rosencrantz and Guildenstern, two minor characters in the play who serve only as plot devices. (Tom Stoppard has used their hapless fate to create his existential tragicomedy Rosencrantz and Guildenstern Are Dead.)
Bairam and Rahim, frequently central players and at times even in control of the fate of the Mughal empire, are not attendant lords by any stretch of the imagination, even if they are not the prince.