Saraswati spreads across 600 million light years and is four billion light years away from Earth.
Rediff.com's Utkarsh Mishra reports.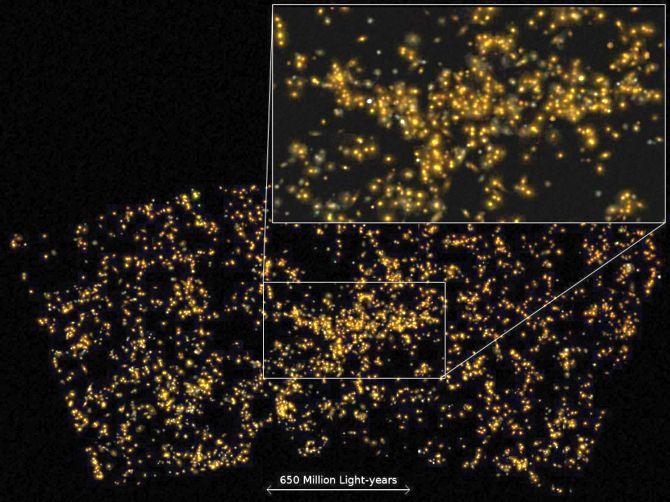 A 15 year study by a group of Indian scientists has resulted in the discovery of Saraswati, one of the biggest superclusters of galaxies found so far.
It spreads across 600 million light years and is four billion light years away from Earth.
The findings were published in The Astrophysical Journal by Joydeep Bagchi of the Inter University Centre for Astronomy & Astrophysics, Pune, the lead author; and co-authors Shishir Sankhyayan of the Indian Institute of Science Education and Research, Pune; Somak Raychaudhury, Director, IUCAA; Pratik Dabhade, also from IUCAA, Prakash Sarkar and Joe Jacob.
Sankhyayan told Rediff.com that Dr Bagchi had started examining the data from galaxy cluster ZwCl2341.1+0000 in 2002.
"He understood that it was a region of high density. But at that time the data was not sufficient. It took a decade to get data sufficient enough to conduct an analysis. After applying various tests, by 2017, the presence of a massive supercluster was confirmed," Sankhyayan said.
A Galaxy Supercluster is a large group of smaller galaxy clusters which is among the largest known structures of the universe.
Our galaxy, the Milky Way, is part of the Laniakea Supercluster which is spread across 500 million light years.
While the early universe was homogenous and uniform, Sankhyayan explained, clumps started to develop later, due to gravity -- most stars condensed into galaxies, most galaxies into clusters and superclusters.
However, the presence of such a massive supercluster billions of years ago comes as a surprise to the astrophysicists.
As Saraswati is 4 billion light years away, what the scientists are looking at is the supercluster as it was four billion years ago!
Most forms of this model present very low probability of the existence of such large structures as Saraswati within the current age of the universe.
And that's what makes Saraswati supercluster different, says Sankhyayan.
"It is also very dense and non-uniform. The density of galaxies is very high. It is a deviation from the hierarchical model. A detailed study about the evolution of galaxies in this supercluster is required to know more about it," he said.
Dark energy, Sankhyayan said, might play a role in the formation of such superclusters.
Scientists use dark matter and dark energy to explain the structure of the universe.
Dark matter, which is invisible, accounts for most of the matter in the universe; whereas the accelerating expansion of the universe is attributed to dark energy.
When asked how they came up with the name Saraswati, Sankhyayan said, "We wanted to give it an Indian name. And it is like a river of galaxy. So we named it after the river Saraswati."