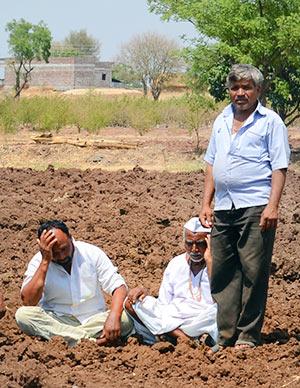 Peasants from Maharashtra's drought-affected Beed district feel the government machinery and political leaders are indifferent to their plight.
Rediff.com's Prasanna D Zore and Uttam Ghosh spoke to several farmers at a 'government-run' cattle camp where they were told that Devendra Fadnavis's Maharashtra government doesn't care for them.
Earlier in the series: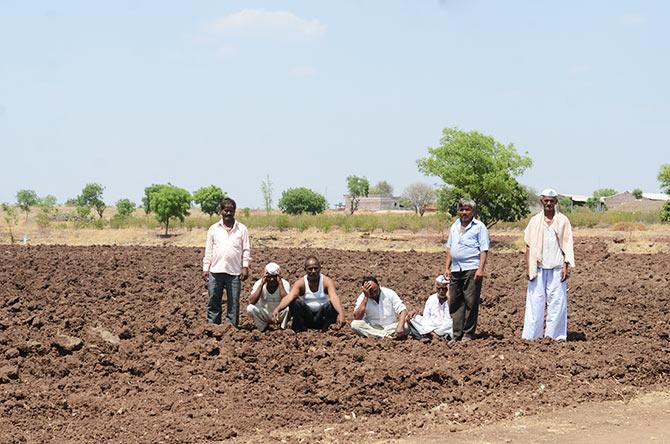 Atmaram Mule, the former sarpanch (elected village head) of Watanwadi village in Beed district is having lunch.
Mule is eating his meal under a cloth tent inside a 'government-run' cattle camp, built on several acres of farmland, accompanied by a few friends and about 1,100 heads of cattle: Cows, bulls and buffaloes.
"It's 1 pm and I am late for my meal," says Mule as the afternoon sun blazes brightly.
Mule had just arrived from Watanwadi where a family from a neighbouring village was on the verge of breaking their daughter's marriage to the groom from his village. "Just because there is not much water left in our village now," says Mule after finishing his lunch. "I had to beg and beseech them to not break this engagement," he says informing us that the girl's family was worried because there was just about two weeks' potable water left in his village's wells.
"For the time being I have made them see reason, but I cannot tell what will happen on the day of the marriage. Premane paya padun lagna lavava lagel (I think we will have to prostrate at their feet to get this marriage going)" scheduled in the first week of June, he says about how drought is forcing people to snap a social contract like marriage.
Talk to any farmer across Beed and they all have one answer -- a prayer, actually -- on their lips: It will rain around June 7.
Soon, more farmers gather around Mule and his friend and the conversation veers towards government-bashing, tales of farmers' debts, and how the Watanwadi cattle camp was not getting its due that the state government has promised such cattle camps across drought-affected villages in Maharashtra.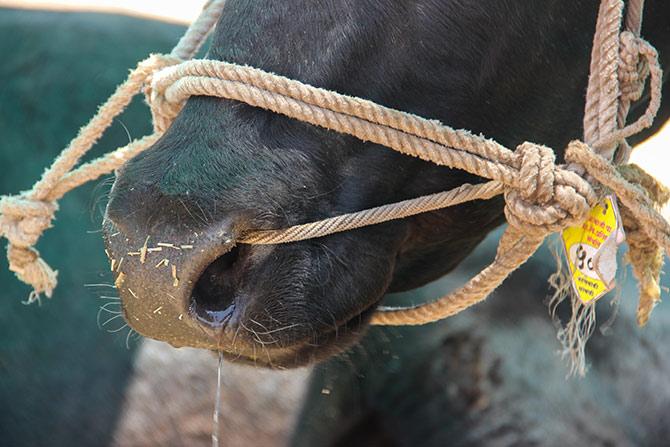 "Politicians have their own vested interests," says Mule. "The farmers in Maharashtra don't have any godfathers to look up to," he adds to the accompaniment of nods from the others.
The farmers who have brought their cattle to this camp, their only liquid assets, apart from their land, which unfortunately, they say, have been mortgaged with the government-owned Indian Bank and State Bank of Hyderabad.
Here's a list of the farmers, the cattle they had brought to the Watanwadi cattle camp and the money they owe one of these two banks...
Shaikh Ismail: Owner of two cows and two bulls, Shaikh has mortgaged 5 acres of his land to Indian Bank for a loan of Rs 150,000.
Shahdev Gopinath Bhoge: Owner of five cattle, he owes Rs 200,000 to the State Bank of Hyderabad for which he has mortgaged five acres of his farm.
Atmaram Mule: Owns four cattle and owes Rs 300,000 to the State Bank of Hyderabad; he mortgaged seven acres of his farmland.
Pandurang Namdev Shingire: Owns 12 cattle and 8 acres which has been mortgaged to Indian Bank for a loan of Rs 400,000.
Vishnu Mahadev Norude: Owns four cattle and owes Rs 500,000 to Indian Bank after he mortgaged 11 acres of his farmland.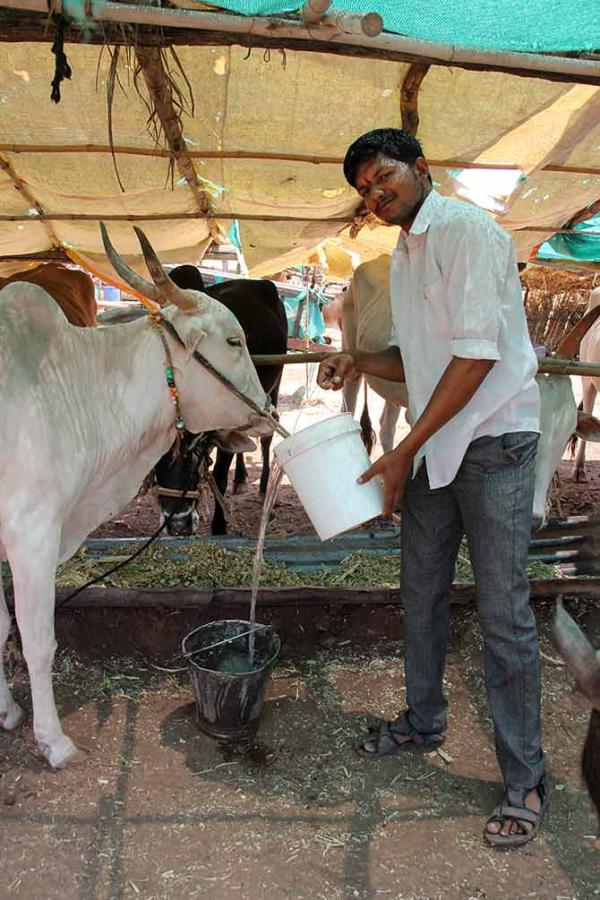 Interestingly, farm incomes of these farmers have all but vanished and the money they earn from selling onions or milk from cows is just about enough to make ends meet.
"For any loan we need, the banks ask us for security. We have nothing but our land to pawn; even for a Rs 10,000 loan they ask us for 7 to 12 extract (an official document that shows ownership of land and the name of the title owner)," says Shaikh.
Norude, who took this correspondent on his motorcycle for a tour of the cattle camp, says it has not rained adequately in his village since 2011, "mhanun shetat kahi piklach nahi (so, since then we were not able to earn any income from agricultural produce)."
Watanwadi, like many other Indian villages under the drought's shadow, are reeling under a kind of reverse multiplier effect, a kind of a vicious circle that goes like this: No rains means no farming; no farming means drop in agricultural income for farmers; no farming means lack of adequate fodder for their cattle; no fodder means low quality milk from milch cattle and drop in its nutritious value, which in turn fetches them lower prices for the milk their cattle produce.
"Panyapekasha dudh swast zhala aata (milk now costs far less than water). Since there is not adequate, good quality, fodder for our cattle their milk produce has decreased along with fall in the quality of milk," says Bhoge, who owns five cattle, three of which are milch cows.
"A litre of water now costs more than a litre of milk," he says, citing how low farm incomes have led to low demand and hence depressed prices of milk in local markets.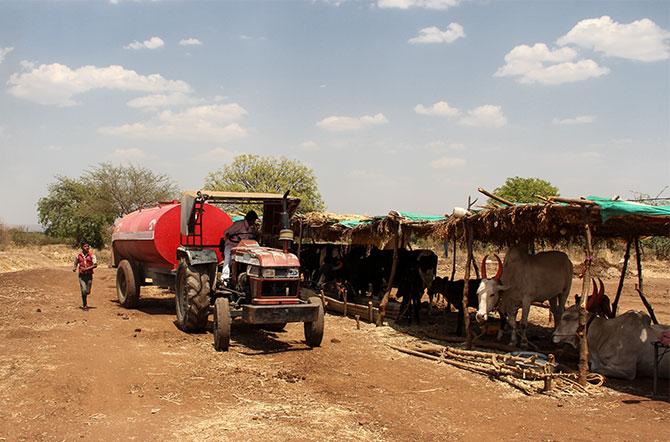 Ashok Mohan Pawar, who is the chairman of the Aabaji Patil Grameen Vikas Pratishthan, a non-government organisation that runs the Watanwadi cattle camp by spending money from the NGO's account before the government compensates it, says, "Nobody in this government understands that the beef ban (the Maharashtra Animal Preservation Act) has broken a very significant pillar of the farm economy."
"While I am all against cow slaughter, what will the farmer do when his bulls grow old if not sell them? Now, when even a government can't afford maintenance of old cattle, do you think the farmer, with his back already broken by this drought, is happy about this beef ban?" he asks.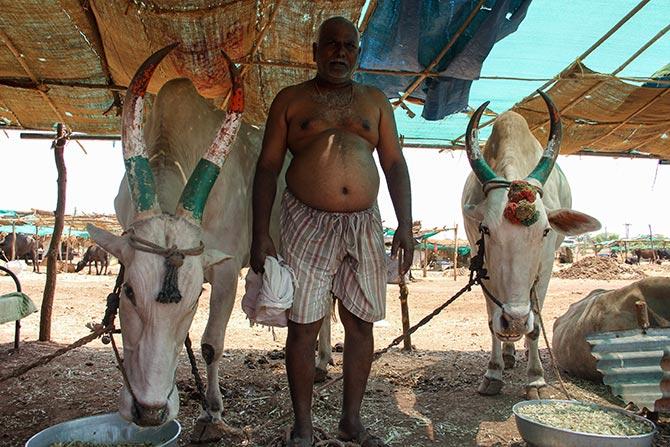 Many of the farmers, on the condition they be not named, say that the beef ban was chiefly responsible for a sharp fall in the value of their livestock, and hence their wealth. "Had there been no ban on the slaughter of cattle in Maharashtra we could have sold our old animals and repaid at least a part of our bank debts," they say.
Given their condition, most of the farmers Rediff.com spoke with said that their two main demands to the Maharashtra government were waiving off their farm loans and waiving off their electricity bills. "Shetkaryacha 7 to 12 kora zhala pahije (The 7 to 12 land extract should be freed from the banks' lien)," they say.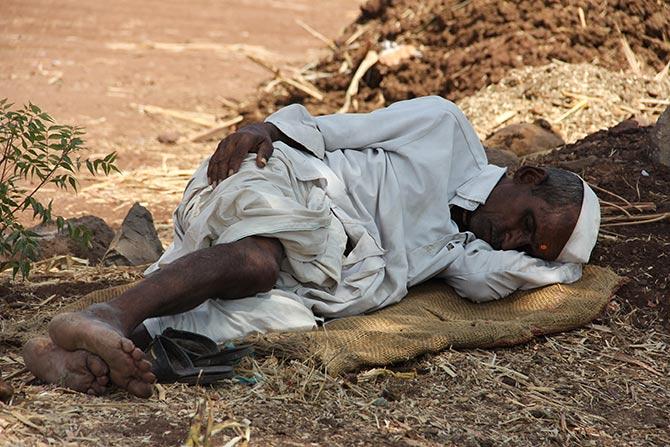 Ask these farmers about their failure to organise themselves and collectively ask for drought relief from the government, Mule says, "In this country farmers organise only on emotive issues. Farmer suicides and their penury move nobody here."
Shaikh, who has a dry and pointed wit to the core, quips at this point: "What do you mean it moves nobody? Didn't that minister, who the other day had come to this cattle camp, move around in his air conditioned car?"
The crowd gathered around Shaikh breaks into laughter bringing about some relief to these debt-stricken farmers.
"I don't know if we will be around in another month if it doesn't rain on June 7," says Mule before the group breaks off to tend to their cattle strewn across the camp.