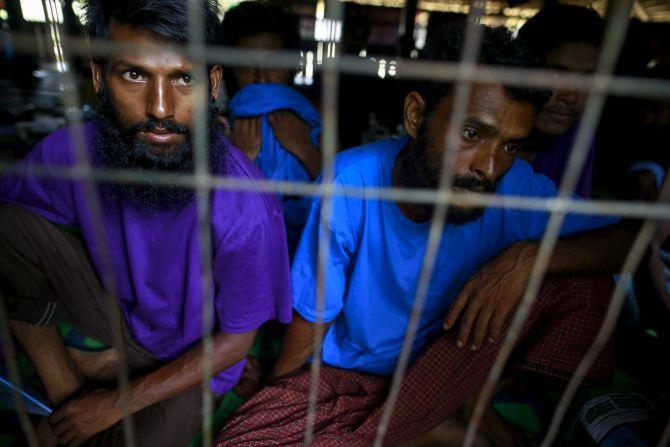 Refugees from Bangladesh, who were rescued by the Myanmar navy, housed in a madrasa that is being used as a temporary refugee camp, at Aletankyaw village in Maungdaw township, in Rakhine state. Photograph: Soe Zeya Tun/Reuters
As Myanmar refuses to accept that the boat-loads of refugees abandoned at mid-sea are its people, claiming instead that they are from Bangladesh, the plight of the Rohingyas has worsened, reports Prakash Bhandari from Dhaka.

Rohingyas, ethnic Myanmarese who speak Bengali and have a strong cultural affinity with Bangladesh, have once again been receiving international attention.
Several thousand Rohingyas were found adrift without food and water in the Andaman Sea along with illegal Bangladeshis migrants. Rohingyas and Bangladeshis were found stranded mid-sea also along the coasts of Thailand, Malaysia and Indonesia.
These boat people -- as they are called -- were victims of human trafficking who were tricked by agents and promised a better future in Thailand, Malaysia and Indonesia. But these migrants were abandoned mid-sea by the ship's crew when the authorities found out that they were heading towards their country.
The illegal migrants were rescued by fishermen when their boats were about to sink but were not allowed on land by the Thailand, Malaysia and Indonesian governments. But now, with international pressure mounted by the United Nations and other agencies, they are being given shelter by these nations, but only temporarily. They would be repatriated soon.
The navies of these countries are keeping a strict vigil along their respective sea frontiers and turning away the boats of these migrants.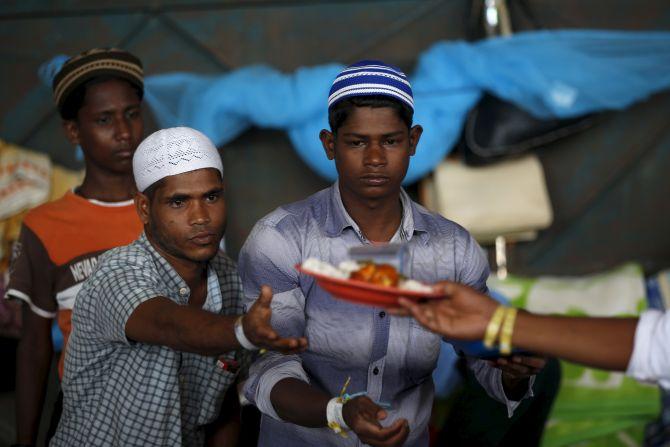 Rohingya migrants who arrived recently by boat receive their breakfast at a temporary shelter in Kuala Langsa, in Indonesia's Aceh province. Photograph: Darren Whiteside/Reuters
Thailand was the first to start a massive crackdown on human trafficking following the discovery of mass graves in its jungles in the south, where traffickers used to run several camps for duping the migrants and extorting money from them. A large number of migrants died in the camps and their graves remain a testimony to the inhuman treatment meted out to them by human traffickers, most of them influential Thai politicians.
It seems the Thai officials are hand in glove with the human traffickers and Thailand serves as the transit station from where these poor, uneducated Rohingyas and Bangladeshis are smuggled into Malaysia across their common land border.
Bengalis" is a term often used pejoratively by Myanmar officials to describe the Muslim Rohingya minority -- 1.3 million of whom live in Buddhist Myanmar, but are not recognised as citizens. The widespread persecution of the impoverished community in Rakhine state of Myanmar is one of the primary causes for the current regional exodus, alongside growing numbers trying to escape poverty in neighbouring Bangladesh.
A majority of the Rohingyas have faced the wrath of the Buddhist rulers of Maynmar and have been fleeing Arakan after facing persecution. Several thousand Rohingyas died in Arakan and more than 1,50,000 people have been herded into the so-called internally displaced peoples' camps with no adequate provision for food, clothing, healthcare and with no future or livelihood. All this forced the Rohingyas to migrate to neighbouring countries as illegal migrants, abandoning their centuries-old homes in the hope of a better future. Both Malaysia and Thailand have also blamed the Myanmar regime for creating such a situation for the Rohingyas.
For years the Rohingyas have been subject to maltreatment that has been described as "crimes against humanity or "manifest genocide". Unmindful, the Myanmar government has been ignoring these ethnic people who look different and resemble Bangladeshis. The apathy of the Myanmar government is what has forced them today to choose the floating coffins on the high seas.
Prior to the liberation war of the 'seventies, over 50 lakh East Pakistanis from undivided Pakistan entered India and over 10 lakh refugees never returned to their native land after the creation of Bangladesh. They made India their home and can be seen in various states of India.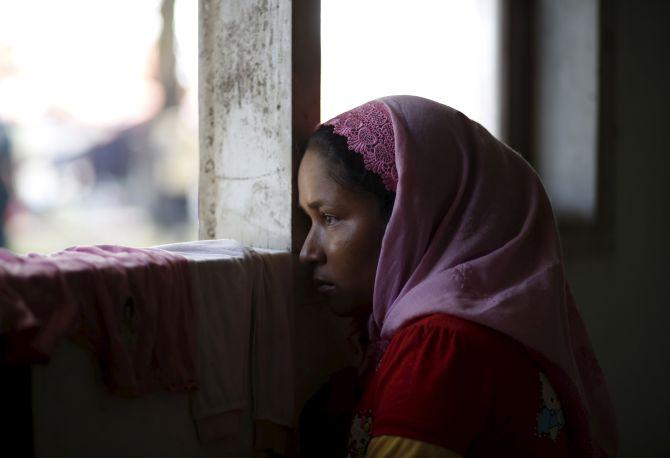 A Rohingya migrant who arrived in Indonesia by boat looks out the window of a temporary shelter in Aceh Timur regency, near Langsa in Indonesia's Aceh province. Photograph: Nyimas Laula/Reuters
Bangladesh now facing the same issue that India faced in the '70s. Several lakh Rohingyas live in Bangladesh. The Bangladesh Bureau of Statistics launched a headcount in 2012, when the government to its horror discovered that a large number of Bengali-speaking Rohingyas have entered the country in large numbers and mixed with the local community.
The United States several years ago took up the initiative of resettling the Rohingyas in a third country. These "third countries" include Canada, Australia, the UK, Ireland, New Zealand, Sweden, USA and Norway.
After this initiative 309 Rohingyas went to Canada, 242 to Australia, 190 to the UK, 82 to Ireland, 56 to New Zealand, 19 to Sweden 14 to USA and 4 to Norway. But this process which started in 2006 has now been stalled. The US again called for these "third countries" to take the Rohingya migrants, but Australia has refused to take them as it would further encourage illegal migration of the "boat people", it feels.
In Bangladesh, there is a documented case load of 32,713 Rohingya refugees that Dhaka wants interested third countries to adopt. But as the Rohingyas are uneducated, most countries find it difficult to resettle them.
Gambia, a Muslim nation, has offered to take the Rohingyas.
The Philippines has signalled that it is ready to take thousands of migrants who are stranded in Asia's seas. A signatory to the UN refugees' convention, Philippines has become the first country to offer shelter to the migrants.
Philippines has, however, clarified that genuine asylum-seekers would need to be sorted out from those seeking greener pastures.
Bangladesh's State Minister for Home Affairs Asaduzzaman Khan clarified that a majority of th e"boat people" are Rohingyas, while the Myanmar government countered it by saying they are Bangladeshis.
To prevent the Rohingyas from entering Bangladesh, the government decided to set up Border Operation Posts in the Chittagong Hill tracts for around 250 km.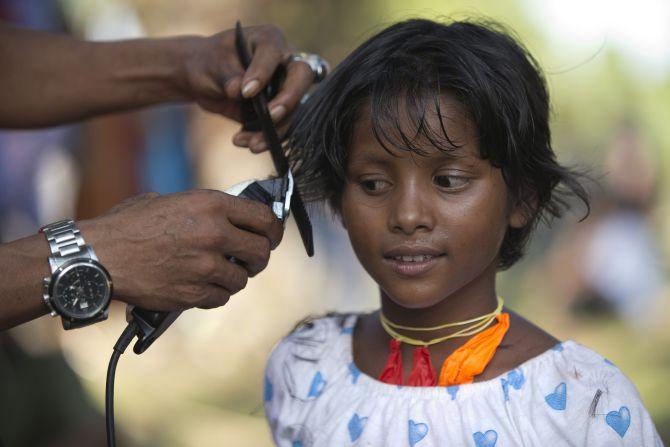 A young Rohingya migrant, who arrived in Indonesia by boat, has her hair cut by a volunteer at a temporary shelter in Aceh Timur regency, near Langsa in Indonesia's Aceh province. Photograph: Darren Whiteside/Reuters
The Bangladesh government has decided to bring back only illegal Bangladeshi migrants and has already started identifying them.
Now Myanmar, after the international outcry, has softened its stand after both Malaysia and Indonesia announced that they would not turn away the "boat people". But the latter have also clarified that their assistance is temporary and on humanitarian grounds, and the migrants will eventually have to return to their own land.
The US has taken up the issue of the Rohingyas with the Myanmar government. The United Nations High Commissioner for Refugees has also made an appeal to various nations to help in the resettlement of these illegal migrants.
The UNHCR has sought to bring Thailand, Indonesia and Malaysia to a table and work at resettling the most vulnerable Myanmarese. But Myanmar, even after international pressure, is trying to avoid this meeting and has clearly stated that the "boat people" are not Myanmar nationals.
This act of the Myanmar government shows beyond doubt that the Rohingyas are today's "untouchables".