Danish Siddiqui hopes to keep coming up with compelling stories that help him 'sleep peacefully at night'.
Dhruv Munjal reports.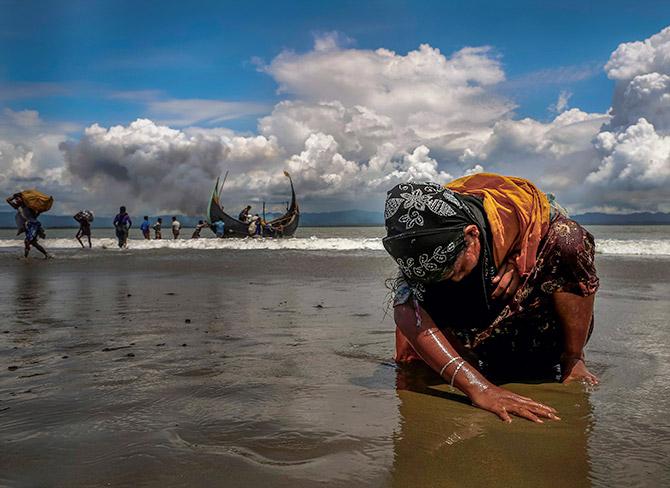 Danish Siddiqui is unusually composed for someone whose name is about to go up on the honours list of arguably the most important journalism prize in the world.
"I have never worked for any praise or recognition," he says, an immense calmness perceptible in his voice.
"When you have the passion to genuinely make a difference, you invariably end up doing good work."
This enthusiasm drove Siddiqui, a photojournalist, to abandon his stay in New Delhi in August -- where he was holidaying with his parents -- and set off to Bangladesh to capture the plight of Rohingya refugees who had fled Myanmar and were making their way across the Bay of Bengal.
The decision saw Siddiqui's lens produce a remarkably striking image: An exhausted Rohingya woman collapsing to her knees on the shore as a group of men help unload her limited belongings from a boat in the background.
The grey sea, the plumes of smoke, a chain of hills and an overcast sky act as the backdrop for the picture, which is as exquisite in its execution as it is haunting in its interpretation.
Another one by Siddiqui shows a group of refugees walking along the shore after completing the dangerous journey from across the border.
Last month, Siddiqui, along with six others on the Reuters team, was declared the winner of the 2018 Pulitzer Prize for Feature Photography.
"I remember exactly how it was. It was the middle of the monsoon and I had been waiting at that beach for about three hours. This was one of the first boats that arrived," he says.
The tragedy of the Rohingyas
Reuters photographers won the Pulitzer Prize in Feature Photography for their coverage of the Rohingya crisis.
Please scroll sideways to see more images
The challenge, he adds, was to record everything in one frame.
"There was so much happening at the time. I wanted to show everything I could -- the helplessness, the desperation, the anguish."
That he was one of the first international journalists to reach Bangladesh and few restrictions were in place at the time helped.
Subsequently, Siddiqui, 34, spent three weeks in and around the coastal town, Cox's Bazar, living with refugees in makeshift tents and experiencing the horror of the time.
"There was little food or water. Trees were being cut down to make room for more people. It was utter chaos," he recalls.
The physical toil wasn't easy, either; Siddiqui had to walk hours at a stretch while stationed there.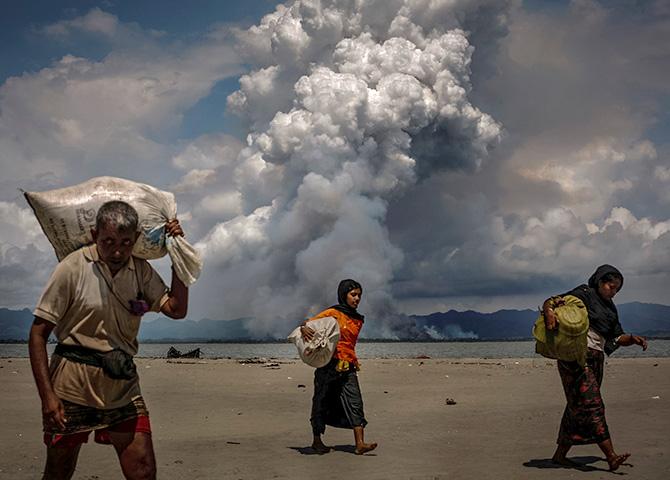 Siddiqui's achievement is enhanced by the fact that he is not trained as a photographer.
Before moving to Mumbai from New Delhi, he worked as a defence correspondent for a television network.
But he never quite developed a fondness for the newsroom or the microphone. He gave up that job and moved to Reuters to work as an intern in 2010 -- to do some "real" stuff.
"My TV job was shallow and robotic. Now I have more freedom and control. Plus, I feel I am contributing more," he explains.
Siddiqui, in fact, has quite an impressive CV: Apart from the Rohingya crisis, he has covered the wars in Afghanistan and Iraq, the Nepal earthquake and the lives of asylum-seekers in Switzerland.
Siddiqui is now hopeful that his photographs can raise more awareness about the Rohingya tragedy.
"This is the kind of work I always aspired to do. My objective was to tell their story," he says.
He may not be one for acclaim, but Siddiqui does plan to travel to the United States when the award is handed out.
And he expects to keep coming up with compelling stories that help him "sleep peacefully at night".
"I have a two-year-old son. When he grows up and asks me about my work as a photojournalist, I must have something meaningful to say."
Well, he already has quite a story to tell him.