'It made me sad that these people had to spend a minimum of 20 dirhams from the meagre 800 dirhams they get, to pray.'
'God had helped me many times in my life, it was my duty to help these people.'
The incredible story of Saji Cherian.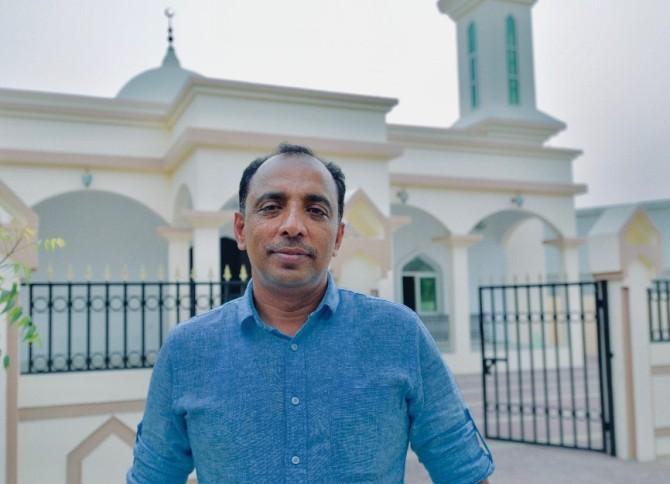 On June 1, when the mosque Mariam, Umm Eisa (Mary, the Mother of Jesus) in Fujairah (around 170 km from Dubai), United Arab Emirates, opens its doors for the public to pray, it will create history.
For it is not just another mosque, but built by a Malayali Christian businessman as a Ramzan gift to the thousands of workers living in the East Ville Real Estate complex in the Al Hayl Industrial Area, Fujairah.
The Christian businessman is Saji Cherian. His journey from Kayamkulam in Kerala to Fujairah via Mumbai has all the twists and turns you see in a film. Plus, it has a fairytale ending too.
He landed in Dubai with just 630 dirhams in 2003 with no job and no contacts.
In fact, he was running away from Kerala to make some money so that he could repay the debt of Rs 20 lakhs (Rs 2 million) he had incurred while building a hotel.
It was not like Saji Cherian has the Midas touch and everything he touched turned into gold. He has seen huge ups and downs in the last 15 years.
From wandering the streets of Fujiarah hungry and tired, to building a successful business, then losing everything and falling into debt again, he has seen it all.
Perhaps it is this unpredictability of life that has made him believe in the unseen power.
Though born and brought up in an orthodox Christian family, Saji Cherian was not a regular church-goer till his wife came into his life.
Before gifting the mosque to his fellow Muslims of Fujairah, he built a church there as well. He wants to build a Hindu temple next.
This is the incredible story of 49-year-old Saji Cherian.
I was running a restaurant in Kayamkulam quite successfully with two of my friends, but it was situated on my brother's land.
So, when I got my own land on the side of the national highway, I decided to build a hotel there.
With a bank loan of Rs 20 lakhs, along with the money I got from selling my wife's jewellery, I plunged into building a three-storey hotel.
Even before I could finish the first floor, I ran out of money. It clearly showed how inexperienced and immature I was about the business.
The only reality in front of me was I had to repay the bank loan and I had no money.
I knew I would not be able to repay the loan if I remained in Kerala. The only place I thought that could save me was Dubai.
I remembered Gopalakrishnan from Kayamkulam who ran a successful business in Dubai who had come to our restaurant once and had given me his business card.
I called him and appraised him of my situation. I will not be able to forget this man and the help he offered me at a time I was neck deep in debt.
He had only seen me once and he was not obliged to help me at all, but he did. He was like God to me.
With just Rs 30,000 and a visiting visa to UAE in hand, I took a train to Mumbai, telling my wife that I had got a job there.
My two friends were also with me as I knew if I left them behind in Kayamkulam, their lives also would be in misery.
Till I boarded the train to Mumbai, I had not seen the world outside Kerala. I was under the impression that Mumbai was like the underworld I saw in films!
After finding jobs for my friends in Mumbai, and dividing the Rs 30,000 equally among us, I took an Emirates flight one night from Mumbai to Dubai.
I landed in Dubai on a hot day in July 2003 around 11 at night. I had no idea where to go and whom to call. I sat outside the Dubai airport till 2 in the morning.
Though it was very hot even at night, I was shivering inside. The sheer size of Dubai airport intimidated me, a person who had not seen a world outside Kayamkulam.
The first thing I did was I converted the rupees I had and got 630 dirhams.
At 6 in the morning, I went to the taxi stand with no clear idea on what to do.
I overheard two Malayalis talking about a place called Fujairah. They said it was one of the fastest growing cities in the UAE and there were a lot of opportunities there. I had no idea where this Fujairah was.
Suddenly I saw a bus going to Fujairah and I bought a ticket paying 25 dirhams.
And thus I started my journey to this unknown place called Fujairah.
My heart raced fast thinking of what awaited me.
It was a make or break trip for me. I would either succeed or fail. There was no intermediary in life, I felt.
I got out at the last stop and the first shop I noticed was the Delhi Durbar restaurant. I went there and had lunch for 5 dirhams. After lunch, I just sat there, not knowing what to do next.
At 2.30, I was asked to get out as they were going to close the shop till 6.30. Later I came to know that all shops closed from 2.30 to 6.30 because of extreme heat.
It was 48 degrees outside, but I had no other option but sit outside.
Three months passed. There I was at the mercy of many unknown Malayalis and despite wandering around in the hot sun from morning till evening, lady luck did not smile at me. I had to go back home empty-handed.
But I was not ready to accept defeat. I came back again with another visitor's visa.
This time I was lucky to get a visa to work in the construction business.
The first work I got was to do an extension of a villa. The contract was for 50,000 dirhams and I got an advance of 10,000 dirhams.
I bought two visas and brought two people over from Tamil Nadu and started my own construction company with an Arab as a partner.
I worked like crazy but with meticulous planning, starting my day at 5 in the morning.
I myself took all my workers to the site, bought construction materials and supervised everything.
My business flourished and after three years, I had 140 people working for me. We were building 36 villas. I had 98 trailer trucks and was doing a business of 18 million dirhams a month.
I sold diesel and building materials and also ran trucks. It was as if nothing could go wrong.
It was during this time that my wife made a non-church goer like me a church-goer.
It so happened that in 2012, a former non-church goer like me decided to build a church in Dibba, a place close to Fujairah. This happened when I found that prayer was conducted in a small house because there was no proper church there.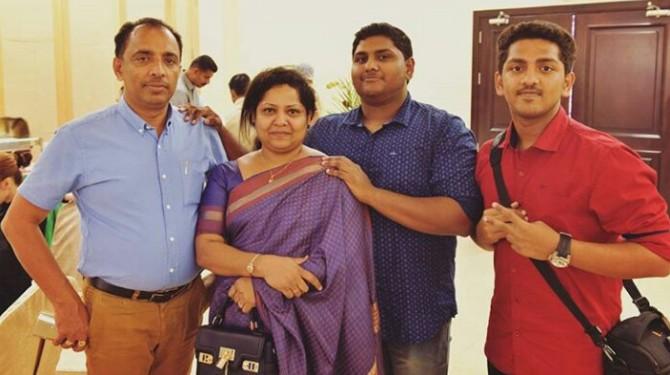 Then the unexpected happened.
Around mid-2013, 446 cheques worth 16 million dirhams bounced and I had a debt of 16 million dirhams, which was almost Rs 50 crore.
From a successful businessman, I became a man with no money and no business.
Everything vanished in a day.
It was like, I was back in 2003 again. Cheques deposited in my account bounced and the bank imposed a fine of 40,000 dirhams on me.
I could have fled the country, but I didn't want to do that. I didn't want anyone to call me a fraudster.
Almost all the Malayalis in Fujairah thought I would run away. I remembered my father who was a road contractor. He had suffered losses several times in his career, but each time, he worked hard and came up.
I was his son and I knew I would come out of all the troubles one day.
But I wanted my wife and children to go back to Kerala away from all the turmoil I had created, but my wife was unwilling to leave my side. She said we will face everything together.
Faced with incessant phone calls and threats, anybody in my place would have committed suicide, but I tried to float though I knew I was drowning.
It was like God sent this man to me.
In early 2014, after almost two years of darkness, an Arab offered me a piece of land saying I could do something there.
I accepted the offer and took 35,000 sq metres of land on lease, but without having a single paisa. I was penniless, but my plan was to construct something on the land as I had lots of construction material taken on credit in the shop lying unused.
In 90 days, I constructed 100 rooms as a labour camp. I promised my workers that I would pay them after 90 days.
I knew I would either survive or perish. The day the rooms were ready, a company took all 100 rooms on rent for its workers and gave me 1.1 million dirhams as advance rent.
With that money, I started paying back my debt. In three years' time, I paid off the entire debt of 16 million dirhams.
Now, in 2018, I have taken a 70,000 sq metre space on lease for 20 years and I have constructed 800 rooms along with a service station, saloon, garage, water treatment plant, recreation room, super market, laundry and a convention centre that can accommodate 1,300 people. I have rented out every single space I have constructed.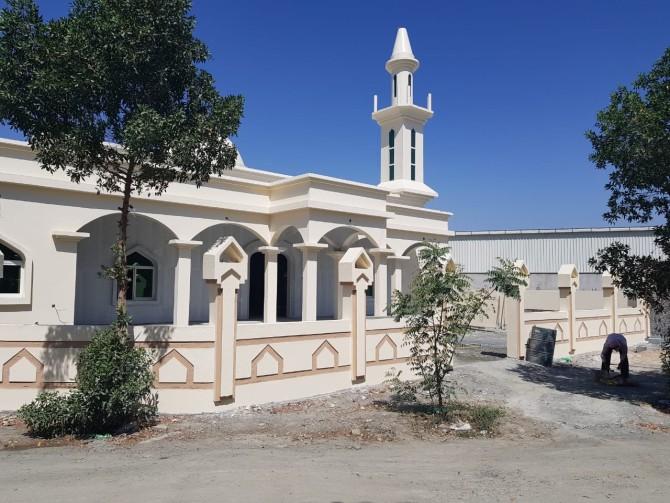 Why did I decide to build a mosque?
I grew up amidst a lot of difficulties and I can never forget the struggle my parents had to go through to bring us all up.
So, even though I know the value of money, I know very well that it is not the end of the world.
In my case also, money came in plenty and also vanished.
Neither my wife nor I have any desire to amass wealth.
Yes, we need money to lead a decent life, and the rest, I want to use to help people.
Now, we have 4,500 labourers working for 53 companies staying in the 800 rooms I have built.
Every single person who comes to the Middle East comes as a labourer, and each and every labourer comes from a very poor family.
These labourers get a meagre salary of 600 to 800 dirhams a month. About 1,000 of them are Muslims from India, Bangladesh, Pakistan, Africa, Ukraine, etc.
It made me sad to see that these people had to spend a minimum of 20 dirhams from the meagre 800 dirhams they get, to go out to pray.
God had helped me in many ways at many times in my life, it was my duty to help these people.
This country (Fujirah and the United Arab Emirates) has treated all people who have come here as their own and they have done all they can to make all our lives pleasant.
This is a Muslim country, but they saw to it that people of all faiths have places to worship.
They have built churches and temples for us to pray with their own money. I would call this God's own country.
So, I decided to build a mosque inside the complex itself.
After two years of work, it will be open during this Ramadan on the 1st of June with an iftar party.
It will be attended not only by the 4,500 labourers who stay there, but many other important people.
Because I used my own materials and my own workers did the work, I spent only 1.3 million dirhams. Otherwise, it would have cost more than 2 million dirhams.
Many people came forward to help when the news spread that I was building a mosque, but I had decided earlier itself that it would be my gift to the people, for peace and brotherhood.
I don't seek acceptance or appreciation from anyone except my wife.
I only look for that loving look, the smile and the hug because she was the one who has been with me through all the ups and downs in my life, giving me the strength to move forward.
I have one more dream. After building a church and a mosque, I want to build a Hindu temple here in the next one year.