No conversation about Indian art is complete without mention of Madhvi Parekh, notes Ritika Kochhar.
Illustration: Dominic Xavier/Rediff.com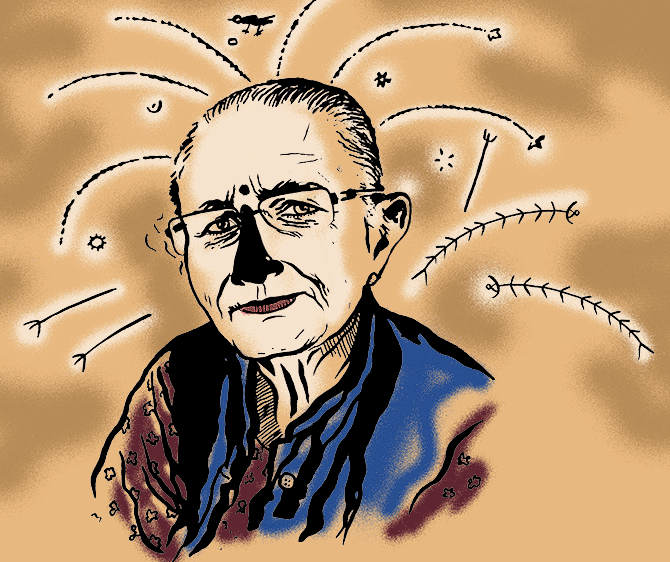 The first thing you notice about Madhvi Parekh is her confidence in herself.
While most artists choose to speak in the gallery, she and Manu Parekh invite you into their home at Chittaranjan Park in Delhi.
She sends a message to her husband to be around so that he can take over the interview if she doesn't want to do it for some reason.
She's clear about her likes and dislikes. It's eventually Manu Parekh who keeps you entertained while she sketches an intricate image of Jesus.
They've always worked as a team even if they didn't live together for five years after they got married.
"I would visit her in her village (Sanjaya in Gujarat's Anand district) and I found she was nothing like the other girls," Manu Parekh says.
"She was a tomboy and there was nothing romantic about her. She would go to school while I was there, and there was no question of coming out to wave goodbye to me when I left."
Here was a woman who would not compromise on her freedom.
He tried to ensure that she studied further but it wasn't possible because they lived in a joint family, so they moved to Mumbai.
When she expressed an interest in learning art, he was ready with a book by Paul Klee.
"I gave it to her because they are so simple. You make a square and then create dot after dot till you get to the next square. In two, three days, she stopped listening to me," he recalls.
The square became a face, the triangle was the body; then she added a tail and moochh (whiskers) and it was an animal.
"The day after Manisha's (their elder daughter) birth, she showed me her works" and he knew he was looking at an artist.
They have been together 50 years now. "In India, there are many artist couples. The difference is that most of them have had love marriages," he laughs.
Despite being self-effacing and modest, Madhvi Parekh, 75, has always been aware of herself and her space in the world of art.
In the 1980s, she did a series of five group shows with Nalini Malani, Nilima Sheikh and Arpita Singh.
The series, called Through the Looking Glass, is still seen as one of contemporary India's most important exhibitions.
For the four artists, it was a chance to travel across India by train. "The art world was smaller then and we all admired each other's works," Sheikh, a friend and contemporary, reminiscences.
"Madhvi had a clear pictorial intelligence. Her work wasn't fixed in a timeframe," she says. "The sources she derived from were unconventional. She understood that she was untaught, but she was working with a kind of inventiveness that comes from canvas painting."
"Now she's developed a language that she may not have had at that time, but the intelligence was always there."
Her daughter Manisha was in college in Baroda (now Vadodara) and came to Mumbai to help set up the show.
"It had a great impact on me," says the second generation artist. "With these small format water colours, I started understanding what 'feminine' is as opposed to the notion of the aggressive feminist. This became a very important area in my work."
Madhvi Parekh may not have studied at a major art institution, but a quote by Picasso seems apt. 'It took me four years to paint like Raphael (the Renaissance master), but a lifetime to paint like a child.'
Critics have noted similarities in her works to him as well as Klee, Matisse, Jamini Roy and Rabindranath Tagore. She herself acknowledges the influences of Klee, Joan Miró and speaks of da Vinci as an inspiration.
Her works are deceptively simple. At first glance, they make you happy, because they seem to come from a place of innocence that invokes child or folk art.
The colours are bright, the drawings look folksy, and are filled with dots and lines.
The themes range from scenes Madhvi Parekh saw as a child in Sanjaya, like the behrupiyas (impersonators) and circus performers to gods and goddesses. On a closer look, you notice that her palette spreads from black to blue, green and pink -- colours as fantastical as her animals with human faces.
Another self-taught master, Bhupen Khakhar, once said of her, 'When I encounter her work, my responses keep changing. In her water colours, the use of transparent layers of lighter colours to create darker effects brings out pain in them...'
'Her early oil paintings remind one of children and adults as they move fearlessly in the jungle. They are not scared of the animals because the animals too move around like human beings.'
Manu Parekh says that the similarity between Khakhar and Madhvi Parekh was that they were always ambitious, tenacious and clear from the inside.
"I'd want to cry when I made a mistake. Bhupen taught me to paint a layer of white on top and do it again. The colours would be brighter against a white background," Madhvi Parekh recalls.
The next most interesting phase of her career was when she visited museums in Europe in 1994. She decided to make sculptures with found objects after seeing Joan Miró's naïve art sculptures.
She also saw da Vinci's The Last Supper and, not understanding the theological references till later, decided to create a version on five large acrylic sheets with reverse painting.
In 2010, saddened by the intense suffering depicted in the Holocaust Museum in Israel, she found herself outside a church where she felt drawn to the powerful image of Jesus.
Since then she's been working on images of Christ and like African masks. She's even done a series of exhibitions with The Seagull Foundation for the Arts in churches in Kolkata and Goa.
She's currently working on a painting of The Last Supper that shows disciples wearing masks from all over the world, but she's clear that this theological phase is now ending.
It says a lot about Madhvi Parekh that everyone tells me that they would be happy to speak about her further.
After all these years, there is still a rawness about her, an energy and newness. She paints from the gut and with a greater sense of adventure.
She's not afraid of making mistakes because she doesn't know they are mistakes. Her instinct is to work with animals and nature, and to humanise her entire lived experience.
As she straddles the space between rural and urban, the self-taught artist has reached a place where critics have come to believe that any conversation around Indian art history is incomplete without the mention of Madhvi Parekh.
The Curious Seeker, a retrospective of Madhvi Parekh's works over five decades, is on at the DAG Modern, New Delhi, till November 30.