Even after five decades of use, the telescope at Ooty that Dr Govind Swarup designed and built continues to be the largest single frequency radio telescope in the world, notes Hari Pulakkat.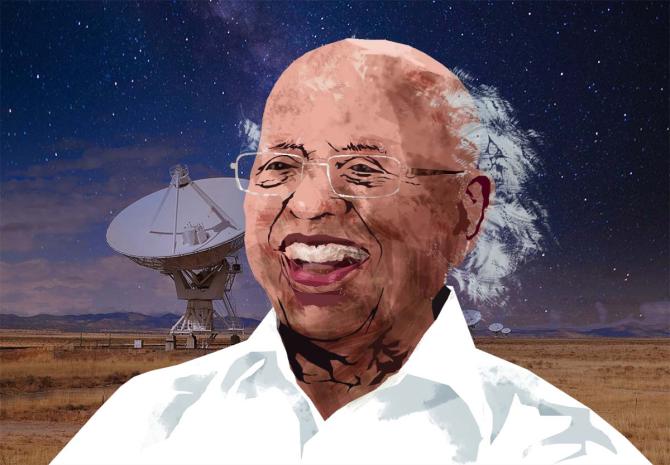 Nearly six decades ago, a young radio astronomer called Govind Swarup came to India from Stanford University and joined the Tata Institute of Fundamental Research. He was doing well in Stanford, enjoying all the facilities and the generous funding that a scientist could expect in an American university.
India was a new country with no radio telescopes or a community of astronomers at that time. It had emerged as a new nation and was struggling to get its economy on its feet.
Dr Swarup responded to the situation by taking a courageous decision: To build a telescope that would be four times larger than any radio telescope in the world.
Even after five decades of use, the telescope at Ooty that he designed and built continues to be the largest single frequency radio telescope in the world.
Dr Swarup had built it to solve a big problem in astronomy: To find evidence for the Big Bang, an event that supposedly gave birth to the universe.
When he conceived the telescope in 1963, the Big Bang was thought to have happened 10 billion years ago, but there was no clear proof.
It came before Dr Swarup built the telescope; in 1964, two American astronomers, Arno Penzias and Robert Wilson, detected the radiation that was the remnant of the Big Bang.
Dr Swarup, who passed away in Pune at 91 on September 7, and his student Vijay Kapahi got additional proof for the Big Bang in the mid-1970s, after they built the telescope. They had proved that the universe had evolved over billions of years, by showing that galaxies in the far distance -- and hence far back in time -- were closer together than they are now.
Over the years, the Ooty telescope had been used for investigating several astronomical objects, including radio galaxies, pulsars (fast-spinning neutron stars), supernovae. It turned out to be useful for monitoring and predicting space weather as well.
When Dr Swarup began work on the telescope in the mid-sixties, there was no community of radio astronomers in India. No one had built even a small radio telescope in the country.
And yet Dr Swarup was confident that he could build the world's largest radio telescope, half a kilometre long and weighing around 200 tonnes.
Dr Homi Bhabha, director of TIFR at that time and who was responsible for bringing Dr Swarup back, never questioned the young astronomer's capability to build it.
In the end, it was not just a telescope that Dr Swarup built. He built an ecosystem replete with a community of young astronomers, most of whom being his own students.
He had overseen every aspect of the construction. He learned engineering from textbooks, taught his students science as well as engineering, negotiated with companies for components.
By the time the Ooty telescope was ready, India also had a team of young and competent radio astronomers. As they grew in their profession, they needed another big project to fire them up.
Dr Swarup then dreamt up the Giant Meterwave Radio Telescope. It was to have 30 dishes spread over an area of 30 km. It was to use the principle of aperture synthesis, a technique developed by British astronomer Martin Ryle.
Using aperture synthesis, the GMRT would combine the data from 30 dishes to give an output equivalent to that from a single dish with an area of 30 kilometres. It was then the largest scientific project planned in India.
Dr Swarup moved from Ooty to Pune to build the telescope near the town Narayangaon, 60 km from Pune. The telescope was ready by the end of the 1990s.
The Tata Institute of Fundamental Research formed a new institution, the National Centre for Radio Astrophysics, to oversee its construction and use. Dr Swarup became its first director.
Vijay Kapahi took over from him after Dr Swarup retired at the end of the 1990s.
In over four decades, Dr Swarup had grown Indian radio astronomy from nothing to a large community with a substantial presence in the world.
The Ooty telescope is still useful for research, although only a few students and astronomers use it.
The GMRT got an upgrade recently and is well-positioned to be useful for another decade at least. About 50 per cent of the proposals to the telescope are from other countries.
In building a new field in India, Dr Swarup had to compromise on his science.
He had well-cited papers while at Stanford, but his attention turned to project management and mentoring after he moved to India, and hence his scientific output declined. It was a sacrifice that he had made willingly.
Dr Swarup remained an optimist throughout his life, believing that humanity will last for a long time.
He would remain as one of the greatest scientific pioneers of post-independent India.
Hari Pulakkat is a winner of the INSA Indira Gandhi Prize for Science Popularisation. His book, Space, Life, Matter: The Coming of Age of Indian Science, will be published by Hachette India later this year.