Major Kuldip Singh Chandpuri was awarded the Mahavir Chakra, India's second highest medal for gallantry for leading a small company of men against a massive Pakistani attack.
'He said the men of 23 Punjab stood by me and won the battle for the nation,' his son Hardeep Singh Chandpuri tells Rediff.com's Archana Masih.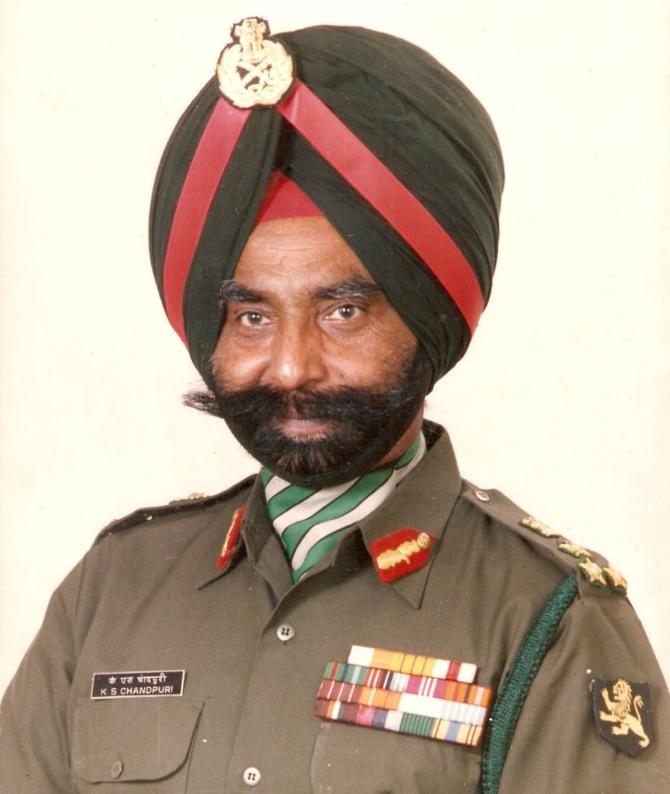 "I am filled with pride every time I hold my father's Mahavir Chakra," says Hardeep Singh Chandpuri, son of Brigadier Kuldip Singh Chandpuri, the Hero of the famous Battle of Longewala during the 1971 War.
"We have preserved his medals with honour and respect. We take them out once a year and clean them. It is a great feeling just to hold them."
Fought in the desolate desert of Rajasthan on the night of December 5/6, a small band of men under the command of then Major Chandpuri held back a massive tank and infantry attack by the Pakistan Army.
120 brave men of the 23rd battalion of the Punjab Regiment defended the post of Longewala after it was attacked by 3,000 Pakistani soldiers and 48 tanks.
Showing exceptional courage, Major Chandpuri inspired his men moving from bunker to bunker, encouraging them to beat back the enemy till six Indian Air Force Hunter jets arrived in the morning and destroyed over 40 enemy tanks.
In this heroic defence, he inflicted heavy casualties on the enemy and forced them to retreat leaving behind twelve tanks read Major Chandpuri's Mahavir Chakra citation.
"In those days the citation was a typed piece of paper with the MVC on it. It was a simple paper but worth its weight in gold," continues Hardeep, one of Brigadier Chandpuri's three sons who lives in Chandigarh.
"Perhaps ours must be the only military family to have received four gallantry medals. Two of my father's uncles in the IAF and another in the army were awarded the Vir Chakra."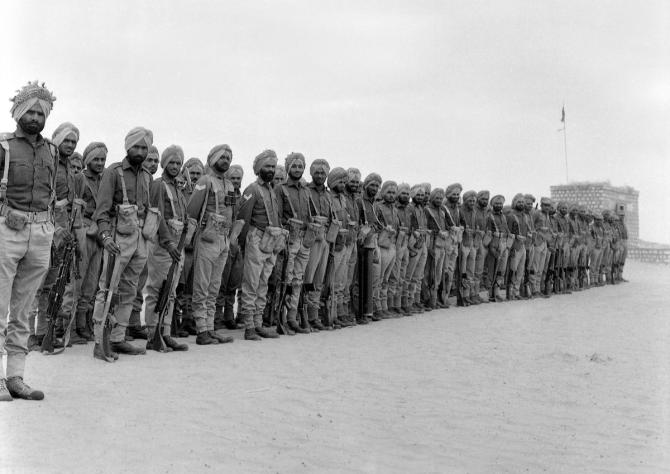 Major Chandpuri was modest about the heroics of the battle which was captured in the film Border (1997).
"The battle was the most famous joint operation of the IAF and army. My father would credit his remarkable men unfailingly," says Hardeep.
"He said the men of 23 Punjab stood by me and won the battle for the nation."
The family met soldiers who had fought alongside Major Chandpuri a couple of years ago at a commemorative function held in Jaisalmer and Longewala.
The brave soldiers related that unforgettable night -- and what happened the day after the battle.
Major Chandpuri asked the jawans to fall in line and told them that no one would disrespect the bodies of the enemy soldiers.
'Do not kick, hurl abuses or spit on them. They were soldiers of their country just as we are soldiers of our country. We have to accord them the respect that any soldier should get.'
"The soldiers also told me that they called him Sadda Saab which means 'our own' in Punjabi."
Unfortunately, Brigadier Chandpuri's wife and children never had the chance to visit Longewala with him. Brigadier Chandpuri passed away in 2018 at the age of 77.
"He would tell my mother that we would go Longewala for the 50th anniversary, unfortunately that was not to be," says Hardeep.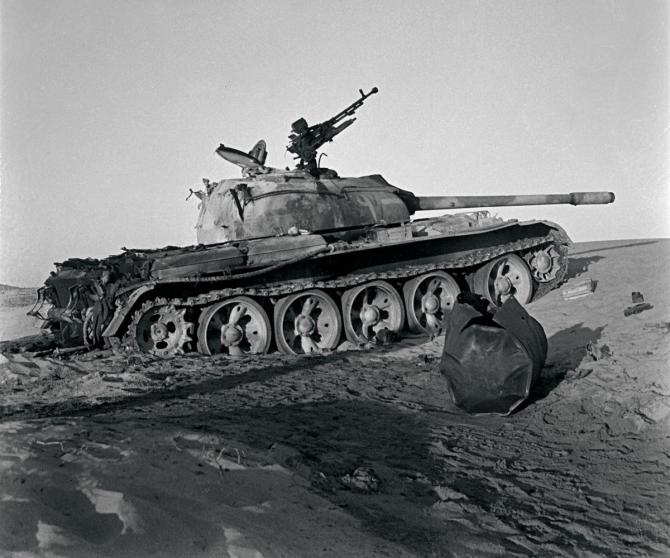 Brigadier Chandpuri's wife and family have been invited for a memorial function organised by the Indian Army on December 5 in Longewala where a museum and war memorial exist.
The battle will be enacted and a 10 feet statue of Brigadier Chandpuri will be unveiled and wreaths will be laid in honour of the heroes.
Last July, Mrs Chandpuri and Hardeep had visited Jaisalmer and Longewala to be a part of another solemn ceremony.
The Indian Army was collecting soil from all the famous battlefields to commemorate the major battles of the 1971 War.
"We stood on a sandhill with senior army officers and my mother picked up the first fistful of sand and put it in the bag. The generals followed after her, but they gave my mother the honour of being the first," says Hardeep.
They brought back some sand and placed it along with memorabilia of the battle in their home.
In the two visits they have made to Longewala, the Chandpuris have continued a tradition followed by Brigadier Chandpuri.
He would always take 1 kg sweets to the Tanot Mata temple at the Longewala post whenever he would get a chance to go there.
"A shell hit one wall and came out of the other, but no harm came to the idol," says Hardeep who will pay obeisance at the temple during their visit this time too.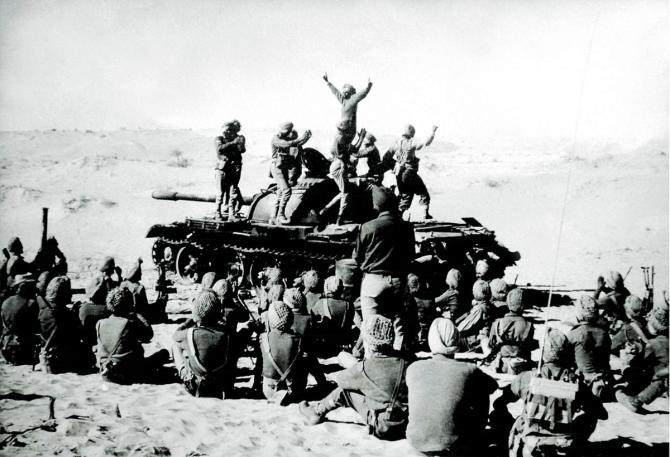 Giving a glimpse into the soldier his father was, Hardeep mentions what Brigadier Chandpuri said in his last public appearance at a university in Himachal Pradesh.
It was something that his father had never told the family.
"He told the students that he had kept a loaded pistol in his shoe just in case they were run over and captured. Rather than being a prisoner of war of the Pakistanis, he would rather shoot himself," remembers Hardeep.
He retired as a brigadier in 1997, qualified as an international referee and was an official at several national and international athletics competitions.
He was nominated as a councillor in the Chandigarh municipal corporation, worked for the welfare of ex-servicemen and was president of the Chandigarh Kennel Association.
"He loved dogs and would laugh and say 'I am the president of the kingdom of dogs'."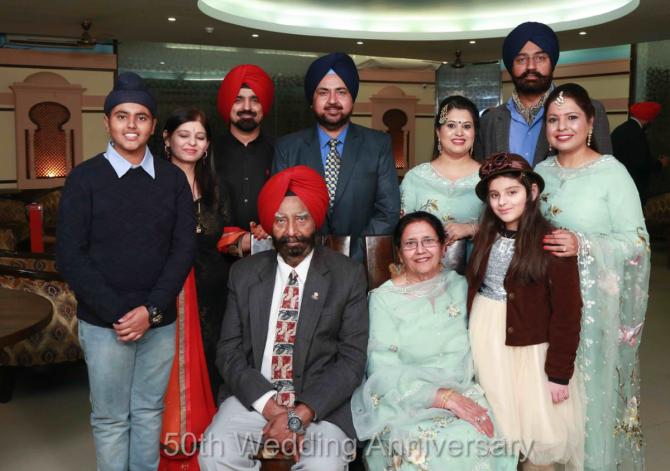 Hardeep Chandpuri says his family has received a lot of love and respect because of his father.
"The army and Government of India has given us a lot of respect. Young captains and majors come and shake hands with me. My eyes get moist and words fail me seeing the love we get because of him."
He mentions an incident three days after his father's cremation that speaks volumes about what people felt for Brigadier Chandpuri.
A couple arrived at their home with a wreath.
"After they paid their respects, I asked them if they were from the armed forces or the government and they said no."
"They told me they had come from Belgium. The NRI community of Belgium had collected funds, bought them tickets and told them to pay homage on their behalf."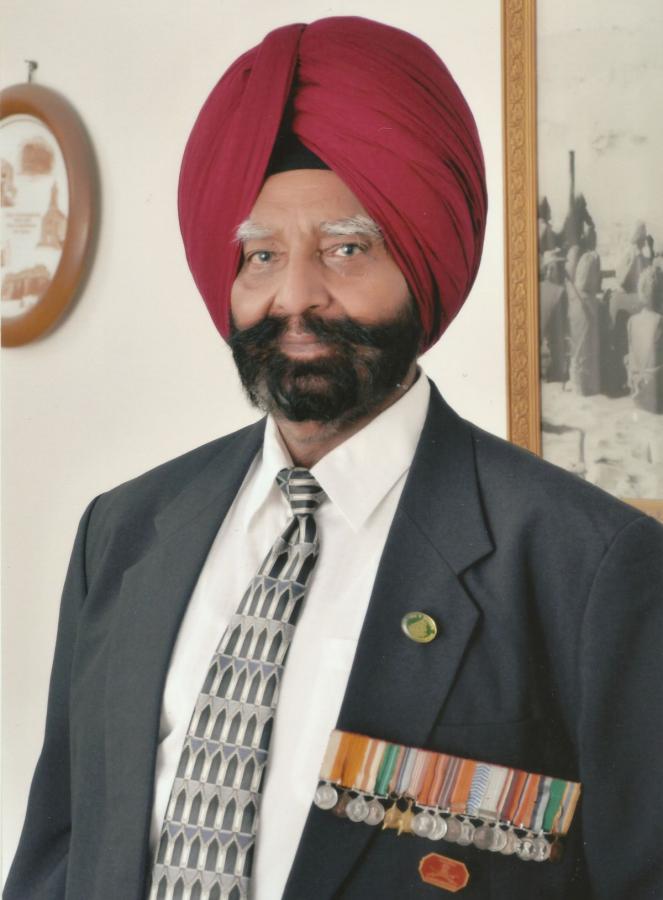 People from different places continued to come -- even two-three months after his passing. Strangers would leave their shoes outside, go to the drawing room where his picture was, pay their respects and leave.
"We would not even come to know who they were," continues Hardeep
Fifty years after the battle, he is acutely aware of the sense of responsibility of being the son of such a brave man.
"We are custodians of a legacy for the next generations to come."
Feature Presentation: Aslam Hunani/Rediff.com