Sub Lieutenant Shivangi, the daughter of a village headmaster in Bihar, will conduct maritime reconnaissance and search and rescue missions.
Archana Masih/Rediff.com on the young naval officer making waves in the Indian Navy.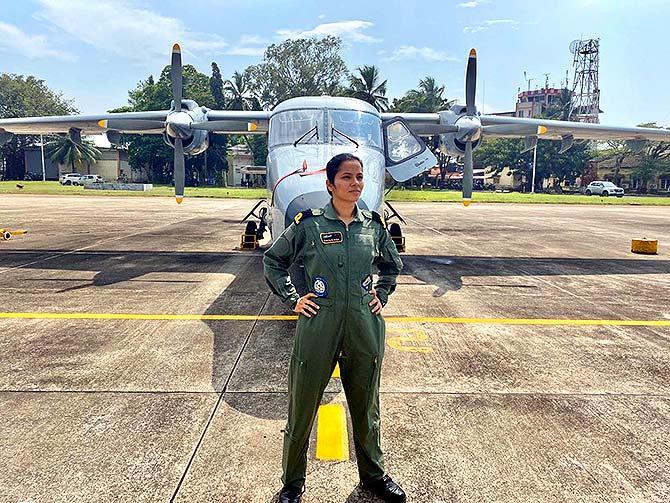 Ten days ago, Sub Lieutenant Shivangi discovered she is going to make history.
That she is going to be the first woman pilot in the Indian Navy.
On Monday, December 2, she will given her wings at a special ceremony at the Indian Navy's base in Kochi. Two male officers will receive their wings along with her.
The flying badge means the world for a pilot. It is a badge that is earned with sweat, toil, tears, a year of rigorous training and many test sorties on the aircraft.
"As a trainee you have to prepare hard to pass the test sorties. If you fail you are out of aviation," says Sub Lieutenant Shivangi, the daughter of a headmaster of a government secondary school in Fatehabad village in Muzaffarpur district, Bihar.
The officer trained on the Pilatus aircraft with the Indian Air Force and on the Dornier aircraft with the Indian Navy.
"The first time I flew solo, I wasn't sure if I could bring the aircraft back, but when I landed I realised I could do it on my own and did not need an instructor sitting beside me," says Sub Lieutenant Shivangi who first saw an aircraft when she was in Class 4.
Her grandfather had taken her to see a helicopter at Buchawali village in Bihar's Vaishali district.
"I saw it hovering and I was waving. I thought I wanted to fly an aircraft someday," recalls Sub Lieutenant Shivangi, 24, the first person from her family to join the armed forces.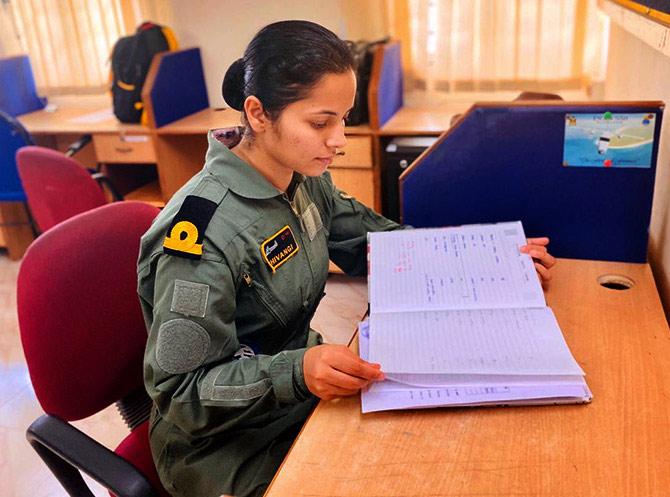 Years later, while studying mechanical engineering at Manipal University in Sikkim, she attended a naval presentation in college. The white uniform and the talk left her greatly impressed.
She found out that the navy was taking in women, appeared for the selection board examination and made it on the second attempt.
After training at the Indian Naval Academy in Ezhimala, north Kerala she graduated last year and then went on for training in naval aviation.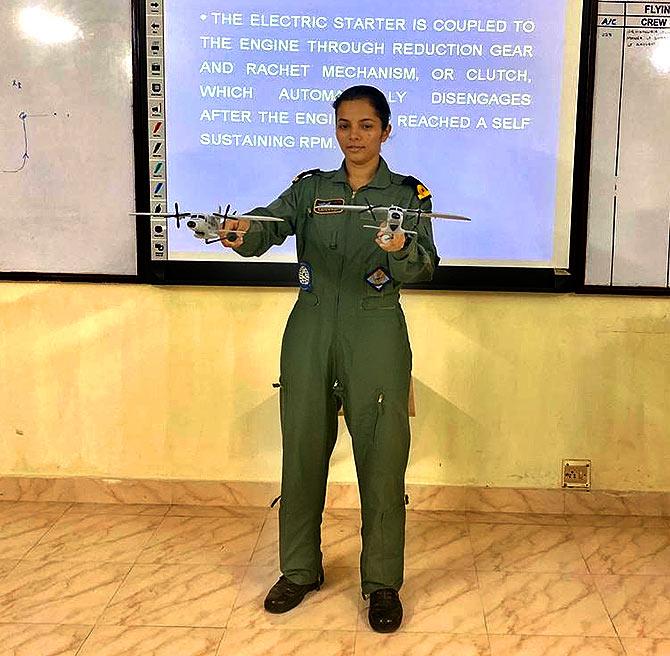 "We come from a family of farmers. It is a big achievement for us. I was filled with unexplained joy to see her at the passing out parade in her white uniform and cap," says father Haribhushan Singh over the telephone. His father was a farmer who opened a school for girls in his village in 1982.
"In our family and society it is a great accomplishment that our daughter has become a naval officer, and now that she is the first woman to ever fly for the Indian Navy. We have no words to describe what we feel," he says.
Sub Lieutenant Shivangi's parents are already in Kochi for the ceremony.
"I feel her achievement is the culmination of the vision of my father, who was a kisan, but had the foresight of opening a school for girls when there was none," says the naval officer's father.
Asked for her advice to young women interested in becoming military pilots, Sub Lieutenant Shivangi says, says, "You must follow your passion. You will fail many times before you succeed."
People in her village are already waiting to welcome her with a special ceremony, but her father says she is modest about her achievement and is uncomfortable with fanfare.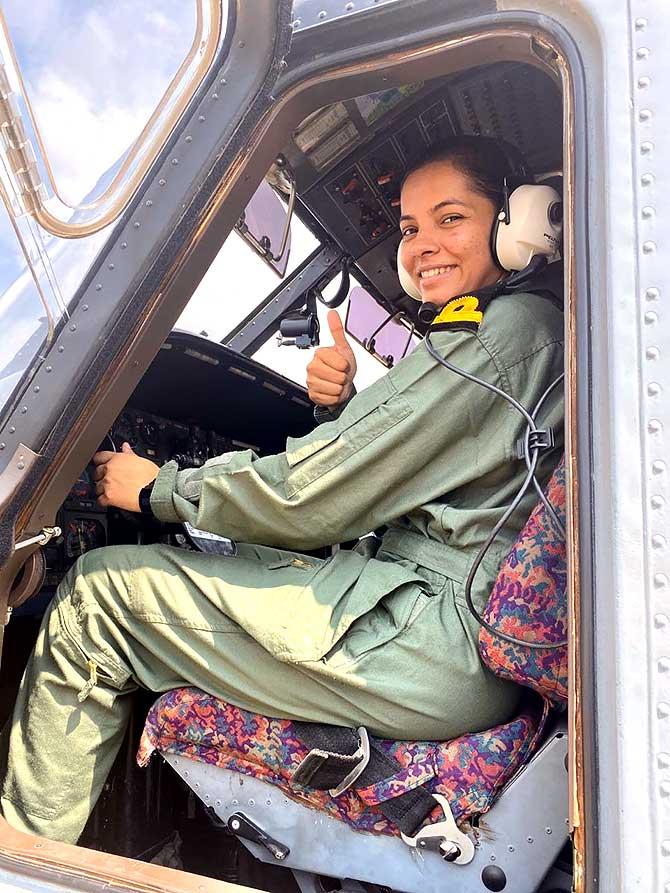 Once she starts operational flying, her duties will include maritime reconnaissance missions and search and rescue operation over sea.
Two other women lady naval pilots are undergoing training and will pick up their wings later next month.
Earlier, women officers in the Indian Navy were inducted in the branches of air traffic control, observers, logistics, education, law and architecture.
"I know since I am the first woman pilot, I have to be the best," says the young officer.
"It is a big responsibility and I am trying to live up to it."
---
Archana Masih frequently contributes military features to Rediff.com. You can read some of her features in the related links alongside.
She can be contacted at archana_masih@rediffmail.com
---