'Bengal will win Bollywood one day and the world of entertainment will come over here,' Mamata Banerjee declared in Kolkata on Tuesday, July 24.
'Mamata's fascination with stars is so deep-rooted that she uses her clout as chief minister to get close to them,' notes Dola Mitra in this fascinating excerpt from Decoding Didi: Making Sense Of Mamata Banerjee.
Illustration: Uttam Ghosh/Rediff.com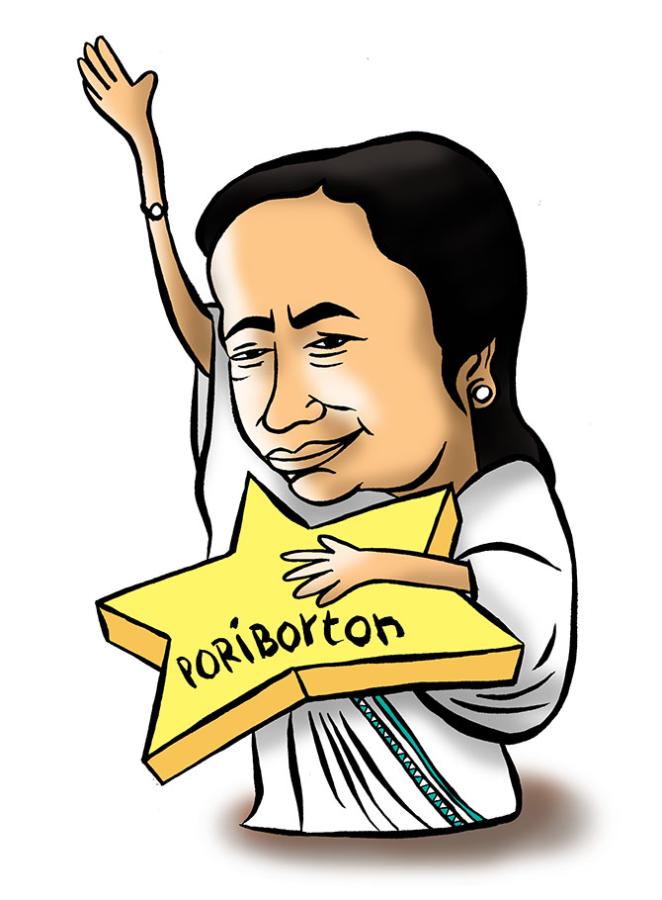 Mamata may be committed to poriborton but she will not allow anyone else to participate. It is as though she has patented poriborton.
In an interview on Times Now, for which the channel's then editor-in-chief Arnab Goswami had flown down to Kolkata, she was asked about this micro-controlling tendency of hers.
She shot back at Goswami, 'Why is it that you are taking my interview? Why haven't you asked Sambit (the channel's Kolkata correspondent) to do it?'
The implication was that the most important things must be done by the people at the top and, just like the then Times Now editor-in-chief, the Trinamool party chief also likes to handle the most critical matters herself.
***
It is a paradox, given her high level of confidence in her own abilities, how much she seems to suffer from feelings of inadequacy. That's because she lacks the same confidence in the abilities -- or the trustworthiness -- of others.
She feels secure only in those things she directly controls and she is, therefore, deeply insecure about losing control.
Hence, Trinamool is a party in which only those who will do her bidding can survive.
Not surprisingly, Mamata surrounds herself with the kind of people who will not question or threaten her.
More than a few of her colleagues, including MPs, MLAs and ministers are actors and actresses, stars and starlets with little pretension to understanding politics.
Trinamool boasts of such members as Tapas Paul (a former superstar matinee hero from Bengali commercial cinema of the 1980s) and Satabdi Roy (popular yesteryear heroine who often co-starred with Paul), who are both Members of Parliament.
Another celebrated Bengali film actress of the same era, Debashree Roy (who has been called the 'thinking man's Satabdi Roy'), serves as a Trinamool MLA but continues to act.
***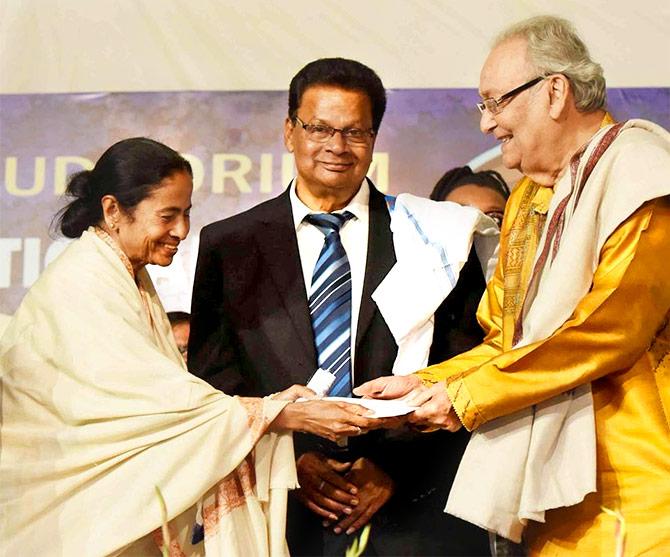 Mamata recruited more people from the entertainment world to contest the 2014 Parliamentary election. They include, among others, actress Moon Moon Sen (daughter of the legendary movie star, the late Suchitra Sen) and Deepak Adhikari, better known by his screen name 'Dev', who is the current reigning leading man of Bengali commercial cinema.
"Mamata's star-struck-ness can be traced back to her humble background and her childhood, when actors and actresses were not easily accessible and getting a real-life glimpse of a screen hero or heroine was a big deal," an insider confided.
"The fascination with stars is so deep-rooted that she uses her clout as chief minister to get close to them, now that she can. And who doesn't want to get close to the chief minister? So there is a lot of mutual admiration."
So we saw Mamata Banerjee rush several times to the bedside of Suchitra Sen in the hospital and, according to Moon Moon Sen, Mamata told her, 'I don't want to disturb her, but if there is anything that you need, let me know.'
***
As a society, we would have been much more reassured of our chief minister's sense of priority had she extended the same offer of support and shown the same urgency on behalf of, say, the woman who survived the Park Street rape or the grief-stricken family of the girl who was gang raped and killed in Kamduni.
Not to denigrate the gesture of respect towards our cultural icons such as Suchitra Sen or film-maker Rituparno Ghosh, to whose house Mamata also rushed after news of his sudden death broke, but the fact that Mamata uses her privilege and discretion as chief minister to accord state salutes (normally reserved for martyrs) to celebrities such as them raises serious questions about her sense of propriety and protocol.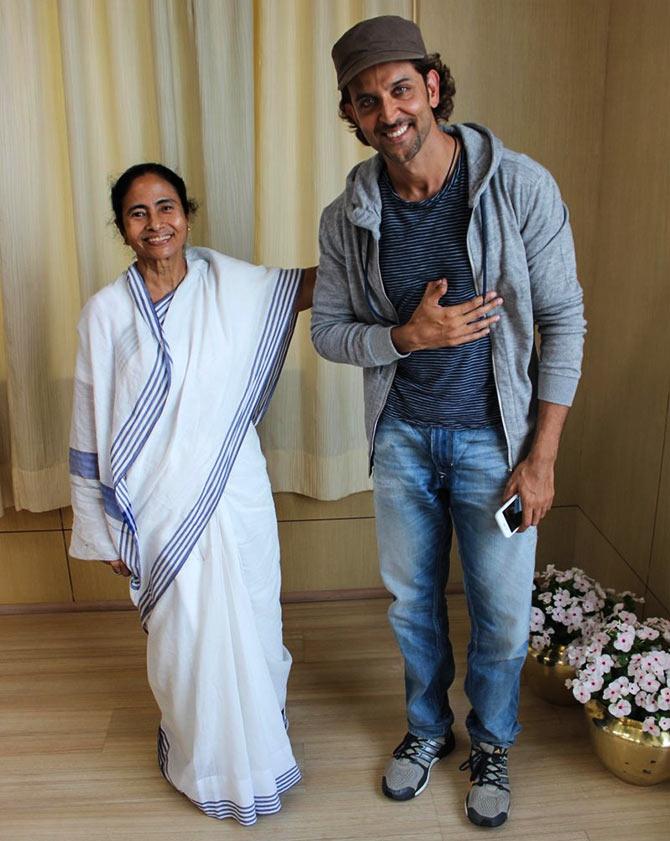 Mamata's seemingly unusual interest in people from the entertainment world has another dimension.
Though the Leftists are her sworn enemies, Mamata also seems to emulate them, at least in terms of their cultural/intellectual inclinations.
These Communist intellectuals shared a special relationship with musicians, artists, thespians and the literati.
For instance, then chief minister Buddhadeb Bhattacharya, whose love of theatre and the arts is well-known, spent most evenings, even as chief minister, at the city's cultural hub, Nandan, where film screenings were regularly organised for him.
For Mamata, the line between what is 'culture' and what is 'pop culture' appears a little blurrier, as she casually clubs together everyone from Dev to Mahasweta Devi into one category, known as the bidyajan (enlightened folk).
Nevertheless, her urgency to befriend them stems from the desire to be culturally oriented.
She is often spotted at various local events -- like neighbourhood football matches or private screenings of some commercial movie -- sitting with various film and television stars and starlets.
In the last three years, numerous photographs of the West Bengal chief minister sharing space with an assortment of celebrities have appeared in the media.
It is baffling and simultaneously comical to see the serious expressions on their faces (the CM's as well as her companions') as they pose for the cameras, brows knit, heads tilted, forefingers resting on cheeks, dark glasses in place.
It's as though they are delegates in some international summit, intently considering matters of great global significance rather than the trivial pursuits that they are actually engaged in.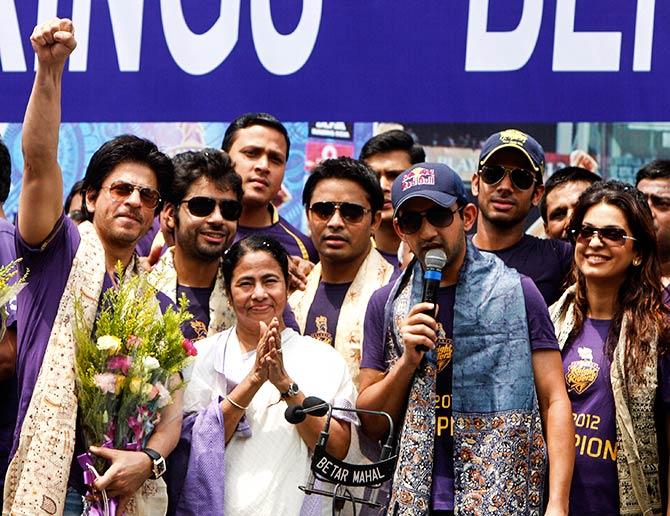 In this context, I am reminded of an event that took place in May 2012, a year after Mamata became chief minister.
The Indian Premier League cricket team, Kolkata Knight Riders, had just won the IPL trophy in Chennai. Keen to felicitate -- and also show a sense of possession towards a team that uses 'Kolkata' in its title -- the West Bengal chief minister invited the whole team to Kolkata along with the owner, actor Shah Rukh Khan.
Mamata organised and presided over a spectacular ceremony at the sprawling Eden Gardens grounds, where cricket crazy Kolkata went berserk with shouts of 'Korechi, lorechi, itechi re (We worked, we fought, we won)' -- taking off on the KKR slogan, 'Korbo, lorbo, jitbo re (Will work, will fight, will win).'
Nothing unusual about that. But what was entirely unexpected was the way the state's highest authority conducted herself as the proceedings unfolded.
Perhaps to ensure that everyone knew she was the person behind the grand event, or maybe to make sure that the spotlight stayed on her, or maybe even fearing that someone else may usurp the moment, she started to micro-manage the event, rushing about like an usher, shouting instructions to various people and even controlling the crowds on the ground.
Though by then, observers -- the least of whom were her political rivals -- began to describe the event alternately as a 'circus' and a 'tamasha', Didi herself took the whole thing very seriously.
She even donned her trademark angry expression every now and then as she went about scolding and chiding everyone from press photographers to journalists to members of the audience.
The news cameras captured her furiously gesticulating to R K Pachnanda, then commissioner of police. He scuttled away, not knowing what exactly he was expected to do or why exactly he was expected to do it.
She was also seen giving instructions to then chief secretary Samar Ghosh, who looked bewildered and perplexed.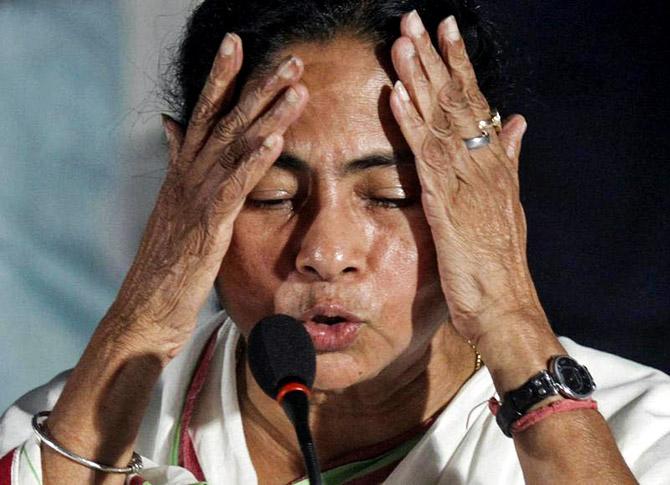 Mamata's attempt to make the event appear one of great significance -- judging by the gravity of her facial expressions -- was comically undercut by images of stars and starlets literally jumping up and down on stage to the live, light-hearted music being belted out by a local band.
As all this was happening inside the compound, chaotic scenes were witnessed outside, with fans who could not get entry tickets trying to barge in.
In fact, a stampede of sorts both preceded and followed the ceremony, with a one-lakh strong crowd thronging the premises.
Then West Bengal governor M K Narayanan, who attended the event as one of the guests, made a tongue-in-cheek observation that this was the 'poriborton' that West Bengal had been waiting for.
It is not clear whether Mamata missed the sarcasm.
Time and again, she has publicly revealed this aspect of her personality -- a sort of frivolity, buffoonery even, which would have been perfectly acceptable as her particular brand of 'sense of humour', but her attempts to cloak it in a garb of seriousness only renders it all the more ridiculous.
TMC insiders reveal that part of the reason why Mamata woos entertainers is that they have monetary value. They often contribute generously to the party fund, as well as attract other donors.
"Moreover, not only do stars like Dev rake in the votes because of their popularity, but being celebrities, they don't incur additional expenditure on advertisements like banners and posters," explains a TMC activist.
Maybe this is why Mamata, who shows little tolerance for most people who rub her the wrong way, turns a deaf ear and blind eye to the faults of her stars.
Excerpted from Decoding Didi: Making Sense Of Mamata Banerjee by Dola Mitra, with the kind permission of the publishers, Rupa Publications.