On Wednesday, October 5, the Supreme Court censured the Maharashtra government for its insensitivity on the hunger deaths in the state.
Rediff.com's Prasanna D Zore and Uttam Ghosh report from Maharashtra's Malnourished Corridor, visiting an anganwadi, which is often the first line of defence in tackling malnutrition.
Reportage: Prasanna D Zore. Photographs: Uttam Ghosh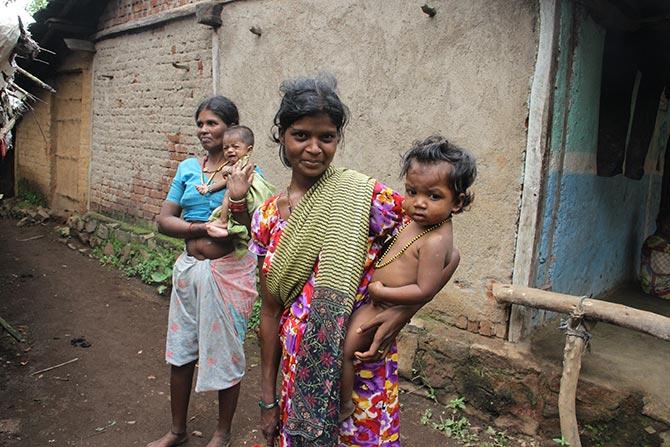 IMAGE: The anganwadi serve the 9 am breakfast of nutritious laddoos to the children and their mothers.
Around 10.30 am the children and their mothers leave for their homes, returning at 12.30 pm for lunch.
Seen in this photograph, a young mother with her child. Behind her is another mother with her malnourished child.
Kusum Lahubhuge is in the frontline of implementing the anganwadi scheme at Pimpalwada, a small hamlet in Khoch village, Mokhada, in Maharashtra's Palghar district, which has so far this year reported about 254 malnutrition deaths.
"I began teaching at this anganwadi since I was 20," says the 35-year-old Arts graduate. "The situation has never been this serious," Lahubhuge says, pointing to the number of deaths being reported from the district this year.
"Efforts are being made at the grassroots level to help eradicate malnutrition, but we need to do more," she says.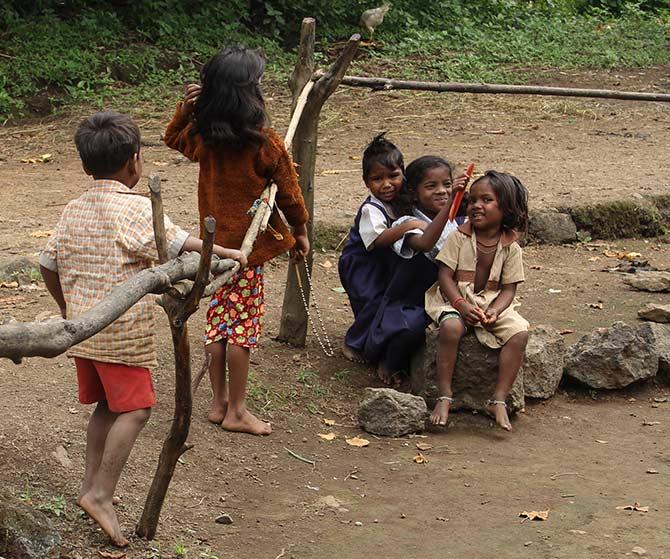 IMAGE: Children can be found inside the anganwadi only when food is served to them, which is at 9 in the morning and post noon.
After eating their breakfast these children spend some leisurely moments with this girl braiding her friend's hair.
The anganwadi at Pimpalwadi, which has 71 houses and a population of 340 people, sees a daily attendance of 30 girls and 29 boys, and their mothers.
"We teach these children good hygiene habits, the importance of good sanitary habits. We educate their mothers about family planning and fertility-related issues," she says.
The Pimpalwadi centre begins its session at 9 am and winds up by 1.30 pm from Monday to Friday.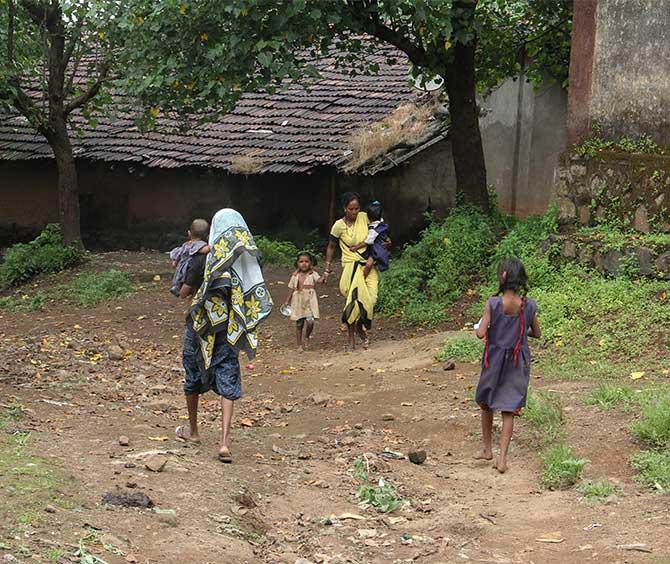 IMAGE: Not all the children come regularly to the Pimpalwadi anganwadi.
Smita Wagh, in yellow, Lahubhuge's assistant, goes home to home, to bring the children to the anganwadi.
Every morning the children and their mothers are served nutritious laddoos and boiled eggs. Some activists working in the area say the anganwadis began serving eggs only after the malnutrition deaths created outrage in Mumbai.
Lahubhuge maintains her anganwadi has never stopped serving boiled eggs to the children and their mothers.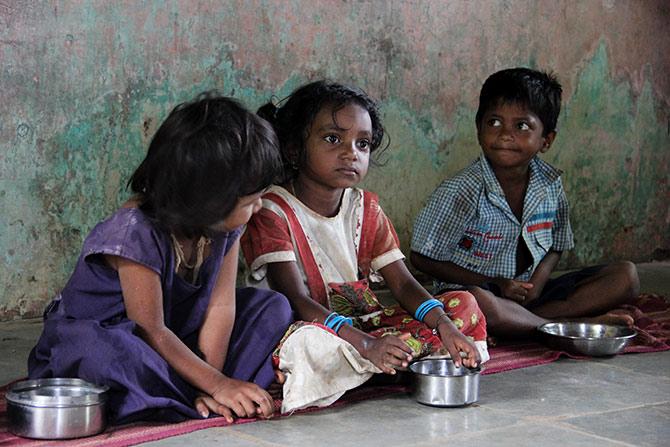 IMAGE: These children gained weight after coming to the anganwadi.
Kusum Lahubhuge says even those children who come after recuperating in hospital gain good weight if they come to her anganwadi regularly.
Every Monday, at around 12.30 pm, the children are served either khichdi (a kind of rice gruel mixed with lentils), or a paste of wheat flour, or soyabean, or laddoos of groundnut powder mixed with jaggery.
"We have a time table that keeps changing from Monday to Friday," says the teacher, a resident of Pimpalwadi once, who married into nearby Mokhada.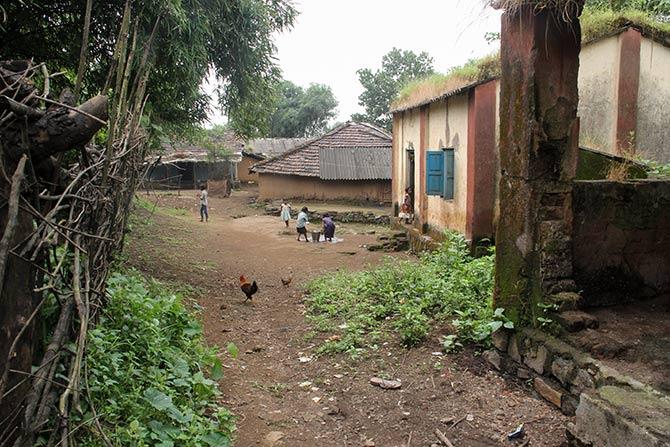 IMAGE: The anganwadi built with the help of a government grant under the Integrated Child Development Services scheme is the only concrete structure among the 71 mud-thatched houses in Pimpalwadi. The dilapidated structure in the foreground is the old anganwadi.
On Tuesdays the children are served wheat lapsi, or chivdakurmura, daliya (porridge).
"On Wednesdays, in the afternoon sometimes we give them usal (a mix of boiled pulses) to eat. By 1.30 pm everybody goes home," she says.
Thursdays and Fridays see these children eating khichdi again.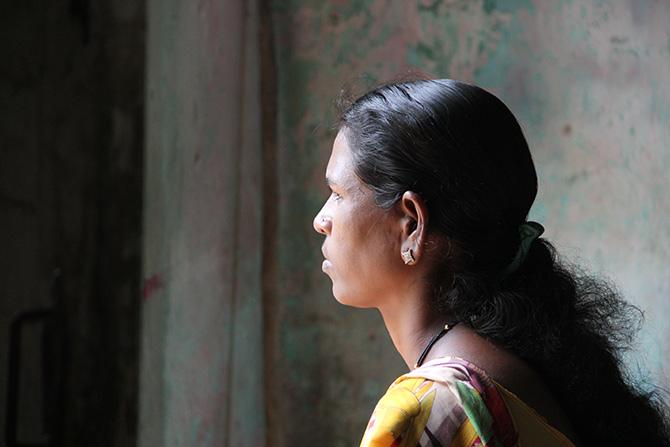 IMAGE: Kusum Lahubhuge knows the system is not foolproof, but then she also believes that programmes like these need to be implemented earnestly if India has to successfully fight the scourge of malnutrition.
Every month a sum of Rs 4,000 to Rs 4,500 is deposited into a joint account operated by the anganwadi teacher and the anganwadi secretary.
"Under the ICDS scheme, every anganwadi gets Rs 4,000 to Rs 4,500 for the welfare of children and an additional Rs 5,000 for giving nutritious food to pregnant women," says Lahubhuge.
As on September 28, 2016, the Pimpalwadi centre was looking after five pregnant women at the anganwadi.
Throughout India, anganwadis like these are at the forefront of tbhe battle against malnutrition.
At the beginning of each month, health workers from various government hospitals visit these anganwadis and prepare a report about the weight and height of the children under its care.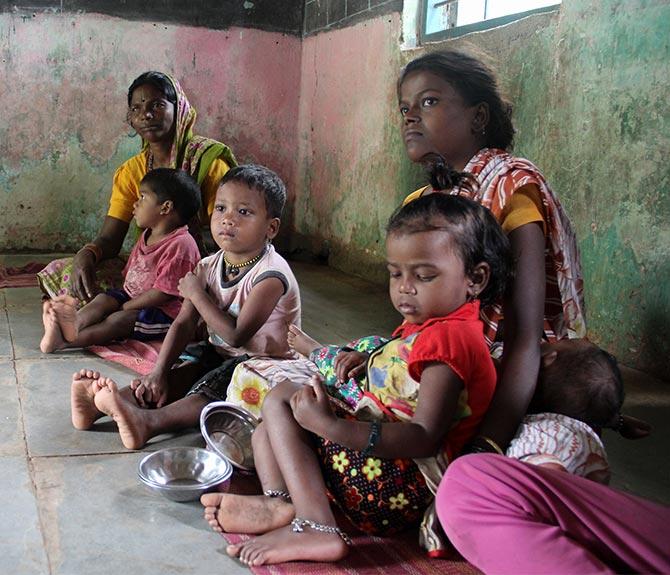 IMAGE: Many mothers who come to the Pimpalwadi anganwadi are themselves underweight and have delivered children in successive years.
Lahubhuge educates these mothers about the female reproduction system and how to take care of their infants in the first six months after their birth.
Anybody found underweight is immediately reported to the district collectorate, which collates the data from hundreds of anganwadis in a district and chart a plan of action.
Whoever is reported as underweight or malnourished -- there are two categories here: Severe Acute Malnutrition and Moderate ACcute Malnutrition -- are then sent to rural hospitals at the tehsil level, where they are admitted till they start gaining weight or are referred to hospitals in Thane, Nashik, Bhiwandi or Mumbai depending on the severity of malnutrition.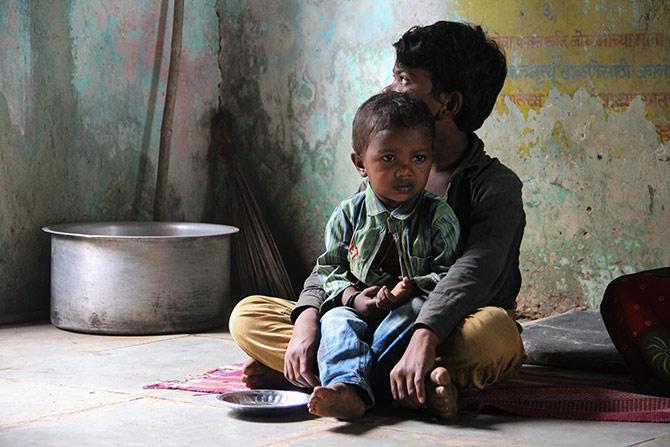 IMAGE: A pensive child awaits the afternoon meal. Till then he decides to sit quietly on his brother's lap.
Not all children under the age of 6 join the anganwadis.
"There is lack of awareness about these centres," says Lahubhuge. "Sometimes, hamlets are located so deep within jungles or are so inaccessible that it becomes a task for children and their mothers to travel to health and education centres."
IMAGE: Smita Wagh shows us this utensil full of boiled pulses that will be served to the children in the post noon session before they go home at 1.30 pm.
Ask her about the reasons for malnutrition in the area and Lahubhuge blames it on traditional social practices that bind minor girls into wedlock.
"Many girls in this region, who are themselves malnourished, get married between the ages of 12 and 16. After attaining puberty they get pregnant immediately. If the mother herself is undernourished, how can one expect a normal child to be born?" asks Lahubhuge.
VIDEO: Kusum Lahubhuge, an arts graduate, knows the value of education, hygiene and social equality.
Like thousands of anganwadi teachers in India, she is at the forefront of the battle against malnutrition.
She knows it is a long haul but she has steeled herself for the fight.
Video: Prasanna D Zore/Rediff.com
To help overcome such traditional practices, anganwadis offer family planning education to the mothers who come with their children to these centres.
"Most often, the girl has no choice but to give into family demands for bearing children. Also, these girls get pregnant year after year due to lack of health awareness. Unless we educate the families, reduce the gender inequality gap, help people shed away their notions of male superiority, we will have to live around with malnourished mothers and malnourished children."