Wow -- 2020, huh?
From the deadly coronavirus to lockdowns, wildfires to the Black Lives Matter movement, to the Bihar and US elections, it's been a year we won't forget.
It's hard to believe it was all packed into 365 days.
It feels like it's been longer than that, so the standard end-of-year lists seem too short to do justice to this devastating and incredible year.
We present our alphabet of 2020, pulling in everything you'll remember about this year we'd rather forget (and probably a few things you'd put out of your mind already).
A -- ANTHONY S FAUCI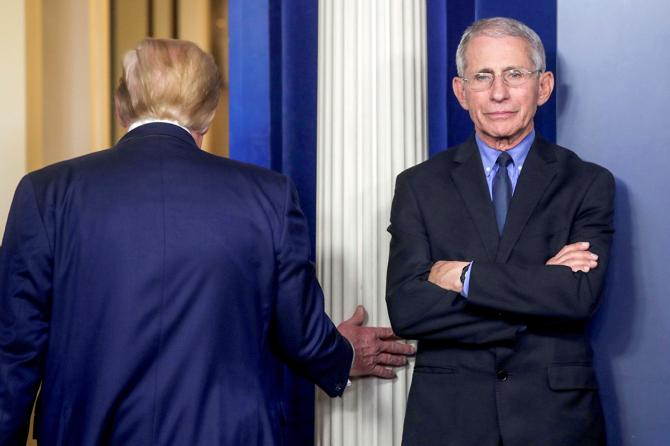 His call to 'Wear a mask' tops a list of 2020's notable quotes. Time magazine named him a 2020 Guardian of the Year.
Dr Anthony S Fauci, the longtime director of the United States' National Institute of Allergy and Infectious Diseases, has been everywhere in 2020.
Although perhaps only recently a household name, Dr has advised six American residents over 36 years. When COVID-19 reared its ugly head, he was among the first to step forward with facts and only facts.
In many ways, Dr Fauci has been the face of the fight against COVID-19 in the US. 'If we're going to get through this, we've got to all pull together as a country,' Dr Fauci, who turned 80 on December 24, has stated.
His blunt, evidence-based, approach has helped make him famous in 2020. With any luck, he can lead the way to controlling COVID-19 in 2021.
A special mention to Altrusim, because of the numerous acts of kindness towards the needy.
B -- BIHAR POLLS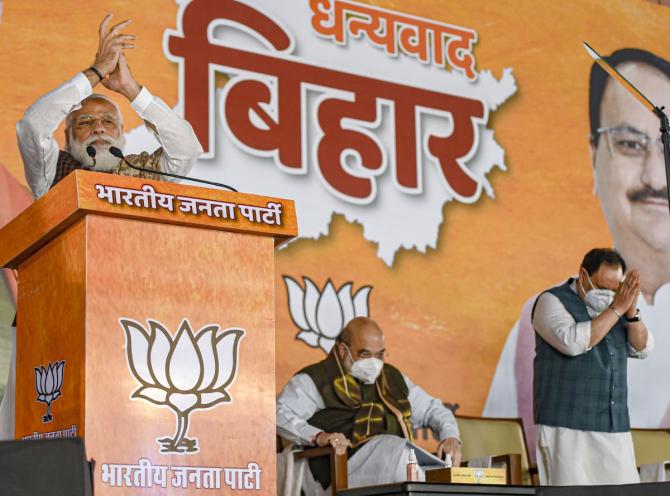 The Bihar assembly election held in October-November captured the entire nation's attention -- from holding an election in the times of the pandemic, to the very close results in which the National Democratic Alliance, of which the Bharatiya Janata Party is a part, emerged the winner with 125 seats.
The verdict of the Bihar voter has multiple small stories that add up to the big picture.
For the first time in 15 years, the BJP became the senior partner in the NDA winning more seats than Chief Minister Nitish Kumar's Janata Dal-United.
The Rashtriya Janata Dal emerged as the single largest party winning 75 seats -- one more than the BJP. The Congress proved the weak link in the RJD-led Mahagathbandan, bringing it down.
C -- CORONAVIRUS
Almost no place has been spared -- and no one.
The virus that first emerged a year ago in Wuhan, China, swept across the world in 2020, leaving havoc in its wake.
More than any event in memory, the pandemic has been a global event. On every continent, households have felt its devastation -- death and continued infirmity, joblessness and lockdowns.
And abiding, relentless, terror.
At year's end, promising vaccines offer a glimmer of hope amid a cresting second wave of contagion.
D -- DELHI RIOTS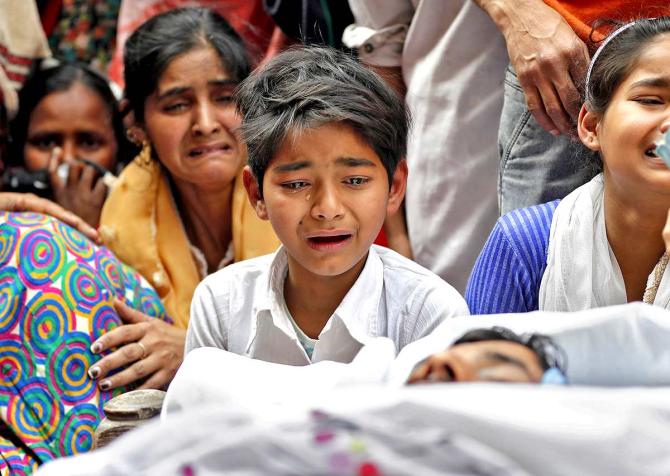 Perhaps, the writing was already on the wall even at the start of the year and we just failed to read it.
Parliament's passing of the controversial Citizenship (Amendment) Bill in late 2019 initially inspired a series of peaceful sit-ins across the country, mostly led by Muslim women who believed that the new laws would disenfranchise Indian Muslims.
Matters took a dark turn in February when the worst communal riots Delhi has witnessed since 1947 broke out.
Between February 23 and 29, a wave of violence struck the national capital that, according to an Amnesty International report, ended at least 53 lives, leaving hundreds more injured.
A hurricane of arrests followed with the Delhi police having filed over 750 First Information Reports and, at least, 200 chargesheets.
E -- ESSENTIAL WORKERS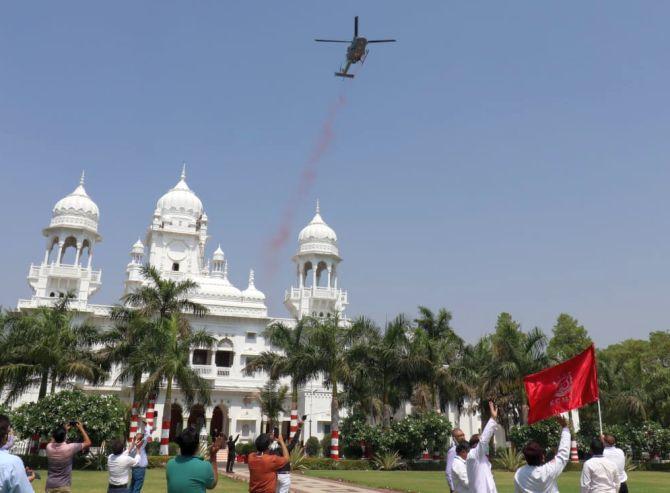 We talk about superheroes in the movies, but 2020 provided us with real life superheroes in the form of nurses, doctors, delivery people, grocery store employees and others who risked their lives on the frontlines during the COVID-19 pandemic.
The pandemic forced people to recognise how the economy works, and to see how seemingly minor jobs can be crucial parts of vast and intricate systems that produce energy, grow and distribute food and maintain pharmaceutical supply chains.
As this year ends, we share a moral duty to acknowledge and salute the labour of so many people who have kept us going in the face of a nasty and deadly infection.
F -- FARMERS PROTEST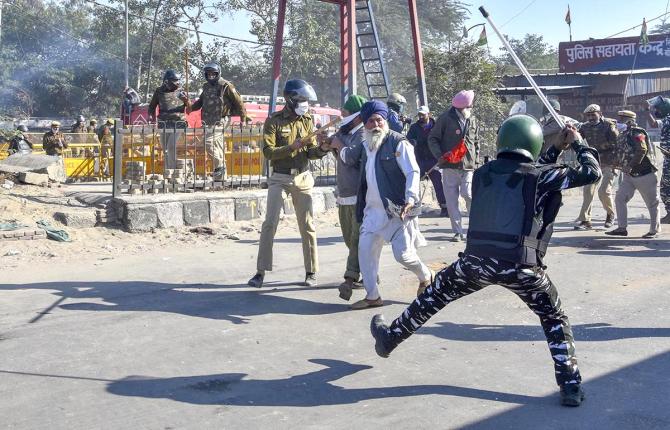 The farmers' protest has captured the nation's and the world's attention.
For over a month, thousands of farmers have camped at the Delhi border points protesting against the new agriculture laws, braving water cannons, tear gas, barricades -- and the harsh winter.
The protests followed Parliament passing the Farmers' Produce Trade and Commerce (Promotion and Facilitation) Act, Farmers (Empowerment and Protection) Agreement on Price Assurance and Farm Services Act and the Essential Commodities (Amendment) Act.
The Acts have been described as 'anti-farmer laws' by the farmer unions who insist that it will leave the farmers at the 'mercy of corporates'.
G -- GEORGE FLOYD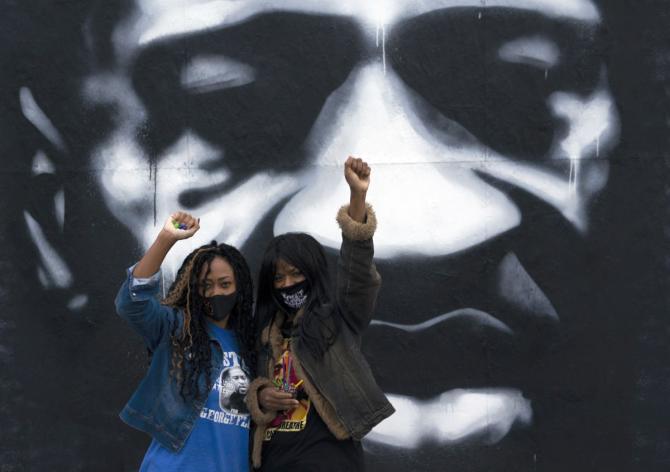 George Floyd, a 46-year-old African American man, died on May 25, 2020 after being handcuffed and pinned to the ground by a police officer's knee, in an incident recorded on video, which led to large protests in Minneapolis.
The explosive footage, recorded by a bystander, led to community outrage, a Federal Bureau of Investigation civil rights investigation and the dismissal of the officer and three colleagues who were also at the scene.
Floyd's death triggered worldwide protests against police brutality, police racism, and lack of police accountability.
H -- HATHRAS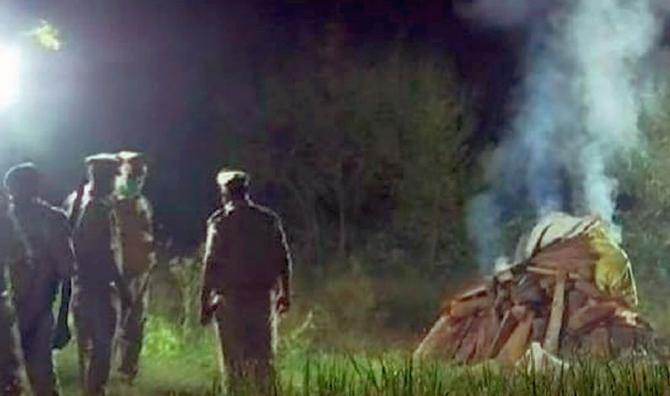 In September, a 19-year-old Dalit woman was gang-raped in Hathras district, Uttar Pradesh, allegedly by four upper caste men. After fighting for her life for two weeks, she died in a Delhi hospital.
The night of her death, the police returned to the family's village with her body. Instead of handing her body to her mourning family, the family has said the police insisted she be cremated there and then.
When the family refused, saying they wanted time to say goodbye, the police locked them in their home and took her to a field where they burned her body using gasoline, the family said.
In the wake of the young woman's death and the shocking behaviour of the district magistrate and local police, protests erupted in many parts of UP. Many protesters were beaten by the police in an attempt to stop them from visiting the victim's family. Opposition leaders were shoved around by UP policemen.
I -- IRRFAN KHAN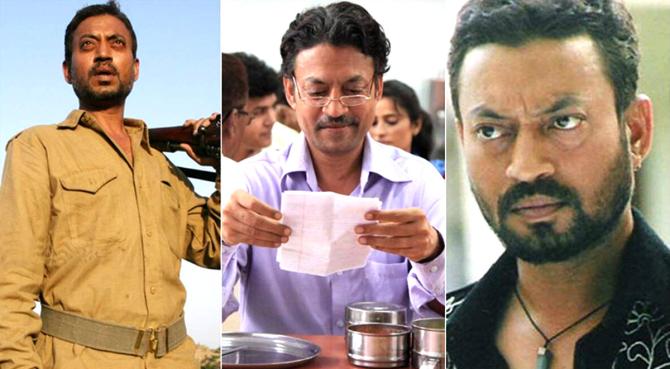 Bollywood lost many notable names in 2020 and actor Irrfan's death on April 28 deeply saddened cinephiles around the world who amazed at his craft .
Irrfan, who underwent treatment for a rare neuroendocrine tumour for two years, had put a philosophical face on his ordeal.
His work will always live on.
J -- JOE IS PREZ!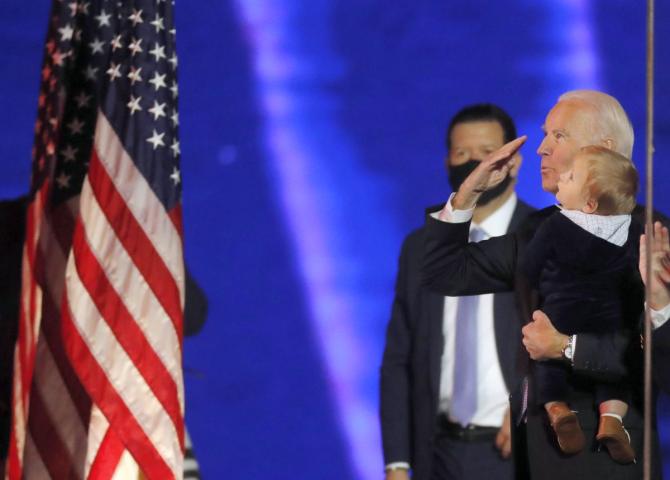 Joseph R Biden Jr began his United States 2020 presidential campaign by losing, and then losing some more. But after an extraordinary comeback, he claimed the prize that had eluded him in two previous presidential campaigns: The Democratic nomination.
He then went up against incumbent US President Donald J Trump in a contest dominated by a global pandemic and a summer of unrest over police killings of Black Americans.
After a tense week of vote tallying, the verdict was out and America had spoken in favour of Biden. The former US vice president's win brings a four year run of Trumpism to an abrupt end, though its effects will reverberate throughout American politics, likely for decades.
For now, all we can do is wait and watch as to how Biden will govern America. Will he rise to the occasion or will he flail?
K -- KOBE BRYANT
Basketball legend Kobe Bryant died in a helicopter crash in California on January 26, sparking an outpouring of grief from fans around the world.
Kobe, 41, and his daughter Gianna, 13, were among the nine killed when the aircraft came down in Calabasas.
A five-time NBA champion, Kobe played for the LA Lakers throughout his career and is considered one of the greatest players in the game's history.
Kobe's achievements include being the 2008 NBA Most Valuable Player and two-time NBA Finals MVP. He was also NBA scoring champion twice and a two-time Olympic champion.
He famously scored 81 points against the Toronto Raptors in 2006, the second-highest single-game total in NBA history.
He also won an Oscar for best short animated film in 2018 for Dear Basketball, a five-minute film based on a love letter to the sport he had written in 2015.
L -- LOCKDOWNS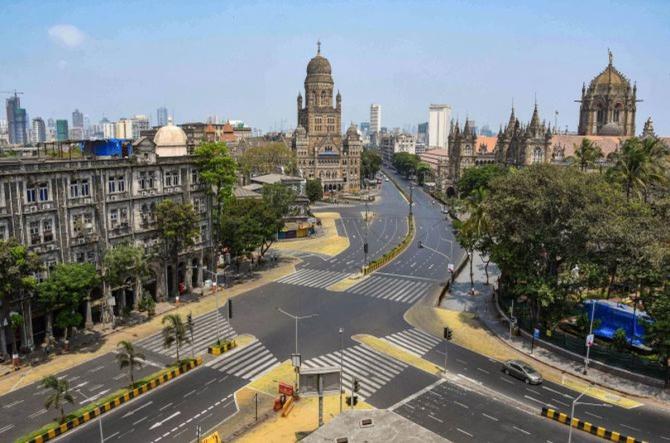 Lockdown came into common parlance as governments around the world responded to the spread of COVID-19 by placing strict measures to stop transmission of the virus.
The Collins Dictionary declared it the word of the year, stating that 'lockdowns have affected the way we work, study, shop, and socialise'.
In India, the lockdown was imposed on March 24 at four hours' notice! On April 14, Prime Minister Modi extended the nationwide lockdown until May 3, with a conditional relaxations after April 20 for the regions where the spread had been contained or was minimal.
On May 1, the Government of India extended the nationwide lockdown further by two weeks until May 17. The GoI divided all the districts into three zones based on the spread of the virus -- green, red and orange -- with relaxations applied accordingly.
On May 30, it was announced that lockdown restrictions were to be lifted from then onwards, while the ongoing lockdown would be further extended till June 30 for only the containment zones. Services would be resumed in a phased manner starting from June 8.
M -- MIGRANT CRISIS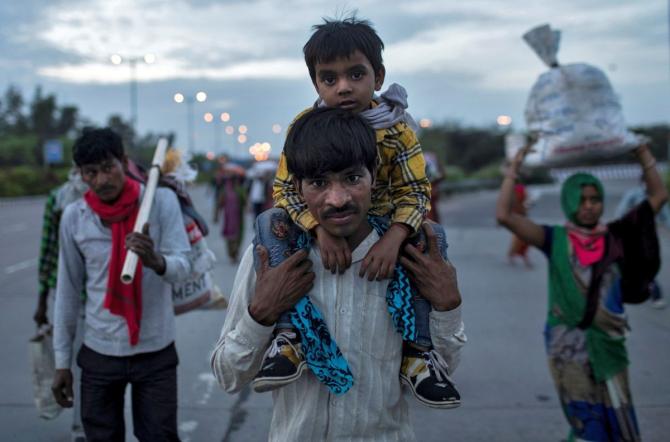 2020 has truly been terrible, but it was all the more terrible for India's over 10 million migrant labourers.
When Prime Minister Modi announced a nationwide lockdown at four hours' notice, migrants faced a major plight as they were left stranded away from their homes with meagre savings in their pockets and nothing to earn.
Since all modes of public transport were stopped due to the lockdown, millions of poor Indians walked hundreds of kilometres to reach their native places -- some of these images are hard to forget -- from the migrant worker sitting on the roadside and crying on his phone to the girl who decided to peddle 1,200 km across eight days with her father sitting behind.
The last time India witnessed such massive migration was during Partition.
N -- NITISH KUMAR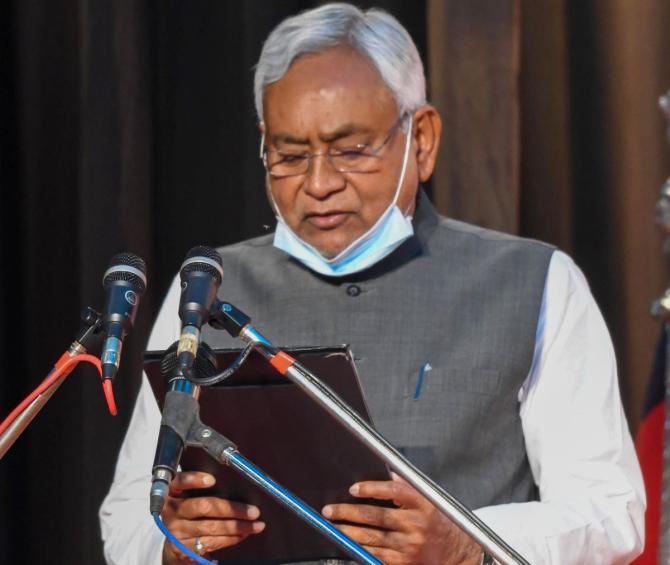 Nitish Kumar may be one person who would not curse 2020.
After serving as Bihar chief minister for three terms, he fought anti-incumbency and won a surprise fourth term, proving wrong exit polls that predicted his defeat.
His lame duck position was not a secret before the assembly election and there was buzz that the Bharatiya Janata Party would install a chief minister of its own if it won more seats than Kumar's Janata Dal-United.
Even though the BJP did win more seats than the JD-U, Kumar stays in the saddle -- for now..
in New Delhi
O --OLYMPICS, POSTPONED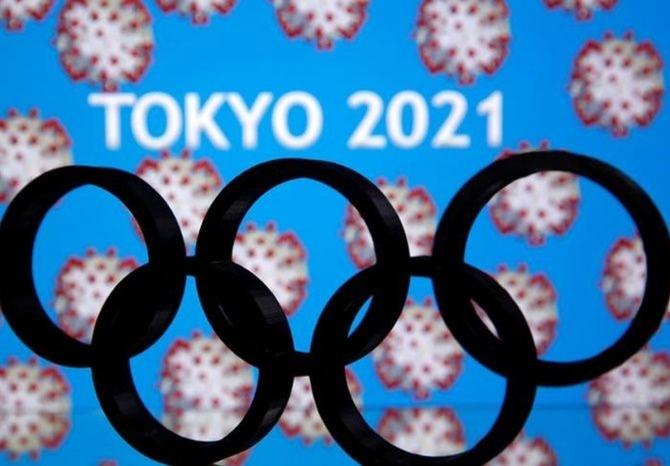 The Tokyo 2020 Olympics were postponed to the summer of 2021 owing to the coronavirus pandemic.
The Olympics is the biggest event yet to be affected by the global pandemic. The Games were set to run July 24 to August 9, and the Paralympics from August 25 to September 6.
This is the first major disruption to the Olympics since World War II, when the 1944 Summer Olympics, were cancelled. The 1940 Summer Olympics, which were also to be held in Tokyo, were also cancelled.
P -- PANGONG TSO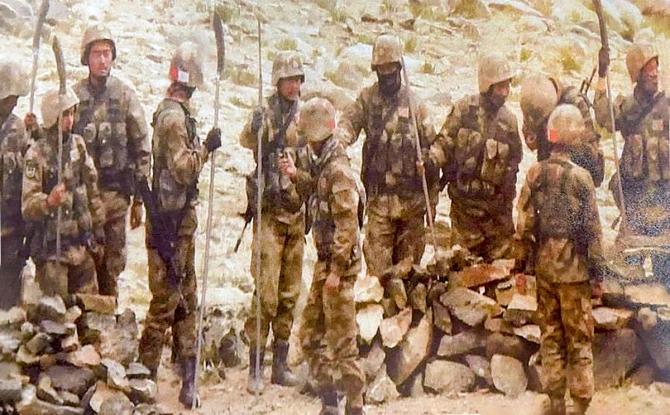 Relations between India and China worsened in 2020 and reached its violent worst in June.
The first standoff began as a clash between Indian and Chinese soldiers at a beach on Pangong Tso, a lake shared between India and China, with the Line of Actual Control passing through it.
What followed has been described as the bloodiest clash between the two countries after the 1962 War. Wielding fence posts and clubs wrapped in barbed wire, they squared off under a moonlit sky along jagged cliffs soaring high above the Galwan Valley, fighting for hours in pitched hand-to-hand battles.
Some Indian soldiers died after tumbling into the river in the valley below. Others were beaten to death. By the next day, 20 Indian troops were dead. China has been silent on the number of its casualties.
The eight-month standoff has led to the Indian military stationing thousands of troops in icy, inhospitable, conditions of a Ladakhi winter to ward off any Chinese adventurism.
Q -- QUARANTINE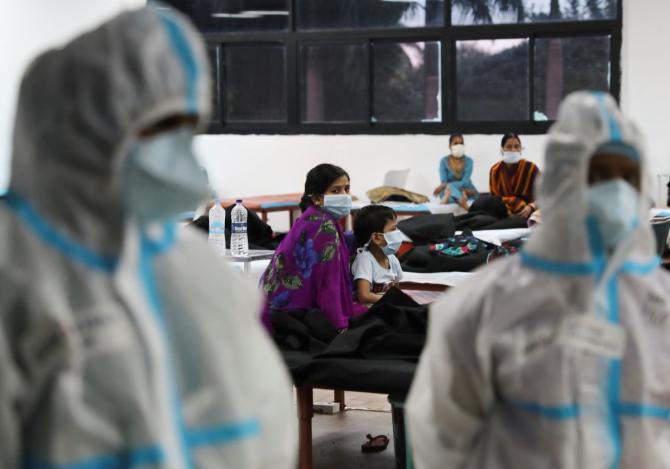 The pandemic brought to light a bunch of new terms -- 'COVID-19', 'human-to-human transmission', 'quarantine', 'social distancing', 'self isolation'.
Quarantine -- the separation and restriction of movement or activities of persons -- became one of the most highly searched words this year.
R -- RAM MANDIR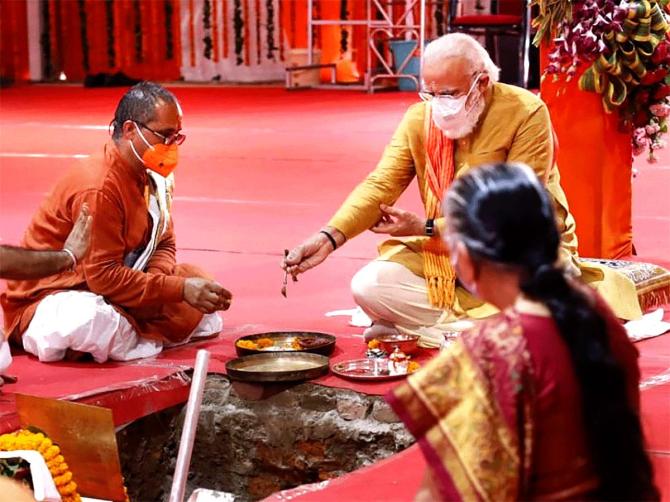 The prime minister of India laid the foundation stone for the Ram temple in Ayodhya on August 5, 2020.
The Shri Ram Janmabhoomi Teerth Kshetra trust announced in September that the Ram Mandir will have 1,200 pillars which will go 200 feet deep. It is expected that the temple will be 161 feet tall.
According to the Ram Janmbhoomi Trust, the Ram Mandir will be built to sustain earthquakes, storms and other natural calamities. No iron will be used in its construction.
No government funds will be used to construct the temple.
S -- SUSHANT SINGH RAJPUT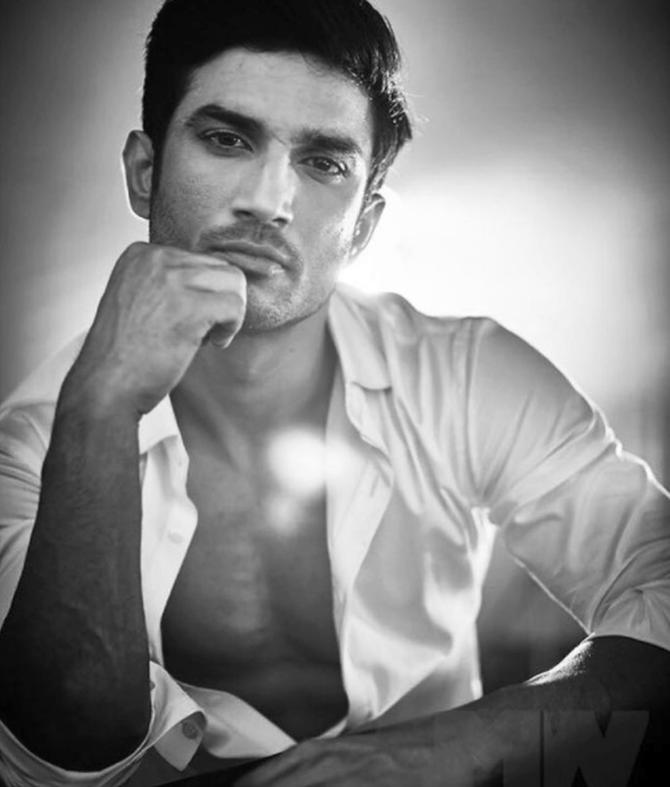 Many have yet to make peace with Sushant Singh Rajput's death by suicide on June 14.
Ugly media mayhem was unleashed soon after his father filed a case against the actor's girlfriend Rhea Chakraborty -- who spent 28 days in jail on the allegation that she was involved in drug trafficking -- and central agencies are still probing the probable circumstances that led to his demise.
T -- TABLIGHI JAMAAT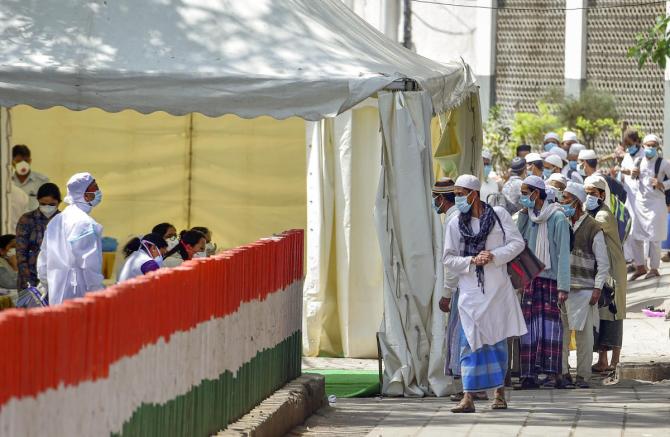 The organisation, founded in 1926, earned social media hate when an event it held in Delhi reportedly spawned COVID-19 clusters across the country.
The Tablighi Jamaat's Delhi conference, an annual event, was inaugurated on March 3 though there are differing accounts of when it may have ended. Once it ended, many attendees -- including 250 foreigners -- chose to stay on.
It is thought that some of them were carrying the infection, that was then transported across the country.
All of the foreign nationals have since been acquitted by the courts.
According to the media, more than 4,000 confirmed cases and at least 27 deaths linked to the event were reported across the country.
U -- UNEMPLOYMENT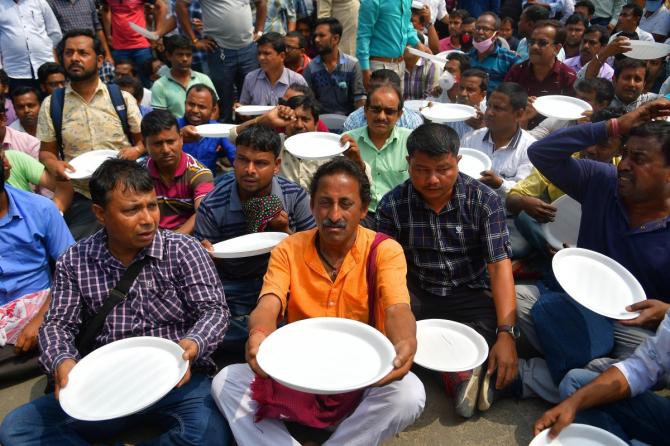 In truth, we may not truly know the full extent of the COVID-19 pandemic on unemployment in India until several years down the line.
The enforcement of the lockdown caused a devastating impact on commercial activity forcing many MSMEs -- largely believed to be the spine of the Indian economy -- to down shutters permanently, or resort to wide-scale labour crunches that rendered millions of Indians with no means of survival, no savings and no immediate job prospects.
According to CMIE, 121.5 million Indians lost their jobs during the lockdown. India's employment rate has improved since, but recent readings indicate that the recovery may be temporary.
V -- VACCINE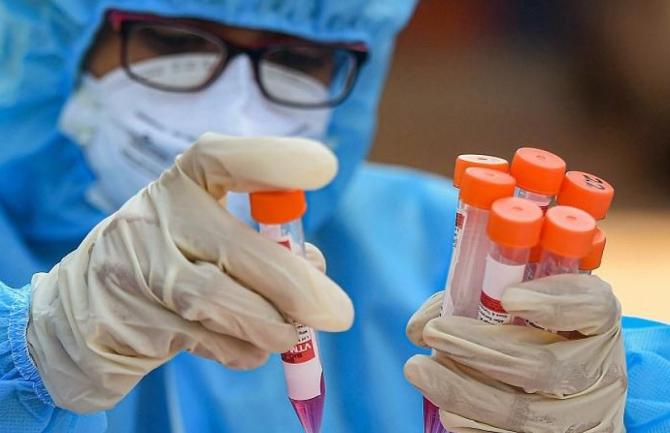 In the history of medicine, the fastest developed vaccine so far was for mumps which was developed in four years. But the scientists of the world showed remarkable efficiency in developing a vaccine for COVID-19 within a year.
Ever since the deadly COVID-19 was declared a pandemic, people world over hoped for early discovery of a vaccine or drug. But few thought that it could be done before the year gets over.
Currently, two vaccines -- that of Pfizer and Moderna -- are authorised and recommended to prevent COVID-19, whereas multiple others are undergoing human trials.
W -- WHO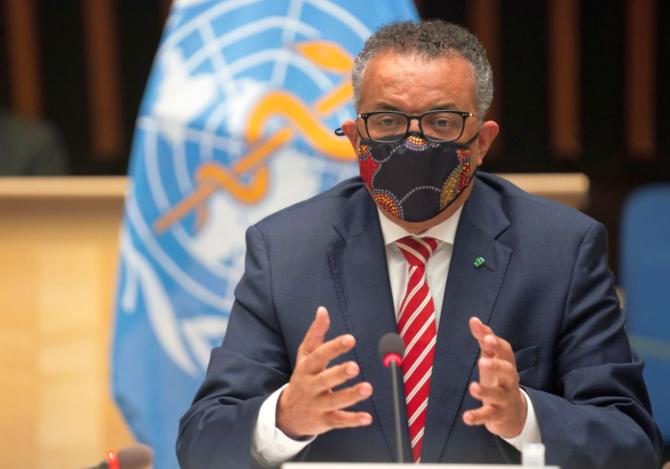 2020 was a year like no other for the World Health Organisation. WHO had to fight a pandemic on a scale perhaps it never did. But its response to the COVID-19 outbreak came under severe criticism from many quarters, most notably from the United States.
President Trump and his administration accused WHO of 'severely mismanaging and covering up the spread of the coronavirus' and halted its funding.
X -- XI JINPING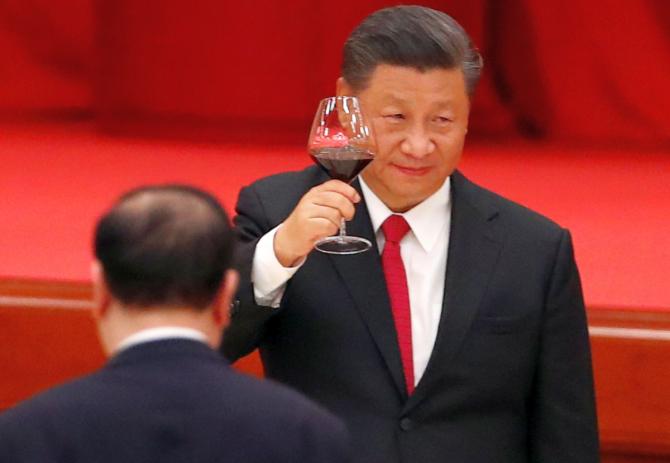 Whatever China's original sin in the emergence of the coronavirus -- and the questions that still surround its official accounting of deaths and infections -- its leadership has reason to believe it handled the situation better than geopolitical adversaries in the West.
After the outbreak in Wuhan, Chinese authorities clamped down on the spread of the virus and curtailed further community transmission when it flared up in pockets of the country.
Xi Jinping's regime has responded ruthlessly to perceived threats in 2020 -- from quashing civil liberties in Hong Kong, entrenching a dystopian lockdown on ethnic minorities in Xinjiang and rattling the saber at Taiwan.
Tensions exploded along China's disputed border with India, while Chinese diplomats abroad sparred with journalists and local officials from Australia to Brazil.
Faced with all of these mounting troubles along with the deteriorating ties with the United States, Xi is hunkering down as he takes his country into an economically encouraging new year.
Y -- YES BANK COLLAPSE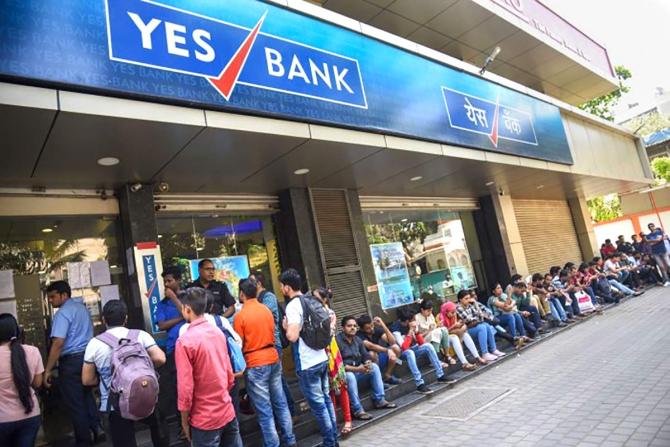 The Rana Kapoor-led bank, India's fifth largest private sector lender, went from being one of the buzziest banks to among the most stressed in the year of 2020.
The fall of YES Bank came on the heels of a series of existential crises witnessed earlier at the IDBI Bank, IL&FS, DHFL, PMC Bank, Altico Capital, on the one hand, and shocking reports of high-profile wrongdoings in two major private sector banks.
What went wrong? Well, just about everything. Weak corporate governance, dysfunctional boards, poor external auditing standard, breakdown of market discipline, low supervisory competence and, above all, lack of political will to clean up the mess that was created by long years of a nexus between politicians, promoters and bankers.
Z -- ZOOM CALLS
Since the pandemic hit, Zoom has become so engrained in our lives. As one of the only safe ways to communicate, it's hard to imagine living without it now.
At the end of December 2019, the app reported a maximum of 10 million daily users. By March, 200 million people were on it each day to work, socialise, view lessons and lectures, sing in choirs, attend church, birthday parties and weddings, meet new babies, say final words to dying family members and observe Ramadan and Easter.
The Zoom boom has also enabled the elderly and the physically handicapped to become more sociable than before.
So, here's to exhaustingly long meetings with colleagues with their bookcases in the background and pixellated faces!