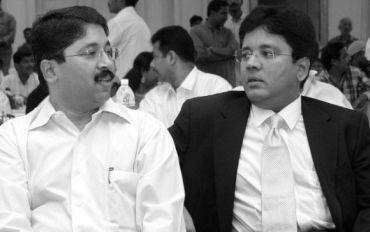 For those who have been observing the phenomenal growth of Sun TV in the last decade and more, its acquisition of the Indian Premiere League franchise for Hyderabad will come as no surprise, says S Murari
For Kalanidhi Maran, 48, hailed as a media baron, takeover tycoon, India's Rupert Murdoch and so on, Rs 4.25 billion price tag for the IPL Hyderabad franchise is small change.
In buying cheap, Kalanidhi has made it difficult for existing franchises wanting to exit or dilute their stakes. The low price and absence of widespread interest in owning an IPL team has dampened the prospects of some of the existing franchises selling their stakes at higher valuations.
Kings XI Punjab, Rajasthan Royals and Shah Rukh Khan's Kolkata Knight Riders are reportedly looking to sell stakes. Sun Group's S L Narayanan says, "The price we have paid is attractive because the last deal (for the Pune team by Sahara) was almost at Rs 170 crore (Rs 1.7 billion) per annum. We have got it at about 50 per cent of that transaction." 
Board of Control for Cricket In India President N Srinivasan contends that Sun TV Network's bid must be compared to what was paid by Deccan Chronicle Holdings Limited for the Hyderabad franchise.
"This is twice the value of Deccan Chargers. More importantly, it's a very credible franchise owner. I think they will add value to the league."
In essence, Sun TV has paid the right price for entering at a time when interest in IPL was waning .Sun TV is in a position to extract better sponsorship revenue by offering package deals that will include its 30-plus television channels. However, Sun will have to deal with the challenge of gate receipts since Hyderabad is not a great 'ticket-revenue' market compared with Mumbai or Delhi.
Kalanidhi has never been risk averse. Nothing ventured, nothing gained, is his business motto. At the same time, he always crouches before the spring.
He was eyeing Deccan Chargers for quite some time after the English daily Deccan Chornicle failed to come with a bank guarantee despite repeated extension of time by the BCCI
Kalanidhi would not have come this far but for his shrewd business sense. He always took calculated risks.
At the same time, he brooks no rivalry, even from his own close relations.
When the Sun TV Network decided to go public in 2006, the first thing the Maran brothers -- Kalanidhi and Dayanidhi did -- was to buy out the stakes of  their grand-uncle and the then Tamil Nadu Chief Minister M Karunanidhi and his wife Dayalu Ammal for Rs 100 crore.
It took Karunanidhi, who has always have been a politician and hardly knew anything about business, quite a while to realise that he had been short-changed. Of course, he had his sweet revenge a few years later.
When the Maran brothers got caught up in an internal family feud, Karunanidhi started Kalaignar TV to not only take on Sun TV but also use his own channel to further the interests of his daughter Kanimozhi.
The Maran brothers took the competition seriously and recast the news format. Its Dravida Munetra Kazhagam tag eroded its credibility as a news presenter. With the advent of Kalaignar TV, people came to consider it as the mouthpiece of the DMK and Sun TV as fairly balanced in its news presentation where the DMK was not concerned.
When Dinakaran, a part of the closely held Daily Thanthi group of newspapers, fell on bad times, the Maran brothers made an offer to its editor Kesavan which he could not refuse. Now he has gone into retirement, happily playing golf, while the other Aditanars are smarting under yet another alien takeover after they, with great effort, aborted an attempt by Essar group to acquire the TMB Bank, for long seen as a bank for Nadars by Nadars.
The prestigious acquisition was of SpiceJet, the budget airline, by the Sun network in June 2010. As Kalanidhi's luck would have it, the shutdown of Kingfisher will boost the prospects of SpiceJet. The Maran family's television business has always been linked to the fluctuating political fortunes of the DMK, and has survived by adapting to change.
In fact, Sun TV has done well when the DMK was in opposition. Of course, Kalanidhi denies his political connections helped him.
"My political connections had no bearings on Sun's success. No advertisers were willing to take the risk of giving us ads when we launched in April 1993,'' he has said.
Kalanidhi Maran started in a small way in 1990, after returning from the United States with an MBA. The fact his father Murasoli Maran was a senior leader in the DMK and was off and on a Union minister, surely gave the Maran brothers a headstart.
Kalanidhi started his business with a monthly video (VHS) news magazine in Tamil called Poomaalai (garland) which was stopped in 1992 due to piracy. He founded Sun TV on April 14, 1993, with an investment of US $86,000 (approximately Rs 46 lakh by today's conversion) from a bank loan. Now the network has a bouquet of channels in the entire south, covering all the four regional languages.
Its finest hour was during Jayalalitha's first term as chief minister of Tamil Nadu from 1991 to 1996. The DMK, as well as Sun TV, made much use of Janata Party president Subramanian Swamy's relentless campaign against the corrupt and autocratic AIADMK regime.
The unkindest cut was the way Sun TV used forest brigand Veerappan's series of interviews to Nakkeeran editor RR Gopal in the jungles to lash out at Jayalalitha. Call it poetic justice, Veerappan was gunned down in 2003, when Jayalalitha was chief minister.
The Maran brothers ruthlessly barred the entry of other rivals into Tamil Nadu once the DMK became part of the United Progressive Alliance-I in 2004, and Dayanidhi Maran became the telecommunications minister. If there was a conflict of interest, there was nothing Prime Minister Manmohan Singh could do about it.
The Maran brothers blocked the entry of Hathway Cables of Raheja Brothers into Tamil Nadu reportedly through strong-arm tactics. Sun's Sumangali Cable Vision, a multi-system operator or MSO, has 90 per cent of the market in Tamil Nadu. Raheja's Hathway, once the Sun's only rival in the state, chickened out in 2009.
Dayanidhi reportedly threatened Tata Group Chairman Ratan Tata in April 2006 to sell a 33 per cent share in the Tata-Star DTH venture for his brother Kalanidhi. Dayanidhi denied it, but Tata did not. The political storm raged for quite some time, with LK Advani, the then leader of the Opposition, urging Prime Minister Manmohan Singh to move Maran out of the telecom ministry.
Dayanidhi's downfall came when he used Sun TV to project himself as a more popular leader than his uncle and Karunanidhi's son MK Alagiri, that too in his home town of Madurai. Karunanidhi, under pressure from Alagiri, asked the prime minister to drop Dayanidhi from the Cabinet.
After one year of penance, Dayanidhi was readmitted into the inner circle and was inducted into UPA-II, but by then A Raja got the coveted telecom ministry. The fallout of the 2G spectrum has led to the exit of not only Raja but also Dayanidhi from the Cabinet.
The Central Bureau of Investigation is now probing the allegation that Dayanidhi coerced Aircel's Sivasankaran to sell stakes to his Malaysian friend Ananda Krishnan's Maxis for a song. As a quid pro quo, Ananda Krishnan invested Rs 547 crore in Sun DTH. As recently as in July, the CBI questioned the Maran brothers over the deal.
The Maran Brothers' Sun Pictures, along with other entities of the Karunanidhi family, dominated the Tamil film industry between 2006 and 2011.
It was this total domination of the Karunanidhi family in every field that eventually led to the DMK's rout in the 2011 assembly elections. Now the Jayalalitha government has launched a series of land-grabbing and other criminal cases against all the top leaders of the DMK.
Karunanidhi's grand-nephew and Alagiri's son Durai Udayanidhi himself is on the run over a granite scam. Critics may say it's not cricket. But the Maran brothers can hardly say that.
Image: The Maran brothers, Dayanidhi and Kalanidhi