'Children are curious by nature, so I thought of writing these books, which provide creative but convincing explanations and also teach values like sharing is caring,' Sudha Murty tells Chintan Girish Modi.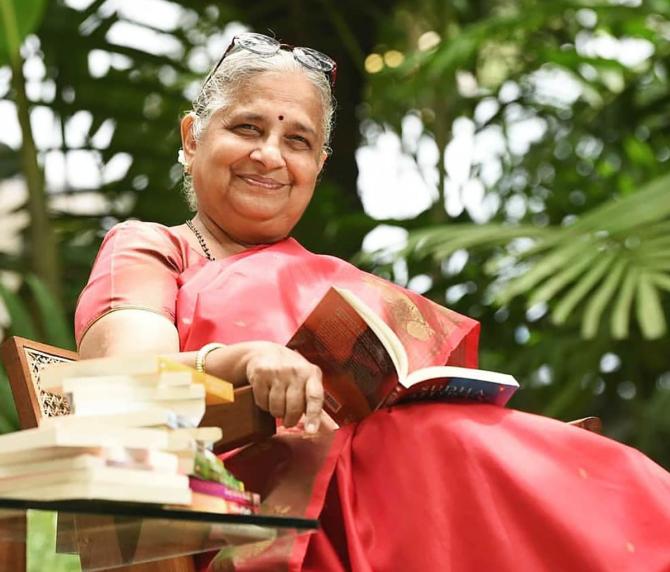 On a sunny Friday morning with a slight nip in the air, I set out to meet Sudha Murty.
The hotel that I am staying at is just a couple of minutes away from the Jaipur Marriott where she has been put up; so I walk.
The engineer, author and philanthropist, also the chairperson of the Infosys Foundation, is scheduled to speak at the Jaipur Literature Festival.
She has carved out a 30-minute slot for me from her hectic schedule.
Once I say goodbye, she will still have an hour to herself before she's whisked away for her festival session titled 'My Books and Beliefs'.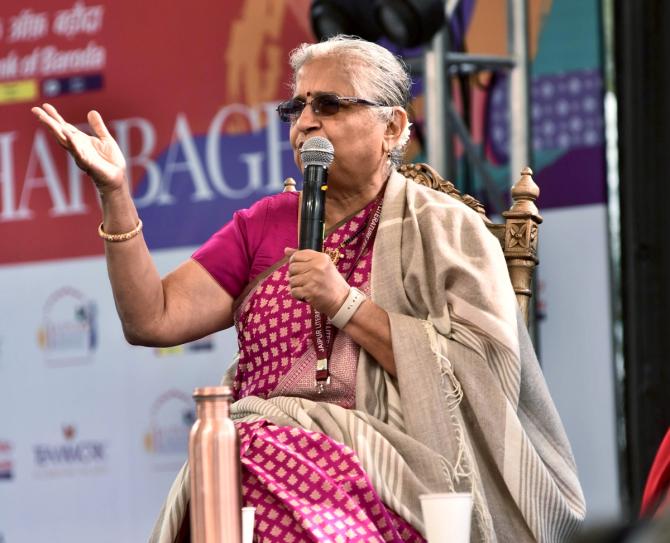 She welcomes me with a warm smile and a namaste, and asks if I would prefer tea or coffee.
I pick the latter, and she promptly requests a server to bring me some.
When I ask what she is going to have, she tells me she is not in the habit of having either tea or coffee, so she would only have some water to keep me company.
As I try to conceal my surprise, I find that some more is lined up. "I have already finished my breakfast," she announces. It's barely 8.30 am.
"What did you have?" I ask.
"A little bit of South Indian food and a little bit of North Indian food! I had a plain dosa, a moong kachori, a paneer parantha, and some khichdi."
I am impressed because I share her enthusiasm for a sumptuous breakfast buffet.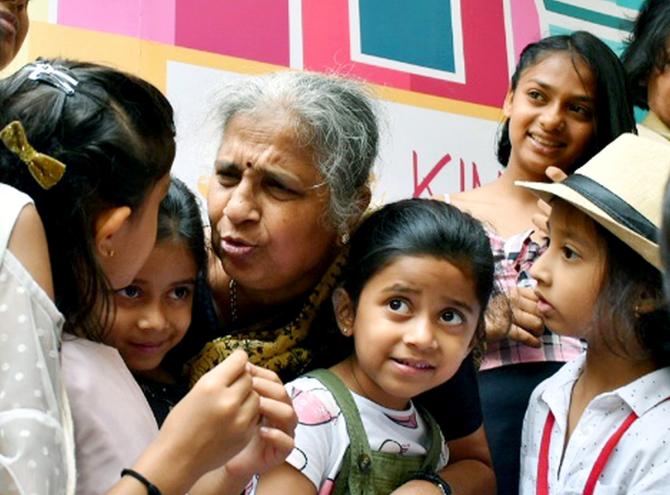 "When I am in Bangalore (or Bengaluru as we call it now), I do not have such a heavy breakfast because I always come home for lunch.
"I usually have a plain dosa or fruit. Here, in Jaipur, I am not sure when I will have time to eat," says the sprightly 71 year old.
My coffee hits the perfect spot between sweet and bitter.
The aroma tells me that the beans have been well-roasted.
During our tete-a-tete, Mrs Murty -- as she is addressed by many of her colleagues == reminds me to keep sipping my coffee so that it does not go cold.
I steer our conversation towards a memory that lingers on from the previous evening.
She was invited to speak at an event hosted by Rajat Book Corner, FICCI Flo Jaipur and Puffin -- the children's imprint of Penguin Random House -- at Totuka Bhawan.
I was in the audience. Since I had reached early, I had a chance to witness the excitement in the eyes of children and parents anticipating the arrival of Murty who is much loved for her children's books.
What I beheld seemed like a scene out of a Bollywood film.
Her entry reminded me of the moment in Farah Khan's Om Shanti Om when Deepika Padukone steps out of the car and onto the red carpet.
While I knew that Murty's books sell more than most other Indian authors of children's books, I had not imagined that she is no less than a movie star for her young readers.
Many of them also think of her as 'ajji', which is the Kannada word for grandmother.
Her fans hugged her, shook hands, and fell at her feet to seek blessings.
The event was structured as a conversation between her and a panel of six children.
She was playful and indulgent. "Ask me anything. You don't have to ask what your parents or teachers have told you to ask," she assured them.
They enquired about her writing process, characters in her books, and her sources of inspiration.
Recalling the event, she now tells me, "I love children, so I have a heart-to-heart connection. I think that I am a natural ajji. As a grandparent, you do not have the responsibilities that parents do. All you have is love."
Do her granddaughters Krishna (12) and Anoushka (10) -- the children of venture capitalist and fashion designer Akshata Murty and the United Kingdom's current Prime Minister Rishi Sunak -- feel jealous because they have to share their ajji with other children?
She says, "They have grown up. Sometimes, they fight with each other to sit next to me, but they have not seen sessions in India where I interact with other children because they do not live here."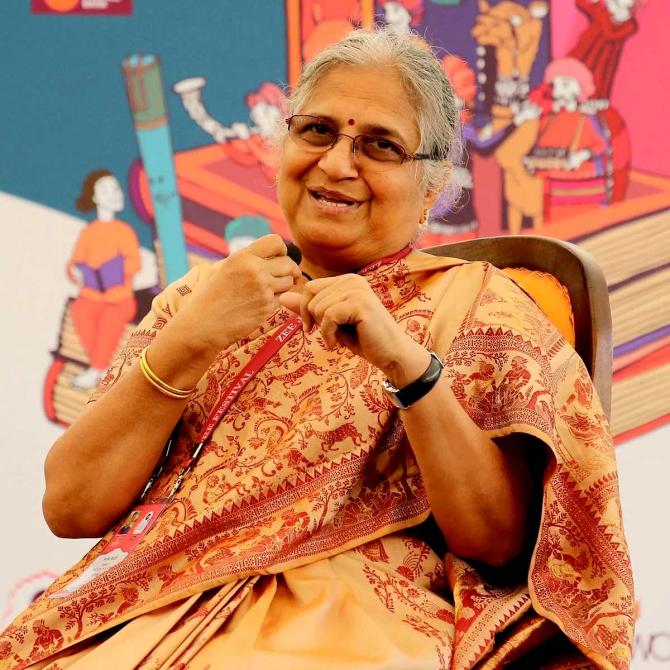 Her most recent book for children, published by Puffin, is called How the Mango Got Its Magic.
It is part of a series that also includes books such as How the Sea Became Salty, How the Earth Got Its Beauty and How the Onion Got Its Layers.
"I love mangoes, like any other Indian. I make aam ras and mango pickle," she says.
"Children are curious by nature, so I thought of writing these books, which provide creative but convincing explanations and also teach values like sharing is caring."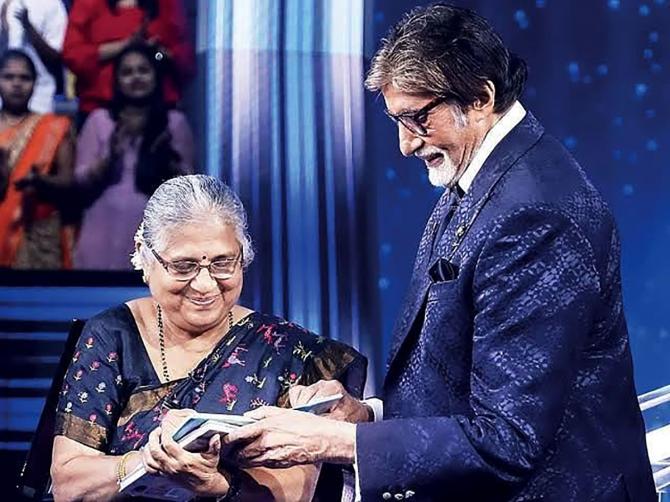 Given her academic background in science and her voluminous literary output in Kannada and English -- for adults as well as children -- she believes that "being analytical and being artistic must go hand in hand as you need both."
Apart from being grateful to the illustrators who enhance the visual appeal of her books and "give readers a break from pages and pages of text", she thinks that her success as a storyteller comes from having spent over two decades with her paternal and maternal grandmothers.
"They took care of me, told beautiful stories, and always walked their talk."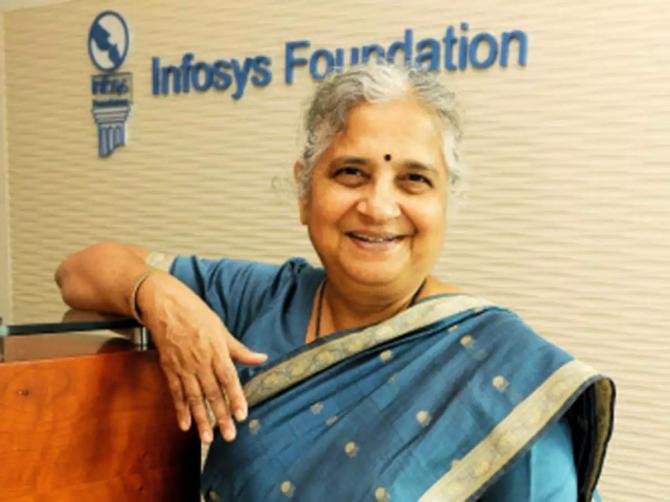 How does she feel when stories about her personal life make it to different media platforms? "There is nothing that you can do to clarify or control things when there are so many channels of communication, so it is best to ignore and focus on your work."
As I put away my coffee mug, she fills me in on upcoming projects. "I am writing a book about life lessons that I learnt from simple people like a cook, a bus conductor, and others. This is for adults. I am also planning to write one for children."
What's happening on the philanthropy front? She says, "I am building a hospital. I am working with the Bhandarkar Oriental Research Institute in Pune and a zoo in Gulbarga. We are also giving out a lot of scholarships."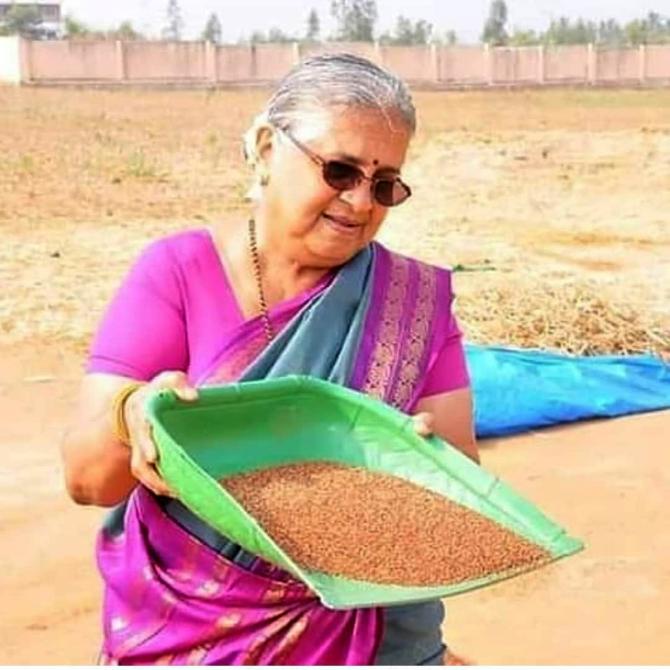 Just last month, she received another Padma award -- a Padma Bhushan -- for her work.
She'd been awarded the Padma Shri 17 years ago.
Murty had a key role in the birth of IT giant Infosys -- having given her husband N R Narayana Murthy, the initial Rs 10,000 from her savings to chase his dream to set up an IT firm back in 1981.
This technocrat-turned-children's writer was also the first female engineer that Tata Engineering and Locomotive Company hired after she sent a postcard to its chairman pointing out the male-only bias in the auto major.
Incidentally, some of her books -- she's written over 20 -- have been adapted as television series and movies, and she's also acted in a couple of them.
When I ask if she has any unfulfilled dreams, pat comes the answer, "I wish I knew how to swim. I grew up in an area with water scarcity (Haveri in central Karnataka)."
I wonder if she has thought of creating a fictional ajji who swims. "Great idea! I will incorporate it in my next book!"
Feature Presentation: Rajesh Alva/Rediff.com