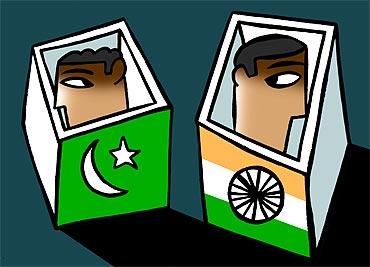 Must Indians and Pakistanis be bound by the easy classifications of enemies and terrorists, muses Aseem Chhabra 
There is an old black and white photograph on my Facebook profile page, taken perhaps in 1965. It is a photograph from my kindergarten class, on the steps of the Raghubir Singh Junior Modern School in New Delhi. In the photograph are 32 kids, our classroom teacher Mrs Nigam, the junior school principal Mrs Sachdev, and a stern looking man in a gray suit seated in the middle.  
Everyone looks serious, barring a couple of kids who are daring to smile. It almost seems as if we were asked not to smile. Most of us are sitting up, with our backs straight, although I seem to be slouching a bit.
I revisit the photograph sometimes, searching for my childhood -- the innocent days when we were quite clueless about the realities of life and the world around us. I often think of my classmates; most who stayed back in India, a few who live in other parts of the world, and a lovely young woman who committed suicide as an adult. Most of us studied in the same school from kindergarten to the final year of high school. Many of us are still in touch, nearly 50 years later, through a Yahoo! list serve that allows us to post everything from news about our kids' school and college graduations, to birthday wishes, to comments about vacations and jokes. On rare occasions, people post articles.
Recently someone posted an article about the Kashmir situation and Pakistan's role in the tumultuous politics of the north Indian state. The article referred to people of Pakistan as Pakis. It bothered me, and so I wrote to the list. I said in my note that the term Paki is often used as a racist slur in England for all brown people from South Asia. I also added that while all of us have issues with Pakistan as a country, its government, its spy agency Inter Services Intelligence, and the Al Qaeda and Taliban elements, most Pakistanis are decent people who cope with the daily onslaught of domestic terrorism unleashed on them by Islamic forces.
My comments drew angry responses, albeit from only a handful of people on the list. A few classmates suggested my saying that all Pakistanis are not evil people amounts to my being anti-Indian. One person even said that I should not be allowed to visit India. There were other personal attacks from classmates who have had no contact with me for decades. Most important, they seemed to suggest that all Pakistanis are essentially untrustworthy and hence should be shunned.
As an Indian American living in New York for a long time, but also as someone who is very engaged with India, I am very shocked by these reactions. And I wonder what happened to the sweet innocent kids from Mrs Nigam's class in the photograph. How did we all become what we are today?
We are products of a liberal, secular school. There were touches of patriotism in our education, but I do not remember it to be jingoistic and nationalistic to the extent that we would hate our South Asian neighbours. During the Bangladesh war of independence some of us even performed in a stage production where we learned the new nation's national anthem.
A lot has changed since those innocent days. In the last 20-plus years, the Kargil war, the strife in Kashmir, and terrorist attacks on Mumbai and other parts of India have strengthened the sense of Pakistan as India's greatest enemy. As the United States-led war on terror in Afghanistan spilled over inside Pakistan, that country has become more and more fractured. Newsweek was right to declare Pakistan as the most dangerous place on earth. The daily reports of bombings, killings, assassinations in Pakistan are disturbing. But it is even more disturbing when forces of reason and balanced individuals are silenced in Pakistan.  
The recent killing of Pakistani journalist Saleem Shahzad was a stark reminder of how tough the current situation has become for most Pakistanis who want to live normal lives. I follow a few smart Pakistani journalists and writers on Twitter who have had enough of these ugly realities of Pakistan, but continue to tirelessly write about all that is wrong with their country.
But unlike some of my classmates from the Modern School's Class of 1974, I cannot dismiss Pakistan and simply consider all its citizens as enemies of India. I have friends in New York and elsewhere, Hindu Indians who are married to decent, Muslim Pakistanis. These marriages and the children of these relationships are a reminder of the common roots and permanent ties that exist between India and Pakistan.
There is a lot of good happening in Pakistan -- a parallel world to what we see on cable news channels -- and we as Indians and people of Indian origin should appreciate it.
Pakistan has an exciting art scene, as my friend Priyanka Mathew discovered during a recent visit to that country. My favourite singer of all time is Nusrat Fateh Ali Khan, the great qawaal who I saw perform eight times in New York City. No musician has connected me to my roots, as a Punjabi and a South Asian, more than Khan whose collaborations with India go back to the time of Shekhar Kapur's Bandit Queen (1994).
There are exciting things happening on the music front in Pakistan, and it is not just in the form of Abida Parveen and Rahat Fateh Ali Khan. Just look at the Coke Studio Pakistan's web site. One singer Meesha Shafi (Chambe Di Booti and Chori Chori) has been cast in Mira Nair's next film The Reluctant Fundamentalist (based on Pakistani author Mohsin Hamid's novel).
Brave young filmmakers are reviving Pakistan's film industry, long considered dead as piracy plagued the country. In recent years we have seen important films from Pakistan including Sabiha Sumar's Khamosh Pani, Mehreen Jabbar's Ramchand Pakistani (both co-productions with India), and last year's brilliant Slackistan, directed by Hammad Khan and unfortunately banned in Pakistan.
In the world's literary circles, it is a well-regarded fact that the best English writing in South Asia is now happening in Pakistan, and not in India. Writers like Hamid (Moth Smoke, The Reluctant Fundamentalist), Daniyal Mueenuddin (Other Rooms, Other Wonders) and H M Naqvi (Home Boy) have all enriched our lives with new visions of Pakistan and reflections on the contemporary society in that country.
So I revisit that black and white photograph of Mrs Nigam's class. I do not want to dismiss my classmates and childhood acquaintances since we had a lot that bound us together and perhaps still does. There are many varying political points of views in India today, and in a way my class represents all of those of perspectives. Will we understand each other someday, soon?
I sincerely hope so. Just as I sincerely hope that the common ties that bind Indians and Pakistanis will make us see each other beyond the easy classifications of enemies and terrorists.
Illustration: Uttam Ghosh