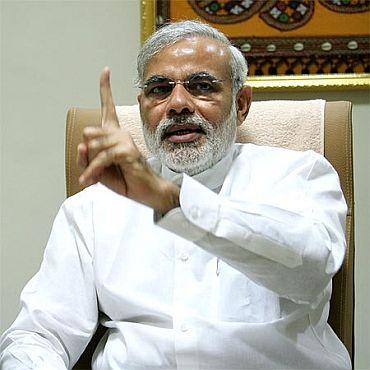 On August 1, the mothers of Baramulla will heave a sigh of relief as their children can now stop going to Srinagar and elsewhere for higher secondary studies. Behind the local Kendriya Vidyalaya starting classes for Std XI and XII students is a tale of quick, decisive action by Prime Minister Narendra Modi.
Of late Prime Minister Narendra Modi is being accused of not saying much in public, with some critics even calling him "mauni baba". But the people of Uri town, 18 km from Baramulla on the river Jhelum, are not complaining. They think Modi's actions speak louder than anything he can say.
Prime Minister Modi's work resounds here as for the first the time, a Kendriya Vidyalaya in Baramulla district will start classes for standard 11 and 12 students.
And it's PM Modi's unique style of governance that Power Minister Piyush Goel is raving about.
On July 4, around 11.30 am he landed at the helipad in Baramulla district of Kashmir valley, where Modi was to arrive shortly to inaugurate the 240-Megawatt Uri-II hydro electric project. Meanwhile, the young and energetic Goel started talking to a few locals, among them women. They complained to Goel that their children went to a hostel in Srinagar from class seven or eight onwards as the district didn't have any Kendriya Vidyalaya for standard 11 and 12 students. The mothers of Baramulla found it very worrisome to send away their teenage kids to Srinagar, which is almost a three-hour drive. The local school, which only has up to standard 10, is funded by a power PSU.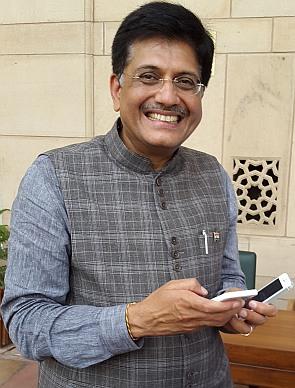 On learning this Goel, image, left, immediately called up Human Resource Development Minister Smriti Irani on her mobile phone and proposed that his ministry will pick up the expenses if Irani can permit the addition of two more standards in the current Kendriya Vidyalaya in Baramulla.
Smriti told him, "Give me five minutes," as the HRD secretary was in a meeting with the Cabinet Secretary in New Delhi just then.
Within an hour or so Smriti Irani called back Goel and said that her department will make all the arrangements and the school can start immediately once Modi gave the go-ahead.
Modi arrived at the helipad in Baramulla at 3.30 pm. Goel told him about the concerns of the mothers of the area and requested the PM, "If you approve, then we can start the school for 11 and 12 standards."
Modi asked his staff to make a few calls to New Delhi and talked to some senior officials about the standard operating procedure in such cases. He set the ball rolling and by 4.15 pm Modi himself announced in Uri that the local Kendriya Vidyalaya will start admitting students to standards XI and XII from this year on.
Goel could not believe that Modi will act so fast and that things will change for the children and mothers of Baramulla so quickly. The admission process started a week after Modi left the town.
On August 1, Friday, for the first time ever, standard 11 and 12 classes will be conducted in Baramulla. So far 11 children have taken admission for the new academic year but once the school starts functioning, it is expected that many more students will return from Srinagar and other places where they are currently studying.
Image: Prime Minister Narendra Modi. Photograph: Rajesh Karkera/Rediff.com.