A former Indian Air Force officer is among those battling the deadly Ebola virus in West Africa. As a part of the UN Ebola Task Force, he shares his experience with Arjun Subramaniam.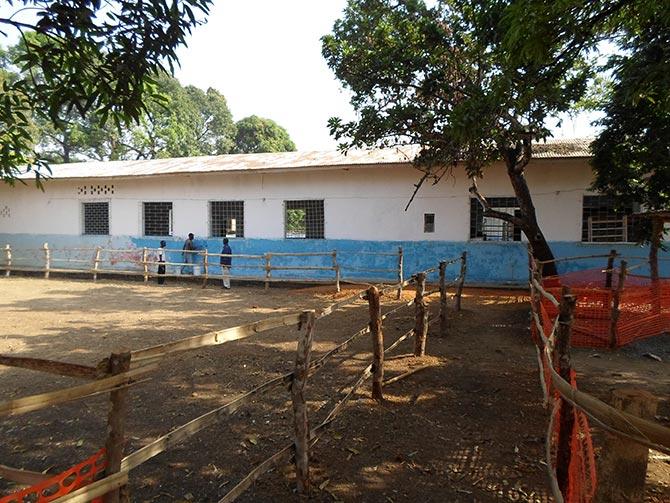 Image: An Ebola camp at Kambia, Sierra Leone, built with assistance of the World Food Programme with British aid.
The recent award of Time magazine's traditional 'Person of the Year' to the Ebola Fighters is testimony to the magnificent work they are doing in the pandemic struck states of West Africa.
Justifying the award, Time wrote, 'They risked and persisted, and sacrificed and saved.'
India too can be justifiably proud that a small number of volunteers from various disciplines are part of that team -- there are doctors, nurses, pilots and flight safety experts among many other volunteers.
One such volunteer, a wing commander from the helicopter stream, was a colleague of mine till he decided to hang up his blue uniform and join the UN as part of the Ebola Task Force.
We spoke at length before his departure and I asked him why he was doing what he was doing -- leaving behind his wife and two young children and heading off to West Africa.
He simply said, "Sir, it is an opportunity to do something meaningful and a challenge." He was honest too when he also said, "It is, after all, a UN opening, I have prior experience in Sierra Leone as part of the United Nations Mission in Sierra Leone (UNAMSIL) and prospects of a good second career."
Remarkably, his wife too was extremely supportive and said, "He wants to do this badly and we understand the risks."
All I told him was to send me a few reports from 'Ground Zero' so that I could share his experience with everyone.
In his first e-mail to me, he wrote: 'I have been re-assigned to work at Freetown, Sierra Leone. Today, have to take a scheduled UN flight from Accra, Ghana to Freetown. I like the professionalism, dedication, sincerity and enthusiasm of the staff. It gives immense joy to work along with them. Still learning the job and system and hope I adjust soon.'
He followed up soon after with a detailed mail titled, 'Ground Zero-Sierra Leone' on his initial days in Freetown. He wrote:
'It has been almost a week here in Sierra Leone. Things are moving in the right direction both from the individual and organisational perspective. Almost everyone works at Take-off Rating and a few with may be Reheat On (in air force parlance, this means working at peak efficiency).'
'The last time I was here was in 2000-01 as part of the IAF contingent working for the UN, the ground reality and atmosphere were different. The town was vibrant and full of energy. This time around the place is almost dead because of the Ebola crisis.'
'We have to develop Standard Operating Procedures from scratch and get the necessary infrastructure going from the flying operations and safety point of view.'
'Since the mission's mandate is for the three countries of Liberia, Sierra Leone and Guinea with HQs at Accra, Ghana, I expect regular travels to carry out flight safety checks.'
'I have rented an apartment and am more or less settled now. The place is hot and humid. People are friendly and expect the UN to address the problem on a war-footing. On the ground there are numerous agencies working whole heartedly at village/district/zone/state levels. It is good to interact with different professionals hailing from diverse backgrounds and cultures.'
'While the rest of the world celebrated Christmas, Sierra Leone stayed indoors and prayed for a better future.'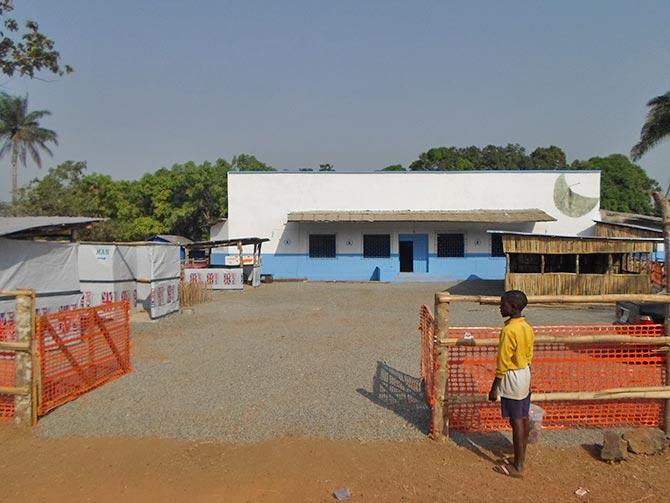 When I received another sombre mail on Christmas Eve, I could not but help pulling out my laptop and putting this together. This time around the mail was reflective:
'Wish you a Merry Christmas and a Happy New Year! All well in Sierra Leone. It bears a deserted look as the president has appealed to the populace to remain indoors and not to come out to celebrate Christmas and New Year for the fear of spreading Ebola virus.'
'As such it was on the rise in the Western region where the capital is located. There is a massive and unprecedented effort to curb the spread of this virus. The other day I went to Hastings airfield in the western part of Sierra Leone near the capital of Freetown where we were deployed in 2000-01.'
'The runway is intact, but now there is tall grass on both sides. There are a lot of settlements around the runway as also four Ebola Camps around. It was deja vu for me. Was immersed in the past and present... memories filled the consciousness. Same place but different times, different people, different thoughts and different circumstance.'
'The earlier time I was there, it was violence perpetrated by humans and this time, it is nature or god's doing.'
'I stay alone in a rented apartment and interacting with different people from different cultures on a daily basis is something that I was never exposed to earlier.'
'Miss those earlier days when we stayed in familiar and well laid out camps with Indian food. Plus, of course, I miss home and the family. There is, of course, no looking back.'
'Bravo! is all I could think as I replied to his mail by writing 'Always nice reading your update. Wish you well over Christmas and the New Year.'
Not only are he, the few other ex-IAF officers in the region and other volunteers good ambassadors for the service and the country, they are Warriors for Humanity. As we ring in the New Year with festivities and cheer, spare a thought for India's Ebola Warriors.
Arjun Subramaniam is a serving officer of the Indian Air Force.