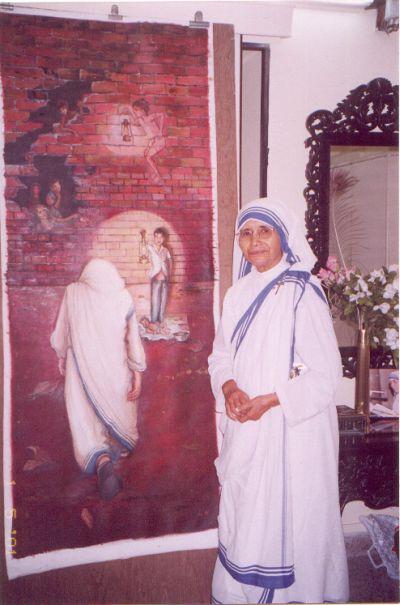 Sister Nirmala, with the painting of Mother Teresa done by Ritu Singh.
Kolkata-based artist and co-worker of the Missionaries of Charity, Ritu Singh, who has had a long association with the order, fondly remembers the gentle Sister Nirmala, who passed away on Tuesday, sharing anecdotes that truly uplift the spirit.
Ritu Singh spoke to Payal Mohanka.
I remember when Sister Nirmala took over as Superior General of the Missionaries of Charity in 1997, following Mother's demise, I went to Mother House, the headquarters of the order, for her blessings. I was taken aback when she greeted me with a 'I am so happy to see you'. 'I know about you. You don't know me. I attended your wedding,' she told me. I know Mother Teresa had attended my wedding and she often said it was the only wedding she had been to. I had faint memories of a sister behind Mother. It was then that I realised that it was Sister Nirmala, a quiet presence behind Mother. Soft-spoken and gentle, she was content to remain in the shadows. At the same time she radiated a sublime strength.
Yesterday when I went to St John'sChurch to pay my last respects, I noticed that even in death she had a tranquil smile, there was not a wrinkle on her face, but a sense of calm. I kept feeling she would rise and speak.
The Missionaries of Charity have held a special place in my life. As a child of 9, I was seriously ill. My mother took me to Mother Teresa. I remember walking into the room, Mother took my fragile form into her arms and gave me a warm hug. Turning to my mother she said, 'Saroj, do not worry about Ritu. She will be all right. I have taken a vow for her from Our Lady of Lourdes.'
The bond I shared with Mother from that moment onwards just seamlessly spread to the other sisters. Sister Nirmala was one of the sisters who held a special place in my heart.
It was Sister Nirmala who invited me to Mother's Beatification Ceremony in the Vatican in 2003. I had never travelled abroad alone and I was nervous. I told Sister that I would pay for my boarding and lodging but I would go only if I could travel with them and stay with them. I was touched when she promptly replied, 'Of course. You are a part of us.'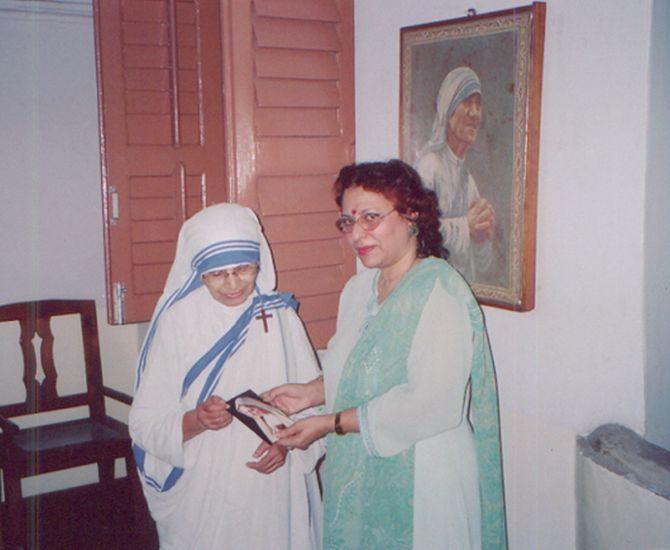 Ritu Singh (right) with Sister Nirmala.
I shared a beautiful rapport with her. There were 70 of us who travelled to the Vatican, just three of us were not nuns. We were divided into different homes, Sister Nirmala was in another building, a special guest of Pope John Paul II. This trip to the Vatican was the most beautiful pilgrimage of my life. In those 22 days we saw more than those who had lived in Rome for a lifetime, I later discovered.
In Rome I stayed in a house where they had a chapel with Our Lady of Fatima. I wanted to buy a small statuette of this deity. We searched all over but sadly, I could not find a small one within my budget.
The day of Mother's Beatification was a very special one. October 19 also happened to be the Pope's 25th anniversary. Coincidentally, it was my birthday too. At the beatification ceremony, I was to gift a painting of Mother to the Pope. It was titled, 'Come Be My Light'. After I handed him the painting, the Pope blessed me.
When I went to collect the photograph, I discovered that each large one was priced at Rs 4000. I wanted three copies. I could not afford it so settled for a smaller size.
Traditionally, I visit Mother House each year on my birthday for blessings. Since I was away at the Vatican I could not make it that year. After we returned to Kolkata, I got a call from Sister Nirmala, 'Don't you want your birthday blessings?' I said I would definitely visit.
I am overwhelmed when I recollect my visit to Mother House. Sister Nirmala blessed me, wished me for my birthday and handed me a large envelope and a little box. I opened the box with childlike glee and found a small statuette of Our Lady of Fatima. I was speechless. I finally found my voice, 'How did you know Sister that I searched all over for this?' She smiled and said, 'Mother told me.'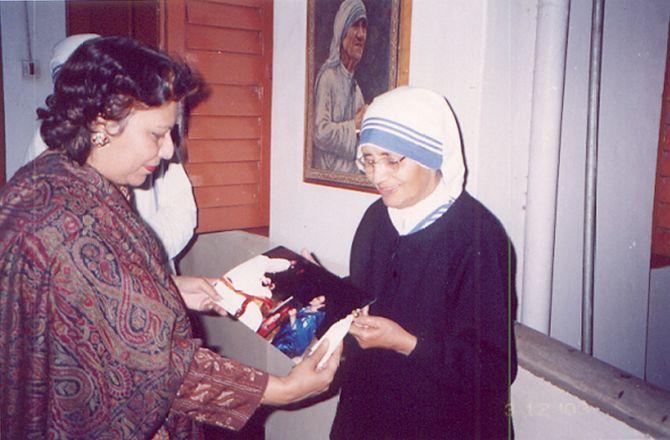 Sister Nirmala handing over the photographs of Pope John Paul II blessing Ritu Singh to her.
The envelope had three large photographs,10 inches by 12 inches, of the Pope blessing me, the ones I could not afford to buy. I was awestruck. I still get goose bumps when I remember this. How did Sister Nirmala know I wanted these? I had no conversation with her regarding this.
She was truly a loving soul.
Three large paintings by me are installed at Mother House in front of Mother's tomb. For me it was a proud moment to have Sister Nirmala and Sister Prema, the present Superior General, there during the inauguration. Sister Nirmala told me I had captured the essence of Mother's vision of prayer and service on my canvas.
Visitors pray and light candles there, it gives me immense fulfillment.
Our home was filled with a sense of peace when Sister Nirmala visited and blessed us. May God bless her beautiful soul and keep her in our hearts forever."