Waking up to death threats and abuse on social media has become a regular occurrence for the Indian-American education advocate. Nikita Puri reports.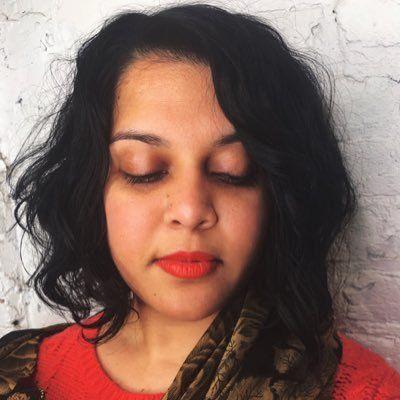 Over the past week, waking up to death threats and abuse on social media has almost become a regular occurrence for Shree Chauhan (pictured left), a Washington-based education advocate.
It all started when the 33-year-old walked into an Apple store last Saturday to fix the shattered glass on her phone. She entered the store to see Sean Spicier, the White House press secretary and communications director for Donald Trump, standing there.
"I Googled him to make sure my eyes were not deceiving me," recalls Chauhan in a Medium post.
Without further pause, Chauhan approached Spicer and peppered him with questions that included, "How do you feel about destroying the country?" and "Do you feel good about lying to the American people?"
"How does it feel to work for a fascist?" was another of Chauhan's questions to Spicer.
She also asked Spicer if he had "helped with the Russia stuff" and if he too, had "committed treason like the President".
Spicer, who began answering her with "Thank you", went on to tell Chauhan that the US is "such a great country that allows you to be here".
Spicer then briefly spoke to another customer before walking out of the store.
Born in the United States to immigrant parents from Gujarat, Chauhan has constantly had her American citizenship questioned owing to the colour of her skin. Spicer's comment, she feels, was an instance of racism and bigotry. She repeatedly went over the video she had made of the interaction: she also posted this video on her Twitter account (@shreec).
"It is an implied threat. Think about the sheer audacity of Spicer to say that to my face with a smile, knowing that he is being recorded on video and the position of power he holds in our government," Chauhan wrote in the post adding, "I am still stunned by the boldness of having my citizenship threatened on camera."
Founder and chief executive officer of an education start-up called Parents in Partnership, Chauhan has fortuitously become the face of the polarisation of the American people.
Chauhan's cover photo on Twitter speaks volumes about her support for the former First Family: the picture is of Michelle and Barack Obama sharing a fist bump, the latter's back is towards the camera.
Sandwiched between the "Spicer incident" and her iPhone's glass shattering was another event that could've catapulted Chauhan to the headlines.
Chauhan was one of the organisers of the protest against the Trump-appointed new education secretary, Betsy DeVos at the JeffersonMiddle School, southwest Washington. A promoter of private schools, this was DeVos' first visit to a public school as the education secretary.
Chauhan sees something symbolic about the shattered glass on her phone: it serves as a constant reminder of what could have been and how abnormal our current circumstances are, she has said.
Incidentally, her phone had shattered on the day of the US Presidential elections. "The joke I like to make is that there was glass shattering on November 8, but not the kind we wanted," she wrote.
When she went in to finally get her phone fixed and recognised Spicer, she wasn't polite to him, acknowledges Chauhan. "But when does being impolite mean that I should be thrown out of the United States of America?" she wondered.
Chauhan's parents "left everything behind in India in pursuit of the American dream, but that transition wasn't easy," she says in a YouTube video, while introducing her start-up. Her mother had only studied till the ninth grade and could only navigate the American education system for Chauhan and her brother with help from others.
Chauhan has said she's not in the habit of accosting public figures when she sees them. But when she saw Spicer at the store, she "realised what an enormous opportunity it was to get answers without the protections normally given to Spicer. I was honestly quite nervous and wanted to come up with more cogent questions but did not have time to do so."
It is one thing to have a Twitter egg (referring to anonymous online trolls) to say you do not belong in America, it is quite another to have the power to do so, Chauhan has stated.
"I am still astounded. And while I am fearless, I wonder how this administration will use its power to silence ordinary people like me."
Scroll down for more stories on being desi in Trump's America