'When workers in other industries enjoy protection, why should sex workers not receive similar protection?'
'Sex work should be treated as work and brought under the work schedule of the labour department.'
'We will only end up giving immunity to the pimps and brothels to buy or sell human beings. This will in turn increase trafficking of young women and children.'
Rashme Sehgal reports on the debate over legalising prostitution, a bugle in whose favour has been sounded by the new chairperson of the National Commission for Women, Lalitha Kumaramangalam.
The debate about the legalisation of prostitution is once again in the limelight.
Ironically, this time around, a bugle in its favour has been sounded by the recently appointed chairperson of the National Commission for Women, Lalitha Kumaramangalam, who has called for legalising sex work to regulate the trade and ensure better living conditions for women engaged in commercial sex work.
Image: A rally by sex workers in Sonagachi, West Bengal.
The Bharatiya Janata Party has been known to have an extremely conservative mindset as far as women's rights are concerned, preferring to see them wrapped in the cocoon of domesticity. But the situation now seems to have altered dramatically.
Kumaramangalam believes legalising prostitution will help reduce trafficking of both girls and women. She believes it will also help improve the health conditions of sex workers who are presently forced to serve clients in unhygienic and unhealthy conditions and without condoms, which has caused HIV and other sexually transmitted diseases to spread.
"In the redlight area of Sonagachi in Kolkata," she points out, "which is the best organised cooperative of sex workers, there is no security for the children; clients are reluctant to use condoms and become carriers of disease. All this can be changed if we regulate the profession."
Legalisation, the NCW chief says, would cover various aspects -- from working hours, remuneration and the health care of sex workers to education and economic alternatives.
Several activist groups support her view.
Bharati Dey, president of the All India Network of Sex Workers, a collaboration of 90 sex worker organisations that has 250,000 members, insists sex workers should have rights like any other group of workers.
"When workers in other industries enjoy protection, why should sex workers not receive similar protection?" Dey asks. She has been lobbying for legalising sex work for the last two decades and believes legislation will help decriminalise the trade, thereby ending the harassment of these oppressed women.
Kusum, the general secretary of the All India Network of Sex Workers, believes it is time Indian society sheds its hypocrisy towards prostitution.
"Sex workers must be allowed to work with dignity. Once it is considered a profession like any other, sex workers can pay taxes and the stigma on this profession can be removed," she says.
To boost their argument, the activists cite the example of several countries where prostitution has been legalised, including The Netherlands, New Zealand, Germany, Iceland, Switzerland, Austria, Denmark, Greece, Turkey and Venezuela. In fact, in The Netherlands, prostitutes pay taxes like any other citizen of the State.
The Supreme Court has also plunged into this debate, suggesting legalising prostitution as a means to allow authorities to 'monitor the trade as also to rehabilitate and provide medical aid to those involved.'
This suggestion has received the support of Dr S Jana, who has helped build up a 65,000-strong sex workers's forum, the Durbar Mahila Samanwaya Committee, in Sonagachi, Kolkata.
Dr Jana is of the opinion that no amount of punitive action can prevent prostitution.
"Sex work should be treated as work and brought under the work schedule of the labour department," he says. "Sex workers from both the brothels and the streets should be recognised as workers and the Immoral Traffic Prevention Act should not be applied to them. Legalising the trade will also help curb the spread of HIV."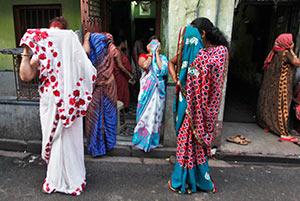 But many activists, who have also worked extensively with prostitutes, believe the contrary.
Image: Sex workers in Sonagachi, Kolkata's red light district.
Jyotsna Chatterjee heads the Joint Women's Programme which, over the last decade, has published four comprehensive reports on prostitution. "Our extensive interaction with women sex workers has led us to believe that the majority are forced into this trade out of extreme poverty," says Chatterjee.
"A large number of these women have been trafficked as young girls," she adds, "and, once this trade gets legalised, the pimps and brothel owners are going to ensure even larger numbers of women are pressed into it."
This reporter has made frequent visits to Delhi's G B Road and the majority of women there do not want to continue with this dhanda (profession).
Sharda, a prostitute from Karnataka who has lived on G B Road, pleads to be 'rehabilitated,' but only a few agencies have been able to successfully extract prostitutes from the clutches of the pimps.
Elderly Kamla from Madhya Pradesh, who has been a prostitute at G B Road for the last four decades, has begun spending her morning hours working in a nearby school. "If the State gives us identity and health cards," she says, "it will this help us get rid of discrimination and violence at the hands of the police and pimps. Who will benefit from this de-criminalisation? It will not be the women."
Ruchira Gupta, who heads Apne Aap worldwide, has also made an impassioned plea against legalisation. "There is no proof to show that countries which have legalised prostitution -- with the idea that it would reduce harm to prostituted women, as is now being argued by some in India -- have seen the rates of assault and rape decline."
Writer and activist Rami Chhabra, who has been an outspoken critic against legalisation, insists the demand for legalisation is coming from the global network of sex traffickers, sex tourism operators and brothel owners, largely because of the huge profits that accrue from this trade.
Prostitution in India has been calculated as an $8.4 billion industry, with over 3 million women plying this trade.
Chhabra stresses on the 'cataclysmic social costs' that society will have to face, citing the example of how prostitution has doubled in Germany following legalisation and is largely riding on the backs of migrant women who are being trafficked from eastern Europe.
The Supreme Court comments on the matter were a follow up to a public interest litigation filed by non-government organisations, Bachpan Bachao Andolan and Childline, who warned against large-scale child trafficking in the country by the criminal mafia and wanted directives to contain it.
Founder of the Bachpan Bachao Andolan, Nobel Peace Prize winner Kailash Satyarthi has often spoken out against all forms of exploitation of men, women and children including commercial sexual exploitation, forced labour and all such slavery-like practices.
"We filed this petition against trafficking within India, as well as across international borders, with the intention of developing better policies against all forms of trafficking," said Satyarthi.
Madhu Kishwar, professor, Centre for the Study of Developing Societies, is a critic of legalisation, insisting, "We will only end up giving immunity to the pimps and brothels to buy or sell human beings. This will in turn increase trafficking of young women and children."
The Immoral Traffic Prevention Act will punish women for soliciting clients, while the client can be punished for up to seven years.
Other activists highlight that, despite having a well-formulated law against trafficking, India has been unable to check the menace.
By what stretch of imagination can it be believed that trafficking can be curbed when the trade itself is decriminalised?
Five women's organisations -- including the All India Democratic Women Association, the All India Women's Conference, the Guild of Service, the National Federation of Indian Women and the All India Dalit Forum for Women -- met Kumaramangalam to warn her against the consequences of pushing for legalisation.
They also informed her that giving the State more control over sex workers will only increase their vulnerability, apart from attracting the attention of the moral brigade.
In the past, the strategy to deal with sex workers had been based on the R3 formula -- raid, rescue and restore -- but this has been found to be both invasive and destructive for the affected women.
Girls in India continue to be purchased from their villages for as little as Rs 2,000 to Rs 3,000.
Girls are also being trafficked from Nepal and Bangladesh and being brought to G B Road in Delhi, Songachi in Kolkata, Kamathipura in Mumbai and several other cities.
Kumaramangalam is reported to have worked in the area of HIV-AIDS prevention which activists believe is different from the exploitative and brutal world of prostitution. Whether the BJP will support the chairperson on this stand is also a moot issue.
Photographs: Rupak De Chowdhuri/Reuters