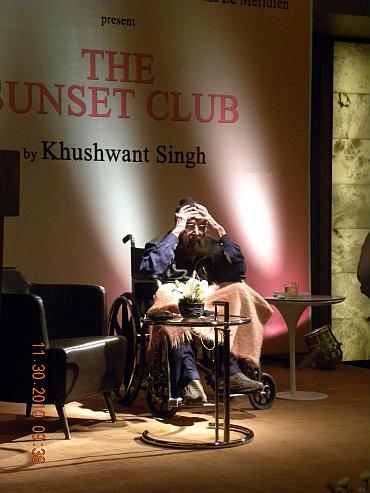 Khushwant Singh was a courageous writer. He was a superb mentor of young talent, had great generosity of spirit, was extremely tolerant and was, on many levels, a true secular Indian, says Shobhaa De in a moving tribute.
Khushwant Singh had one of the liveliest, liveliest, liveliest minds I've ever encountered.
A lot of people, however, chose not to see was the serious scholar behind that very irreverent facade.
He was not just a scholar of Sikhism; I would say he was a scholar who studied life and people very acutely and very closely.
His observations, his overall assessments of situations -- whether they were right or wrong -- were uniquely his own.
He stood by what he believed in, unlike a lot of people who waffle and take back their words or take back what they may have regret having said in a column or in interviews.
Khushwant didn't.
Regardless of the kind of barbs that came his way, particularly after his Indira Gandhi is Durga and Durga is Indira Gandhi comment, he wasn't one to shy away from defending his point of view and he did so eloquently.
He was a courageous writer. He was a superb mentor of young talent, had great generosity of spirit, was extremely tolerant and was, on many levels, a true secular Indian.
Yes, he was deeply wounded after what happened during the 1984 riots in Delhi and I salute him for having had the guts at that time to stand by his convictions and return the Padma Bhushan.
He had received one of our great national honours and he actually gave it back. That shows the kind of commitment he had towards his beliefs.
Khushwant was unforgettable – even if you met him just once, you would never ever forgot that meeting. You never forgot him or your conversations with him if you were lucky enough to have them subsequently.
I've known him for over 40 years. We've collaborated on a book called Uncertain Liaisons: Sex, Strife And Togetherness In Urban India. It was an anthology with fabulous essays about India's changing attitude towards sex and romance.
Our creative collaboration was never boring. Khushwant, for all his other failings -- sometimes, his attention span wavered and he could get very easily distracted -- was a man who was firing on all cylinders at all times.
He was very, very liberal in his thinking which was what I enjoyed the most because the book was on a subject that was a tough to tackle. It was a book that was ahead of its time.
People were not willing to discuss sexuality openly, particularly if it was to be part of a book. To get them on board, to persuade them to express their opinions, to share those ideas and to then finally package the book, to do the promotion... he was a complete professional about each of these aspects.
It's also clearly the reason why, till the end of his days, he was still a working columnist. He was close to a century and the man didn't let up even once. He was scrupulous about filing his copy and never missed deadlines.
All of these are qualities which a lot of younger journalists should admire and learn from.
Most people don't know that Khushwant Singh had a serious side. To a large extent. he was responsible for creating a completely fake persona for himself as a great womaniser and a person who was constantly drunk.
All of it was a spoof, a total construct. He was nothing of the kind.
He admired beautiful women; which red-blooded man wouldn't? But he was not lecherous. He never stepped out of bounds. He never did anything to embarrass his wife whom he was extremely respectful towards at all times and whom he adored and loved and almost worshipped.
He was also terrified of her. That's what a lot of people don't know about him, that he was quite a hen-pecked husband in private life.
He never exceeded his alcohol quota. During his last few years, it was just one peg or half a peg of whiskey every single evening, taken at 7 o'clock, followed by a light meal. That was it.
I don't think anybody who has known him over a span of 50 years or 60 years would ever say they have seen him drunk or misbehave with a lady.
That was one of the images the popular press picked up on. They chose to ignore his much more scholarly and serious side.
Khushwant was a true patriot. He was an Indian who knew his country very well. He had travelled a great deal when he was younger.
He had worked in the Indian High Commission. He knew how government functioned, how bureaucracy functioned...
He was one of the first few people all the ambassadors who ever came to Delhi on new postings would meet in order to get an overview of the country. He was seen as someone who was impartial and objective in his political assessments and not really directly aligned to any one party.
He may have been partial towards the Congress and he may have shared a very special relationship with Manmohan Singh, but, on the whole, Khushwant Singh was known for his free mind and free thinking.
Khushwant's big trait was his ability to talk to a chaiwallah with exactly the same level of intimacy and interest as he would with the president of a country.
He was a great people's person and that's what made him such a good a writer. He observed life very closely and commented on people without ever, ever giving a damn about the effects those comments might create in the life of the person he was offending.
In a career span that probably embraced 60 years, there may have been others who tried to clone his style or his particular ability to reach out to readers across two and three generations, but no one has been able to do it.
His style was extremely accessible, it was very readable. It was punchy. It was humorous and very well observed.
There can be no second Khushwant Singh.
He should have got his literary due much more than he actually did. His very fluid style of writing in English without resorting to very pompous language is something that younger journalists should study and emulate.
I last met him a few years ago.
My husband and I used to enjoy the addas at his home. We never ever had anything less than a very stimulating evening. Beautiful women were always in his vicinity, at his feet or swarmed all over him.
He enjoyed their attention. He was extremely gallant, full of compliments and extraordinarily charming towards both men and women. And he was a great host. His home filled with great company always. People flocked to his home.
But there was a sign outside which nobody dared to ignore no matter who that person was: If you have not been invited, please don't ring the bell. And he had very specific times. You knew that at 8 pm -- regardless if you were mid-drink or in the middle of putting a kebab in your mouth -- he would look at his watch and very firmly and sternly say, "Right, it's time to say goodbye and I'll see you to the door."
He spared no one.
Many years ago, I remember seeing the French ambassador and his wife being packed off like that. After an early dinner, they were about to sit down for some cognac. The gentleman was about to light a cigar which was placed back into his pocket very firmly and he was told, "I'm sure you'll enjoy it on the way home."
When I think of Khushwant Singh, I can only picture him as the man in the light bulb -- it was the signature logo created for his column by Mario Miranda.
The other image I have of him is Khushwant at his home, relaxing in his trademark tee, made of towelling material. He always wore his patti on his head. Of late, he had taken to wearing comfortable pyjamas or a lungi. He would sit with his feet hanging over a moodah for comfort, a glass of whiskey in his hand and those incredible anecdotes rolling out one after the other.
But it was never a monologue because he was also a very attentive listener.
Khushwant deserves a book, not just an obituary. I am sure there will be many because he touched the lives of so many people who admired him and remained his friends over decades.
People like him are unique individuals. Like I said, there can't be two Khushwants.
Writing an obituary on Khushwant Singh would be a difficult task for anyone; he had made writing obituaries almost an art form even though many of his obituaries made him an enemy to the families of the people he had written about.
To write his obit, for me, is a challenging writing assignment I'd rather not take.
I wouldn't be surprised if he has written his own obituary and kept it somewhere. He had that kind of an irreverent, wicked sense of humour. It would be so Khushwant if he has actually done that. I hope he has.
As told to Rediff.com's Savera R Someshwar
Khushwant Singh at a book launch event. Photograph: Vaihayasi Pande Daniel/Rediff.com