Manavi Kapur profiles Sheikh Rafik Mohammed of Calicut, who has been appointed major general of the Central Asian country's military forces.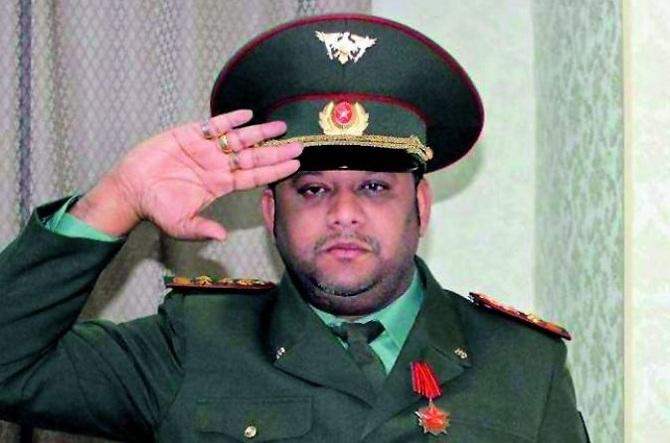 IMAGE: Sheikh Rafik Mohammed, the chairman of Gammon Group, fashioned himself as an economic diplomat in West and Central Asia.

It isn't every day that an Indian makes headlines for being appointed to the top military post in Kyrgyzstan, a country of 6 million people, located at the borders of Kazakhstan and Uzbekistan, and best known for its place in Soviet-era politics.
For the Indian expatriate community in West and Central Asia, Sheikh Rafik Mohammed has set the bar high.
Chairman of the Gammon Group (not to confused with Gammon Construction, the multinational), Mohammed has been appointed Major General of the Kyrgyzstan military forces by Ali Mirza, the country's defence minister.
"It is a rare military position occupied overseas by a Keralite," says Omar Baker, his media adviser.
And it is rare when one considers that Mohammed has reportedly not even finished high school.
As a young boy, Mohammed dropped out of school when he was in Class V in Calicut in Kerala.
He then made it to Mumbai where he did odd jobs before he could migrate to West Asia. All that is known is that Mohammed was a young man in his 20s when he moved out of Mumbai.
His personal life is summed up in a Khaleej Times report: he lives with his family in Dubai.
A portly man with his hair swept back, he is seen in most pictures sporting a formal jacket, shirt and trousers.
Mohammad did not respond to either emails or phone calls.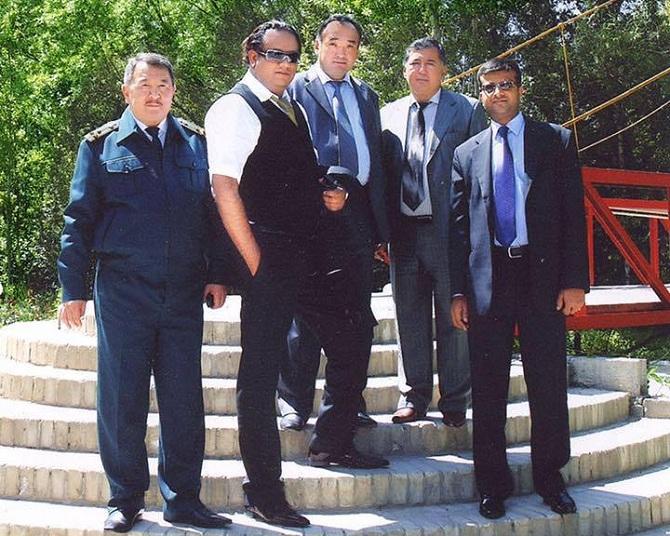 IMAGE:

Sheikh Rafik Mohammed, second from left, with Kyrgyzstan Prime Minister Azim Isabekov, center, and other delegates

. Photograph: Gammon Group/Facebook.com.

And yet, for a man about who so little is known has been written about extensively in most media publications emerging out of the region.
The Gammon Group itself is curiously opaque on its history, financials or even its management team. The company's website proudly proclaims that it is a "century-old" company, with 200,000 employees in 28 countries.
"It is one of the largest civil engineering construction companies, which has built the maximum number of bridges in the whole of the Commonwealth," the homepage reads.
By far, the biggest feather in the company's cap has been procuring the project to build a city in Jazan in southwest Saudi Arabia. For this project, Mohammed and Gammon's president, His Royal Highness Prince Saud Bin Musaid Bin Abdul Aziz of Saudi Arabia, have been receiving media attention.
A section of the website is also devoted to pictures of Mohammed with several politicians and prominent businessmen, Datuk Hamzah, then home minister of Malaysia, and Davit Kirkitadze, the governor of Tbilisi, Georgia.
A Saudi news report also claims that Mohammed met Oomen Chandy, former chief minister of Kerala, in 2014 to discuss India's business relations with Saudi Arabia and other West Asian nations.
Going by the number of reports on the various meetings he has held with people in power, his position in the Kyrgyzstan military is not surprising.
Mohammed met Kurmanbek Saliyevich Bakiyev, Kyrgyzstan's president, as a "young entrepreneur" in Iran while working on a steel plant project. Bakiyev promised Mohammed that were he to win elections, he would clear a similar project for him in Kyrgyzstan.
Going beyond this pact, Bakiyev appointed Mohammed as his chief adviser during his tenure between 2005 and 2010. This was, and continues to be, the turning point for Mohammed's career.
Fashioning himself as an "economic diplomat", he played a key role in attracting investment to the young country, which was only beginning to shed its communist past and opening up its economy.
While Bakiyev's fled the country after large protests in 2010, Mohammed seems to have only strengthened his stronghold over the country's affairs.
And he seems to be spreading his wings to India, too. According to Gammon's website, Mohammad will build a "1,000-bed" hospital in Bengaluru. Karnataka-based businessman B R Shetty has also tied up with Gammon to set up a pharmaceutical plant in Jazan, as part of the ambitious port city project.
A dropout in India making it big in the world -- sounds like a Bollywood film is in the offing.