Devulkar had a certain abnormal vagueness about him that was unreal and defied belief.
That came across in both his slightly too easy-going, extra-cooperative manner and the ragged nature of his testimony.
Vaihayasi Pande Daniel reports from the Sheena Bora trial.
Illustration: Uttam Ghosh/Rediff.com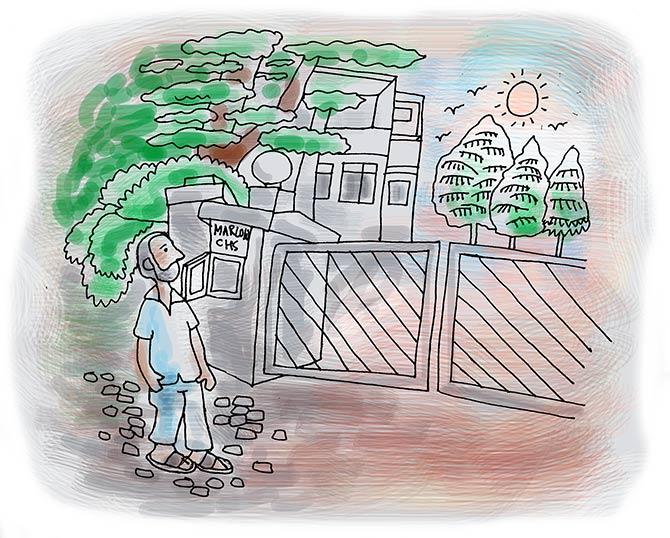 On the monsoon morning of August 25, 2015 at 11 am, Harshraj Vijay Devulkar went for a walk in Worli, south central Mumbai.
It turned out to be the wildest walk of his lifetime.
As he was wandered along from the Worli Sea Face on his way home -- "generally walk kar rahein the (generally just walking about)" -- towards the leafy enclave of Sir Pochkhanwala road, close to the Mumbai traffic police headquarters, a policeman was standing near or within the gates of Marlow, an upscale society of stylish flats.
He called out to the strolling Devulkar -- "Awaz aaya (a voice shouted out)" -- asking him "One minute come here, I need your help."
Devulkar, who lives at the Worli Koliwada village and was working with a real estate business at the time, didn't remember if the officer was in uniform, but at the moment he did know that the man was from the Mumbai police.
The inspector, whose name he later learnt was Dnyaneshwar Ganore (whose 21-year-old son was charged last year for killing his mother in a stunning case), asked him if he could come to the home of someone named Indrani.
Devulkar, though oddly not reluctant, asked the details, and then consented.
After some delays, including a peculiar detour made to the building that houses NGO Anand Niketan, near the Famous Studios, Mahalaxmi, some kilometres away, with this policeman by car, he was taken by Inspector Ganore to Flat 18 at Marlow, along with Indrani Mukerjea, two women constables and two or three male constables, all in plain clothes, and another person who was not a cop.
She was in custody of the police at the time. The police told her they wanted to search her house.
Indrani rang the bell of her erstwhile home, which according to Devulkar had her name on the door. A woman, he believed was possibly the help, answered. They were taken into the Mukerjea home and various items belonging to Indrani and the family were seized.
"The police were bringing different sorts of things from within the house and putting them on a table."
These included "don mota chi (two of their big) albums," two cell phones, two laptops, a plastic card, her passport.
Other than the help there was a "mulgi (girl)" in the home who he thought was her daughter, but he was not sure. He described no interaction between the "mulgi" and her arrested mother or a description of either.
From Flat No 18 they went up by the building's common staircase to Flat No 19, another flat belonging to the Mukerjeas.
There, Indrani opened the front door with her key and the "bar counter" was viewed -- "sheth logon ka ghar mein jaisa hota hai (like those you find in the homes of the seths, the rich): -- and after three or four minutes they returned to the other flat.
Somewhere in the interim Peter Mukerjea, former CEO of Star India, also arrived at the home, Devulkar recalled (this was in the days before his arrest).
The items that had been seized were thoroughly packed up, as is legal procedure, and sealed by the police personnel present. Devulkar had to sign on the items along with the other person, who turned out to be a man named Kishan Pawar.
A statement was also drawn up that Devulkar first read and then put his signature to it too, with Pawar, who he said he neither knew nor had met before.
From Flat 18, the whole group took the lift down to the ground floor and headed out to the garage that the Mukerjeas owned. That was opened up and the police spent half an hour or so searching it but didn't find anything.
The search -- that Devulkar had been co-opted into, he just an ordinary man the police had pulled off the street one fine morning, probably one of the strangest mornings in his life -- went on many hours longer than he had expected and he fretted that his family would be worried.
"Pura din laga! Doh baje gaye. Laga ki gharwala ko phone karein (It took the whole day! Till 2 pm. I felt I should phone the people at home)."
By about two pm the whole process was done and Devulkar was allowed to go home. "I went home and he went his own way" he said of Pawar, whom he never met again.
This account of Devulkar's visit to Indrani's home in 2015, as a random pancha (a witness for a panchanama or recording of evidence) formed the backbone of his testimony in Marathi on Thursday, September 6, in CBI Special Judge Jayendra Chandrasen Jagdale's Courtroom 51 at the Mumbai city civil and sessions court, south Mumbai, in the Sheena Bora murder trial.
When he started off talking about the visit to a home, the judge checked, "Your home?"
Devulkar laughed, disbelievingly, "No, no, not my home!"
Devulkar, 31, a short man, bulkily-built, with a full beard, bulbous lips, lively black eyes, wearing a green shirt and black trousers, was a voluble, chirpy witness, neither anxious nor tense. But full of smiles. And ready with plenty of extra details. Never surly or losing his cool under cross-examination.
After he delivered his testimony the real estate/insurance agent, who had been in the trade for 3 or 4 years, he said -- was shown his panchnama and he identified the signatures on it.
CBI Special Public Prosecutor Bharat Badami asked, "Vastu barabar? (Right items on it?)"
Devulkar agreed.
The albums, picked up that day from the Mukerjeas' home, were also pulled out by the court clerks and Devulkar vouched for the signature on the packet as being his.
When they were opened up before the court, he agreed they were the same albums he had seen in 2015.
Looking at the back of the court to where the three accused were in the aropee box, he said Indrani was the woman he met that morning, three years earlier.
Devulkar is one of the 50 or so panchas who played a role in this initial 2015 Khar police station (north west Mumbai) murder investigation that was later taken over by the CBI. He along with a few other panchas have (or will) serve as witnesses in the trial.
Given that the Mumbai police handles -- ballpark figure -- anywhere between 20,000 to 35,000 cases per year (Example: The 2012 figures for January to October were 24,821, according to The Times of India), closing just a fraction of them, the number of panchas that would be called upon to be witnesses in panchanamas drawn up across the city would be a mind-bogglingly large number, year on year.
Panchas, for which there is a huge requirement, are not easy for the police to come by. Most people -- the ordinary public -- are reluctant to have interactions with the police voluntarily and subsequently spend endless time being present at a panchanama site, thereafter appearing in court, if need be.
These witnesses, when the case goes to trial, can turn hostile or be influenced, as the Maharashtra government stated in a 2015 government resolution 'The reason behind the state's failure to prove its point beyond reasonable doubts is the panch witnesses turning hostile and damaging the entire prosecution's case. The chances of private panch witnesses, whom the police uses for panchnama, getting influenced for various reasons cannot be ruled out'.
Panchas being used, various news reports allege, are usually from a middle-lower class background, that the police browbeat, through some means or another, into the process.
The state government has looked at various kinds of solutions to help procure better quality and more willing panchas.
In 2015 teachers were requested to take on pancha duty. But they registered their reluctance by petitioning the state home ministry government through their union.
In 2015, the state government ordered that all government employees should serve panch duty in criminal cases.
Devulkar, quite like the other one or two panchas/volunteer witnesses who have already appeared in this trial, had on Thursday a certain abnormal vagueness about him that was unreal and defied belief. That came across in both his slightly too easy-going, extra-cooperative manner and the ragged nature of his testimony.
After he cheerfully gave his evidence through his 'examination in chief' helped along by Badami, he was turned over to the defence for cross examination.
Though Indrani's lawyer Sudeep Ratnamberdutt Pasbola was initially present at the hearing, he left the cross to be done by Gunjan Mangla.
Judge Jagdale -- who has been on a concerted mission to encourage junior lawyers to handle cross examinations in absence of their seniors, since it makes scheduling hearings far simpler (senior lawyers are juggling umpteen court dates in many courts) -- was pleased that Mangla was handling the 'cross'.
Further he suggested, with a smile, to Mangla to allow her junior Sia Choudhry to tackle the cross examination. 'So you are not allowing your junior? Every senior does the same thing!'
Mangla, who was wearing a white and black handloom kurta and black churidar, exclaimed: "My Lord, I don't have a problem!" indicating her junior didn't want to take the 'cross'.
The judge, happy to be dealing with younger lawyers, was all patience on Thursday, gently suggesting to Mangla when questions be rephrased or how to go about confronting the witness on a certain point.
Devulkar's account and assertions, both during his testimony and later when he was cross examined by Mangla, continued to grow more flaky, as he grew more cheerful, tossing up quite some peculiarities.
He told the court that he worked in real estate. But it was not clear if he was a broker or a broker's associate and he admitted he had never struck a deal. He had also worked as a Peerless agent, he said.
On his panchnama his profession was listed as 'naukri (job)'. He had no legitimate explanation as to why his stated occupation kept changing and said that though he worked in real estate he happened to say he was doing a job to the police.
Why Devulkar liked to amble about neighbourhoods like Sir Pochkhanwala road, which is nearly 2 km from his home, around noon, and maybe bump into the police in a luck-by-chance encounter, was inexplicable too, because he never said he was there on work.
"Shaam, subah ghumta rahta hoon (Morning, evening I wander about)," he said adding that at just about any time of day it was normal for him to be wandering those areas to meet friends.
The judge's succinct interpretation, that was noted in the court record: "Very often (I) used to loiter in the area of Worli."
Devulkar's description of what transpired during the search of the Mukerjeas home gave off a mild but distinct hint of being scripted.
Especially the 10-minute trip to another flat, one floor up, to view, like a museum exhibit in The Life and Times of the Rich and Famous, a bar counter, as if liquor was being suggested to be the heart of the crime.
He seemed to remember some obvious details clearly and some other obvious details not at all.
This witness didn't seem particularly surprised to have met Indrani (who till date arouses endless curiosity in court). Or being roped into such a dramatic murder investigation by utter fluke, a case that had the whole city and country agog on the day he was asked to be a pancha.
Devulkar was queried about who had signed on the panchnama that day. He said Indrani had, looking at her.
At the back of the court Indrani, inserted her own trademark mime dialogue into the proceedings, indicating through her exaggerated expressions and sign language that she had never seen Devulkar before, nor had she signed on the panchnama.
Indrani appeared a little less drawn and depressed on Thursday, a rather warm day in court. She looked cool in white and a big red bindi, standing between Peter and Accused No 2 Sanjeev Khanna.
The accused apparently do not sign on this kind of panchnama and the signature on the panchnama produced in court seemed to be Peter's, a lawyer said later.
When Devulkar was asked about names of the policemen he met on August 25, 2015, after supplying them, he candidly told the court that those were the names he could remember from the whatsapp message he recently received from the CBI/prosecution about the court date.
He didn't correct himself and Mangla asked for this to be put on record, indicating he had been instructed to mention these names.
That resulted in a bit of humour, which was enlarged when the court stenographer recorded what's up. The judge chuckled and asked her: "You don't know whatsapp? Written what's up?!"
Devulkar gave an impression, through his account, of knowing his fellow-pancha Kishan Pawar better than he said he did.
When Mangla queried that he said, with a big grin: "Dosti doh minute mein bhi hota hai (Friendships can be made in two minutes too)", denying that he knew Pawar or had ever been in touch with him since, as he didn't have his number. He denied ever helping the police earlier.
Mangla, bringing her cross examination to a close, after a competent 15 minutes, declared she didn't believe he had gone to Marlow on August 25, 2015.
Devulkar, a bit goofily, with a smile: "Achcha? (Really?)"
Mangla concluded, bluntly and forcefully, telling Devulkar he signed the panchnama put together by Inspector Ganore at the Khar police station and the seized items were sealed there too in August 2015.
The two albums picked up that morning from the Mukerjea home were passed about the court evoking mixed reactions.
Mangla pointed out, with a broad smile: "My Lord it seems to be a scrap book not an album."
Indrani, who recognised the ivory scrapbook, that belonged to her daughter Vidhie Mukerjea's, looked, it seemed, faintly wistful.
The judge shuffled through the pages of the smaller red plastic album and the scrapbook and laughed incredulously, commenting to Badami that they hardly were of any importance to this case, since they contained random pictures of a holiday trip and a few childhood pictures of Vidhie that had little bearing in the trial.
Badami said they were "family photo albums" that the Khar police had chosen to seize.
Later the prosecution lawyers had a glance at it, smiling interestedly at some of the pictures.
So did the court clerks, peeking with fascination, into the strange lives/world of the Mukerjeas, that had caused a mother to kill a daughter. A world they were getting to know through the trial.
A cat sauntered into the courtroom around then, to have a peep at the albums too perhaps, and scampered under the lawyers' table.
The team of defence lawyers viewed the album and scrapbook as well.
The album was full of pictures of perhaps a long ago trip/picnic to Matheran or some other hill station in much happier times.
The scrapbook contained a few snapshots of Vidhie with a younger Indrani, looking both glamourous and enchanting.
One page of the scrapbook had a colourful sketch of a big, blooming picture-book tree. This was a family tree onto which the unsuspecting Vidhie (or maybe Indrani) had stuck five tiny, passport-size cut-outs of the faces of the family she thought she had -- Peter, Indrani, herself, stepbrothers Rabin and Rahul, Peter's sons from his first marriage.
Not knowing that her family tree was far more complicated than that.
Not knowing that this family tree, she had made, was part of the fairy tale Indrani had fantastically weaved for her.
Not knowing that it was the oddness of the actual family tree, that Vidhie was unaware of, and not the one depicted in the scrapbook, would lead to a colossal upheaval in her life, putting all her parents -- her adopted father, her real father Sanjeev Khanna and her mother -- in jail.
The tree with its bright green colour and red apples and the wrong faces hanging on it, seemed to be mocking the room. And providence.