'I have a high-paying job, so there's no monetary reason for the suit.'
'It just hurt so much that I couldn't ignore it anymore,' Anvita Bajpai tells Nikita Puri.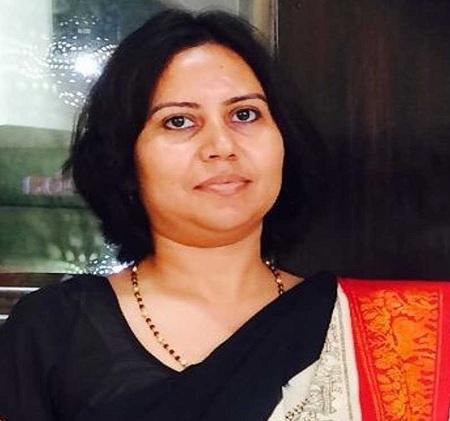 Anvita Bajpai often introduces herself as a 'human-centric product visionary'.
Using technology to better human lives, says Bengaluru-based Bajpai, is what keeps her going. It is also what supplies her bread and butter, mostly.
Bajpai is a part-time writer.
While researching for the business and technology portals she contributes to, Bajpai felt she had a knack for storytelling, and published her first book of short stories in early 2014.
And up until April, Bajpai's name was known only in a few circles, and the mainstream literary world was not one of them.
In the last few weeks, Bajpai has been catapulted into the limelight.
It is in response to Bajpai's legal suit that sales of Chetan Bhagat's latest, One Indian Girl, have been stopped following a temporary injunction on April 19.
The charges Bajpai levels against Bhagat are damaging if the court finds merit in them: She feels the flow of One Indian Girl, the theme and narrative style, is eerily similar to a story she had published in 2014.
Bhagat's book came out about six months ago.
Reviews that outlined the plot of Bhagat's book first alerted Bajpai about its similarities to Drawing Parallels, one of the four stories in Life, Odds & Ends (Lifi Publications).
Though there's no text directly copied from Bajpai's first attempt at fiction in Bhagat's seventh book, both stories see a female protagonist negotiating through work and personal life, finally finding love in the third man, among other things.
As "new authors do," Bajpai had given a copy of her book to Bhagat at the Bangalore Literature Festival in 2014 for feedback.
Incidentally, both Bhagat and Bajpai have identical backgrounds: Both of them studied at IITs and IIMs and went on to have regular full-time jobs before trying their hand at writing.
Bajpai's second book, a documentation of the lives of 14 people who've taken the plunge to do "something new," came out last year.
She's awaiting the release of her third book (Pages from My Diary).
Bhagat, whose Five Point Someone is slotted to be taught in Delhi University, feels the development involving Bajpai is 'deeply unfortunate.'
'This is an absolute surprise for me as I have never read any of this author's works. My stories are always original, including One Indian Girl, and it is unthinkable for me to do anything like what is suggested,' Bhagat wrote on social media.
In her complaint, Bajpai also brings up the fact that this isn't the first time Bhagat faces such allegations: Birbal Jha, a teacher of spoken English in Patna, had accused Bhagat of lifting the plot for Half Girlfriend from his bilingual play, Englishia Boli.
"I have a high-paying job, so there's no monetary reason for the suit," says Bajpai.
"Many people told me this would get very stressful and would eat up a lot of my time. I thought over it for weeks, but it just hurt so much that I couldn't ignore it anymore."
T V Prabhakar, a professor at IIT-Kanpur Bajpai worked with early on in her career, remembers her as a "very bright, articulate and motivated kid" who was an "excellent programmer and built data-base driven Web sites when it was still an upcoming technology."
So, it comes as no surprise that Bajpai now consults with start-ups and works towards technological advancements, the latest being a patent for a sensor-based system which can provide real-time assistance while cooking.
Her complaint seeks Rs 1 lakh as damages, "because my lawyers told me that's what the court proceedings could amount to," she says.
Bajpai also feels this will be a lesson in "standing up for oneself" for her seven-year old daughter, Yashoda.
Even when Bajpai was in college, she "was one of the few women during her time here (IIT-Madras) who spoke up," recalls her professor at IIT-Madras, Hema Murthy.
Bhagat never did give Bajpai the feedback she had hoped for. But if Bajpai's allegations are proved in court, as they say, imitation is the sincerest form of flattery.
IMAGE: Reviews that outlined the plot of Chetan Bhagat's One Indian Girl first alerted Anvita Bajpai about its similarities to Drawing Parallels, one of the four stories in her book Life, Odds & Ends.
Photograph: Kind courtesy Anvita Bajpai/LinkedIn