Rediff.com's Vaihayasi Pande Daniel meets a lively, articulate, teenager who miraculously survived 26/11 as a six year old.
The first of a year-long Video series on those who lived through the worst terror attack in Mumbai in the new century.
Video and Production: Rajesh Karkera/Rediff.com
Over the last nine years, Sharvari Khot, who will turn 16 on December 26, has never been back to the entry concourse at Mumbai's Chhatrapati Shivaji Maharaj Terminus.
Sharvari was six when was she caught in the heartstopping crossfire at the iconic railway station on the night of 26/11.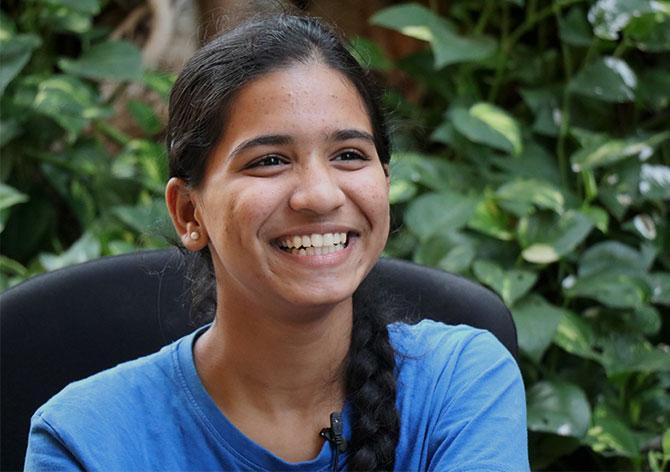 Sharvari Khot, 16, 26/11 Survivor. Photograph: Rajesh Karkera/Rediff.com
That evening in 2008, Sharvari and her family -- mother Smita, father Shamsundar and uncle Vijay Ramchandra -- who hail from Sawantwadi, near the Goa-Maharashtra border, were at the railway terminus because mother, daughter and uncle were headed to Bicholim, Goa, for the annual festival honouring Sharvani Devi.
Just about the time Pakistani terrorists Ajmal Kasab and Ismail Khan got off a black-and-yellow taxi and were entering the main entrance at the terminus at 9.30 pm, the young girl, wearing a red T-shirt and track pants, and Smita were waiting at the station's concourse.
Her father, who had come to drop them, had momentarily gone off to buy platform tickets and her uncle was in the washroom.
When the shots rang out, followed by the boom of grenades, like hundreds of other Mumbaikars on November 26, Sharvari thought they were firecrackers.
In a split second they realised their mistake. Smita whisked her daughter to hide behind a small snack stall, selling chips and biscuits. They dropped to the ground playing dead, both covered by her dupatta.
Her mother's presence of mind saved them. So also did Hanumanji they feel, as both of them quickly began reciting the Hanuman Chalisa.
Sharvari with her mother Smita; peforming Bharata Natyam. Photographs: Kind courtesy Sharvari Khot
Today, Sharvari is a spunky 16 year old studying science at the Ramnarain Ruia College of Arts and Science, Matunga, north central Mumbai.
Mornings she leaves her home at the BDD Chawl, Worli, central Mumbai, at daybreak, just after 6.30 am, to attend, before college, till 11 am, coaching classes in Mahim, north central Mumbai, that are making her exam ready for the NEET 2019 exams. Sharvari wants to become a doctor.
Backing her are, of course, her encouraging parents -- Smita is a tuition teacher and Shamsundar is an LIC insurance agent -- and the Ratna Nidhi Charitable Trust, an NGO that has faithfully assisted the families of children who were victims of 26/11 and helped educate them. The trust still provides the excelling youngster with a scholarship and a sense of confidence.
Rediff.com found a tiny window of time in Sharvari's schedule to record the story of this bright, eager and strangely-wise young woman who loves Chinese food, Maggi, Bharata Natyam and Marathi cinema and literature, not necessarily in that order.
WATCH: "In a fraction of a second everything started..." Sharvari Khot remembers. Video: Rajesh Kakera/Rediff.com