The regularisation of our homes may take time but at least restore water, electricity and gas pipeline connection, say the harrowed residents of Campa Cola Compound Residents' Association after the Supreme Court ruled January 30 that they can make a fresh representation to the new government in Maharashtra and Brihanmumbai Municipal Corporation to regularise their homes.
All eyes are now on Maharashtra Chief Minister Devendra Fadnavis -- and the BMC -- who these residents say, has been very compassionate and sympathetic towards their ordeal even when he was on the opposition benches, reports Prasanna D Zore/Rediff.com
In a way, the beleaguered housing society, located at Worli in central Mumbai, is symptomatic of all that is wrong with the city's skewed development and the builder-BMC nexus that allows developers to construct 17 or 19 floors when they were permitted to build just five storeys.
"And the law is supposed to protect us. What is the law doing? They are supposed to punish the guilty but we are punished for buying a house for which we paid all the legal dues to the government," exclaims Devyani Jayakar, a 12th floor resident of Orchid, a 17-storeyed building in the Campa Cola compound, that had the permission to build just five.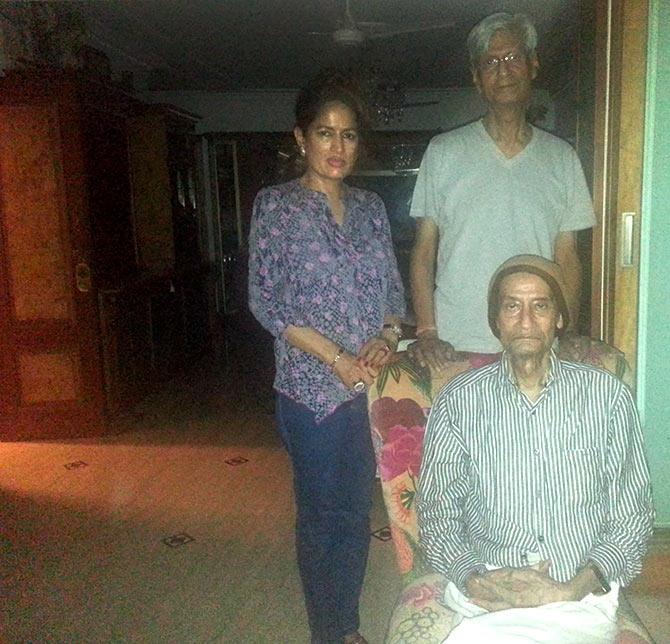 From left: Devyani Jaykar, her husband Dr Vinoo Tibrewala and her father Ram Jaykar (seated). While the house was pitch dark, light streams in from the lobby since the door was kep open during the interview; Photograph: Prasanna D Zore/Rediff.com
In a series of court orders that have left the residents sometimes dejected and sometimes elated, last June the Supreme Court rejected their plea against the demolition of illegal flats, 102 in all across seven buildings inside the compound, housing 140 families, following which the municipal corporation promptly disconnected water, electricity and gas pipeline connections of these flats.
Since then, these residents have been living without these basic amenities.
"June 23, I am never going to forget that date, that's when our electricity, water and gas supply was cut," says Jayakar, a consulting editor with lifestyle magazine Inside Outside.
"This is a situation we never thought we will find ourselves in, having to live like this," she says, surrounded by darkness inside her flat.
Chand Ratan Mohta stays on the eighth floor of Mid Town, a 19-storeyed building inside the same compound, with just five legal floors.
"We are facing huge difficulties coping with the non-availability of these basic things," laments Mohta. "We can only request Fadnavis sahib to help us get this matter sorted out. I am 68 now and you can imagine what kind of difficulties people elder to me must be facing. We can only request him to help us regularise our buildings and homes."
"A 92 year-old lady resides on the eighth floor. Just imagine what she must be going through," says Mohta, who stays with his wife. Each of Mohta's two married daughters, visit their parents once every month for a couple of days. Before their intended stay gets over, the Mohtas pack them off to their respective homes fearing their daughters' small children might take ill in the conditions as they exist inside their house.
"Society ka bathroom hai na neeche, wahan se paani manga li hai, kar lete hain (we get water from the bathroom meant for security staff to bathe everyday). What else can we do?" he says helplessly when asked how the family copes with their hardship.
The SC's January 30 ruling, though, has opened doors for the state government and the residents to work out a favourable solution.
The bench comprising justices Kurian Joseph and M Y Eqbal has directed the residents to seek regularisation of their flats by filing a fresh application with the state government and the local municipal authority, the BMC.
More importantly, the SC also clarified in its January 30, 2015, ruling that its previous orders of February 27 and October 31, 2013, would not in any way prevent the state government from considering the residents' application.
"Fadnavis sahib will get our blessings all his life if he helps us regularise our homes," says Mohta, taking heart from the SC ruling.
But both Mohta and Jayakar know that such situations take time before a desirable end is reached.
"If formalities are going to take time we would only request them to restore our utility connections at least," says Mohta standing at his doorstep, the border that separates his dark world from the illuminated lobby outside.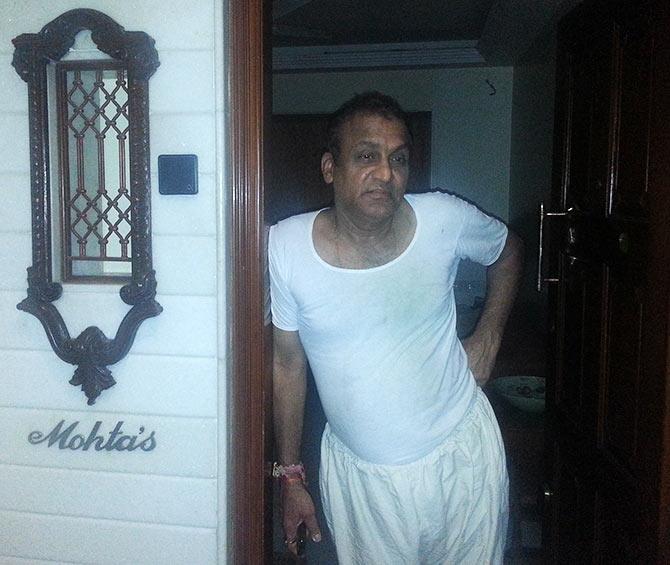 From left: Chand Ratan Mohta at his doorstep; Photograph: Prasanna D Zore/Rediff.com
Jayakar, whose 85-year-old father Ram, stays with her, asks for the same.
"I hope the first thing we get back is electricity, water and gas, in that order, because I think it will help us feel like human beings again," she says.
Her father, and husband Dr Vinoo Tibrewala, a child specialist at Bombay Hospital, however, are spirited even amidst the darkness in their lives.
When asked how he copes with his routine at night, the elder Jayakar says, "What can I do? I feel my way for the doors and walls. I need support when I go to the toilet at night. I go there feeling the places because in the day time when I see things I get the mental picture and use that picture to visit the bathroom at night.
"My body may be useless but this top storey (pointing towards his head) is still working," he tries to make good of the situation he is in.
"Aaj ka din gaya, bas (I take it one day at a time). I am waiting for my end to come so that I stop being nuisance to everybody."
As for how Dr Tibrewala copes with the nights, he jokes, "We have become more social now. We don't decline any invitations in the evenings."
Jokes apart, the residents' efforts are now on to coordinate with the state government and the BMC to find a reasonable solution.
"Ideally, we need to approach the government. The SC has now opened the doors," says a resident requesting anonymity. He says very soon a delegation from the housing society will meet the chief minister who, he said, has stood with the members through their difficult times, when he was in the opposition.
"While they do due diligence and work out how and by when our homes could be regularised, there is no harm in reinstating these amenities," he says.
Despite the silver lining, Jayakar, is a little pessimistic.
"Personally, I am too scared to think that this is all sorted out or will be sorted out. We had such a roller-coaster ride. Every time we thought something was happening in our favour, a few days later something would happen that would just dash all our hopes," he says.
"I hope they will do something concrete now, but in our bad times they promised to stand by us and they did," says Jayakar about her expectation from the chief minister, the Shiv Sena and all the political parties in Maharashtra who, she says, always supported them in their dire times.
Meanwhile, Jayakar and Mohta will have to contend with the darkness that has been accompanying them from June 23, 2014.
"The moment I shut my door, it is going to be much, much darker," Jayakar says.