Sarpanch leaders are changing Rajasthan for the girl child, discovers Rashme Sehgal.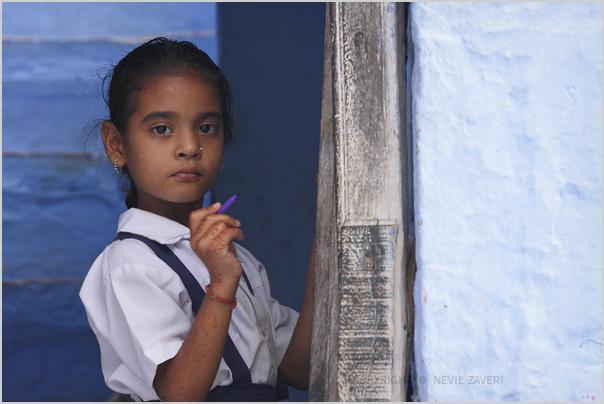 IMAGE: A schoolgirl in Jodhpur looks forward to a bright future. Photograph: Kind courtesy Wikimedia Commons
How can International Women's Day be celebrated with elan if the ratio of the girl child to a boy child continues to show a downward slide? This is the grim question that, for the last two decades, has challenged panchayats across India.
Finally, a slew of gram panchayats in Rajasthan have decided to reverse this trend.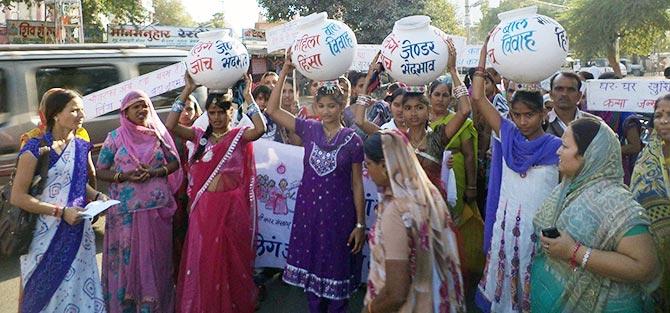 IMAGE: A community rally protesting atrocities against women and the girl child in Jalore, Rajasthan.
In a rare initiative, 180 gram panchayats across six districts in Rajasthan -- which include Jaipur, Dausa, Sikar, Pali, Jallore and Jodhpur -- have come together to make a series of vital interventions to save the girl child.
They have led by example and their painstaking labour has begun to pay dividends with the ratio of the girl child to the boy child showing a marked improvement. In some villages, the girl children are outstripping the boys.
>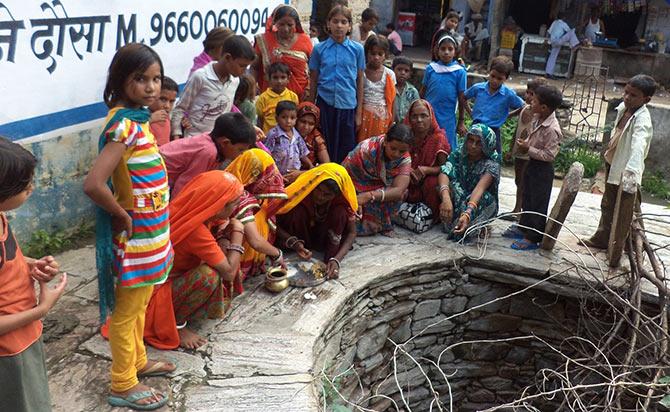 IMAGE: A kuwa puja (worshipping the well) ceremony takes place to celebrate the birth of a girl child in Dausa, Rajasthan.
Manju Devi, sarpanch of Motlawas in Sikar district and mother of two girls, cites how, through sheer grit and determination, she has metamorphosed into a role model for the women in her village.
In 2010, this former anganwadi worker fought the sarpanch elections against six formidable candidates and succeeded in pipping them by 250 votes.
Once she became sarpanch, one of the things she did was initiate several steps whereby parents and the villagers starting give importance to girls.
This included giving parents a congratulatory patra (letter) on the birth of a girl child, ensuring girls are admitted to schools and monitoring their performance there to prevent early dropouts.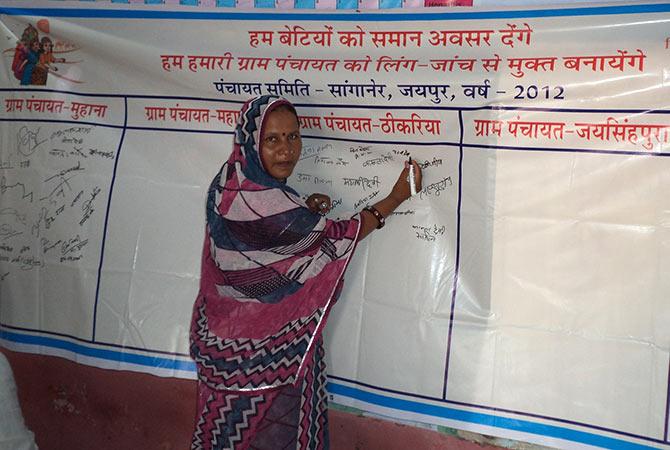 IMAGE: A signature campaign promising equality to the girl child in Thikariya district, Jaipur, Rajasthan.
One year into her job, she ran into an unusual problem.
"I used to encourage women who had two girls to opt for sterilisation as a means of family planning. These women turned around to me and demanded, 'You are asking us to go in for an operation, but why have you not gone in for one yourself?'" recalls Manju Devi. Their words rang true. She realised she had to lead by example.
So, without informing her mother-in-law or her husband in 2011, she quietly went in for a tubal ligation procedure. "When my mother-in-law learnt about my operation, she became hysterical and wept. 'My son's vansh (legacy) will come to end,' she told me over and over again. It took a lot of effort and persuasion to make my mother-in-law understand that daughters are as good as boys," she says.
IMAGE: A bank account passbook, in the name of the girl child, and the birth certificate is handed over to the mother in Dausa, Rajasthan.
"My job is not merely to advise women about family planning practices. The state government has introduced a slew of measures to incentivise families to take care of their daughters. This includes giving parents of daughters Rs 7,000 in instalments."
"The first instalment is given at the birth of a girl. Later instalments follow when the child is immunised, admitted to school and so on. The parents have to open a bank account in the name of the girl child and the state government directly transfers the money into the child's account," Manju Devi says.
"I have had to work hard to change the mindset of the other panchayat members and I believe I am succeeding. I take my mother-in-law with me for all my public interactions. She has begun to understand that the world has changed and we need to understand the vital role women can play in it," says this dynamic sarpanch.
"The fact that I had opted to be sterilised has convinced four mothers with only daughters to follow suit. Gradually, the message has hit home in Motlawas that daughters are as important as boys and parents must focus on their well being as well," adds Manju Devi.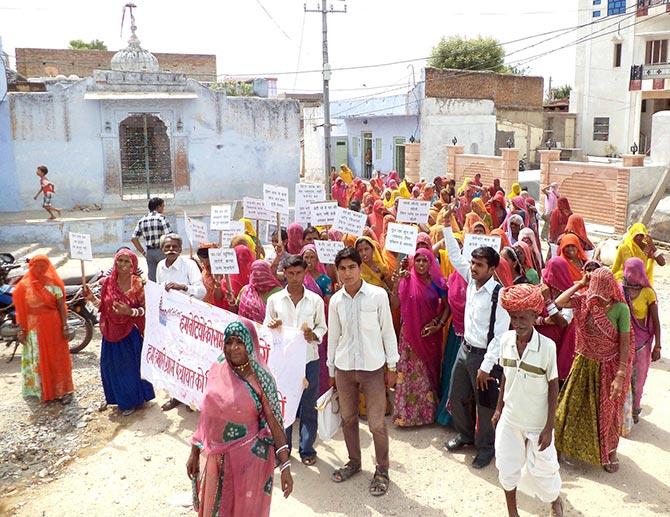 IMAGE: A community rally protesting atrocities against women in Pali, Rajasthan.
Middle-aged Vanita Rajawat of Daulat Pura Kotda village also worked as an anganwadi worker before standing for elections in 2010. She is dressed in a traditional green lehenga (long skirt) and blouse and has covered her head with a bright red odhni (long scarf).
Like Manju Devi, Vanita too resigned from her post as anganwadi worker to contest the sarpanch elections.
"Rajput women are expected to maintain purdah. But once I started attending panchayat meetings, which are held twice a month, it was not possible for me to interact with my male colleagues if I kept a purdah. Gradually, despite criticism from some quarters, I have stopped the practice of purdah. However, I keep my head covered when I step out of the house," she says.
Vanita, a BCom graduate, is determined to ensure that the young girls in her village get a good education. "I have got the government school extended from Class 8 to Class 10. At present, we have 200 girls studying in this school as against 20 boys. The reason for this is that parents prefer to send their boys to private schools where they can get a better education," she points out.
She has succeeded in getting an auxiliary nurse midwife to stay in the village on a permanent basis. An auxiliary nurse midwife's focus, amongst her many tasks, is to ensure the immunisation of the girl child as also ensure that babies are delivered in hospitals.
"I have also got 50 toilets built in my village and am ensuring villagers get into the habit of using them," says Vanita.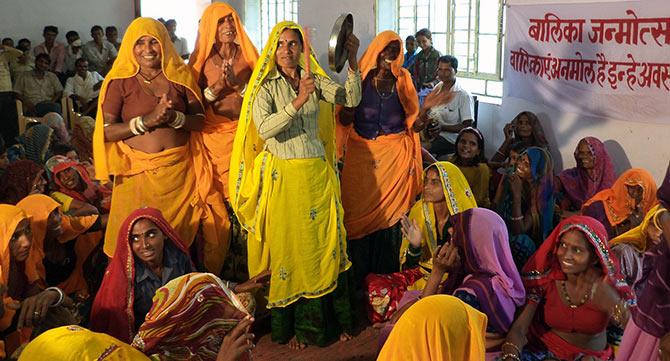 IMAGE: Celebrating the Balika Janamostav in Dausa, Rajasthan.
Sualal Gholiya of Jairam Pura village, a prosperous young farmer, has devoted all his energy to saving the girl child. He maintains a register of all the children born in his village. If a girl child is born, he ensures that a congratulatory letter is sent to the parents.
The panchayat also holds Balika Janamotsavs to celebrate the birth of the girl child.
"To reinforce this further, we celebrate the birthdays of our girls with pomp and show. We also hold Mahila chaupals and Mahila sabhas where women are given basic health tips and their grievances are attended to," he says.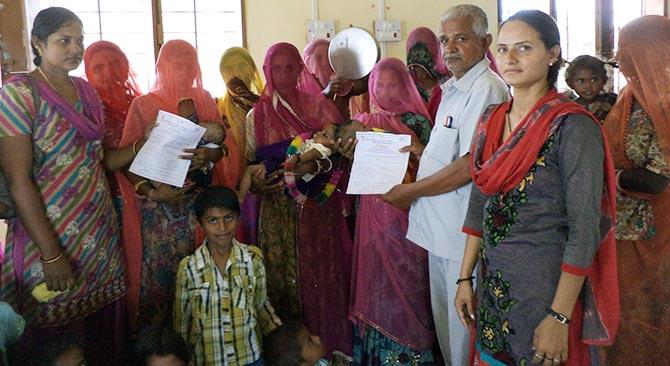 IMAGE: Birth certificates are handed over during a Balika Janamotsav in Jalore, Rajasthan.
Sualal's first task, he says, was to create awareness about the importance of the girl child. "I also had to identify families where women were being subjected often to hidden violence. Along with the other panchayat members, I focused on these families and our frequent interactions have paid off. Last year, 115 girls were born here as against 111 boys. Today, we have 200 boys studying in government schools as against 350 girls."
Like Vanita, Sualal too says, "But more girls than boys study in government schools because parents prefer to educate their sons in private schools where the quality of education is known to be better."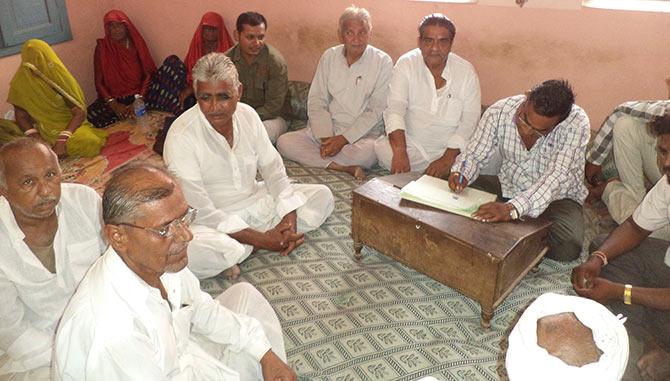 IMAGE: A resolution is passed in support of the girl child in Jalore, Rajasthan.
Meanwhile Omprakash Bairwa, who was elected as sarpanch in February 2015 from Lalpura village in Dausa district, is ensuring that girls study up to Class 12 at least.
"In most families," he explains, "the parents work all day as labourers under the MNREGA scheme. Girls are therefore made to drop out of school to work in the house, collect firewood and graze the cattle. My focus is to ensure that girls are allowed to continue with their studies."
"I tell the parents to allow them to simultaneously study and do the housework. This way, they will not spoil the child's future. Fortunately, the parents see the logic of my arguments and agree," says Omprakash.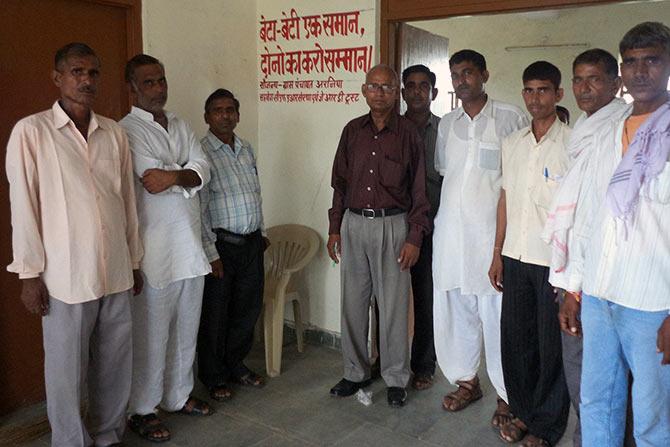 IMAGE: A slogan supporting the girl child is painted on the wall of a community centre in Dausa, Rajasthan.
These panchayats have worked closely with the Delhi-based NGO, Centre of Advocacy and Research. Social activist Rakhee Badhwar, state programme manager at CFAR, pointed out that the Census 2011, in which the girl-boy ration was down to 888 girls to 1,000 boys, was a wake-up call.
"We decided to intervene and reached out to 2,721 workers who then went on to organise 550 consciousness raising events and 184 balika janmotsavs (festivals to celebrate the birth of a girl child). These volunteers acted as change agents. After the project was launched in 2012, these six districts have seen the birth of 1,620 girls as against 1,460 boys," she says proudly.
Akhila Shivdas, who heads CFAR, points out, "This intervention has now become part of the prime minister's Beti Bachao, Beti Padhao programme. But, in order for such a transformation to be mainstreamed and become successful, the government must allocate adequate resources. These gram panchayats have shown that it is eminently do-able."