Saltwater crocodiles are the world's largest reptiles, and these had already disappeared from the coasts of Kerala, Tamil Nadu and Andhra Pradesh by the 1970s.
In all of Bhitarkanika, there were only 96 of them left.
The census this January noted their count at 1,682.
Nikita Puri reports.
IMAGE: In the 1970s, there were only 96 saltwater crocodiles in Bhitarkanika.
As of January this year, their number has increased to 1,682.
Photograph: Kind courtesy Charlesjsharp/Wikimedia Commons
A turquoise boat stands tethered to a pole in a delta off the Bay of Bengal.
A young girl points at something near the boat. "Take a look at this, have you ever seen a snail so big?" she asks her sister, who promptly kneels by the water to take a closer look, camera in hand.
Behind them are shops selling vadas, bananas, biscuits and fruit bread.
Unexpectedly, a shopkeeper begins to yell at the sisters, saying, "Paaniru durei jao, paaniru durei jao." That's Oriya for 'Get away from the water.'
It's only when the girls are on another boat later that they spot the two crocodiles resting only a little distance away from where they were spotting molluscs.
This is the Bhitarkanika National Park in Odisha's Kendrapara district.
If a similar scene had unfolded here in the early 1970s, those on the shore wouldn't have been keeping a close watch on tourists.
That was the time when indiscriminate hunting and a loss of habitat had brought saltwater (estuarine) crocodiles to the 'brink of extinction'.
Saltwater crocodiles are the world's largest reptiles, and these had already disappeared from the coasts of Kerala, Tamil Nadu and Andhra Pradesh by the 1970s.
In all of Bhitarkanika, there were only 96 of them left.
The census this January noted their count at 1,682.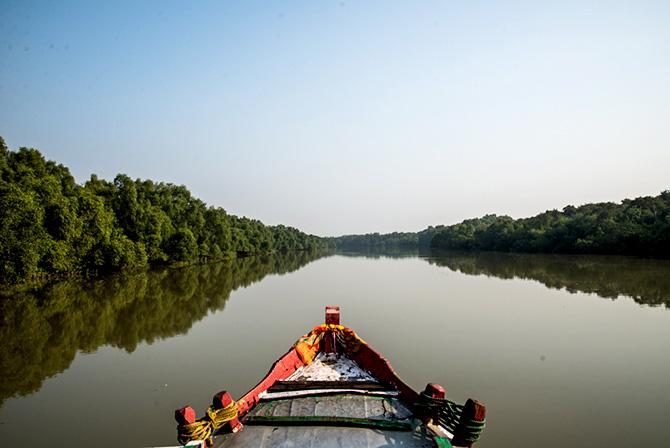 IMAGE: A peaceful moment at the sanctuary. Photograph: Kind courtesy Saurabh Chatterjee/Flickr
But crocodiles aren't the only remarkable thing here in Bhitarkanika.
The biodiversity-rich ecosystem of the place makes it worthy of a World Heritage status, feels herpetologist and crocodile researcher Sudhakar Kar.
A technical evaluation team of the International Union for Conservation of Nature, deputed by Unesco, visited the national park last November, but when the committee met to review nominations in Poland this July, Bhitarkanika didn't make the cut.
A report from the committee says this property doesn't meet 'protection and management requirements'.
Besides boundary specifications and lack of monitoring programmes in the face of climate change, the report states how the nearby Dhamra port presents a potential worry in terms of hazardous material spills as does a neighbouring missile testing facility.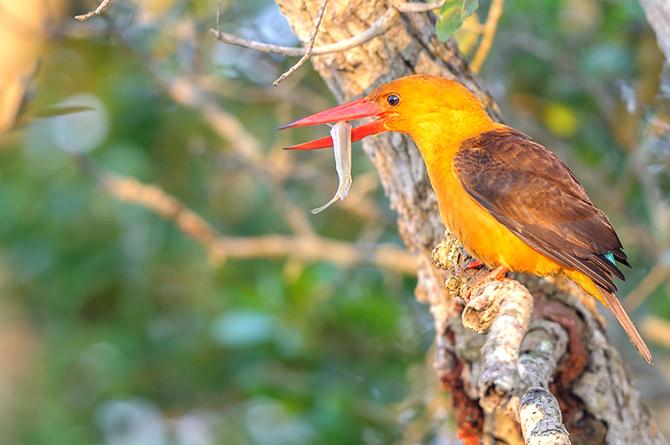 IMAGE: A brown winged kingfisher enjoys a meal. Photograph: Kind courtesy Kishore Bhargava/Flickr
Home to the vulnerable fishing cat and smooth-coated otter, Bhitarkanika also plays host to king cobras, monitor lizards, horseshoe crabs, dolphins and porpoises, while furnishing nesting sites for Olive Ridley turtles.
It also has more than 280 species of birds.
Besides, the mangrove wetlands here have fought off a good part of the cyclonic storms that have threatened Odisha's coasts.
When American explorer and writer David Quammen recalls his trip to the area, he vividly remembers 'a huge roosting population of cross-billed storks' besides 'the beauty of the natural landscape and river channels'.
But one of the most prominent memories of his time here is of the terrible majesty of the few large crocodiles he saw.
The story of the comeback of these estuarine crocodiles is a robust example of conservation.
In Indira Gandhi: A Life In Nature (Simon & Schuster India), Jairam Ramesh writes about how Scottish zoologist Robert Bustard 'couldn't refuse the prime minister's personal request' to look into efforts to save the crocodiles from the brink of extinction in India.
Bustard's field surveys became the basis for the country's crocodile conservation programme that kicked off in 1975. And Bustard, writes Ramesh, went on to train students who became some of Odisha's leading conservationists, including Kar and L A K Singh.
IMAGE: A crocodile enjoys a spot of sun in the Bhitarkanika mangroves. Photograph: Kind courtesy Saurabh Chatterjee/Flickr
"The number of crocodile nests found this year is a direct indication of how well the population is doing," says Singh.
Fashioned out of twigs, leaves and mud, 80 of these nests were spotted this year.
"Look for Gori," a boatman on River Baitrani tells his friend.
Gori is a 'white' crocodile (she has developed a few black spots over the years).
The recent census confirmed at least 10 other white crocodiles, but Gori is the one they talk about. (The white ones are locally referred to as sankhua, meaning the 'colour of a conch'.)
One of the first crocodiles born in captivity at the beginning of this conservation project, Gori is eight-foot long.
At 42, she's built up quite a reputation for turning away potential mates.
Cruising along the silent waters, the boatman speaks up all of a sudden.
"Dekho dekho, kete bodo kumbirota (See, see, what a big crocodile)," he says, gesturing to what appears like a ripple in the water, but with eyes and a pair of nostrils.
This one, as he rightly pointed out, is large, but the crocodile slips under water before one can see it in its entirety.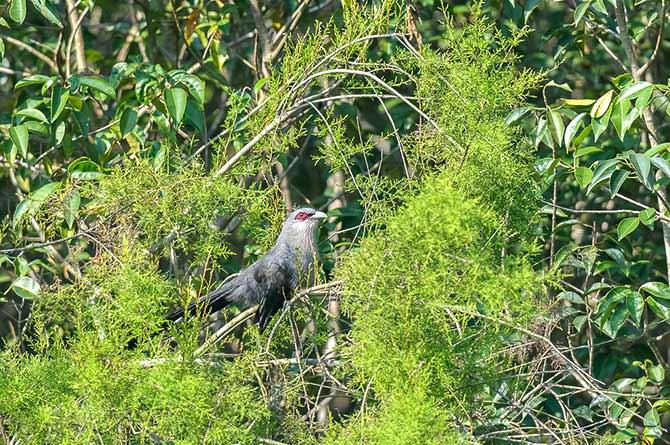 IMAGE: A green-billed Malkoha hiding in the foliage. Photograph: Kind courtesy Kishore Bhargava/Flickr
Herons and egrets sit perched on the high branches on either side, kingfishers and parakeets find their aerial paths overhead.
A family of monkeys and a deer are the only ground-walkers one spots, besides the crocodiles that are sunbathing on either side of the river.
Tiger reserves are infamous for guides gesturing towards paw marks and exclaiming that one has "just missed" the big cat, but it's impossible to miss the most prominent denizens of this sanctuary.
The Guinness Book of World Records has accepted a claim for a 23-footer in these waters, and conservationists have identified at least three of the crocodiles to be over 20 feet in length.
Among them is Mahisasur (big demon), another local favourite.
In Monster Of God (Random House), Quammen writes about how in the 1970s, one-metre long younglings were 'shooed out of the back door' of the research centre in Dangmal.
These releases were followed by fervent prayers that these reptiles would reach maturity. The practice was discontinued about a decade later when those prayers were answered.
Now, the task of maintaining a balanced ecosystem lies with nature alone.
"There is a little concern with this growing population because Bhitarkanika is a small place: It only has the capacity to support so many crocodiles," says Singh.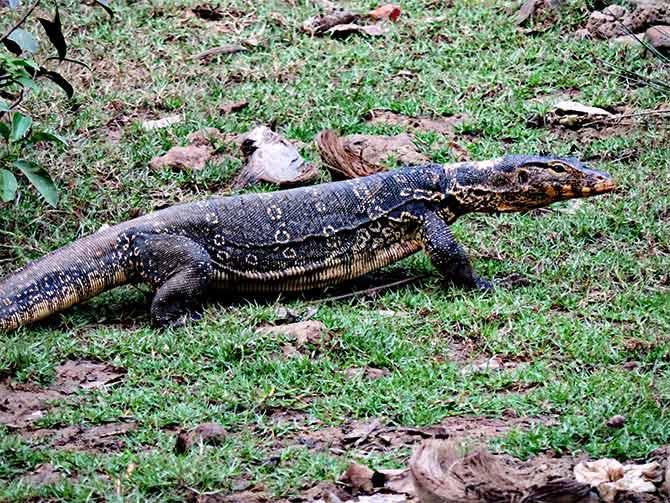 IMAGE: You might just spot a monitor lizard here. Photograph: Kind courtesy Anubhav123sarangi/ Wikimedia Commons
Reports of crocodile-human conflicts have now become common.
In fact, one of the reasons cited by the World Heritage Committee was the presence of privately owned property by locals inside the national park.
But the fact that Bhitarkanika didn't make it to the list of World Heritage sites can't be ascribed to select reasons alone, says Manoj V Nair, a leading biologist at the Wildlife Institute of India in Dehradun.
The World Heritage site is a select, elite list. "We have to look at it in the global context. They have to limit the number of tags," says Nair.
These sites are required to have an "outstanding universal value" and the fact that people live in the area has nothing to do with it, he says.
The rise in the crocodile population, feel experts, is best tackled by extensive and rigorous scientific research.
"We need to look at aspects like demographic profiles and how many of these crocodiles are actually breeding," says Nair.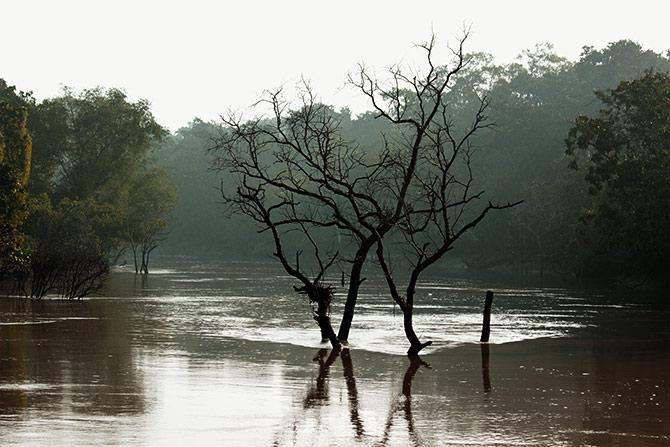 IMAGE: The mangroves at the Bhitarkanika National Park. Photograph: Kind courtesy Sayanti Sikder/Wikimedia Commons
This rise in numbers doesn't concern Kar much.
There are 40 to 60 eggs in each nest: Only about half of them will hatch, and a variety of predators, from birds to monitor lizards and wild boars, awaits these baby crocodiles.
Only about one pair in 1,008 will make it to adulthood, says Kar, who continues to be part of the census team.
In the winter of 1976, Kar and Singh were part of the first official census. There were no power boats or spotlights back then; a five-cell torch and a small fishing boat were their only facilities.
From the beginning of the conservation programme, locals have been part of the effort, notes Singh.
"They'd help in egg collection and incubation, they'd be the ones out on the boats too," he recalls.
Despite the number of conflicts, perhaps this is why there's no hatred for them. Instead, stories of Gori and Mahisasur abound.
"Most people who live next to sanctuaries or on forest edges feel that they are both part of a system. They are stoic in the sense that they understand that these animals also need to live," says Nair.
Sooner or later, one learns to live with their neighbours.
IMAGE: Those involved in crocodile conservation at Bhitarkanika have not given up hope. Photograph: Saurabh Chatterjee/Flickr
Bhitarkanika may have been passed over for now, but those involved in its conservation haven't given up hope.
"It is worthy of that status and we'll continue our efforts to get there. We'll fight for it," says Kar.
Meanwhile, after close to four hours in the water, the mollusc-loving sisters head back.
Despite the boatmen keeping a look out, Gori remains elusive.