On Thursday, November 6, the Washington Post newspaper reported that controversial American diplomat, Ambassador Robin Raphel, had her office and home searched by the FBI.
This most unusual development likely raised much cheer at India's ministry of external affairs, in whose flesh Raphel had been a thorn through much of her tenure in the first Bill Clinton administration in the early and mid-1990s by her anti-India and pro-Pakistan stand.
Seventeen years ago, as she was about to step down as Assistant Secretary of State for South Asian Affairs, Raphel granted an exclusive interview to Aziz Haniffa and India Abroad, the leading Indian-American weekly newspaper, which is now owned by Rediff.com
The July 1997 interview, which provoked a raging controversy in both capitals, Washington, DC and New Delhi, is reproduced here:
Robin Lynn Raphel, who last week left her sixth-floor office as the first Assistant Secretary of State for South Asian Affairs, believes that, despite a sustained conspiracy by the Ministry of External Affairs (MEA) in New Delhi and the entrenched South Asia hands at the State Department to have her removed within months of her appointment, she not only survived but succeeded in both increasing and enhancing the profile of South Asia in terms of US foreign policy.
In a lengthy conversation with India Abroad, among many of the remarks that she made with the caveat that they be released only after she left as head of the South Asia Bureau, to which she was appointed on August 6, 1993, Raphel declared, "The MEA is being left behind."
She said "the economic people and others who aren't stuck in these old ways of thinking and mindset" were driving the agenda in India and the MEA was largely becoming irrelevant.
Raphel said that right from the time of her appointment, there was a concerted campaign by the ministry to discredit her in the eyes of President Clinton and the powers that be in the US Administration. "All the stuff about me was misplayed," she said.
"I know it was that MEA kind of pettiness. There is a kind of pettiness in that bureaucracy which at times is worse certainly than ours, but similar to many others. It's too bad."
Raphel said that "all the gutter press stuff" that was written about her in the Indian media, which she said "became completely unseemly," was largely "due to the MEA."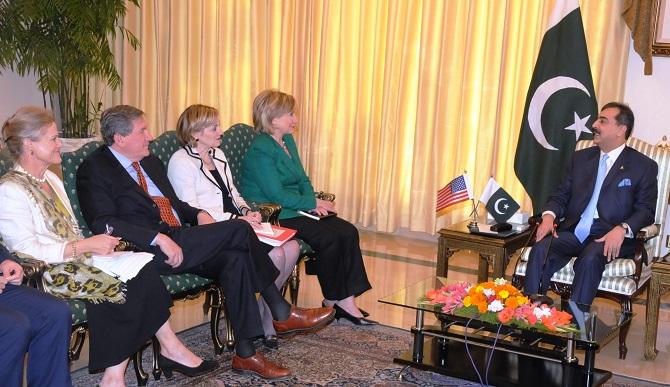 She referred to her controversial remark at her first briefing with the South Asian press at the Foreign Press Centre here almost four years ago, when she said the US does not recognize the instrument of accession of Jammu and Kashmir to India.
Image: Robin Raphel, left, with then secretary of state Hillary Clinton and then Pakistan president Asif Ali Zardari in Islamabad.
Raphel, who had retired from the State Department in 2009, was appointed to Richard Holbrooke's (third from left) team as an advisor on Pakistan by President Obama in 2009.
The appointment was controversial because Raphel was then a paid lobbyist for the Pakistan government. Photograph: The United States embassy in Pakistan.
In retrospect, following the angry passions it provoked, she said it could have been phrased better. "(But) what I said was consistent with US policy and it still is," she explained. "I would have phrased it a bit differently if I had to do it over again, but that's our policy and has been for 40 years basically."
Raphel said that from the time of former Foreign Secretary J N (Mani) Dixit and others, while the MEA had tried to pull rank on her and prevent her from meeting with the prime ministers, foreign ministers and others, she had developed a rapport with the Indian people, politicians, Opposition figures and the intelligentsia. "I do actually think I command quite a lot of respect from them because I know the country, I know the issues," and have "a certain passion about it, which comes through, and people respect that. People respect people who stick with an issue."
Consequently, she said that not only did she serve out her full tenure, but outsurvived Dixit and the "senior conservative" White males in the State Department like the former deputy chief of mission in New Delhi, Kenneth Brill, who was her senior in New Delhi when she served there from August 1991 till August 1993, who wanted her not only to fail but fail miserably.
"Like any bureaucrat," Raphel said, "he (Dixit) was very hierarchical and may have thought why did they (President Clinton and the powers in the administration) reach down and get this person (herself) and all the rest of it."
At the time it was rumoured that Raphel got the job, even though she wa much junior to several other South Asia hands at the State Department because she was an FOB (Friend of Bill), having been in England doing postgraduate studies when Clinton was attending Oxford and was part of a group of Americans who used to hang out together.
She said the reason she got the job was because "When you look at all the South Asian specialists who had vision and some sense of taking a policy somewhere, there weren't many to choose from; in fact, I was at the top of the list," she added.
Raphel acknowledged, "I wasn't the most senior, but in terms of the qualities people were looking for, which was imagination, leadership, not the same old mindset," that she said afflicts "the MEA bureaucracy," she was the automatic choice.
Raphel, who is now biding her time waiting for an ambassadorial appointment, which rumours have said it could be to Tunisia, said, "If you talk to someone who really knows the issues, this administration realises that they are indebted to me for holding the South Asia account and keeping it and trying to get attention on to it."
She said that from the President down, there was a cognisance that she was dealing with the policy issues in "South Asia that matter," and was taking flak, while they were doing what in this part of the administration was not more important but more urgent -- Russia, China Bosnia.
She continued, "That made me have more influence over policy toward South Asia than anybody in this building, in fact, anybody in this town, because it was done here and they were very happy because they didn't have to worry about it."
She reiterated that this didn't mean that "they (particularly the White House) weren't interested, but there were more urgent matters. Again you need to distinguished between urgent and important."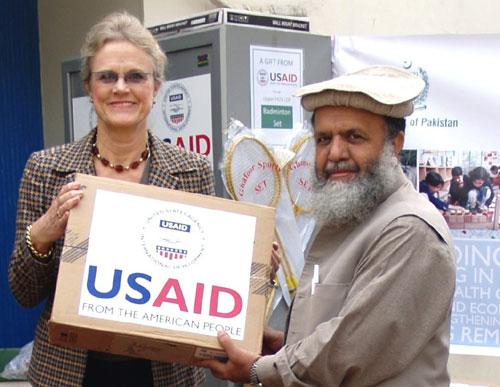 "And I have worked very hard to hew a line between India and Pakistan and people have not tried to understand that," she said. "Indians have not wished to understand that and I heard such nonsense from the MEA. They don't get it. They never understood about the Brown Amendment (initiated by the State Department and introduced by former Republican Senator Hank Brown that provided for a waiver of the Pressler Amendment and led to the transfer of $368 million in sophisticated weaponry to Pakistan in 1996)."
Image: Robin Raphel in Pakistan. Photograph: The United States embassy in Pakistan.
She added, "All they (the MEA) do is fantasise about the security relationship (between the US and Pakistan)."
Raphel emphasised that "we do not want an arms relationship with Pakistan in the 1990s," as the MEA always seems to be paranoid about and believes the Brown Amendment was the precursor to the resurrection of such a relationship. She also strongly denied the perception that had been drawn of her as being pro-Pakistan and anti-India.
"I like Pakistan, I like India, I like South Asia," she declared. "In India, I like the colour and the texture and the sensuality of the place and the interestingness of the people, except the bureaucrats, who in my experience are not worth the time of day."
In Pakistan, where she has also served, Raphel said, "Of course, I like the place and I appreciate their predicament, and a lot of times they behave in a more seeming manner because they are the smaller one and I appreciate it. (But) that doesn't say anything about my views of India, about which I am quite passionate." Raphel claimed, "I am perfectly well plugged into that country, and I like it and I enjoy the people and they enjoy me."
"I am not a stuffy diplomat and I know what I am talking about," she went on, "and I talk straight and at the end of the day most people appreciate that. I don't suck up to anybody, and I mean not to anybody at home or abroad. That's not my style, and in India where there's a bit of tradition of obsequiousness, they get a little confused about that."
But she said, "At the end of the day, when people know you are engaged and that you care and that you are fair, and that you are straight and you know your business, they respect you, and that's what I was after."
Although she assailed Dixit for being the key conspirator against her, she also praised him.
"He (Dixit) had his reasons for being bitter with his own system," she declared. "But he in fact was the best foreign secretary in terms of understanding India's potential in the world and how they ought to play it. He was not parochial; he was a smart guy. I've felt bad about Mani Dixit primarily because he was a person of some vision, and for his talents to be turned inward and bitter and complaining that 'Nobody pays enough attention to me' type of thing was a shame because he was exceptionally good. He could see where US-India relations were supposed to go."
Raphel during the long conversation also dismissed the persistent rumour about two years ago that it was Brill, who at the time had returned from New Delhi and was director of the State Department's staff secretariat with the authority to decide which papers go to the secretary, had opposed her desire to go to Islamabad as ambassador. "He had no say who was ambassador (to) where," she said.
Image: Robin Raphel in Pakistan. Photograph: The United States embassy in Pakistan.
She described Brill as being "very conservative and old-fashioned, and that made it difficult for him with officers who have something other than a conservative style who aren't tall white male and so on."
She said that consequently, Brill "had a hard time when someone beneath him in the hierarchy -- I was number three when he was number two in New Delhi -- was moved up."
"He really bridled under that, not because he had anything personal against me, but it just wasn't the way he saw the world going," she said. "It shouldn't have been that a woman should have moved up above him. So that was a problem and I think he groused and crumbled under that. So Ken Brill had no influence over my future at all."
But lending credence to the rumour that she had indeed coveted the envoy's posting to Islamabad, Raphel said, "To tell you the honest truth, I would love to be ambassador to Pakistan or to India. Either of these two, I would love to go."
"(But) when Pakistan came up," she explained, "I had been in the job (as head of the South Asia Bureau) for two years and there was no way they (Clinton and the State Department hierarchy) would let me go because I was 'it' on South Asia."
"They were aware that I carried the water and they liked it that way," she recalled, and thus did not want her to leave as Assistant Secretary for South Asia, despite "all the efforts of the MEA in Delhi to try and change that."
ALSO READ: