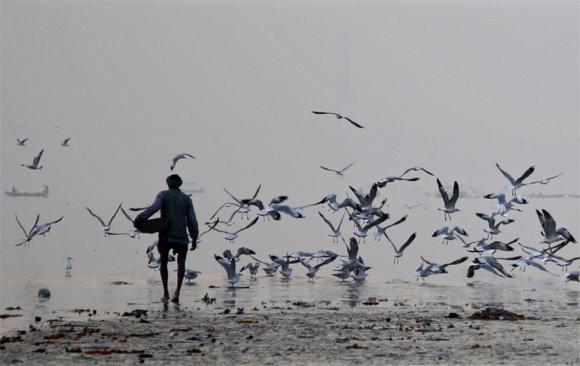 Were river experts excluded from IIT consortium on the Ganga River Basin Management Plan? Rashme Sehgal reports.
Why were India's leading river experts including a group of high-profile river engineers excluded from the deliberations on how to revive the dying Ganga?
Eight Indian Institutes of Technology were asked by former minister of environment Jairam Ramesh in 2010 to prepare a comprehensive Ganga River Basin Management Plan on how to revive the Ganga river system in terms of its water quality and bio-diversity. This report, which took four years to prepare, was presented to Prime Minister Narendra Modi in January.
The Modi government has made cleaning the Ganga a top priority and has allocated Rs 4,173 crore for Namami Gange, an integrated Ganga conservation project, apart from setting aside another Rs 2,100 crore to clean up the river and for ghat development.
Professor U K Choudhary, who heads the MM Institute of Technology for Ganga Management, Varanasi, and who has devoted his life on studying the Ganga, believes this IIT intervention will go the way of earlier interventions without in any way helping to save the Ganga.
Choudhary said, "It is a dying river and we all are to blame for it. Biological Oxygen Demand levels have gone up from 5-8 milligrams per litre in 1985 to the present 12-15 mgl and oxygen content has come down from 7 mgl to 4 mgl. Not a single person from the river engineering side was consulted in the work being done on the Himalayan rivers."
Choudhary has authored two books focusing on the fundamental characteristics of the Ganga as also the seminal paper titled, 'Five Theories of River Management'. He has also headed the Ganga Research Centre during his tenure as head of civil engineering department in the Bharat Hindu University.
Choudhary's contention is that "IIT engineers know how to deal with static water bodies as opposed to dynamic water bodies. River engineers understand the origins of a river, the function of a river in the mountains, why its water quality is deteriorating. They understand the kind of action and reaction that takes place between water, rocks and air. Most importantly, they also understand how atmosphere, temperature and pressure along with rainfall are being affected by the construction of dams. The environmental conditions in these areas have been altered and yet none of the reports brought out by the IITs highlight these factors."
Choudhary's views are shared by Dr A K Upadhyaya, a structural engineer whose PhD thesis on the Ganga titled 'Environmental Management of the Ganga through the Application of Spirituality' tried to incorporate suggestions made in India's spiritual texts on how to clean the river.
It also helped provide him with a new perspective on this subject. "River engineers understand issues relating to river dynamics, its morphology and surface-ground water interaction. We understand moving water bodies as opposed to static water bodies. China has invested in setting up institutes for river engineering in order to better manage their rivers. Here, we have been bypassed completely," said Upadhyaya.
Professor Vikram Soni, a physicist with Jamia Milia Islamia, has devoted the last two decades studying Indian rivers and has brought out several distinguished papers including 'Environmental Flows of the Monsoon Rivers in India' and 'Groundwater Loss in India and an Integrated Climate Solution'.
Soni strongly believes that "the river is a water course made by nature over an evolutionary timescale of tens of millions of years, which once damaged, cannot be fully reclaimed. Rivers in India are now overdrawn, silted and polluted. The health of the river system, then, becomes a priority."
Soni's study on how to use river water in a non-invasive way whereby its water can be used while at the same ensuring it maintain its ecological integrity as a perennial resource led him to do a case study of the river Yamuna in Delhi.
"One of the conclusions we arrived at was to find that at least 50 per cent of the virgin monsoon (July to September) flow was required for the transport of the full spectrum of soil particles in the river sediment. A similar flow was needed for adequate recharge of the floodplain aquifers along river. For the non-monsoon period (October to June), at least 60 per cent of the virgin flow was necessary to avoid the growth of still water algae and to support river biodiversity. We concluded that about 50 per cent of the virgin flow was necessary throughout the year to maintain the health of the river system," said Soni.
The
uniqueness of this novel and creative scheme is that it employs only natural storage and natural recharge. Such non-invasive use ensures sustainable and perennial water solutions which strictly conserve the ecological integrity of the water resource and can prove of value in hundreds of cities that have a river flowing by the city, Soni claimed.
Non-invasive solutions to the problem of rivers have been strongly advocated by other door keepers to our rivers. One such doorkeeper has been Himanshu Thakkar, also an IIT graduate, and currently heading the South Asia National Dams, Rivers and People which monitor all water bodies in the country on a 24x7 basis.
Expressing surprise that the IIT consortium has not made their report public, Thakkar said, "Some elements of the GBMRB are useful but it does not provide a credible roadmap. The problem with reviving the Ganga is that it is not a technological but a governance issue. The report tells us that pollutants and sewage should not flow into the river. It also informs us that no large dams should be allowed to be constructed in the Himalayas and yet both the state and central governments are giving the go ahead for such construction.
"These same details were emphasised in the first Ganga Action Report brought out during the time of Rajiv Gandhi. We don't need rocket science to know what steps need to be taken to ensure the river should be clean. The key issue is why four decades later we have failed to implement these steps on the ground," he said.
Thakkar believes the implementation of these schemes lie in the domain of governance. "The salaries of our politicians and bureaucrats s are not affected by the state of our rivers and therefore they have no accountability on why thousands of crores has been spent with nothing to show on the ground. The people affected by a polluted river are farmers, fisherfolk, boatmen -- strata of society who have no say in governance issues," said Thakkar .
Another river expert, Manoj Misra, whose NGO Yamuna Jiye Abhiyaan provides day-to-day alerts on the state of the Yamuna, believes, "One of the probable reasons why the IIT consortium did not consult us is because we are seen as activists. Our knowledge, they believe, comes from secondary sources. But the entire IIT team comprised largely of civil engineers who cannot claim to be river experts either," said Misra.
Misra believes the suggestions made by IIT consortium regarding banning of pollutants, setting up of sewage treatment plants, doing away with big dams, are all valid. "They have prepared 46 reports which have been put up on the National Mission for Clean Ganga website. But it is a mystery why the government has failed to take any action on this report. It could well be because the report was triggered by the United Progressive Alliance government and today and we have a National Democratic Alliance government in power," said Misra.
Reacting to Professor Choudhury's accusation, Professor A K Gosain of IIT Delhi shot back, "This is not a justifiable accusation. We brought in a lot of experts who are knowledgeable in their own fields. We did not involve institutions but individuals from different institutions," he said.
"The claims being made by river engineers are okay but there are other experts also who are knowledgeable in the field of river morphology. All these subjects are well known -- it is not information which is in the realm of a few people," Gosain added.
Gosain, who headed the Water Resources Management team of the GRBMP, believes the consortium co-opted several experts from different fields to prepare this report.
"You cannot tackle the issue of water availability only at the river level. We did hydrological modelling, ground water modelling. We have tried to put together different strands of information. On the issue of sewage, we have insisted that no untreated sewage be allowed to flow into the Ganga," he added.
Gosain said, "As academicians, we are not prescriptive. Our role is to provide knowledge. Others have to come together to figure out the best way to utilise this knowledge."
He regretted that their reports on the Ganga had not been integrated. "The role of the GRBMP was to look at how specific issues could be tackled. We have generated options. It is for the role of the government and politicians (to decide) on which options they want to go in for," Gosain said.
The ball is in the court of the PMO and the ministry of water resources on why they continue to maintain a discreet silence on how they plan to clean India's holiest river.
But river experts who have been working to revive and monitor rivers, often at their own personal cost, are bitter at their exclusion. Their expertise, often honed from direct experience, remains ignored in favour of what a river expert described as 'ivory tower knowledge'.