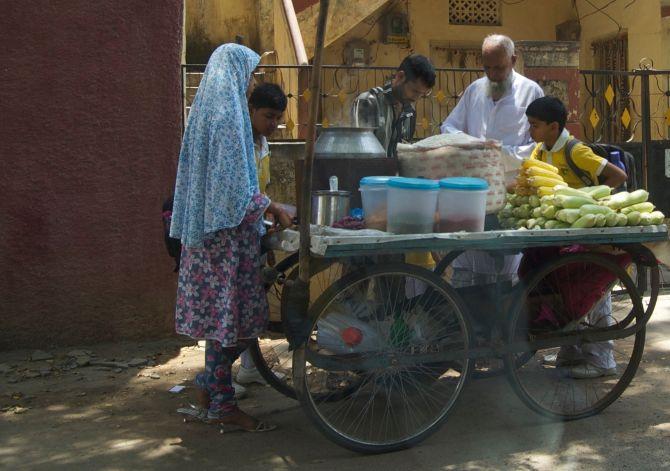 'Every Muslim is painted with the same brush. We are one day linked to SIMI, the next day to Al Qaeda, to Pakistan-based terrorists and now ISIS.'
Prasanna D Zore/Rediff.com reports from Hyderabad.
"Do Muslims have a future in India?"
Adil Mohammed (name changed) laughs uncontrollably when asked this question. His friends Mushtaque Kazi and Noor Mohammed (both names changed), in their early 20s, fail to comprehend their friend's mirth.
Adil, a 23-year-old mechanical engineer from Musheerabad, a suburb in Hyderabad, has lost hope in a country, which, he feels, maligns Muslims as terrorists.
"What hope can I have in a country that treats us like second-class citizens?" asks Adil. He is well-read and keeps track of political developments across India. "What else can I do but laugh at my community's situation in India?"
"Muslims are responsible for this situation to some extent, but to brand every Muslim a terrorist makes me feel insecure about my future in India. If I express my anger at the turn of events, I too might get labelled as a terrorist," says Adil without suppressing his laughter.
Dr Mohammed Hanif Khan, who was gunned down in an alleged encounter between the Warangal police and five alleged Students Islamic Movement of India activists at Alair in Nalgonda district on April 7, was a resident of Bapuji Nagar in Musheerabad.
"Wasn't the trial on when Dr Khan was killed? Which court convicted him on charges of terrorism and branded him a terrorist?" Adil asks, angry now. "But most newspapers have already declared them terrorists."
The mood in Musheerabad is sombre since news of the encounter and after Dr Khan's funeral it has turned against the local media and police.
Everybody has strong opinions about the "bias" shown by the media and police against Muslims. But the youth here speak only after a lot of convincing and assurances that their identities will not be revealed (This correspondent cannot be sure if the names they identified themselves with were real or otherwise.)
"No names, no photographs, and we can talk," says Noor tersely.
Passersby eye a stranger speaking with three young men suspiciously.
Earlier, Adil, Mushtaque and Noor made a thorough check of this correspondent's identity to ascertain that I was not from the local media or a sleuth before opening up.
"Look at any newspaper or television report about the 'encounter.' The bias (against Muslims) is so blatant. Nobody has time to verify facts. Every report is full of opinions," says Mushtaque who owns a grocery store in Musheerabad.
Ask him about his future as a Muslim in India, and he smiles wanly. "These are difficult times for followers of Islam in India. Every Muslim is painted with the same brush. We are one day linked to SIMI, the next day to Al Qaeda, to Pakistan-based terrorists and now ISIS. The list is endless," says Mushtaque.
India, insists Mushtaque, is as much his country as it is mine. "I am not worried about my future in India. If I have done no wrong, why should I be scared of anybody?" he asks.
Noor, a college student studying science, who has till now, not involved himself in the conversation, pitches in. "The police in this country have become monsters controlled by their masters who rule them."
"While Muslims have been regular targets (of the police) for whatever reasons, the same police don't care about the poor labourers in the jungles," he says, referring to the brutal killings of alleged red sandalwood smugglers by the police in the Seshachalam forests in neighbouring Andhra Pradesh.
"You ask those poor people about their future in India and their answers won't be different from what we think," he says.
***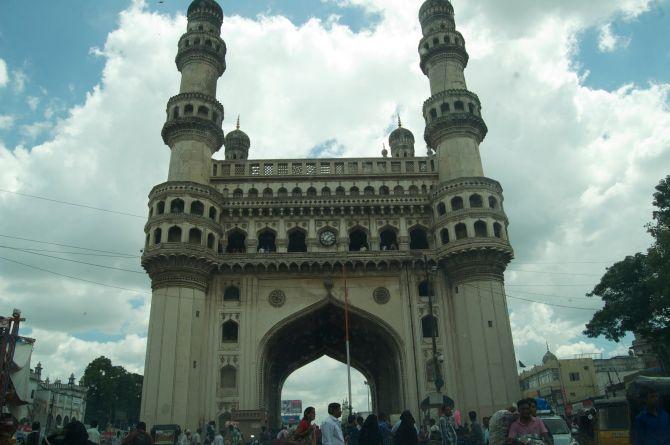 Charminar, in old Hyderabad, is a 40-minute commute from Musheerabad by autorickshaw in the city's terrible traffic. Predominantly Muslim, with the Mecca Masjid in the vicinity, the area was tense Friday, April 10.
The police expected trouble following the Friday prayers, but nothing untoward happened: Just minor stone-throwing by local youth, which was controlled immediately.
But the area is calm April 14 as citizens go about their routine. A busy marketplace, where both Hindu and Muslim traders operate businesses, Nadeem Qureishi (name changed) a hawker, says the police presence since the day of the encounter has helped maintain calm in the area.
"This is a communally sensitive place," he says. "Obviously, there is anger among the youth about the encounters. They feel unsafe here. Anything major happens anywhere in the country and the police round up our young and put them behind bars for no reason."
Citing Urdu newspaper reports, Nadeem says the encounters were pre-planned. "They wanted to bump off those five because they were likely to be acquitted. The police wanted to hide their mistakes. So they gunned them down."
"Being a Muslim is bad in this country today," he says. "Being a poor Muslim even more so."
***
Moin Bagh is where Syed Amjad Ali, another alleged SIMI terrorist shot down in the April 7 encounter, lived with his family in a two-storeyed building. It is another area equally angry with the local media.
"Everything is a sensation for them. Even at the funeral of Amjadbhai, the cameramen of a local television station and photographers wanted vantage shots of the procession," says Parveen Nizam (name changed on request), a college student, who stays a few blocks away from the victim's home and knows the family.
Tell him you are a reporter from Mumbai and, like the youth in Musheerabad, he asks for your ID and visiting card to make sure. My ID and visiting card is not convincing enough. Thankfully, the Hindi I speak assures him I am not from the local media.
"We have stopped trusting the media. They are not neutral. They misquote us without bothering to understand what we are saying to them."
During the funeral the mourners had an altercation with reporters and photographers. "One reporter climbed on top of another building to capture the assembly during Amjadbhai's funeral. We were in mourning and he wanted to show to the world how Muslims mourn at the funeral of a person killed in a fake encounter," says Parveen.
"Had it not been for the buzurg log (seniors in the community)," he adds, "the scene could have turned ugly."
Images: Top: A hawker in Musheerabad in Hyderabad. Bottom: The Charminar. Photographs: Prasanna D Zore/Rediff.com
ALSO READ: