When Hadiya
Standing her ground
In the courtroom was compelled to
beg:
'I want freedom'
I ceased to breathe
in my prison cell
Imprisoned in the Nagpur Central Jail's notorious 'Anda Cell' is a professor trapped in a wheelchair.
Diagnosed with permanent post-polio paralysis of the legs, he is 90% disabled, and needs help to perform necessary bodily functions.
Additionally, he has high blood pressure, spinal pain and a heart problem.
Professor G N Sai Baba of Delhi University was convicted in March 2017 under the Unlawful Activities (Prevention) Act for having links with Maoists, and sentenced to life imprisonment by a sessions court in Gadchiroli.
You can read more about Professor Saibaba and the case in the Related Links alongside.
From the Anda Cell, Professor Saibaba sent his wife Vasantha Kumari a series of poems, the first of which was published last week:
Here's the second: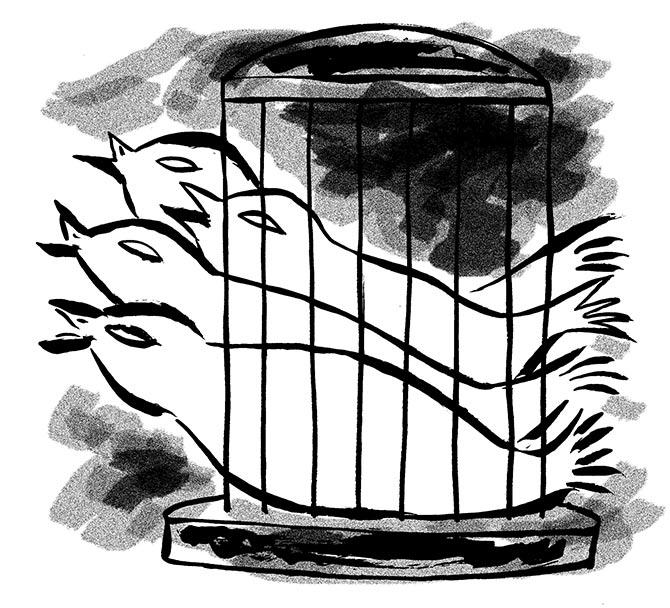 Now We Have More Freedoms
On that day
When Rohit Vemula
hanged himself
and declared:
'I can't be reduced to my identity'
my heart missed its beats
On that day
When Perumal Murugan
announced:
'the Writer in me is dead'
I was afflicted by sleep apnea
On that day
When Hansda Sowvendra Shekhar
pronounced:
'The Adivasi Will not Dance'
my muscles contracted
On that day
When Hadiya
Standing her ground
In the courtroom was compelled to
beg:
'I want freedom'
I ceased to breathe
in my prison cell
December 2017
Illustration: Uttam Ghosh/Rediff.com