More than 40 artists from four cities -- Delhi, Mumbai, Navi Mumbai, Pune -- gathered in Mumbra, a township near Mumbai, last Sunday.
The artists joined women in Mumbra protesting the Citizens (Amendment) Act at an event organised by the Joint Action Committee for Social Justice.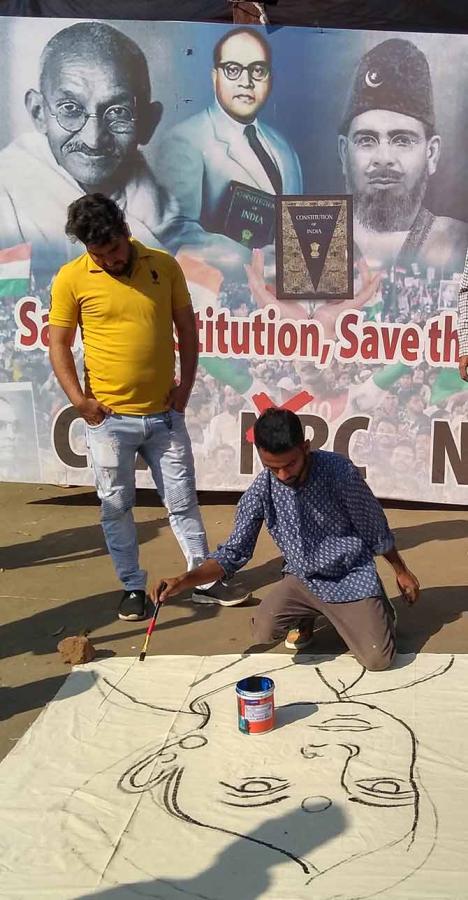 Artists Rise for India, (art students from Jamia Millia University) and the Secular Art Movement initiated the painting event.
The students from Delhi had created installations at Shaheen Bagh and Jamia in Delhi along with other artists.
Uttam Ghosh/Rediff.com captures scenes from Sunday's unusual artistic protest.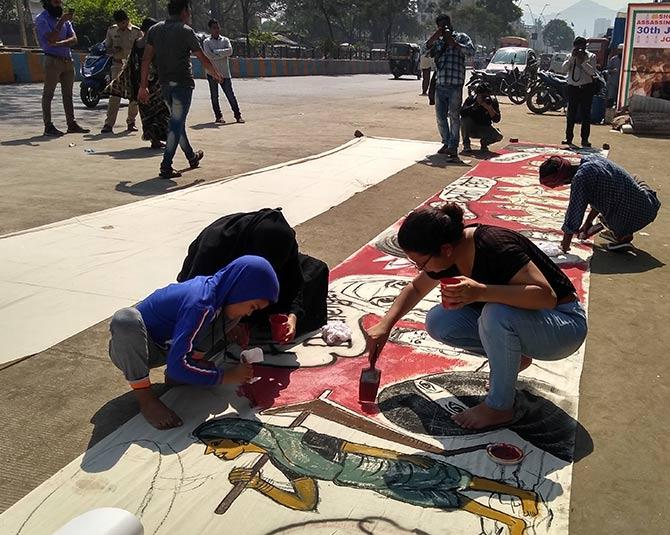 The painting event was to have begun early on Sunday morning, but the Mumbra police made it clear that the road could not be used. Local organisers were also told to avoid any controversial content in the paintings.
The artists quickly gathered and discussed the content that could be used; the slogans and images were approved by a team of local organisers.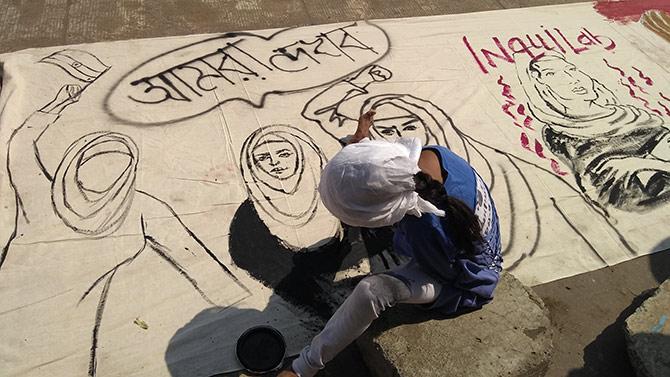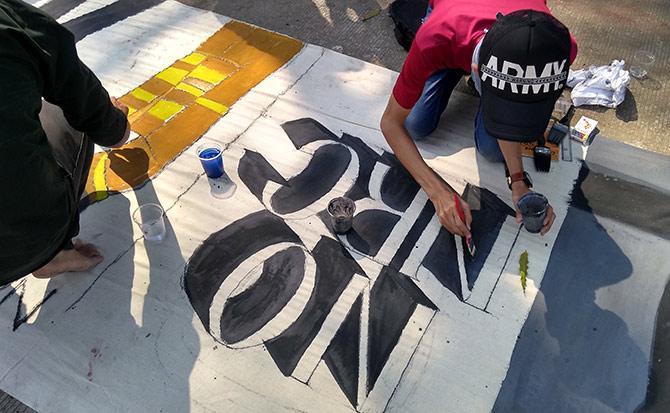 A cloth was placed over the road and the artists decided to paint over it. This could be used later as a banner to decorate the Mumbra protest site.
The theme of the first banner was women.
Popular images the artists chose were the Shaheen Bagh Dadimas, Jamia students protesting and Hum Dekhenge translated in various languages.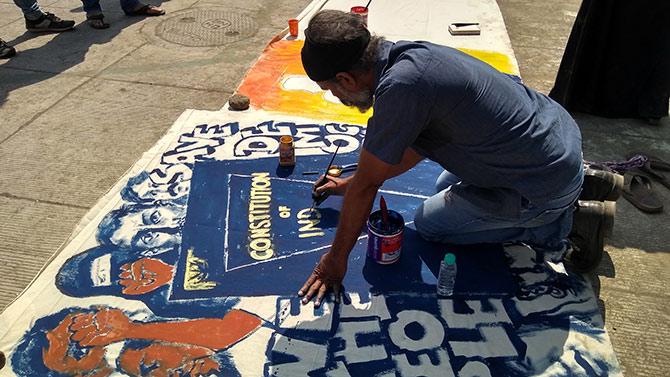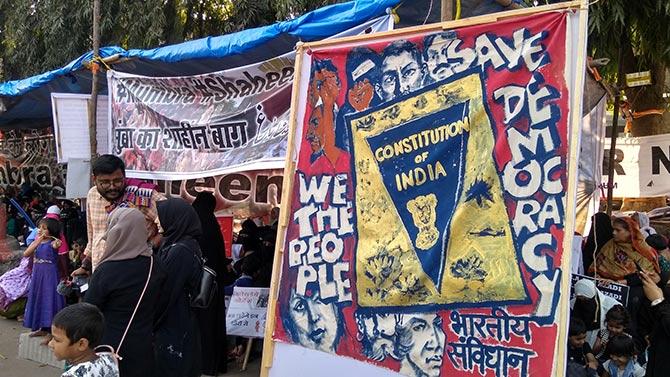 Sanjeev Sonpimpare, a well-known artist from Mumbai, decided to paint the cover of the Constitution and the Preamble.
The themes of the artistic protest were Save the Constitution, Save Democracy and Secularism.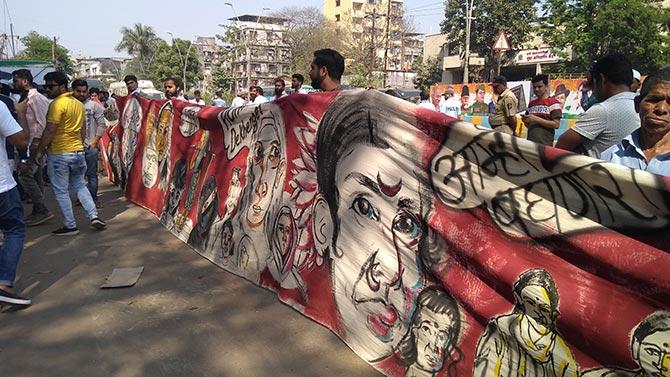 As soon as the first banner was completed, local activists decided to immediately put it up above the pandal.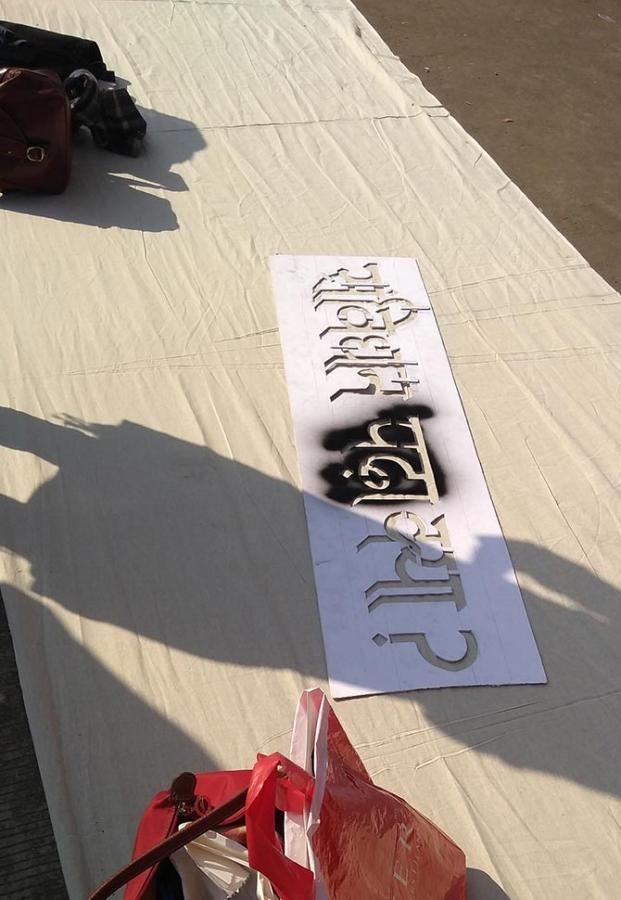 Have you read the Constitution? A stencil used to paint on the banners.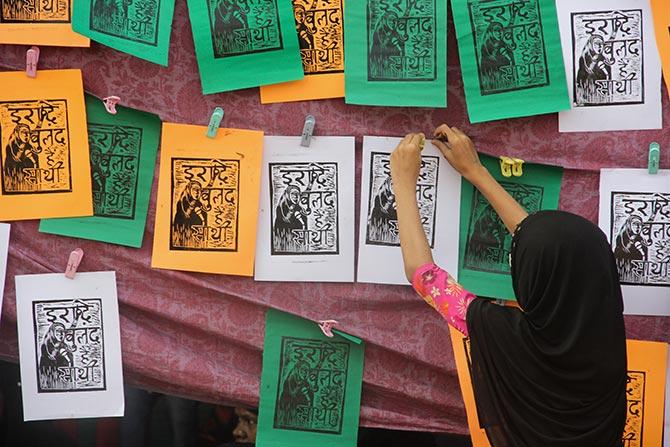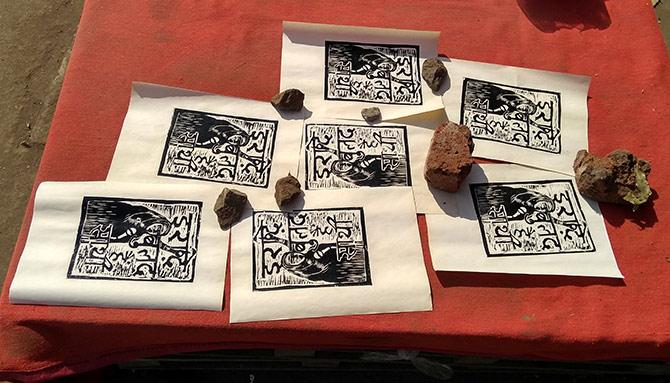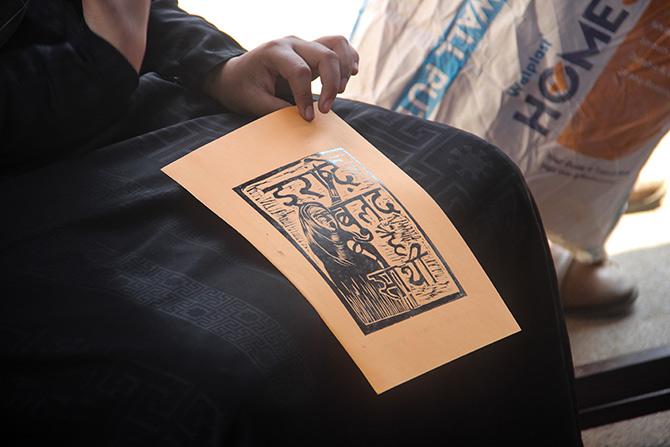 Iradey bulandh hain sathee!
A beautiful woodcut that a Jamia university art student brought along was used to print copies and soon became a popular community activity.
The venue was converted into a mini printing press.
Soon, people were asking for a copy which they could take home.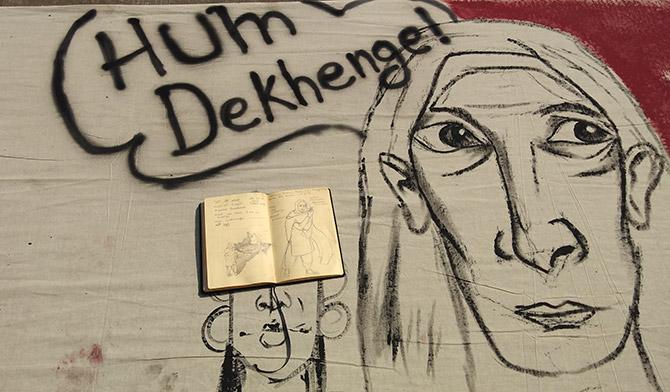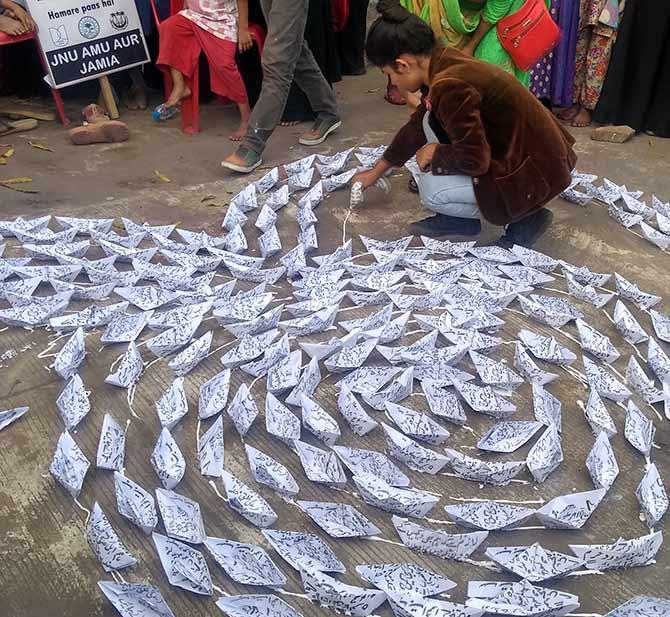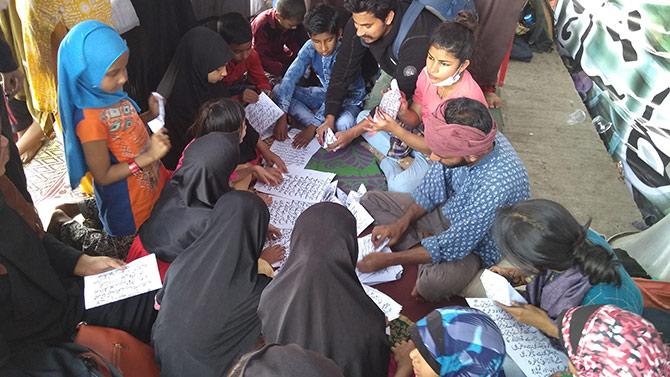 Faiz Ahmed Faiz's Hum Dekhenge poem was very popular amongst the visual artists who made A4 size copies of its lines in Urdu.
They then had an impromptu workshop with the children asking them to make paper boats which were later converted into an heart-shaped installation.
In the evening, lamps were lit around the installation.
A portrait of the popular Dadimas of Shaheen Bagh.
In Prabhakar Kamble and Gopal Gangawane's painting, Chhatrapati, Shivaji says, 'My Swarajya was inclusive of all castes and religions and if you need Surajya (good governance) today, then save this Constitution'.
This message, Prabhakar says, sitting in Mumbra's Shaheen Bagh, is significant. Shivaji was a king loved by all communities.
In today's times when Chhattrapati Shivaji Maharaj is being used by Hindutva forces to attack Muslims and other minorities, this painting is about the legacy of Shivaji's inclusive rule which is contrary to the current BJP government's exclusionary policies.
The wall of unity concept was inspired by the human chain protest in Kerala and the motive behind it was to inspire people to stay united and secular against the BJP government's fascist tendencies, says Kauser who had traveled from Delhi to participate in the protest.
Her group painted more than 100 figures of Indians from different communities, mostly women, on this stretch of wall.
'At our homes, words are gems and money. Words only make our weapons. Words alone are the spirit of our living. We will distribute words as money to people. Tukaram says words are indeed God. We will praise and worship these words.' Sant Tukaram's Abhang in a painting by Shrujana.