AWESOME!!!
AMAZING!!!!
INCREDIBLE!!!!!
Rediff.com's Prasanna D Zore exclaims when he encounters the INS Vikramaditya, India's majestic aircraft carrier.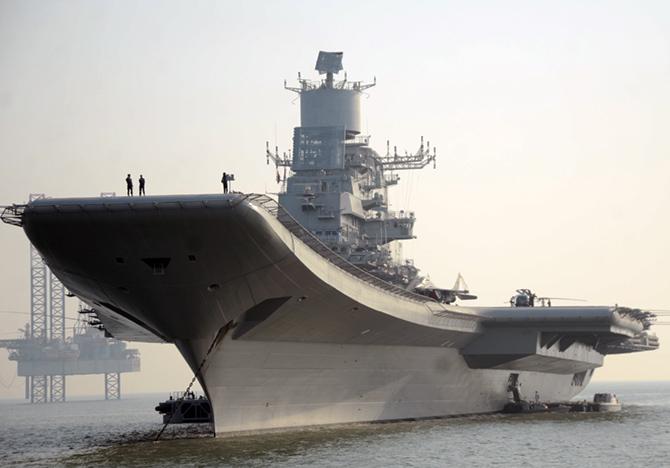 One can feel the surge of adrenalin as we close in on to the aircraft carrier.
The naval warship made up of 44,500 tonnes of steel, boasts of 22 decks, has a length of 284 metres and a breadth of 60 metres, big enough to accommodate three football fields, and yet does 30 knots in choppy seas.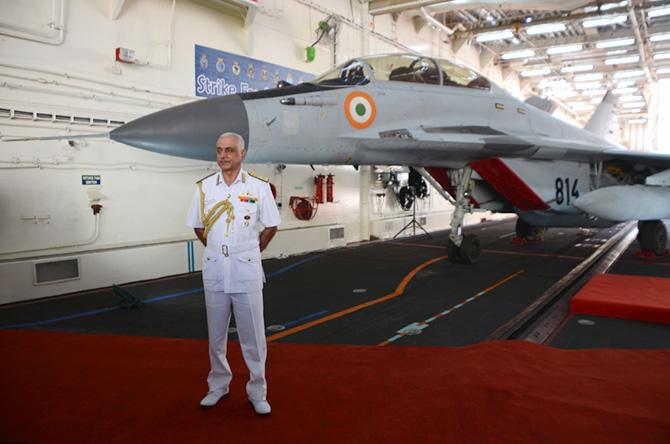 Interacting with the media on board the INS Vikramaditya, Vice Admiral Girish Luthra, the Flag Officer Commanding-in-Chief, Western Naval Command, points out that "The Indian Navy is alert, watchful, and fully equipped to safeguard India's maritime interests. We are committed to ensuring the safety and security of the country from any challenge or threat originating from the sea."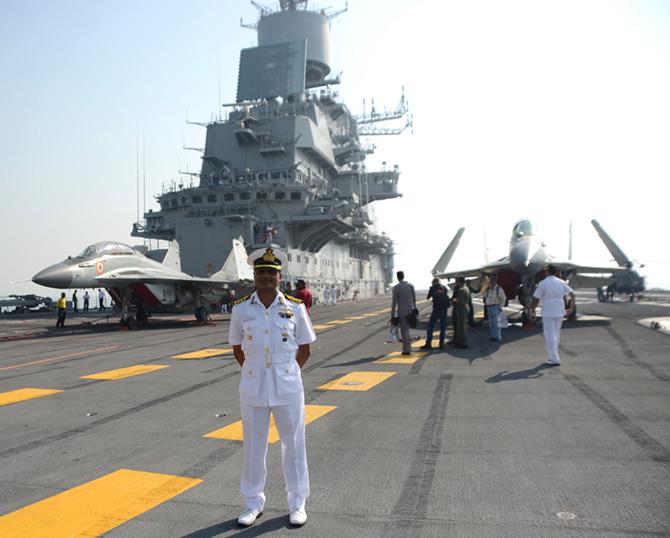 Asked why the Vikramaditya was described as a 'game changer, Captain Krishna Swaminathan, the aircraft carrier's Commanding Officer, tells Rediff.com, "This is a very capable ship, a very solid platform and has a variety of aircraft that can perform a variety of roles and provide the navy and the nation with professional capability."
Please take a look at this video to know what Captain Swaminathan means.
Refusing to draw comparisons between the INS Viraat and the Vikramaditya, the captain says, "The Viraat was a very, very good ship in her time and the Vikramaditya is a very, very good ship in today's times."
"The Vikramaditya will soon be sailing the seas and do what it has been commissioned for," Captain Swaminathan says, adding, "We will be very happy to do what we are supposed to do."
The Vikramaditya has on board MiG 29K aircraft.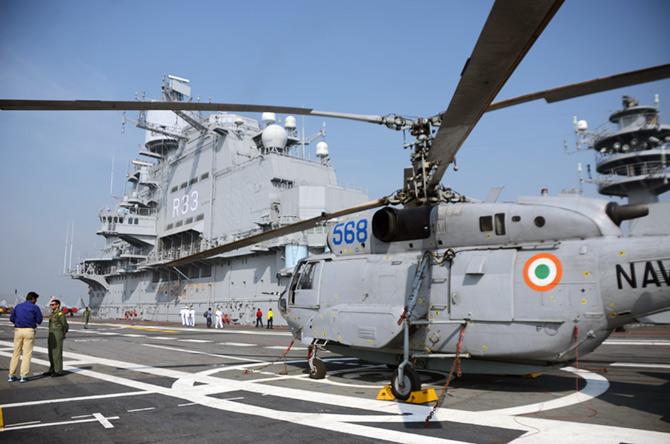 And Kamov 31, Kamov 28, Russian-made helicopters.
Its Chetak helicopters are deployed mostly in search and rescue operations.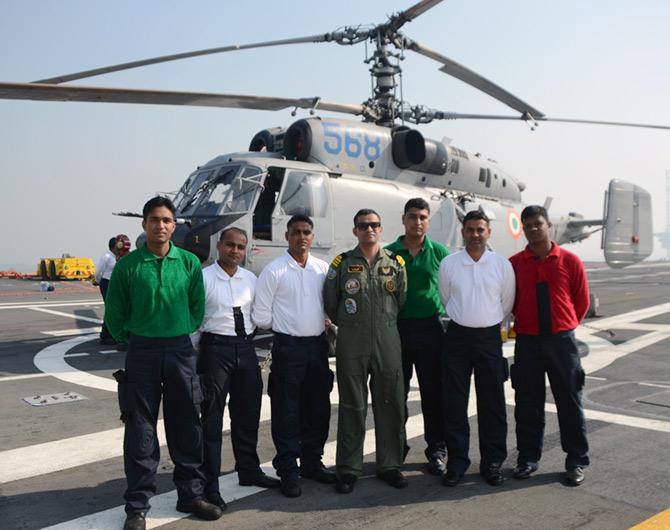 Lieutenant Commander Lalit Yadav, who flies the Kamovs, with his crew.
The MiGs stationed near the ski-jump, which is made up of 900 tonnes of steel at the ship's bow.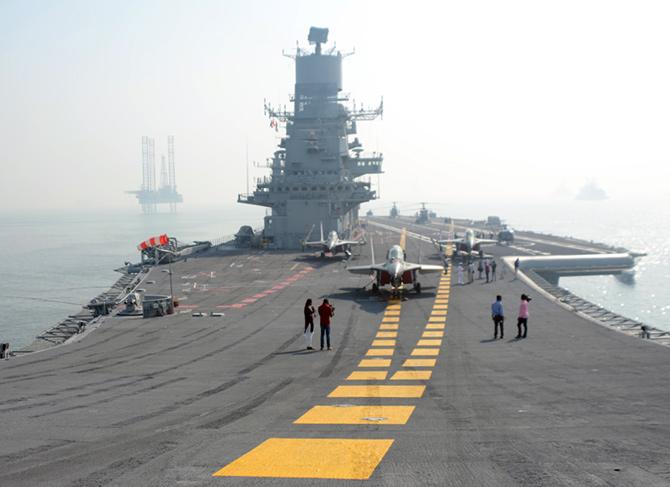 A sweeping view from the bow to the aft on board the Vikramaditya.
A commando maintains a vigil at the bow of the Vikramaditya.
An imposing MiG 29K on board the aircraft carrier.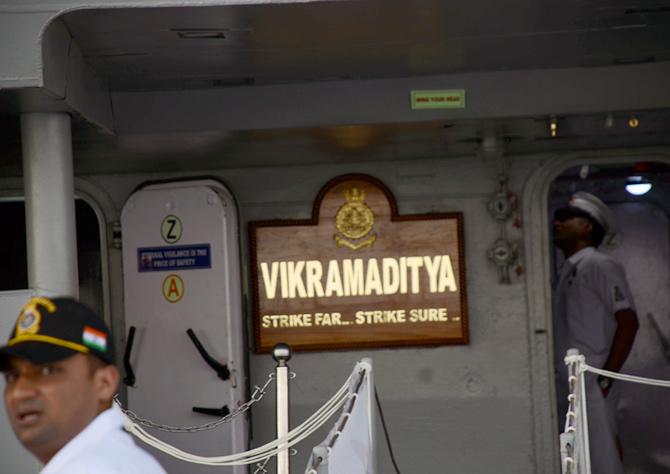 Strike Far! Strike Sure! -- the Vikramaditya's motto.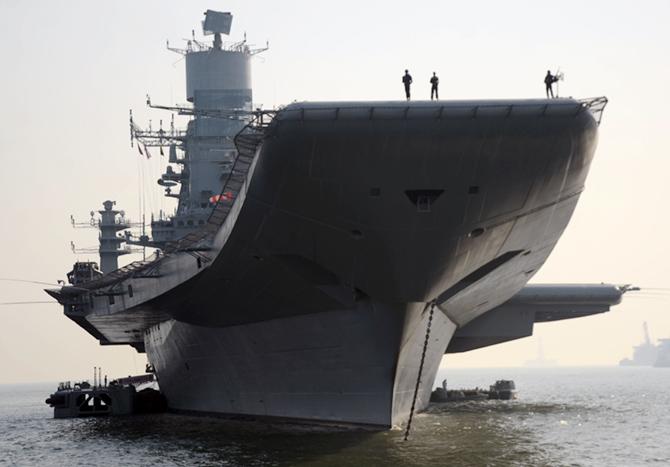 A parting shot of the majestic sentinel of the seas.