Veteran BJP leader Eknath Khadse says he will expose Devendra Fadnavis in a forthcoming book.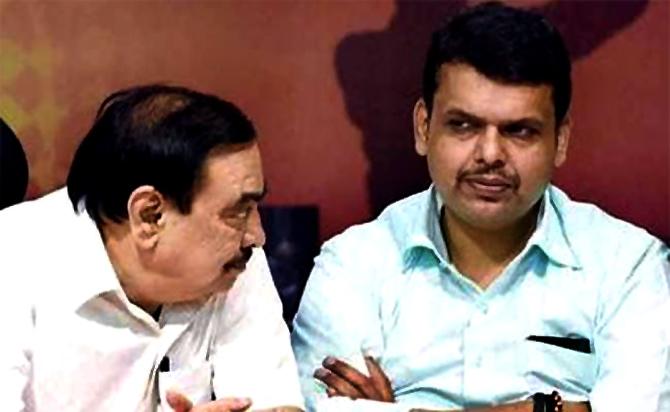 Eknath Khadse, former leader of the Opposition in the Maharashtra assembly, and later revenue minister in the Bharatiya Janata Party-Shiv Sena government, was forced to resign in 2016 after allegations of corruption were levelled against him.
Khadse is now itching for a fight with his bete noire, then chief minister Devendra Fadnavis.
While speculation is rife that he may soon form a political party or join either the Shiv Sena or Nationalist Congress Party -- a possibility which the six-time legislator from Muktainagar in Maharashtra's Jalgaon district has strongly denied -- the 68-year-old veteran BJP leader isn't shy of sparring with Fadnavis, who he says, sidelined him to strengthen his position in the party's state unit.
Khadse, who has been lying low since his ouster from the Maharashtra cabinet, has levelled a flurry of charges against Fadnavis and challenged the former CM to a verbal duel.
In another sensational revelation, Khadse claims he has nude pictures of a minister's personal assistant in a compromising position with a woman, which he thinks is enough to conduct an inquiry against the minister.
"How can I tell you who this gentleman is?" Khadse asks Prasanna D Zore/Rediff.com, shying away from revealing more.
"You will know the day I go public with it," he says.
Khadse says he was misquoted by the media when they reported that he had incriminating videos of some BJP leaders.
"I did not say I have videos of any BJP leader. What I said was I have intimate, nude, pictures of a minister's personal assistant in a compromising position with a woman," he says.
Indicating that he is biding his time to "expose this minister's PA", he has now threatened to take these pictures to senior BJP leaders at the Centre.
Khadse hints that the minister in question whose PA's photographs he claims to possess could even be somebody from "this Cabinet (the Uddhav Thackeray government)."
Ask him if the minister in question does not belong to the BJP, then what action could senior BJP leaders in Delhi take against this minister, Khadse says, "The Union home ministry belongs to us."
Citing his example, where he was targeted and made to resign over charges of corruption against his personal assistant in the MIDC land grab case, Khadse makes it clear that there could be reason to take action against this minister.
"An inquiry was initiated against me by levelling charges of corruption against my PA and later I was made to resign because of these allegations. These are also photos of the PA of a minister," he says.
"I will be bringing it to the notice of my senior party leaders," he says.
"Was I or am I the owner of the MIDC property? I had no connection with it, but still (I was dragged into the case and made to resign)," he says.
"If my detractors allege that I benefitted because of my being a minister, then was it not misuse of power when Devendraji (Fadnavis) deposited money in the Axis Bank (there were allegations that the Fadnavis government transferred the salary accounts of the state police department to the Axis Bank eight days after forming the government in Maharashtra; Fadnavis's wife Amruta is a senior manager at the bank)?"
"When he (Fadnavis's wife) does shows with Amitabh Bachchan (Amruta Fadnavis had recorded a music album with Bachchan in 2016) then it is good use of power and post. There are so many questions that arise then," Khadse says, raising issues of impropriety by people holding public office.
"The MIDC plot was bought following due rule of law and that parcel of land still is entitled to its rightful owner," he says, defending his position in the case for which he later got a clean chit from the Anti-Corruption Bureau.
Reacting to Khadse's charge that the then CM sidelined him in the BJP, Fadnavis reportedly called Khadse for a discussion.
"I have no problem in discussing issues with him. I have been waiting for this moment for the last four years," says Khadse.
"Were he willing to discuss issues in the last four years, then I would have had no need to come out in the open with my grievances."
"The people of Maharashtra know why I was sidelined by Devendraji. I was the only competitor to him for the post of chief minister," says Khadse.
"Being the leader of the Opposition (when the BJP was in the Opposition) I was the rightful claimant to become chief minister. Since the party decided his name (for the post of CM) I accepted it humbly and was working for the welfare of my people," adds Khadse.
"We are soldiers of the party. I have issues with individuals in the party, not with the party," he says.
Despite Fadnavis's peace balloon, the BJP strongman from Jalgaon who belongs to the influential Leva Patil community in north Maharashtra is in no mood to announce a truce with the former CM.
Khadse says he will expose Fadnavis in his forthcoming book which, he says, will be titled on the lines of Fadnavisanche Barabhai Karasthan, a chapter from the history of the Peshwas that pitted family and friends against each other for their rightful claim to the Maratha throne in the 18th century.
Ask him how explosive his revelations in the book could turn out to be, Khadse asks, "If I were to disclose everything about the book to you, then who will buy the book?"
In the same breath, he adds, "The book will highlight all the injustices done to me; what happened to my claim of chief ministership; why and how I was sidelined by whom; why only I was singled out and the rest of the leaders were given a clean chit by the 'washing machine' in the BJP (an acerbic taunt against Fadnavis)."
"I will be answering all the unanswered questions that the people of this state have been asking."
Ask if he has any evidence to prove Fadnavis's complicity in his ouster, he says, "Every proof that I possess today, and I have many, point in his direction."