Shailajanand Mishra lists Heartwarming Videos of the Week! Take a look.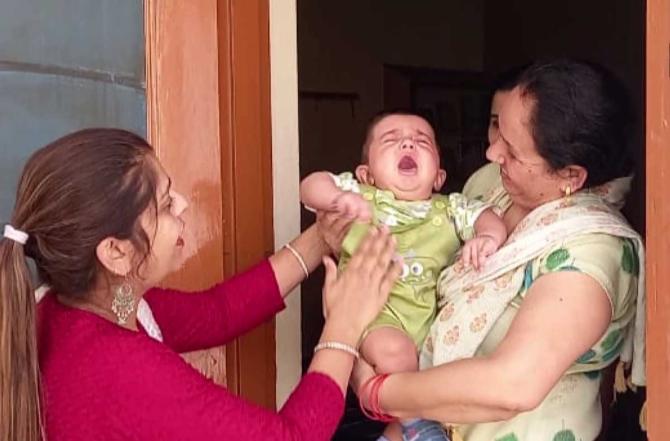 Every week is full of events. And we make sure we bring you the most interesting ones, with a special twist.
These videos are chosen by you, through your likes.
So if you'd like to see your favourite video on our weekly round-up, make sure you like them on iShare.
---
Groom tests positive, reaches hospital
Date: May 7
Location: Dhar, Madhya Pradesh
A groom, who was on his way to his wedding in Madhya Pradesh's Dhar district, was found COVID positive after the police stopped the baraat and conducted rapid antigen tests.
The police have registered a case and booked the bride's family for organising the function despite strict COVID restrictions.
The groom was sent to a nearby hospital for treatment.
---
Cherry blossoms in Japan
Date: May 8
Location: Yokohama, Japan
Cherry blossom time or 'Sakura' is Japan's seasonal crown.
During the spring season, when winter ends and the temperature turns warm, various kinds of beautiful Sakura flowers bloom.
In Japan, cherry blossoms bloom from the south to the north.
Therefore, the cherry blossom season changes depending on the region and visitors can see cherry blossoms in varied landscapes over a period of time.
---
Man uses father's degree to treat patients
Date: May 8
Location: Vidisha, MP
In a bizarre incident, Abdul Karim was found treating people in Madhya Pradesh's Vidisha using his father's degree as his qualification.
He had set up a temporary hospital under a tree shed.
A numbers of patients were found lying on charpai, attached to drips.
Karim accepted that he does not have any degree and is using his father's degree.
---
Shocking! Bodies of COVID patients in Bihar river
Date: May 9
Location: Katihar, Bihar
Shocking visuals have emerged from Bihar's Katihar district, where dead bodies were thrown into a river.
---
Parents test positive, Delhi cop ensures their child's safety
Date: May 10
Location: New Delhi
An incident on Mothers' Day moved everyone.
A head constable from the Delhi police took care of a child, whose parents had tested positive for the novel coronavirus.
A young COVID-positive couple living at Radio Colony in GTB Nagar were in a dilemma about the care of their six-month-old baby.
Relatives residing in different parts of Uttar Pradesh could not take the child as both Delhi and UP are in lockdown.
A relative living in Meerut asked for help from Head Constable Rakhi, who is posted at Delhi's Shahdara police station.
Rakhi, after getting approval from her senior officers, approached the parents and took custody of the baby and ensured it was handed over to its maternal grandmother, who lives in UP's Modinagar.
---
Muslims perform last rites of a Hindu woman
Date: May 10
Location: Srinagar
Hundreds of people, mostly Muslim, recently gathered at the home of Kashmiri Pandit V L Vishen, who is the principal of Caset School in Srinagar's Karan Nagar area, to condole the death of his wife, Raj Dulari Vishen.
They made all the arrangements for the funeral as per Hindu rituals, presenting a beautiful picture of Kashmiriyat, which signifies the centuries old indigenous secularism of Jammu and Kashmir.
Though Raj Dulari lost her battle of life, her family and neighbours consider her a true fighter. During the tumultuous 1990s, when all Pandits were leaving Kashmir due to militancy, she supported her husband and decided to stay back with her Muslim brethren.
Besides making all the arrangements, her Muslim neighbours helped carry her body to the crematorium.
They said she had always treated them like her children and they too respected her like a mother.
It's due to the courage shown by a woman at a time when others decided to quit that today, all her neighbours, irrespective of the community they belong to, came to bid her a final goodbye.
---
Spotting the stars
Date: May 10
Location: Mumbai
Emraan Hashmi -- who was following all COVID SOPs -- visited a gym in Bandra, home to the stars.
A casually dressed Sonakshi Sinha was also spotted in Bandra.
---
Sonu Sood serves juice outside
Date: May 11
Location: Mumbai
Bollywood actor Sonu Sood served juice to the media and others waiting outside his home in Mumbai.
Sonu is bringing in oxygen plants from France and other nations for installation at various places in the country.
He is planning to install at least four oxygen plants in the worst-hit COVID-19 states of India, including Delhi and Maharashtra.
---
Feature Presentation: Ashish Narsale/Rediff.com