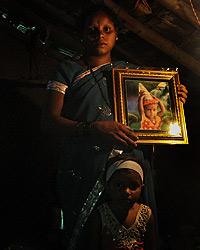 In villages in Palghar district -- in Mumbai's backyard -- more than 254 children have died from malnutrition.
Rediff.com's Prasanna D Zore and Uttam Ghosh traveled through Maharashtra's Malnourished Corridor last week to find out why Indians are still dying of hunger.
Photographs: Uttam Ghosh/Rediff.com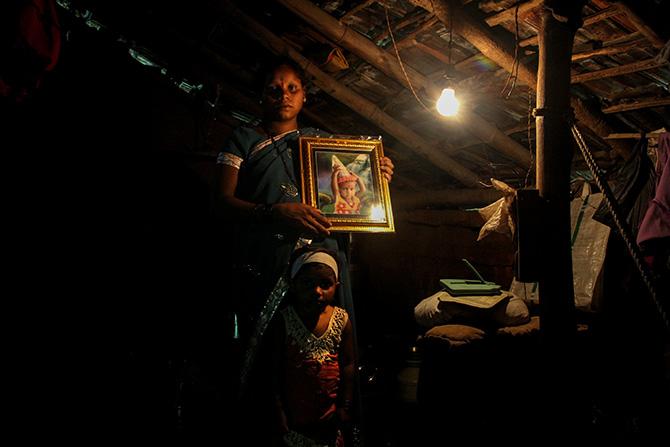 IMAGE: Mamta Gurunath Savar with her daughter Shalini inside their home in Petranjani village, Mokhada taluka, Palghar district, Maharashtra.
Roshni Gurunath Savar, Ishwar Namdev Savra, Sagar Shiva Wagh share three things in common: They all suffered from severe malnutrition; their parents are farm labourers who earned Rs 150 (less than $2 a day or the rate for which Internet consumers of Digital India buy 3GB of data) when they had work, which is approximately 45 days in a year; the third, and the most shocking of all is these three children -- all under 5 -- are dead now: Victims of societal and governmental apathy and Severe Acute Malnutrition, SAM.
Mamta, Sunder and Sita -- Roshni, Ishwar and Sagar's mothers -- belong to the Katkari caste, considered the poorest and most illiterate among the tribals in Palghar.
All three women appear to be in their early teens or 20s, but refrain from revealing their age: Underage marriages are a norm in this area. Being themselves malnourished leads them to deliver children who are underweight at birth.
While the state government does have schemes in place that offers some assistance to these undernourished mothers and children, the efficiency with which the governmental machinery delivers these schemes has many loose ends:
Most of these tribals do not get rations from the public distribution system and the much-hyped Food Security Act that entitles them to 35 kg of wheat and rice from fair price shops;
They do not get any work under the Mahatma Gandhi National Rural Employment Guarantee Scheme (MNREGA, one of the showcase laws enacted for employment generation and delivery of purchasing power to families of children like these) or when they get work, the payments are delayed by more than eight months.
Roshni, Ishwar and Sagar have now been reduced to a figure: Among the 254 children who have died due to malnutrition in Maharashtra's newly-carved Palghar district.
Of these 254 deaths in the year 2016-2017, 75 were reported from Mokhada taluka and another 47 from Jawhar taluka, both in Palghar.
The malnutrition deaths for 2014-2015 stood at 565; the fatalities for 2015-2016 stood at 626.
IMAGE: The four talukas of Wada, Mokhada, Jawhar and Vikramgadh are the worst affected tehsils in Palghar.
Social activists have begun calling these districts the 'Malnourished Corridor' after the district reported 254 malnutrition deaths this year.
Graphic: Uttam Ghosh/Rediff.com
Health workers at the rural hospitals in Jawhar and Mokhada, who spoke with Rediff.com on the condition they would not be named in this report, said there are as many as 6,000 identified cases of SAM and Moderate Acute Malnutrition (MAM) cases across the district.
With a crisis brewing at a place that is just 150 kilometres from India's financial capital, and is very well connected with roads, the district collector, Abhijit Bhangar, as reported by the news agency Press Trust of India, has now launched a drive to screen as 224,293 children between the ages of 0 and 6 in the four talukas of Jawhar, Mokhada, Wada and Vikramgadh, home to mostly Warlis, Katkaris and Kolis, that has now emerged as the Malnourished Corridor of Maharashtra.
Interestingly, schemes like the Amrut Aahar Yojana (that provides nutritious food for pregnant mothers), the Gharkul Yojana (that provides a roof over the homeless) defunct till now, have suddenly surfaced, social activists from the region point out.
Rediff.com met the parents of Roshni (Wada), Ishwar and Sagar (Mokhada) in Petranjani, Khoch and Kalamwadi villages respectively who said the situation can be improved only when they, and many others like them, get regular employment opportunities.
***
Mamta Savar trudges carefully, with her daughter Shalini, a healthy child all of 4 years and 3 months, in tow.
Mamta, who cannot remember her age, is eight months pregnant.
Her daughter Roshni, 2, died on September 9 from complications like "severe malnutrition, which led to lower respiratory tract infection, which in turn caused breathlessness," says Dr Pradip Jadhav, Resident Medical Officer, Rural Hospital, Wada, who treated her in August for loss of weight.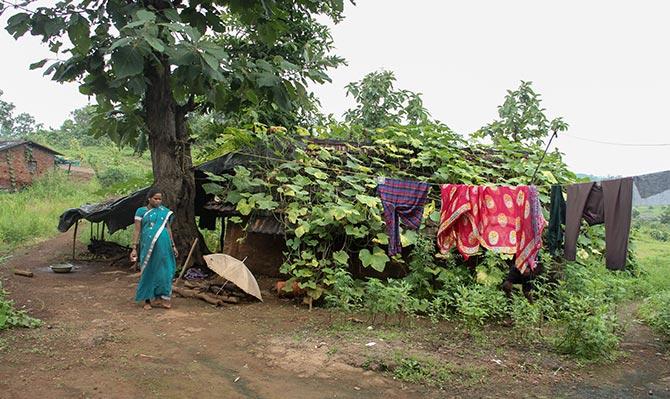 IMAGE: Mamta, outside her ramshackle hut in Petranjani village, Mokhada, which is well-connected with roads to Mumbai.
Despite better connectivity to Mumbai, Nashik and Thane, the couple hardly gets enough work through the year and their annual earnings fluctuate between Rs 9,000 and Rs 13,500, the cost of a smartphone these days.
"When Roshni came home after 14 days in hospital (the rural hospital, where residents of Wada get decent medical attention), she had gained good weight," says her mother. "But a week later, her health deteriorated and within a day she passed away."
Her husband Gurunath, she says, "has gone to Wada to find work. Not sure, he will get any."
Farm labourers both, Gurunath and Mamta get work only for 45 days in a year, "only when the rice-sowing and rice-reaping season is on," Mamta says.
A day's labour fetched them anywhere between Rs 100 and Rs 150 (that's what 2 to 3 GB of Internet data costs going by current rates) or Rs 4,500 to Rs 6,750 per annum (with which one could buy a 4G VoLTE smartphone with 2GB of RAM and a 5MP selfie camera) per person.
At other times, the couple travel to Nashik, Bhiwandi, Thane, in search of construction work, with family in tow.
Life has not been kind to the Savar household. Gurunath's elder brother passed away a couple of years ago due to some "strange illness", leaving behind his widow Tara, who works in the fields to make a living.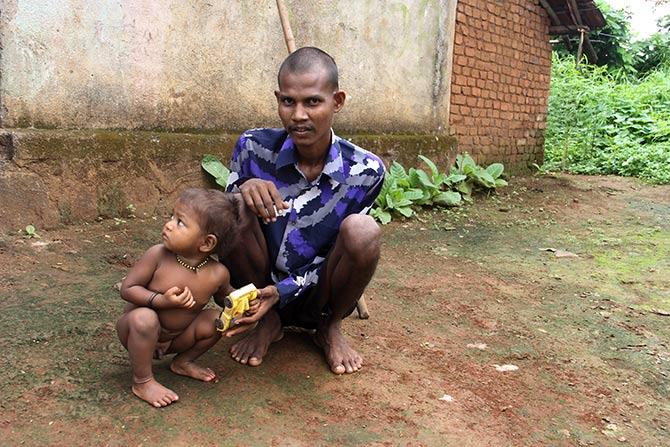 IMAGE: Ananta Savar, seen here with Rudra, suffers from tuberculosis since 2014. Reduced to mere bones he could barely walk a few metres before sitting down to catch his breath.
Gurunath's younger brother Ananta Savar -- who has an 8-month-old son Rudra -- suffers from tuberculosis. "He has not worked since then," says Mamta. "In his better days he would go down the river (the Vaitarna river, that flows downstream and gets stored in the Middle Vaitarna Dam, a showcase project, that adds to water supplied to Mumbai, is just 100 metres from the Savars' home; ironically/tragically, some 50 households of Petranjani don't get tapped potable water) and catch small fish to earn money," says Mamta.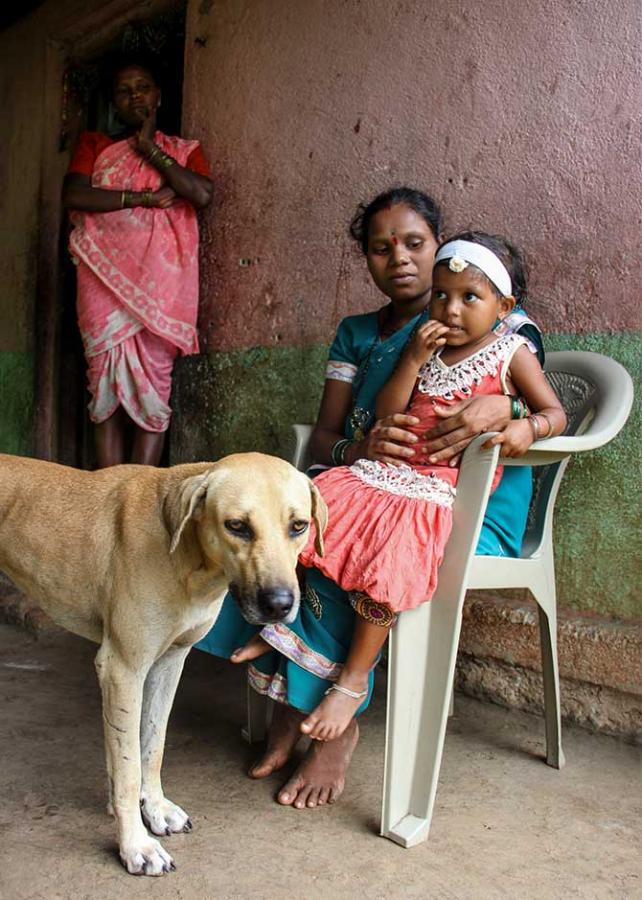 IMAGE: Shalini is a cheerful child. Oblivious of the death in the family, the little girl often played with the pet, who Mamta bitterly said was better fed than her deceased daughter.
Ask Shalini what her pet's name is and she says, 'Moti'. Moti, said Mamta, got his food from the garbage lying around. Seen in the background is Tara.
The only silver lining for the Savars is their elder daughter Shalini's health. "Shalini regularly (Monday-Friday) goes to the anganwadi," says her mother. "There she gets to eat khichdi, harbara (chickpea) and other nutritious food," her mother says.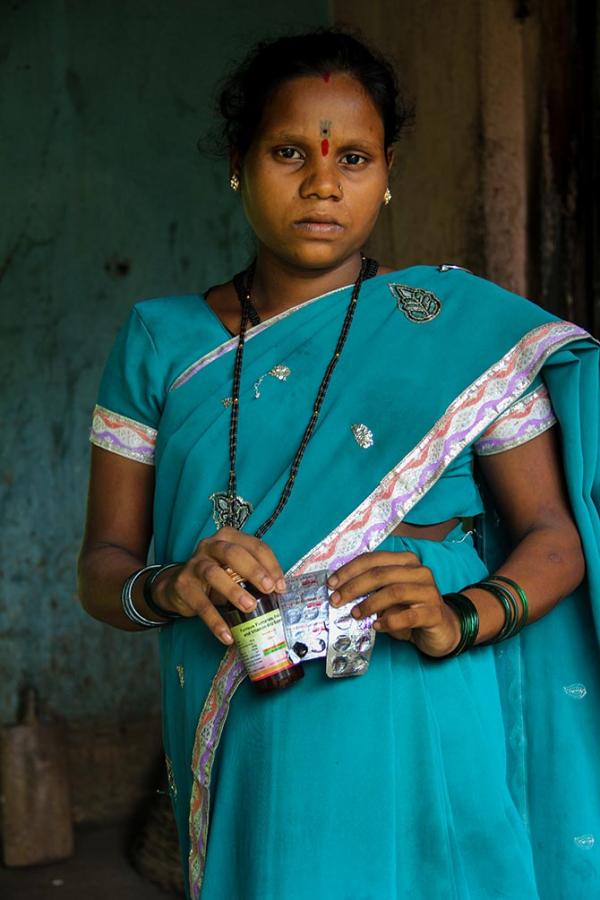 IMAGE: Mamta, eight months pregnant, shows the iron and zinc supplements that she gets regularly from a local hospital as part of a health scheme run by the Maharashtra government for pregnant women.
These medicines are prescribed for pregnant mothers for better nourishment of the child in the mother's womb.
Another silver lining was Mamta getting free zinc and iron medicines from the rural hospital in Jawhar, when her first trimester ended so that she could deliver a healthy child.
According to figures provided by Maharashtra Chief Minister Devendra Fadnavis, Palghar district reported 195 foetal deaths this year.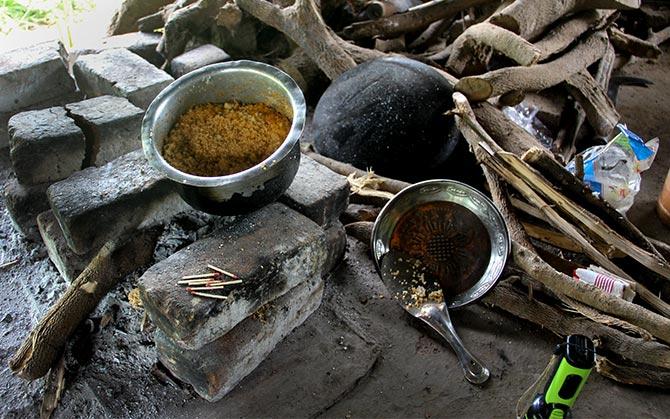 IMAGE: The Savar family's lunch for the day. It was only after much persuasion and requests, Tara, Mamta's sister-in-law, agreed to remove the lid off the soot-laden vessel.
At home the Savars eat only rice cooked with red masala and a dash of turmeric and salt to make it edible.
It was about 12.30 on September 27 when these correspondents visited their home in Petranjani.
Outside Gurunath's elder brother's house, in an open chullah, in a half-burnt, soot-laden aluminum vessel, his sister-in-law Tara had cooked four fistfuls of rice, which would be the family's lunch that afternoon.
"The night too will see the same food on our plate," says Mamta, who was hoping that Gurunath would get a day's work.
***
A big crowd has gathered outside Namdev Gangaram Savra's house in Khoch village, Mokhada.
Namdev's son, Ishwar, was devoured by malnutrition on September 10.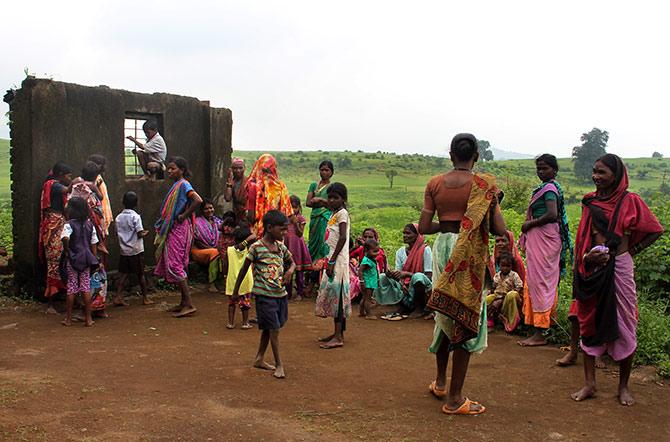 IMAGE: Namdev, a Katkari tribal, lost his son Ishwar on September 10, 2016. Almost 17 days later, the family still received a steady stream of visitors.
"It is a tribal custom," says Pundalik Dhodi, a gram sevak, himself a Warli.
"It helps overcome grief and pain," Pundalik adds.
Just like these mourners, Namdev had had a flurry of Maharashtra ministers throng his home between September 10 and September 21: Vishnu Sawra, the tribal welfare minister, Deepak Sawant, the public health and family welfare minister; Pankaja Munde, the women and child welfare minister. Dhananjay Munde, Leader of the Opposition in the Maharashtra legislative council, also called on the family.
All these politicians came, saw and went, angrily say the dozen odd boys and men who had gathered inside Namdev's small home to offer their condolences.
"It's a shame that the government spends obscene money on their security when they come visiting and children in this region die because they don't have enough to eat," says Pundalik Dhodi, a gram sewak in Khoch.
Tragically, Ishwar died because his parents could not afford to pay the bus fare between Jawhar and Nashik.
When they took Ishwar to the rural hospital, Mokhada, his deteriorating condition made the doctors there immediately refer him to the Jawhar rural hospital.
IMAGE: Namdev with his son Krushna, 4-and-a-half years old, and his wife Sunder outside their home in Khoch, Mokhada.
His eldest daughter Sonali was attending a primary school nearby.
"Financial aid from the government would help, but who knows when such promises will be fulfilled?" asks Namdev, speaking about the assurance of monetary help from Maharashtra's Women and Child Welfare Minister Pankaja Munde.
Weighed down by many such cases and due to the lack of adequate medical infrastructure -- including paucity of trained doctors and other medical staff -- the doctor there asked the Savras to take their child to Nashik, located 62 km from Mokhada, for treatment.
"We did not have money to take our child to Nashik. We brought him home instead," says the father.
Pankaja Munde, when she visited the bereaved family on September 21, promised financial help of Rs 51,000.
"Why are these people fooling us? Don't they have any mercy for our feelings?" asks Namdev, saying that no help had come the family's way till September 28 (the day these correspondents were in Khoch).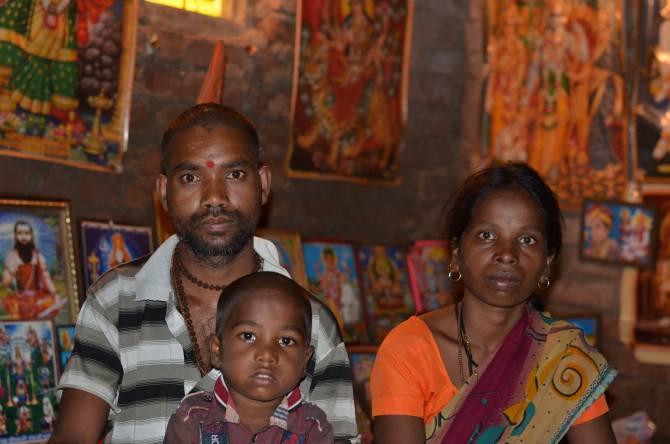 IMAGE: Savra's darkly-lit house was adorned with photo frames of myriad gods.
A very religious man, Namdev says, "My belief in god has helped me overcome the sorrows of life."
"It was like she never said by when will the help come by: A week, month or years," he adds.
"The security around the minister was so tight that they did not let any other villager speak to her about the day when this money would come the Savras' way," says Pundalik, who was present the day the minister came visiting.
The crowd inside Namdev's house unanimously said that MNREGA had collapsed completely because of corruption in the chain of command that releases funds.
"We have not yet been paid for the MNREGA work that we did eight months ago. The postman comes, sees our job cards and writes our name on a piece of paper but there is no original muster with him," says Kailash Kadu, another Khoch resident.
He alleges that that the villagers get only 50 per cent of the money promised under MNREGA. "The other half is gobbled up by the people who implement this scheme on the government's behalf," says Kadu bitterly.
VIDEO: Namdev Savra makes a fervent appeal to Maharashtra Chief Minister Devendra Fadnavis: "Do something for our children," pleads the helpless father. Video: Prasanna D Zore/Rediff.com
Namdev has no knowledge that such government schemes exist. He is only aware of the anganwadis where children between 2 and 6 years get nutritious food from the government.
But that is no consolation for this 34-year-old father who has lost his son.
"Nobody from the government has helped us. None of them will help us in the future too. Our children have only hunger written in their destiny," says the distraught father.
At 2, when Ishwar died, he weighed only 5.3 kg. As per World Health Organisation, his weight should have been 12 kg.
Namdev hopes the help Munde promised comes by soon so that he can have enough food, at least for some time, for his wife Sunder, daughter Sonali, 10, and son Krushna.
Till then he will have to make do with the Rs 100 a day, when he gets work as a farm labourer. On other days, the Savras will have hunger for company.
***
Kalamwadi is located about 4 km from Khoch. Shiva Dhonduram Wagh, 25, his wife Sita Shiva Wagh, 22 (though she clearly looks underage; she reveals her age after a lot of consideration), and their eight-month-old daughter Nandini, were the first to get the taste of the government's apathy.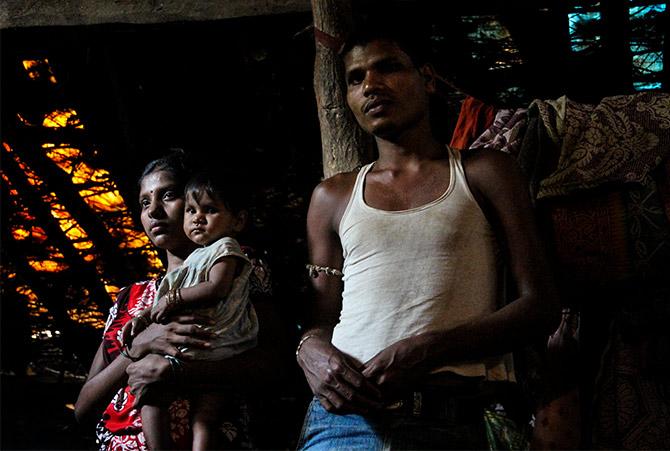 IMAGE: The lady who made a sensation by confronting Maharashtra's Tribal Welfare Minister Vishnu Sawra and helped highlight the tragedy unfolding in Mumbai's backyard, is shy.
Sita, contrary to her frail stature, took her seriously ailing son Sagar to Nashik for emergency medical care.
Unfortunately, she could not save him. The child died within three hours of being admitted to the Nashik Civil Hospital.
It was here that state Tribal Welfare Minister Vishnu Sawra (himself a tribal), was reportedly quoted as saying 'so what? Let them die if they are dying' when the Kalamwadi sarpanch confronted him about the deaths due to malnutrition in the district.
Sita confronted the minister who visited her on September 16, 17 days after Sagar's death on August 30. She refused at first to meet the minister. Later, after much goading she did meet Sawra, but berated him that he was not there when the family most needed him.
When Sagar's health deteriorated he was taken to the rural hospital, Jawhar, at 7 pm on August 30; he was suffering from acute breathlessness.
Being unable to cope with a life-taking medical emergency the doctors at the hospital called for an ambulance and asked Sita to take her son to the civil hospital in Nashik.
Shiva Wagh had gone to Bhiwandi that day, in search of work. Sita was all alone when she rushed Sagar to Nashik that night. By 10 pm, Sagar's ordeal had tragically ended.
Both Sita and Shiva believe their son could have been saved had there been proper medical facilities to deal with her son's condition.
"That's just a wish now. Our son is no more," says Shiva recalling how his wife spent almost 105 minutes transferring her son from Jawhar to Nashik. "I only wish this region and its hospitals get better medical facilities so that an emergency like my son's could be taken care of without wasting precious time."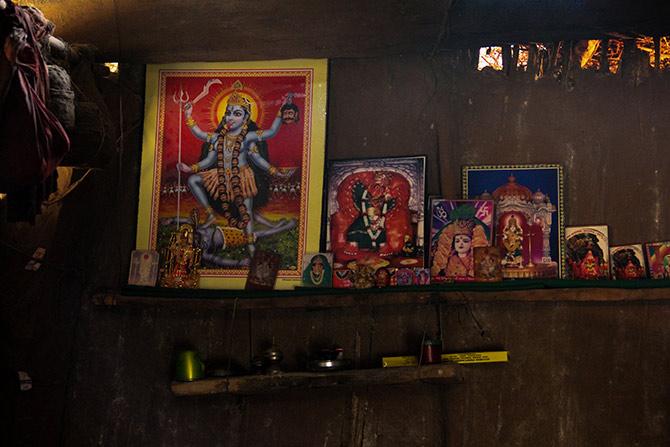 IMAGE: Like the Savras in Khoch, the Waghs too are deeply religious and believe in fate and destiny.
While Sita feels she should not have confronted the minister and fears there could be some backlash from the various government agencies that implement various schemes at the panchayat level the villagers gathered at the Waghs' home did not hold back.
"Samor aala tyala dila (whoever comes to the anganwadis get the food)," says Datta Wagh, Shiva's neighbour at Kalamwadi. He alleged that even in the anganwadis -- schools where children between the ages of 0 and 6 get a nutritious diet under the Integrated Child Development Scheme -- children don't get enough nutritious diet.
"What they get is sub-standard food, mostly gruel made from rice. Nobody gets green vegetables at these anganwadis," he adds, pointing out that just proteins don't make for a nutritious diet.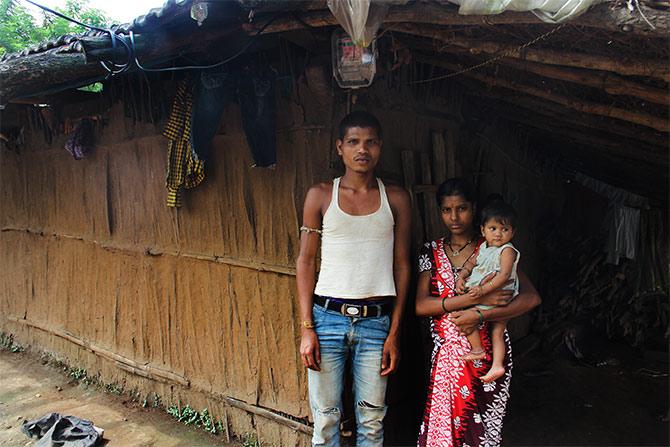 IMAGE: The Waghs outside their home at Kalamwadi, a small tribal hamlet, with around 30-odd houses.
"It is only after Sagar's death that the local anganwadi started serving boiled eggs," says Shiva's elder brother Nilesh.
Vijay Madhvi, another Kalamwadi resident, fumes: "Bheek magat nahi aamhi. Aamcha hakk maagto (We are not beggars; we are asking for our rights). We elected Sawra (the tribal welfare minister) and he came here to insult us."
Whatever rations the government sends or the schemes that it implements, Madhvi says, do not reach the needy and the poor in the villages.
"The government is under pressure now and has started defunct schemes in these villages. Now they are providing proper food at anganwadis too. But I am not sure how long this will last," says Madhvi.
"Why has the government stopped MNREGA work? We get work in the farms only during the sowing and reaping season. Once the monsoon is over, we all migrate out in search of work. At such times we need guaranteed employment, but sadly, we don't get it."
Ask the distraught parents about what they wish the government must do for families like theirs, and Sita says, "Do something for our poor children. We don't need your assurances. We need action on the ground."