'Both my father and brother are very strong. Their spirit is unbroken,' says Dr Farooq Abdullah's daughter and Omar's sister Safiya Abdullah Khan.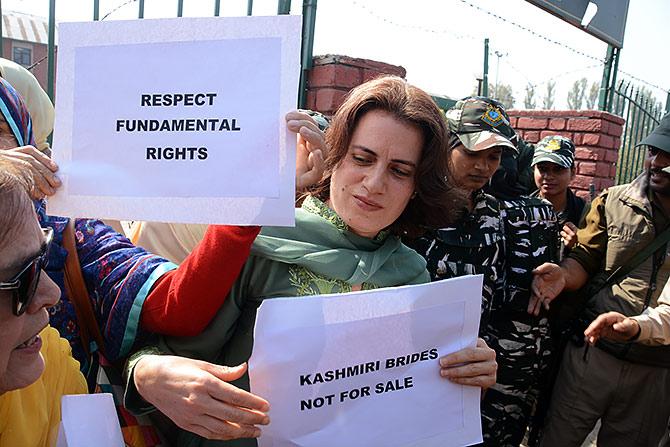 "We spent the last week in the hope that my brother would be released," Safiya Abdullah Khan, Farooq Abdullah's daughter and Omar Abdullah's sister, tells Archana Masih/Rediff.com over the phone from Srinagar.
"After six months of detention, we were expecting their release and certainly not expecting the PSA charge to be slapped on him (Omar). It is a shock for all of us."
On Monday morning, February 10, her sister Sara Pilot challenged Omar Abdullah's detention and charges under the stringent Public Safety Act before the Supreme Court.
Under Jammu and Kashmir's Public Safety Act, a person can be detained for three to six months without charge or trial and it can be extended further. The PSA was enforced soon after Omar's six-month preventive detention ended last Thursday, February 6.
Dr Farooq Abdullah, three-time chief minister of Jammu and Kashmir and four-time Lok Sabha MP, has been detained under PSA for five months.
Safiya, who lives next door to Dr Abdullah, says visits to her father and brother are limited to blood relatives, some relatives are allowed to visit more than others, after permission is taken from the authorities.
"A few months ago, they both had visitors apart from family. Friends who have applied to see my brother haven't got permission," reveals Safiya. National Conference leaders visited Dr Abdullah and Omar Abdullah in October.
Dr Abdullah has access to a telephone and television and follows the news religiously. He reads the newspapers every day. "He knows what is happening," his daughter says.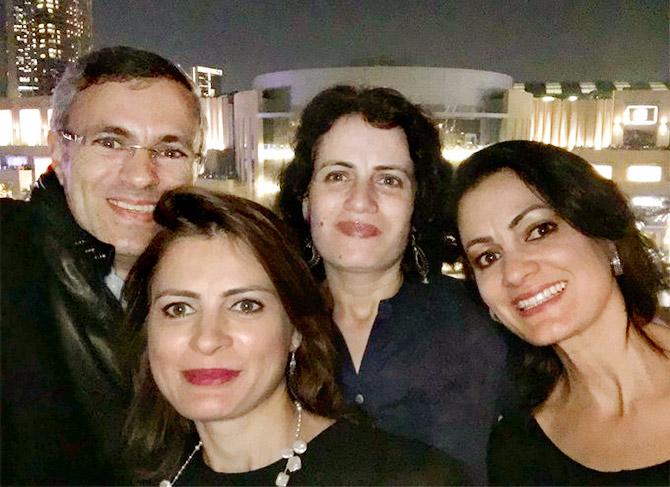 The latest book Dr Abdullah has read is Jairam Ramesh's biography of V K Krishna Menon: A Chequered Brilliance.
"I can see my father every day, but we have pre-arranged timings for my brother. We go three times a week -- at a time," says Safiya, a teacher who is currently on sabbatical to look after her two sons.
Omar is allowed food from home and has been reading a lot, she says.
"How else do you expect someone in solitary confinement to spend his time?" his sister asks.
Omar, a former Union minister and Jammu and Kashmir chief minister, is detained in Hari Niwas. Father and son have not seen each other for six months, she says.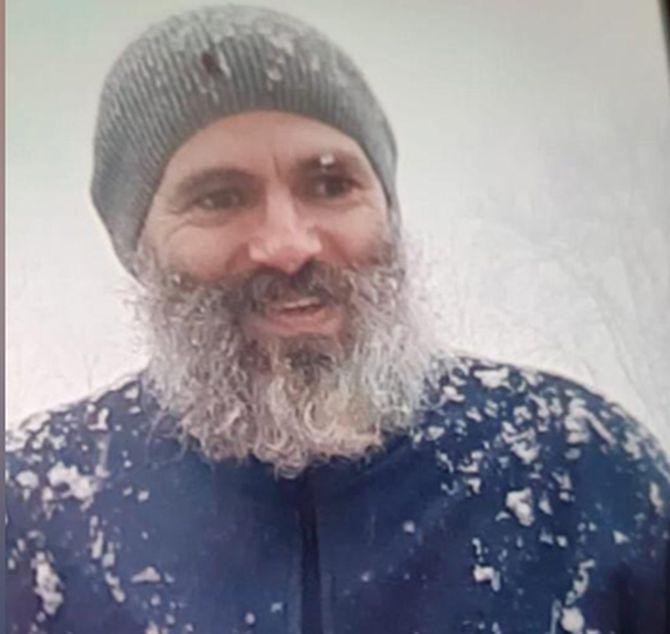 On her brother's bearded photograph that was circulated widely, she says he had told her at the beginning of his detention that he would only shave once he is released.
The police dossier reportedly cites Omar Abdullah's 'considerable influence' to attract people to vote despite poll boycott calls as among the reasons for the PSA.
The grounds of detention, as reported by the Press Trust of India, state that on the eve of reorganisation of the state Omar had made attempts to provoke the masses against the revocation of Articles 370 and 35-A.
Omar's last tweet was on August 5 before being taken into prevention detention when Article 370 was revoked.
However, the police have neither mentioned any of Omar's social media posts in the dossier nor in the order for the grounds of his detention.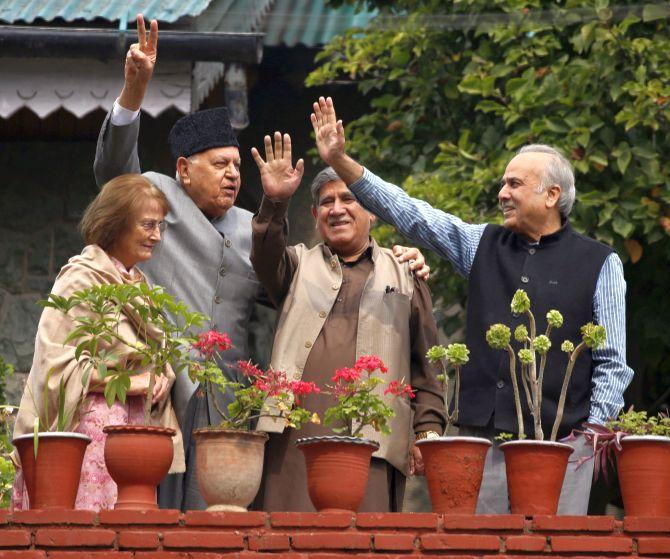 Dr Farooq Abdullah's detention under PSA was extended for three months in December. He has been under house arrest at his Srinagar home which has been designated a sub jail.
"Since it is a sub-jail, so obviously there is a lot of security," says Safiya.
"He has access to the entire house. Every few days we have snow so it is very cold. He is 83. He is confined to the house, but both he and my brother are very strong. Their spirit is unbroken," says Safiya.
Safiya who was detained along with her aunt Suraiya Ali for participating in a civil society protest at Lal Chowk in Srinagar last October, says the family feels helpless.
"Of course, you feel angry. We live day to day. We tend not to think too much about the road ahead."
On being asked what father-daughter conversations are like when they meet, she says, "No, I can't tell you -- because it is father to daughter na?"
"Obviously, we talk about the situation. It is something uppermost in our minds at the moment. We talk about the way forward and where we can go from here," she adds.
Does he feel he will be released soon?
"I don't think that is something we can even speculate about. We spent the last week in the hope they would be released. We cannot speculate because these people are so unpredictable."
"There are lots of families who are in the position as I am in -- who have their loved ones locked up and are going through what we are."