Rahul Bedi, the New Delhi-based correspondent of Jane's Defence Weekly, tells Sheela Bhatt why the rapid American shift of the Indian military hardware is a dangerous development.
In early 90s, when United States-India strategic dialogue started, it was known as the Kicklighter proposals, named after General Kicklighter, a commander of the Pacific command.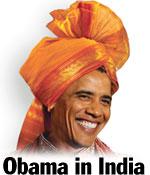 In post Cold War era, Kicklighter's proposals were followed by former US President Clinton and subsequently by President Bush's visit. In October 2001, sanctions on India which were imposed following the Pokhran-II nuclear tests, were lifted.
In the last eight years, since the sanctions were lifted, India has concluded and signed on arms contract worth $12 billion. This includes maritime reconnaissance aircrafts (Boeing P8-I), missiles, artillery guns, radars and transport aircrafts.
India is also buying heavy lift transport for the air force (C-17s). Artillery radars contract was first of its kind worth $142 million. Over the next years, India is going to go for the repeat orders of C-17s, C-130 J Super Herculean  etc…these contracts are worth another 7 to 8 billion dollars.
Also, there is the much talked about 126 multi-role combat aircraft MRCF that would cost $10 billion. There are another contracts where US is one of the contenders for various helicopters.
So, as Barack Obama is arriving in India, his country is in process for bidding for $15 billion worth of contracts.
If we take into account both the concluded and potential contracts, we are talking about very, very big business. We are talking about shifting of Indian military hardware, completely.
Shifting from Russian components to American ones is a big shift. In mid-90s, Pentagon had assessed that by 2015 they would like India to source it's 25 per cent of hardware. They seem to be well on their way in meeting their target.
The profile of Indian military hardware is becoming US-oriented. This will bring definitive change in Indian military doctrine because it's dependent on equipments.
There is symbiotic relation between doctrines and equipments. We have acquired Landing Platform Dock from America. Indian equipment is reaching collective obsolesce. It needs to be replaced.

Two, military is quite fed up with Russians. Their 'after sales' service is very poor. Sometimes, the entire squadron is grounded because spares don't reach on time. Also, the Russian equipments are money-intensive because some of their fighter aircraft's engines need servicing in Russia just after 500 hours of flying.
American and European ones need such servicing after 5,000 or so hours.
Soviet equipments are cheap to buy but very costly to maintain and run. Western equipments are costly to buy but economical to operate.
Still, I think, it is very dangerous to go down on American road to buy military hardware. For a simple reason that American military sales are governed by the American laws.
Like 1998, if anything happens again, they would freeze everything. Whatever Americans say, however close we are to them politically, the problems will remain.
Once Americans decide that they want to impose sanctions, then like in 1998, the ongoing deals will be in trouble. Whatever Americans say, Lockheed Martin and Boeing says the point is that US laws are very strict.
I agree India is not going to a nuclear test in near future, but in case things go wrong, then nobody can help you. Right now, love fest is going on between India and US, but then, fine prints will come into play once the relation sours.
Their contracts are two intrusive to carry forward once trouble erupts. There are two contracts US wants India to sign that governs transfer of sensitive technology. India has not signed these contracts.
Basically, there are four agreements.  The agreements include the Communications Interoperability and Security Memorandum of Agreement (CISMoA); the Basic Exchange and Co-operation Agreement (BECA) for Geospatial Co-operation, and third one is the Logistics Support Agreement (LSA). One more is the End user's agreement to which India agreed last year.  There is one more agreement called Cross servises agreement that US has signed with some 60 countries.
Without signing these contracts whatever we are buying are just flying platforms without much substance. What I am saying is that US laws are rigid and non-flexible.
LSA is dangerous because use of US ports by Indians will be zero while US can or may use Indian bases frequently because of their presence in the region. So, technically speaking, if US should have problem with Iran or Pakistan they, under the agreement, may use our bases. Indian soil can become a lunching pad for refuelling or servicing.
I agree India wants state-of-the-art technology. I agree even China wants to grab it. But, are Americans, really, willing to transfer those technologies, which is their USP?
And, more important is that to get the best technology India has to sign the intrusive agreements first, and it must follow the protocols. It's not fully decided, if in case, there is problem then arbitration will be decided under Indian laws, American laws or by the third party?
We are doing contracts on case-by-case basis. US don't want to negotiate piecemeal contracts. They want umbrella contracts. India is hesitant because it thinks that India's sovereignty will be compromised.
There is a disconnect between Washington and New Delhi. However, close they come politically during Obama's visit, these issues are outstanding and technology transfer will remain a problem. Indian military, surely, would like to get American equipments.
Normally, most armies have 30 per cent their own equipments, 30 per cent reasonably modern and 30 per cent very modern equipments. The problem arises of integration and usage of all these three variations.
If you have variations of first to fifth generation equipments there is problem. Indian air force wants American equipments.
India will have to take political decision to sign these agreements. It's all about getting bound to US systems. Indian operation's basic platform is Russian, but we do have lots of equipments from Europe and Israel.
We have to operate from –50 degrees to plus 50 degrees. Lots of US equipments cannot handle such variations of climate.
Indians do lot of hybrid job to make equipments run. US don't permit hybridisation of its equipments. Some 80 plus countries have bought US equipments, but only in case of Israel they made an exception once. Israel has done changes in F-16s.
Indian army will find this difficult. Every time something would go wrong India will have to fly in US engineers. Also, all US equipments have come through foreign military sales programme, which is government-to-government deal.
The first contract India concluded with Americans was for 12 artillery radars of Raytheon for $142 million. This equipment has run into huge problems.
They started arriving in 2005 and most of them are un-operational. They have been put-off the road. They don't allow retro fitting. Even army chief general V K Singh has written to ministry of defence about it. Indian army's experience so far with Americans is not very good. 
Russians equipments are cheap, rugged and three generations of the Indian army is familiar with it. Americans stuff is work-in progress. It would take a generation to adapt to American equipments.
Defence Minister A K Antony is very cautious about signing anything which is remotely controversial.
Even political parties, bureaucracy and defence ministry is divided over it. National Security Advisor Shiv Shankar Menon has said that these agreements are new to India and they are still looking at it.
Moreover, US is selling these equipments to Pakistan, also. Indian military considers it a joke. There is a bizarre element in these weapon sales by US. Americans are trying to have a wife and a mistress and keeping both of them weapons-equipped. I think, this will continue in bizarre way, only.