"I came here on my own. I knew I have the mental and physical strength to be here and do something worthwhile."
"It's the dignity of people who have lost everything that is heartwarming."
"I think this will be the most memorable of all my holidays."
It's been over a month since the first earthquake struck Nepal and two weeks after the second earthquake. While Nepal is struggling to come to terms with the destruction caused by the catastrophe, what is heartening is how people from different nationalities are trying to do their bit too.
Anusha Subramanian reports on some of Nepal's Good Samaritans.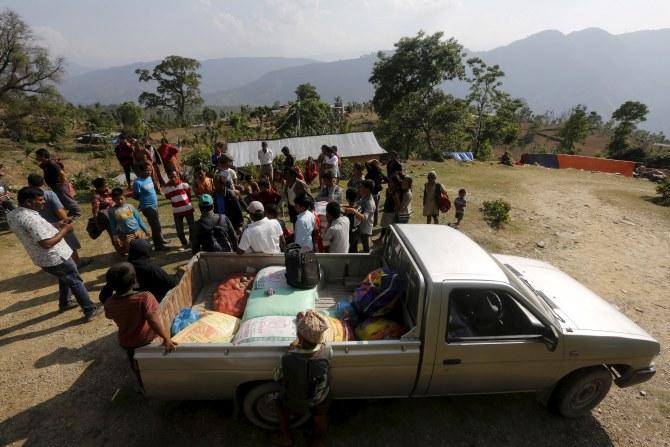 Earthquake victims gather around a vehicle to receive relief material at a village in Sindhupalchowk, Nepal. Photograph: Adnan Abidi/Reuters
There are travellers, trekkers, photographers, film-makers, independent journalists, doctors, counselors, software professionals and many others who had come to Kathmandu either prior to the earthquake and have stayed back to help do their bit, or after the earthquake to volunteer and help out on their own.
Champak Deka, an ex Indian Navy officer who is now a professional diver for oil rig companies in India, had arrived in Nepal on April 4. He rode his Enfield Bullet motorcycle all the way from Assam to Kathmandu to do a meditation course. His plan was to visit all the Vipassana (meditation) centres and then go biking and some trekking across Nepal.
He survived the 7.9 earthquake on April 25 along with his other Vipassana mates.
He says, "The first thought that came to my mind was that life is too fickle to spend it on this self-centred world." And since then, he has been in Kathmandu, doing his bit of volunteering and helping quake victims.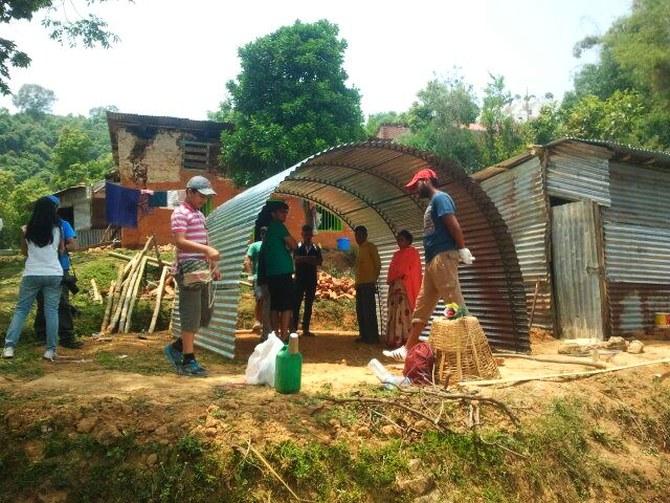 Volunteers help build a shelter in Sindhupalchowk. Photograph: Anusha Subramanian
Deka started raising funds from his friends in Assam and procured basic materials such as tarpaulins, solar lanterns and mosquito repellants and helped those who were in need of shelters. He did this with the help of a local friend.
Currently, he has joined hands with Shashank, a businessman from Nepal, and Revanth Y, an Indian documentary filmmaker who came to Kathmandu after the earthquake, in building temporary shelters made of tin sheets, steel rods and bamboos.
These men have pooled in their own resources and taken a short training in building shelters. They now intend to build 130 of those in Sindhupalchowk district, a far-flung district in central Nepal. Currently, they are in the first phase of the rehabilitation phase where they are building shelters in Bhimtar village in Sindhupal Chowk, that was reduced to rubble in the quake.
Tanveer Wani, another Indian, came to Nepal after several days of the first quake and is now volunteering with Goonj, an Indian non-governmental organisation. He has been travelling to Sindhupalchowk and the Gorkha districts, and distributing relief materials.
"I came here on my own. I knew I have the mental and physical strength to be here and do something worthwhile," he says. Only last year, Wani had witnessed and survived the terrible floods of Kashmir.
Prior to volunteering with Goonj, Wani was coordinating with some local and Indian NGOs arranging for materials including food-grains and tarpaulins and taking them to the Sindhupalchowk, Bhaktapur and Dhading districts, to name just a few.
Mark Christionson, a software professional with Amazon.com in Seattle, United States says, "I had planned my holiday a couple of months ago and decided to come to Kathmandu even after the earthquake.
"I was to spend some days at the Royal Chitwan National Park, and then go on some treks. But, after the earthquake I decided I will try and help the local community. I travelled to Changu Narayan village in the Bhaktapur district, and now am helping the villagers to clear the debris of this old 17th century temple (the Changu Narayan temple)."
Christionson sleeps in his own tent and spends time with the villagers, helping them clear the debris. He says, "I am happy I decided to come here and I think this will be the most memorable of all my holidays."
Brandon Pitts, 19, a New Yorker, is another American helping out in relief work. "I went to Nagarkot with some German paramedics and Nepali doctors and we held a free medical camp wherein we treated some 250 patients for chronic pains, sore muscles and diarrhoea," he says.
Pitts has already extended his visa four times since he has been in Nepal. "It's been an enriching experience for me and I am glad I am here for a few more days. I leave Nepal on June 8," he says.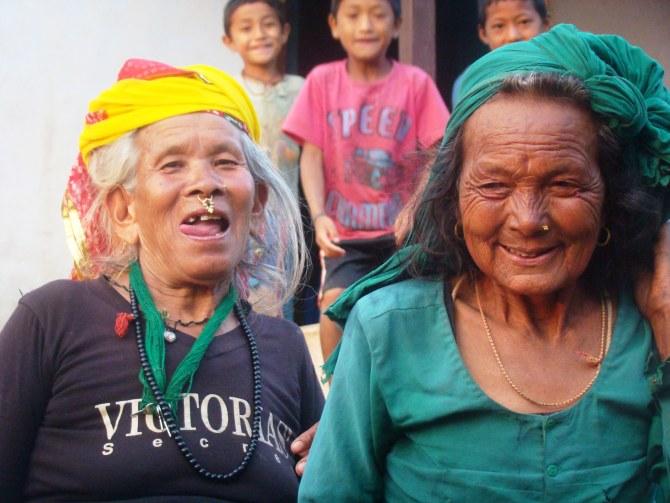 These women walk up to three hours after collecting their relief packets, but are happy that they at least got something. Photograph: Anusha Subramanian
The locals are naturally more involved in doing their bit for their own. Niva and Biju Shrestha (not related) are two Nepalese who are dedicating a lot of their time to relief work.
Niva, who runs a commercial complex in Kathmandu, has been coordinating with local villagers in Dholakha, Bhaktapur, officers and local NGOs and working with a bunch of Indians and volunteering with Goonj.
Biju, who lost his home in the quake, runs the Spring Dales School in Bhaktapur, and has been coordinating relief work around Bhaktapur and its outskirts. He is living with his family in tents.
"I was here on May 7, 2015, to cover the earthquake and find some volunteering work," said Julian Bound, an English photographer. Narrating his observation during the last few days of travelling across the disaster affected areas, "It's the dignity of people who have lost everything that is heartwarming."
Revanth Y, an Indian photographer and documentary filmmaker, says, "I am motivated by the many youngsters here who are doing things on their own. I have met so many interesting people who despite their own sorrows are helping others."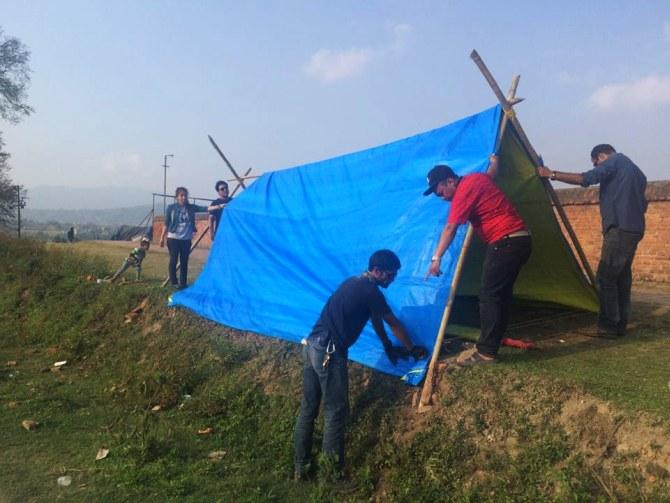 Volunteers finish building a tent in Nepal. Photograph: Anusha Subramanian
Citing the example of a cop, Revanth says, "I met this Nepali cop whose own house was destroyed. But he has not been able to go home and take care of his family as he was in charge of managing the situation in Sindhupalchowk. That, for me, was motivation to be able to do as much as I can for the people of Nepal."
Revanth has now joined hands with a group of youngsters and is involved in building temporary shelters in Sindhupalchowk.