'This fight is not a fight for us, but for Jawaharlal Nehru University and for every university in India.'
'A university which does not allow dissent becomes a prison.'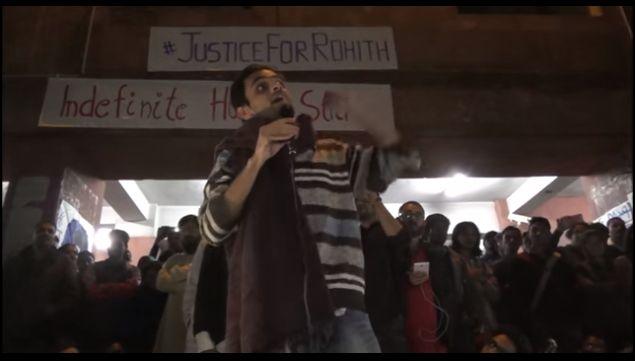 In dramatic scenes, Umar Khalid, the Jawaharlal Nehru University student who had been untraceable after being accused of sedition, returned to the campus late on Sunday evening.
Khalid turned up at JNU's administration block, where hundreds of students began to gather, and gave a rousing speech just shy of 14 minutes, insisting that he would stand his ground and asked that all students unite against the attacks on our country.
This is what he had to say:
"Firstly, I would like to thank all the students and those faculty members who have been a part of this fight. I say this is not a fight for the five or six of us, but a fight for everyone.
This fight that we are in is not a fight for us, but for Jawaharlal Nehru University and for every university in India.
This is also a fight for how our society will be in the future.
Friends in the last 10 days, I have come to know things about me which I never knew. For instance, I have been to Pakistan twice.
I don't have a passport, but I came to know that I had been to Pakistan twice. I came to know that I am a mastermind. JNU students have a wonderful mind, but I was the one who is the mastermind of this programme.
It was also revealed that I was planning a pro-Afzal Guru programme in 17, 18 universities. I seriously did not know my influence was so huge. Then they said I was planning this meeting for last two, three months.
Then they (the media) alleged that I had made 800 calls to the Gulf, Kashmir. They don't have any proof. They just said I did it.
They have no shame and if we expect them to feel ashamed about the reports they come up with, then we will be fooling ourselves.
The media has carried out a virtual trial against us. The way they have tried to frame us, the way they have profiled us.
We don't have any link with Jaish-e-Mohammed and still there is no apology from the media or a disclaimer. They don't feel the need to do that.
I laughed when because I thought the Jaish-e-Mohammad would feel ashamed that their name would be associated with us, because we are protesting at Jhandewalan (the headquarters of the Rashtriya Swayamsevak Sangh in Delhi).
If the media thinks they will be spared, then it will not happen. They have worked against the country. If there is some Adivasi, then they call him Maowadi (Maoist) and if there is a Muslim, then they call him a terrorist.
This is the way the media carries out a trial against us and the State supports them.
Perhaps, many people are helpless and nobody is there to talk for them, but bhaisaab, you have taken on the wrong guys. JNU students will teach them a lesson (mazaa chakhaenge). Every media channel will have to answer questions.
I was not concerned about myself because I know you all would be there for me.
I was concerned when I saw the statements of my sisters and my father. The way my sisters were abused on social media -- some threatened them with rape, some with murder.
I recall the time when Bajrang Dal men raped Christian nuns in Kandhamal they were saying 'Bharat Mata Ki Jai.'
Then I remember Comrade Kanhaiya's statement where he said if this is their Bharat Mata, then this is not our Bharat Mata. And we do not feel ashamed of it.
My father was interrogated and they wanted to frame me somehow. There are some journalists in Zee News and one bhaisaab in Times Now. I don't want to take his name. And there are some other reporters too. I don't know how they live with so much hate against JNU students. How do they live with so much hate?
I have said this before and I say this today too. For the last six years, I have been involved in politics on campus and I have never spoken of being a Muslim. I never projected myself as a Muslim too. But in the past 10 days, I felt that I was a Muslim and being oppressed because of it.
To quote Rohith Vemula, 'I was reduced to my immediate identity.' And this is very shameful.
There is a need for us, for those who come from oppressed communities and oppressed identities, to come out of our immediacy and look at all these things in a holistic manner.
They call me a Pakistan agent and I would like to quote a Pakistani poet, 'Arrey Bhai, Hindustan bhi mera hai, Pakistan bhi mera hai par inn dono mulkon par America ka dera hai, aur tum America ke dalal ho (India too is mine and so is Pakistan, but America is sitting on the resources of these two countries and you all are their agents).'
The resources of this country and the labour of this country are being exploited by big multinational companies. They are selling our education and we saw how they went to the World Trade Organisation on bent knees. They bowed before them and these people are teaching what is desh bhakti (patriotism).'
I am here to ask all the anti-nationals of the world to unite. Our love for the people, our struggles know no boundaries, they know no borders. Across the world, all of us will be united, be it any government in any part of the world.
With such dirty tactics, they cannot shut our mouths. These people can have a majority, the media, the police and the State apparatus, but are cowards. They are scared of our thoughts. They are scared of our struggle.
My friend Anirban said recently that it is very easy to be anti-national. You start thinking in your mind and soon you will be called anti-national.
And these people if they think they can scare us, then they are living a big illusion. They have already taken a fight with a lot of universities. Whatever happened in Hyderabad University with Rohith Vemula or the FTII (Film and Television Institute of India) in Pune or for that matter what happened to Sandeep Pandey at Benaras Hindu University.
In every fight we have fought together. We feel it is our responsibility.
If they feel that they can finish JNU, then they are wrong. There were others who had come before you. Perhaps, you have forgotten Indira Gandhi. When she wanted to come to JNU after the Emergency she was not allowed to come in.
Perhaps you have forgotten when Dr Manmohan Singh had come to inaugurate Nehru's statue, this campus' students protested against his visit because the UPA (United Progressive Alliance) government wanted to sell this country and therefore black flags were waved against him.
When P Chidambaram came here, he thought he would be welcomed, but he too was not welcomed because the students of this university are with the exploited and weak people of this country.
We will not be intimidated with these dirty tricks. These are just mind games. They are testing whether we will get scared. Let us accept this challenge and we will not get scared and we will fight back. We will fight back on any issue. Any student in this campus has right to put his view without fear of intimidation.
Friends, these are frightened people. They have a student wing called Akhil Bharatiya Vidyarthi Parishad. They are the vanar sena of this campus. They have got the authority now whatever happens where their agenda has been criticised, go and disrupt the programmes. We will ensure that the university vice- chancellor, registrar, police, MPs, all will come with them.
You replace Appa Rao (the Hyderabad Central University vice-chancellor), Jagdish Kumar (JNU's new vice-chancellor). You replace (Union Labour Minister Bandaru) Dattareya with (BJP MP) Mahesh Giri. The script is the same, but there will not be any more Rohiths. We will fight back.
We know what we are made of. We know this campus, we cherish this campus. We have built this space. We will fight for every inch. Why does ABVP create trouble and use State machinery? They know they cannot win people's confidence and mobilise them.
In the last 10 days, there has been so much media trial and desh bhakti, but they are very few of them. And here there are 15,000 people assembled.
I saw in the media some days ago the day Rahul Gandhi came we showed him black flags. The same Zee News showed that students are divided. Fifty per cent are this side and the other fifty per cent on the other side and when the truth came out we found out that 12 people were there and on our side there were 3,000 students. In short, lie and lie shamelessly. They know it very well.
Students, a university which does not allow dissent becomes a prison. And it is their agenda to make our universities into prison houses. But, we will defeat that agenda.
Yes, we have differences and we know how to debate those differences. Today, Comrade Ashotush or Comrade Anand if they are carrying out some programme we do not go and vandalise the programme even if we are talking against each other because we know how to go to the people.
And all these tactics will not get us to cow down. Today, let us not fool ourselves, saying this is an attack on a university.
To conclude my speech, there has been several attacks across the country, be it on Honda workers or Jagdalpur legal aid or Soni Sori. We have to connect all these struggles, all these fights, we have to stand with the oppressed everywhere and anywhere and we have to keep the tradition of the JNU student movement alive.
Shukriya, Inqulab, Zindabad."
Transcribed by Syed Firdaus Ashraf