'How will we pay for their education now?' asks a grandmother about her two grandchildren who lost their father in Mumbai's liquor tragedy.
Text: Prasanna D Zore and Reuben NV; Photographs: Reuben NV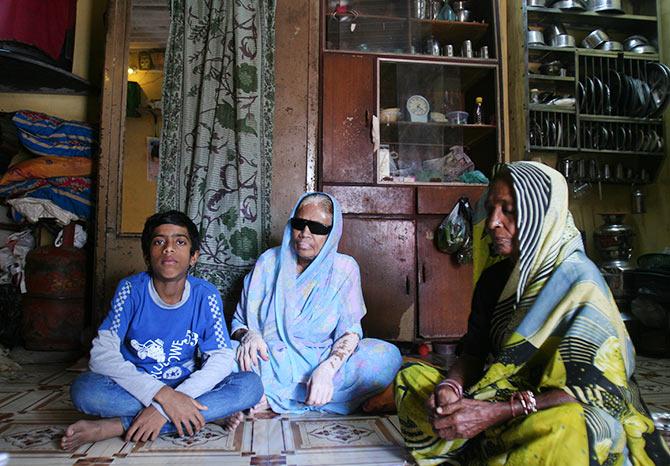 Image: Mukhtar's son Altamas with his grandmother Salma and Kamar Jahan's aunt Asma Bi.
On the morning of June 19, a Friday, when the holy month of Ramzan began, Mukhtar Yousuf Shaikh woke up his mother Salma early in the morning, as he had promised her, so that she could offer prayers to the Almighty.
After the family prayed that morning, Mukhtar, 38, left to find work.
A daily wage labourer, a mason by profession, Mukhtar would often depend on odd jobs on off days, of which there would be many in a month, to earn at least Rs 100 to support his family -- his mother Salma Shaikh, wife Kamar Jahan (32), son Altamas (12) and daughter Rafia (9), both studying at St John's High School, an 'English medium' school, that was just "five minutes away" says Altamas, from their home near Ali Talao, Malvani, a huge sprawl of filthy slums, somewhat similar to what one saw in Slumdog Millionaire.
On a good day, when he got an opportunity to work as a mason, Mukhtar would earn as much as Rs 500. But that happened only twice or thrice a month, Mukhtar's mother told us July 1, the tenth day after Mukhtar's death.
When Mukhtar returned home late that night, June 19, he was drunk. He had earned Rs 200 for his labour as a mason that day, a part of which he spent on the spurious hooch which claimed 104 lives in Malvani, between June 18 and 21.
At around 10.30 pm that night, Mukhtar complained of inflammation in the chest and nausea. The next morning he was rushed to the Shatabdi Hospital by two of his six brothers who live in the suburbs of Mira Road and Andheri. "He fell unconscious on the way to the hospital," says Salma.
"They kept him in the ICU on admission," recalls his mother, who was the only family member home July 1, along with Altamas. Kamar Jahan had gone to see a doctor as she was suffering from fever.
On June 21 Mukhtar breathed his last. "They brought him out only after his death. They (the hospital doctors) kept telling us that Mukhtar's condition was showing no improvement. We had heard about how huge the hooch tragedy was and were a bit prepared for what was to come. But tragedy only hits you in the face when your son/husband/father has died. Our son died without speaking a word with us," says Salma Shaikh in a choked voice. She had undergone a cataract operation in mid May and was still wearing dark glasses. Her voice was unmistakably shaky.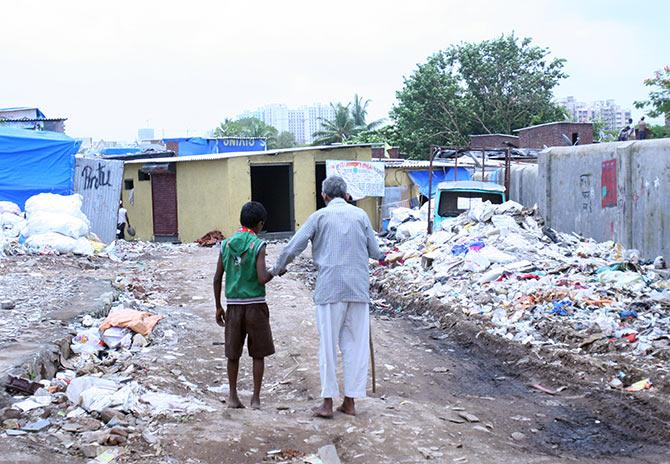 Image: Slumdog Millionaire territory where we met Asma Bi who took us to Mukhtar's house.
"It feels good when people come and talk to her. Mann halka ho jata hai (It feels good when somebody comes to share our sorrows with us)," says Asma Bi, a septuagenarian, who took us to meet Mukhtar's family.
Kamar Jahan is Asma's niece. "They were such a happy family," she says, "lekin Allah ko kuch aur hi manzoor tha (but the Almighty had something else in mind for them)."
"Sabse zaroori aajkal padhai hai (It is very important these days to have a good education)," says Salma looking at his grandson Altamas, a Class 6 student. "I got 68 per cent in the fifth standard," Altamas, who joined school on June 24, three days after his father's death, tells us.
With Kamar Jahan, considerably weak physically, and not keeping good health for the last two years, Salma pleads with us to help her daughter-in-law get a government job.
"At least, help us get these children's school get their fees waived," she pleads. The family pays Rs 450 per month for Altamas and Rs 350 for Rafia, a Class 4 student. "How will we pay for their education now?" she asks.
Her other sons lead a hand-to-mouth existence and are in no position to finance the education of her grandchildren, Salma informs us.
"Mera beta kaisa bhi tha, lekin ghar ka aadmi tha (My son may have been a drunk, but he kept the stoves burning in our house)," says Salma.
In rememberance of Mukhtar, his family organised a meal for their relatives. Considering that she would spend a large amount of money on the 13th day rituals after her son's death, and what she owes her relatives, one wonders how much of the Rs 100,000 compensation that the Maharashtra government announced for the families of those who died in the hooch tragedy will be left for this family, left without its sole earner.
"I cannot but offer food to my relatives on my son's terwa (a ritual one follows on the 13th day after a person's death)," Salma says.
"Will we get the cheque? Will we be able to encash it?" she asks worried, having obtained a loan of Rs 30,000 for her son's terwa ceremony.
EARLIER IN THE SERIES: