'From my childhood I believe your good deeds is your true religion.'
'When the building collapsed, I knew I won't die.'
Rediff.com's Prasanna D Zore meets Rajesh Doshi who was buried under debris for more than 14 hours, but survived.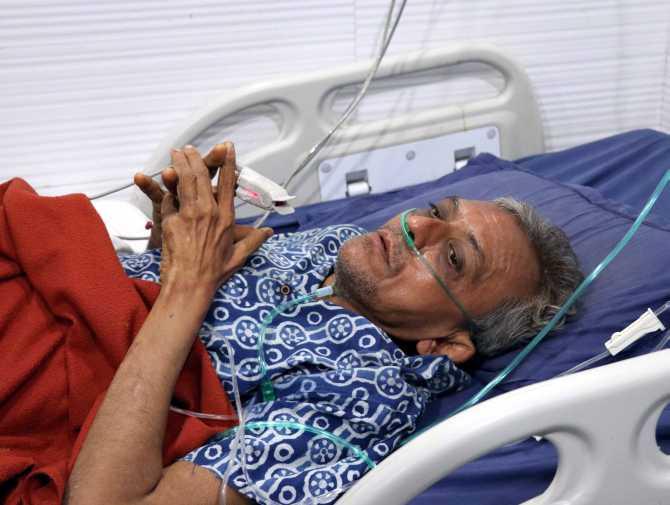 When the four-storeyed Siddhi Sai Apartment in Ghatkopar, north Mumbai, began trembling and collapsed within 15 seconds, Rajesh Shantilal Doshi was speaking to his son Darshan on the phone.
The phone went dead and the 57-year-old diabetic found himself surrounded by debris unable to speak to his son because there was no network.
He kept trying, but it wasn't until 4 pm on July 25 when he finally got Darshan on the line.
"I was speaking with my son when the building collapsed. In about 15 seconds it was down completely," Doshi says, recuperating in Shantiniketan Hospital's Intensive Care Unit.
"My cot saved me from death. The ceiling collapsed on me, but I somehow got some space to breathe. I was trapped for 14 hours," he adds, recounting his horrific ordeal.
This was Doshi's second visit to the same hospital in as many months. His right leg was operated on for diabetes treatment by Dr Praful Lokhande who runs the hospital, which is located about 100 metres from the ill-fated building.
Doshi says he is made of sterner stuff and his optimism about life kept him going.
He had suffered many hardships after his father passed away at 14, but he never felt defeated.
He worked his way through all the difficulties and made his life. The same optimism helped him overcome those 14 hours when he lay buried under the rubble.
"From my childhood I believe in karm se dharm (your good deeds is your true religion). In the morning (when the building collapsed) I knew I won't die," says Doshi.
***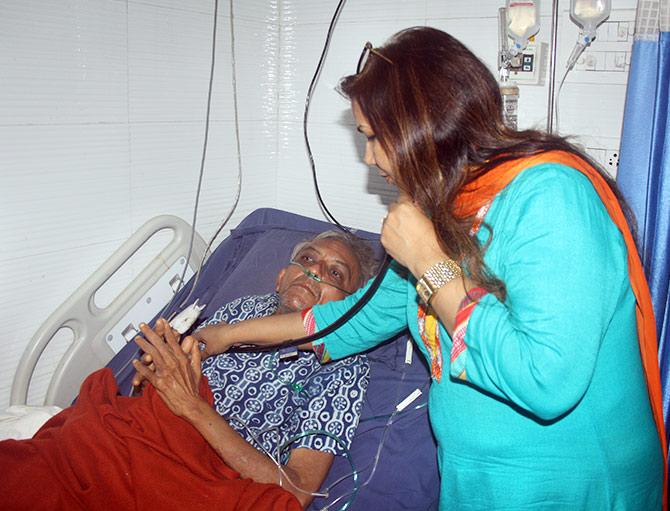 Perhaps, it is Doshi's karm se dharm motto that saw his wife and son stay away from harm's way.
Doshi's wife Rita visits a Jain Derasar (temple) every morning and her son Darshan goes to drop her.
"My wife goes to the temple at 9.30 am everyday. My son goes to drop her to the temple. That's why they were saved," says Doshi.
"As soon as I got through to my son, I told him I was alive. I asked him to do whatever he could (to get me out)" even as he heard people walking on the debris above him where he was trapped.
"The fire brigade came to my rescue at 9 pm. They gave me four biscuits, one banana and four small water bottles. They gave me an insulin injection too."
***
Doshi is not too keen on discussing Sunil Shitap, the Shiv Sena leader whose alleged tampering of the beams and pillars while renovating a hospital he owned in Siddhi Sai Apartment's ground floor, probably led to the building's collapse.
"What can I tell Sunil Sitap? 17 people have died; I did not die. I only wish god gives him the sense and he mends his ways. He will realise the loss and pain that many are suffering today if one of his near ones were to die in this building collapse," Doshi says.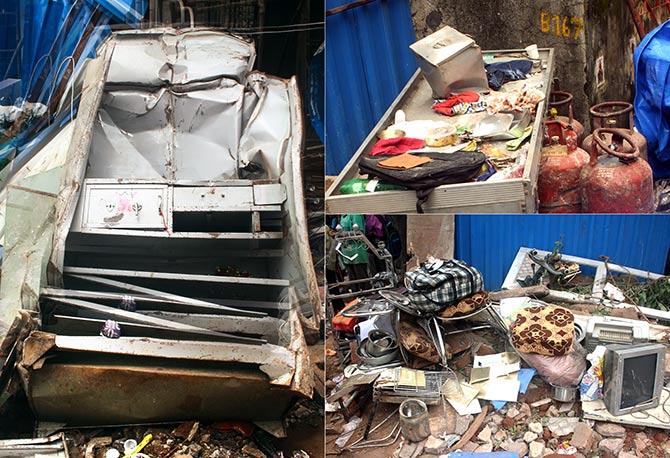 "There is no point in talking about it now. Those who had to die have died. 17 people have already died; they will never come back," Doshi says and then quickly adds, "I understand one thing: Money doesn't help one achieve good karma; your honour is more important."
***
According to Doshi, each time the society members went to Sitap to request him to stop fiddling with the building's structural stability, he would insult them.
"Whatever he (Sitap) says was the law. Woh jo bole wohi karna padta hai (we had to do whatever he dictated). He never listened to our pleas. He would never talk properly to us," says Doshi.
"We will all speak (about our woes)," says Doshi, "but I know the government gives nothing. Bol bachchan hai (Mumbai slang for 'the government makes only empty promises')."
"What crime did the three-month-old girl (Renuka Lalit Thak who along with her mother Amruta and grandmother Pramila died when they hurried down after the building began trembling. Lalit survived as he was standing in the balcony when that part of their house caved on the outer side) commit?"
"Why should she have died? People like you and I will talk about it for some days and then it will be all lost."