Vinita Bisht and Vinita Kamte lost their husbands -- one an NSG commando, the other an IPS officer -- in the 26/11 terror attacks. Six years later, Archana Masih/Rediff.com meets them to discover that closure is one of the hardest things to find.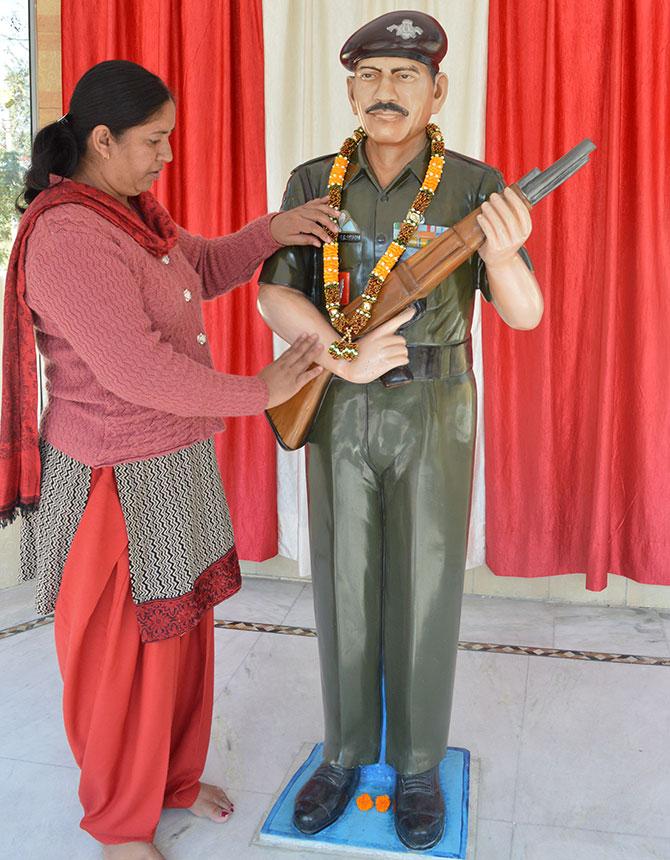 Image: Vinita Bisht has built a memorial to her martyred husband Havaldar Gajendra Singh Bisht in Dehra Dun. Photograph: Seema Pant/Rediff.com
"26-27 November ko unhoney sangharsh kiya aur 28 ko shahid ho gaye... (He waged a battle on 26-27 November and was martyred on 28th...)
Vinita Bisht sits in a living room with photographs and mementos of her martyred husband, looking down at her.
Perhaps 'watching over her' would be a better description, for the soldier who had spent 18 years with the Indian Army's elite Special Force, the 10th Parachute Regiment.
"That group photo of commandos was taken after they completed the operation in Nariman House," she says pointing to a photograph of black uniformed NSG commandos, on the wall to her left. "Tab tak yeh shahid ho chuke the (He had already been martyred by then)."
On her right, hangs a framed citation of the Ashok Chakra, India's highest award for gallantry when the country is not at war. Mrs Bisht herself stood at the framewallah shop in Dehra Dun and got it framed so that not a corner got a fold or the paper, a scratch.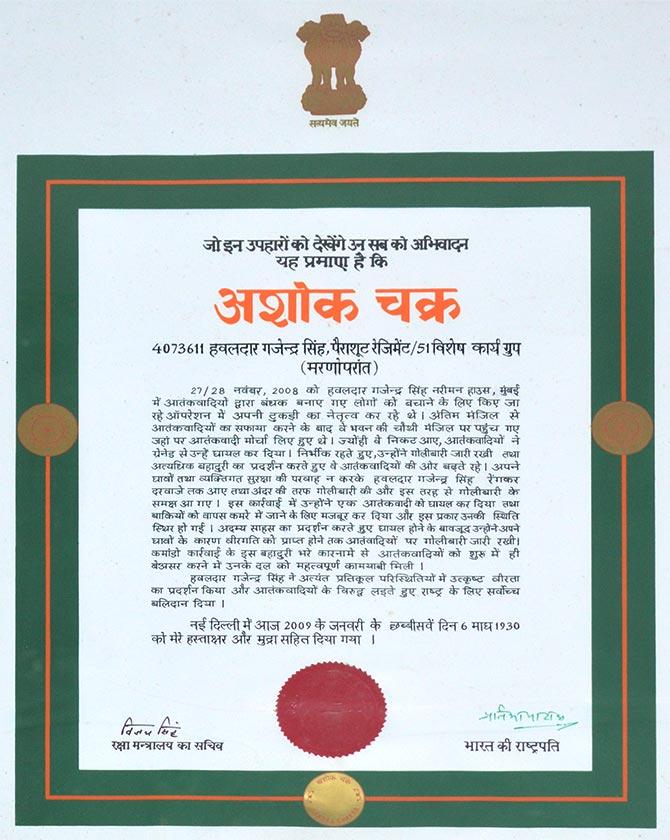 Image: A veteran of the Special Forces who had been a part of various operations in Kashmir, Havaldar Bisht was honoured with the Ashok Chakra for Operation Black Tornado in Mumbai. Photograph: Seema Pant/Rediff.com
On November 26, 2008 when 10 terrorists unleashed terror in Mumbai, Havaldar Gajendra Singh Bisht was serving his second stint with the National Security Guard. He was at the NSG's headquarters in Manesar, Haryana, where he had received a phone call late at night that there was an alert in Mumbai.
He quickly wore his uniform, picked up his bag and left. "He told me -- 'I'll go and come, you close the gate.' I did that and I went off to sleep," says Mrs Bisht, who would have been married 21 years, had her husband lived.
It was very cold in Manesar the following morning. She had dropped the kids to the school bus and had kept hot water ready for him, thinking he would come home after finishing PT.
But he didn't come -- not to change, not to have breakfast. She thought since an alert had been sounded last night, he must be busy.
Then someone from the unit told her that he had been sent for an operation to Mumbai. She switched on the television and what she saw sent a shiver.
"Kapkapi ho gayi, mujhey life mein kabhi aisa nahi hua tha -- who toh kitney operation kar chuke the, Kargil ki ladaai, Kashmir mein kul mila ke d us saal... (I was shaking on seeing what was on TV. As a member of the Special Forces, he had been doing operations all along -- he fought in the Kargil war and had served almost 10 years in Kashmir -- but I had never felt as restless as I felt that day for his safety)."
She remembered what her father, also a soldier from the 4th Parachute Regiment, had told her when she got married.
"He had said that when a soldier wears a belt and cap, he only belongs to the nation, then he is not your husband," she says, the memories as fresh, six years since her husband's death.
"Jab bhi yeh operation pe jaate the, main hamesha sochti thi ki yeh desh ke hai. (Whenever he went for an operation, I always thought he belongs to the country, not to me)."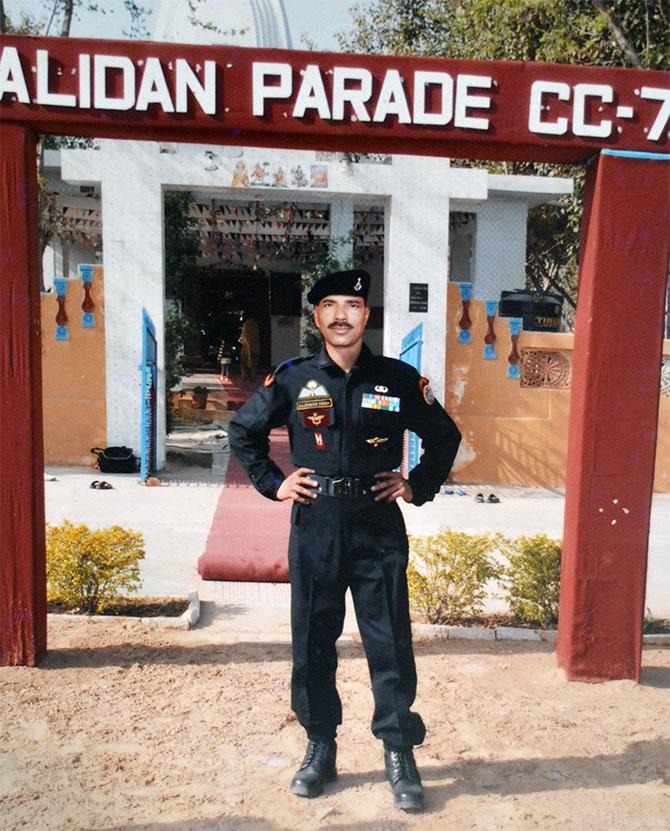 Image: A photograph taken after completing his commando training at the NSG HQ in Manesar, hangs in the family's drawing room. Photograph: Seema Pant/Rediff.com
If the big worry was his well being; the small worry was what would he do if he needed money in a big city like Mumbai because he had left his wallet behind.
She kept watching television and felt more and more ill. There was no news from him or about him and then at 6 am on the 28th morning, the phone rang. It was him.
'Vinu kaisi ho?'
'Theek hoon,' she said and started weeping bitterly. He asked about the children and she told him she had just dropped them to the school bus.
She was so afraid and was crying so much that he said, 'Pagal, aisa kuch nahi sab theek thaak hai (Don't be daft. It's all okay).' He told her that the major part of the operation was over.
The only thing he said which she found odd was when he told her never to leave the children -- Gaurav and Preeti -- with anyone else and she reprimanded him gently for even thinking such a thing.
'We're going to Nariman House now and I'll call after the operation,' he said. When she told him that he had left his wallet, he laughed, 'Mein kaun sa shopping ke liye aaya hoon, hum toh operation ke liye aye hai (I have come here for an operation, not to shop).'
'Tum pareshan mat hona. Rote nahi hai, pareshan nahi hotey (Do not worry, do not weep).
After being dropped on the roof of Nariman House or Chabad House, the orthodox Jew centre, by helicopter, Gajendra Singh Bisht cleared the top floor of the terrorists.
'He reached the location where the terrorists had taken position. As he closed in, the terrorists hurled a grenade, injuring him. Undeterred, he kept firing and closed in on the terrorists by exposing himself to the hostile fire. He injured one of the terrorists and forced the others to retreat inside a room. He continued the encounter till he succumbed to his injuries.'
'Havaldar Gajender Singh displayed most conspicuous courage against grave odds and made the supreme sacrifice for the nation in combating the terrorists,' reads the Ashok Chakra citation.
Every year on November 28, locals, soldiers from his unit and the state administration pay tribute at the memorial Mrs Bisht has built to her martyred husband on their ancestral land.
She had his statue made in Rajasthan and has a pundit do puja every morning and evening. A bed of marigolds dance gaily at the entrance, with a large pot of water for thirsty passerby.
"I think maybe he will be an inspiration for young people who want to serve our country," says Mrs Bisht, dusting the statue with her bare hands.
***
"Courage is something inherent, it cannot be built. When you are receiving the Ashok Chakra, you should receive it with the kind of pride you should feel."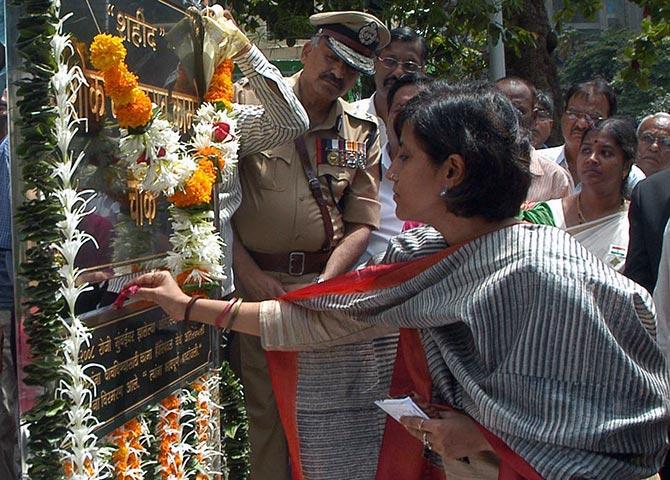 Image: Vinita Kamte at the inauguration of a chowk named after Additional Commissioner of Police Ashok Kamte in Mumbai. Ashok Kamte had served in an Naxalite-affected area of Bhandara and the UN Mission in Bosnia. Photograph: Rediff.com
Courage is a quality that Vinita Kamte's husband had in plenty. And when she stepped up to receive the Ashok Chakra, with the whole country watching her, she did it in a way her husband, Additional Commissioner of Police Ashok Kamte, would have been proud of.
The citation hangs in her Pune home which she designed and got built while her husband was serving on a United Nations mission in Bosnia. Two dogs amble around as she speaks, a woman defiant, not to be defeated by her loss.
"At that time, I didn't understand what was happening. I didn't even want to be in public. Ashok and me were such private people, but I had no choice but to go," she says, looking at the framed citation, the highest testament to valour in a room with medals and mementos won by her husband and father-in-law, a lieutenant colonel in the Indian Army.
Her husband's courage documented on that framed parchment says that the police team pursued the terrorists but in the process their jeep got ambushed and ACP Kamte was critically injured. He however, continued the fight and played a key role in injuring one of the terrorists.
'Shri Ashok Marutrao Kamte displayed courage and leadership of the highest order in fighting the terrorists and made the supreme sacrifice for the nation,' reads the citation.
Mrs Kamte, the mother of two young boys, had heard the news of her husband's death in a way that no one should -- on television. Reticent about her grief, she does not speak much about what she went through that night or her grief.
"I don't speak about it -- only my younger son will speak little about it, but my older son and me, yes, we talk a little bit, but we can't go beyond a point," she says, adding that her family has been her only strength.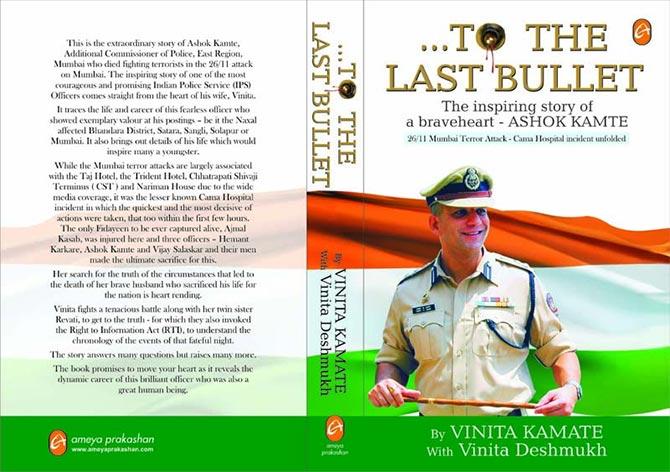 Image: In the year after her husband's death, Mrs Kamte devoted all her time to writing a book about what happened to her husband's team on the night of 26/11.
The two families had arranged the marriage and they married when Ashok Kamte had just finished his training and was posted to the Naxalite area of Bhandara.
It was a typical government house with a bathroom outside. There were scorpions, lizards and snakes. With him away on ops, her mother-in-law had given her a dog.
"In Bhandara, there used to be many mine blasts and he used to be in the thick of things. Once he said he would be back for lunch and there was a shootout. I was pregnant and when there was no news, I called the DIG, who told me that one of our men had died. This kind of thing was a constant. He had given me a weapon for which I had a license and used to sleep with it under the pillow," she recalls with a smile.
In the year after her husband's death, Mrs Kamte put everything aside and devoted her time to writing a book, To The Last Bullet, about the sequence of events preceding her husband's death and the lapses in coordination from the police control room in Mumbai.
"In December 2008 when we met the Mumbai police, we realised there is something they are not telling us. The press would write inaccurate details. Once I had to call a Delhi editor to say that you say he (Ashok Kamte) left from Byculla when we didn't even live there, we lived there in 2000. Then there used to be so many other details that were incorrect. So this pushed me to write a book."
She filed RTI applications to get information from the Mumbai police about wireless conversations between the control room and ACP Kamte's vehicle. The outcome of her battle resulted in the state's chief information commissioner ordering a judicial probe.
"We never expected such an order. It indicted the top brass of the Mumbai police," she says.
"I think through the book the public know what had happened. Through the book, we reached out to people and they feel there is more to what happened that night," she says.
"Mr Karkare (Hemant Karkare, the chief of Maharashtra's Anti Terrorist Squad who was killed with ACP Kamte that night) made four calls that explained the strategy, so it is wrong to say that no one was informing the strategy. Moreover, six minutes are missing from the call logs -- and the deceased are not even here to defend themselves."
(Read Vinita Kamte's earlier interview about what happened that night here: 'I will fight for my husband's honour)
"Someone asked me 'Why are you doing this?' and I said if there is a remark against you and it is contrary to what the documents reveal, won't you try to get it expunged (from the Ram Pradhan Committee Report on the government's response to 26/11)?"
"He said 'Yes'."
Vinita Kamte has many questions marks in her mind, but says she does not blame anybody.
"Nobody tries to understand that I am not trying to blame them. Knowing the person Ashok was, he would have been there on his own," she says, "But at least give the man his due."
***
"Dukh zyada is baat ka hai ki hamare husbands border par lade, par yeh ghar ke andar ki ladai thi. Agar ghar ke andar hoga aur yeh ho raha hai toh yeh bahut galat hai. (Our husbands spent their lives defending our borders but what causes more sadness is that this happened in the heart of our country, inside our very homes. Nothing else can be more wrong than terrorists having the ability to strike into our own homes)."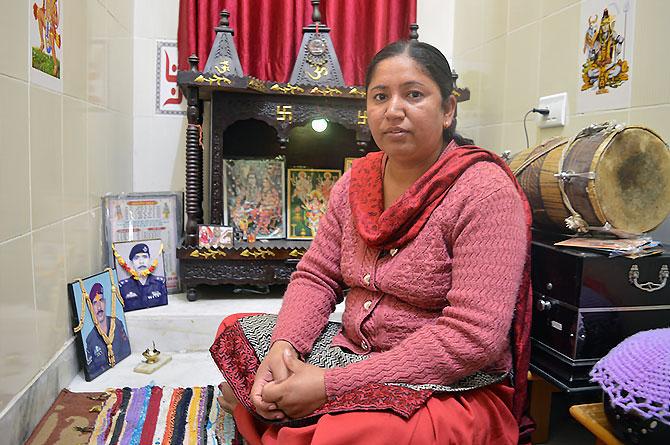 Image: Mrs Bisht with photographs of her husband in the family's puja room. She prays here every morning and evening. Photograph: Seema Pant/Rediff.com
It has been six years but these questions still haunt Vinita Bisht. Questions that come to her mind when she looks at his photograph kept along with the Gods in her puja room or when she polishes her husband's medals or puts his uniform out in the sun.
"If it had happened in Srinagar or at the border then I could have believed it," she says after a long pause.
"Yeh toh ghar ke andar tha aur itney log shahid ho gaye. Kyo ho gaya, kaise ho gaya? Hamarey jawan ne apni duty ki, par unke saath jo hua galat hua, dhoka hua (So many were martyred in a battle that took place inside our country. Our men did their duty, but they were wronged and betrayed)."
"We have national leaders, radars, surveillance -- where was all that?" she asks, wiping her tears.
"Agar thodi se savdhani barti hoti toh aisa nahi hota. Kiski vajah se hua aur kyu hua? (If alertness had been maintained, this would not have happened. Who was responsible for this and why did this happen?)"
She has met the families of the other 26/11 martyrs. "I felt so sad when I read about Mrs Karkare's death. At first I couldn't believe it and asked my daughter to see if I had read it correctly," she says talking about martyred Maharashtra Anti-Terrorist Chief Hemant Karkare's wife Kavita who died of a stroke in September.
Whenever someone honours the families of the other 26/11 martyrs, she says she goes as a mark of respect to those 16 families. "We are one in our grief -- that is what pulls me towards them. Sometimes you feel like breaking down on meeting them, other times it gives you strength."
Coming from a family of soldiers -- her father, husband, brother, two brothers-in-law serve(d) in the Indian Army -- she knew the fauji life and the sacrifices that it could demand. On the rare occasion when her husband told her about his ops, her heart would tremble.
"Par desh ki raksha to karni hai. Desh to desh hai, hamara hai (This country is ours and it has to be protected)," she says, weak in her grief, but resolute her duty for the country.
When news came in of the hanging of Ajmal Kasab, the lone terrorist captured alive, the Bishts lit their homes with diyas. It was only after his execution -- four years after 26/11 -- that the family started celebrating festivals again.
"It is because of the soldier on the border -- the NSG, Paras, ITBP -- that we are safe in our homes and can celebrate our festivals," she says, sitting in the front courtyard of the home she built three years ago.
Her son Gaurav, 16, wants to join the army and will appear for the entrance exam next year. "I first came into the fauj as a daughter, then a wife and I hope one day I'll go as a mother," she says and smiles.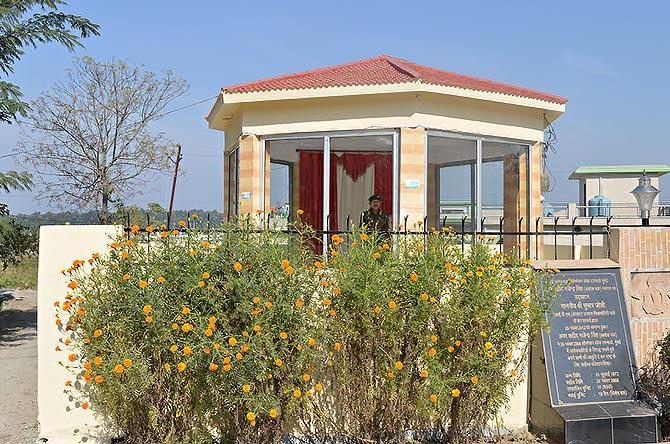 Image: The memorial stands on the Bishts' ancestral land in Dehra Dun. Havaldar Bisht was 35 when he was martyred. Photograph: Seema Pant/Rediff.com
Sometimes she still cannot believe that her husband is no more and feels that he will just walk in through the door. The NSG has invited her for an event on December 13 and when she goes, she hopes as foolish as it may sound that she might see her husband in some corner.
After all that was her first home, where she spent 10 years and that is where a bunch of memories with her husband reside.
As compensation, the government allotted her a petrol pump in Hardwar and the Maharashtra government gave her a flat. The petrol pump is in the neighbouring city and managed by her relatives; the flat in Mumbai is on rent.
The state governor invites her on Republic Day and Independence Day; the chief minister comes to pay homage at the memorial on Gajendra Singh Bisht's death anniversary.
The years have rolled on, but nothing has dulled her pain. "Saal apni jagah hai aur dard apni. Yeh to shareer ke saath hi jayega (The pain will go when death comes), she says, shutting the glass door of the memorial she so lovingly has built.
***
"I don't think you can have closure. I don't understand that word. Does that mean that you stop thinking about the incident or the person?"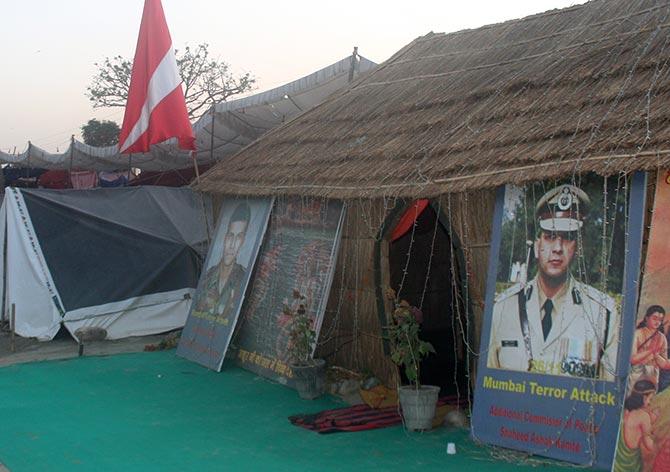 Image: A homage to ACP Kamte and NSG Major Sandeep Unnikrishnan at the Kumbh Mela in 2010. Photograph: Reuben NV/Rediff.com
Vinita Kamte does not like quiet places. The memories then come flooding back. She finds it hard to sit all by herself in a temple. The calmness can bring back the tears.
Her older boy was in boarding school when 26/11 took place. The younger son was 9 and refused to stay in their home, and she had to move into a flat.
"Every single day he used to say -- 'If something happens to you, then what?' My older son cannot bring himself to reading To The Last Bullet," says Mrs Kamte, giving a sense of the trauma children face after a parent's violent passing.
"They have to be strong and I had to be strong for them."
The government allotted her a petrol pump in Pune and a semi-cultivatable plot of land in Talegaon that she has nurtured into a green oasis from her personal funds. She took it up as a passion, standing under a tree and getting the work done -- even landscaping it herself.
Here she has planted rice, mango and lemon trees. A few cows and hens also share the patch of green. She often drives there and spends the day. It is something that gives her great pleasure.
She says maybe they are at peace, six years on. "If I don't have a happy atmosphere, the kids are not going to like coming home. Whatever I feel is something I will never stop feeling," she says.
Across the room, two war paintings selected by her father-in-law, hang on the walls opposite the country's highest honour for valour in peacetime, which bears the same name as her husband's.
"I don't want the boys to grow up feeling what I feel," she adds. "They will never see what my moments are."