Shailajanand Mishra lists The Top Videos of the Week! Take a look.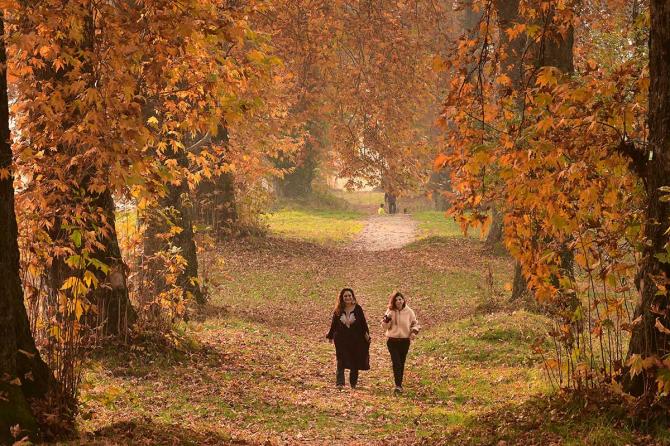 Every week is full of newsworthy events. And we make sure we bring you the most interesting ones, with a special twist.
These videos are chosen by you, through your likes.
So if you'd like to see your favourite video on our weekly round-up, please make sure you like them on iShare.
---
When land disputes get ugly!
Date: November 18
Location: Barmer
Disputes over land are not new. But they can, sometimes, get shockingly ugly.
Two families came to blows during one such dispute in Barmer, Rajasthan, resulting in a man driving a JCB machine trying to mow down a woman.
---
Mughal Garden's beautiful golden avatar!
Date: November 20
Location: Srinagar
'Hami asto, hamin asto, hami ast (It is here, it is here, it is here)'.
Every season, the Kashmir Valley dons a pretty avatar. And those who come to visit it don't miss the scenic feast served up by the Mughal Garden.
Known as Harud in Kashmiri, the autumn season sees the green leaves of the majestic Chinar trees turn golden brown.
Tourists from around the world throng the Mughal Garden to witness this picturesque beauty.
And if you are here, do visit the Nishat, Shalimar, Harwan and Chashma Shahi gardens as well.
---
India's first animal ventilator
Date: Nov 23
Location: Ahmedabad
A year ago, Ahmedabad-based Shaival Desai lost his best friend, his dog.
"It was a painful time," he says, especially because there were inadequate treatment facilities.
"He could not be treated well due to a shortage of facilities. That's when the idea for a multi-specialty hospital for pets struck me."
The Best Buds Pet Hospital recently opened its doors for its patients.
"It's a one-stop solution to everything related to pets, a non-profit vet hospital with fully equipped OT rooms and India's first animal vet ventilator."
---
Forest department rescues leopard
Date: November 24
Location: Meerut
It was much-needed rescue operation.
A trapped leopard had to be saved.
What made the operation even more dangerous was the fact that the leopard was injured.
After four gruelling hours, the spotted cat was safely captured and sent to the Etawah Lion Safari for treatment.
---
Jhoom Barabar Jhoom
Date: November 24
Location: Surajpur
'Thodi si jo pee li hai...' is probably what these intoxicated elephants in Surajpur, Chhattisgarh, would have mumbled to their rescuers.
"A herd of 15-16 elephants arrived here and we came to know five of them were intoxicated," said a rescuer.
"They'll be fine soon."
---
Man tries to enter lion moat area
Date: November 24
Location: Hyderabad
Why on earth would anyone do this? Put one's head, figuratively speaking, in a lion's mouth?
Staff at the Nehru Zoological Park in Hyderabad had the shock of their lives when a 31-year-old man tried to enter the moat area that surrounds the African lion enclosure.
He was quickly rescued and handed over to the Bahadurpura police station.
---
Sara opts for elegant white!
Date: November 25
Location: Mumbai
Sara Ali Khan really knows how to ace the ethnic look.
And that's what she opted for at the trailer launch for her next film, Atrangi Re.
Dressed in a beautiful white suit and matching juttis, she was a photographer's delight.
Sara was accompanied by Director Aanand L Rai, Producer Bhushan Kumar and Writer Himanshu Sharma.
Atrangi Re begins streaming from December 24.
---
Feature Presentation: Ashish Narsale/Rediff.com